Travis is my first new contributor to the blog, who will be posting a couple of times per week. The idea behind adding guest contributors is to add different perspectives to the blog. Travis has a unique approach towards travel, given that he travels almost exclusively with his wife and young children, which is in stark contrast to my travels, which are usually alone.
---
Rite Aid has a new promotion for the month of February called Fab-uary. It's almost identical to the Rite Aid Happy You Year promotion from January, except now you can earn a free domestic flight, free cruise, or free 7-day resort stay for spending $250 on participating products. (No Hyatt nights this time.) The list of participating products are also very similar.
I guess now you can get the free flight to go with your free hotel stay.
In this post, I'll discuss how Fab-uary works and offer some strategies for maximizing the value you receive from it.

Happy You Year Update
Before we talk about how fabulous the Fab-uary promotion might be, let's recap Happy You Year. Past performance may not be a guarantee of future success, but it's still the best indicator of what we should expect.
Rite Aid ran the Happy You Year promotion in January. You could earn a free 2-night Hyatt hotel stay (or 1-week at a resort) after spending $250 on participating products. I originally speculated that this was being run by TLC Marketing which was the fulfillment company for an ill-fated similar Dockers / JC Penney promotion back in 2008. That one did not go particularly well for consumers, ending in a class action lawsuit. I feared this one would follow a similar trajectory.
It turned out that I was more or less right about who was running the promotion — this time it's TRCo Marketing, a sister company of TLC. Both have the same CEO.
But I'm thrilled to say that TRCo seems to be running a respectable operation this time.

By most accounts, people are getting what they were promised, and getting it in a mostly reasonable time frame. I only recently mailed my redemption form so I don't have first hand experience with the booking process yet. Some readers have reported that they already have the Hyatt stay certificates in hand.
This could give us confidence that Fab-uary is also going to go smoothly.
How Fab-uary Works
This promotion generally uses the same convoluted process as Happy You Year. I'm going to focus on the free flight reward, as I have never been on a cruise and know next to nothing about that industry. Here's a summary of the process.
Buy $250 worth of participating products between February 1 and February 28, 2015
Create a redemption account
Enter reward codes by March 29, 2015
Select reward
Download registration form, complete, submit via mail
Within 10 days or so, receive booking code and link to on-line booking form
Complete booking form
Within 8 days of submission of booking form, receive email with flight availability
Confirm flight choice within 2 business days of receipt of [8]
On the booking form, you list 3 preferred dates, 3 preferred departure locations, and 3 preferred participating destinations.
In other words, you have to flexible and like Priceline, you don't get to pick your airline. While they specifically refer to participating destinations, there is no qualifier on the departure locations.
I'm assuming that means you can depart from anywhere.
Participating Products
Based on a quick glance, the Fab-uary list of participating products looks very similar to the Happy You Year list of participating products. So if you've already blown through your pile of Anti-Monkey Butt Powder, fear not, as you now have the opportunity to restock.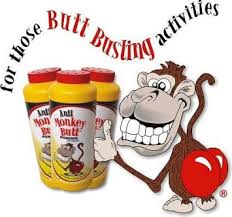 Can I Fly With My Family?
Yes, but you'll have to buy them a ticket, either from TRCo (possibly with an inflated booking fee) or directly from the airline after your free ticket is booked. From the T&C's:
Only one member of any group traveling together may redeem a flight ticket. Additional passengers may be booked and will pay the applicable standard airfares. Taxes and any other fees are not included.
I said I wasn't going to discuss the cruise reward, but it is interesting that the cruise is based on double-occupancy.
Minimum of two (2) passengers required to receive and redeem the Reward. Only one passenger will be covered under this Reward. The cost for the additional passenger is not included in this Reward.
So it seems that it's more of a Buy One Get One, rather than free cruise. It's not a question of whether you can travel with your friends and family — in this case you must. This seems like false advertising.
Will I Earn Miles? Can I Upgrade?
I see no mention of whether or not these flights will earn miles. In 2008, the terms and conditions specifically stated that you would not earn miles, but I believe everyone did anyway. My guess is that these are regular revenue tickets, and will earn miles according to the fare class in which they are booked.
That also means you should be eligible for preferred seating, complimentary upgrades, free checked bags, or any other status-based benefits.
What If I Need To Change / Cancel?
The terms and conditions state that the tickets are non-refundable.
Tickets are only valid for the flight selected at the time of booking. When Customer has selected the flight and the Reward availability has been confirmed by Promoter, the flight selection is final and cannot be changed.
That said, I would bet that once TRCo has booked the ticket, you can then deal directly with the airline and would be subject to the usual change fees.
Are There Any Fees?
Probably. The T&C specifically state that you are responsible for taxes and fees.
This complimentary Domestic Roundtrip Flight ("Reward") entitles the bearer to one (1) economy class roundtrip flight (excluding applicable taxes and fees) to a participating U.S. (excluding U.S. territories) destination (participating destinations provided within these terms).Are There Any Fees?
Where Can I Go?
There are 49 destination cities from which to choose. The list is quite…. eclectic. One of them stands out more than the rest. A few others are just odd in that they are thinly served, or don't have commercial service at all.
Little Rock, AR
Phoenix, AZ
Los Angeles, CA
Oakland, CA
Sacramento, CA
San Diego, CA
Denver, CO
Hartford, CT
Fort Lauderdale, FL
Fort Myers, FL
Jacksonville, FL
Miami, FL
Orlando, FL
Tampa/St. Petersburg, FL
Sarasota, FL
West Palm Beach, FL
Atlanta, GA
Honolulu, HI
Des Moines, IA
Chicago, IL
Cincinnati, KY
Detroit, MI
Minneapolis, MN
Branson, MO (only served by public charters)
St. Louis, MO
Charlotte, NC
Atlantic City, NJ (only served by Spirit)
Las Vegas, NV
Buffalo, NY
New York, NY
Islip, Long Island, NY (only served by American and Southwest)
Plattsburgh, NY (only served by Allegiant and Spirit to Florida)
Cleveland, OH
Oklahoma City, OK
Puerto Rico, PR (Wait, I thought US Territories were excluded by the T&C?)
Charleston, SC
Greenville, SC
Myrtle Beach, SC
Memphis, TN
Nashville, TN
Dallas, TX
Houston, TX
Salt Lake City, UT
Virginia Beach, VA (private airport used by the Military Aviation Museum)
Seattle, WA
Spokane, WA
Milwaukee, WI
Huntington, WV (only served by American)
Washington DC/Baltimore

Is This For Real?
Well, as I've written about before, a very similar promotion run by essentially the same company back in 2008 was very frustrating for many customers. That said, most eventually received compensation, either in the form of the promised flight or from the class action settlement.
If the previous Happy You Year promotion is any indication, TRCo has turned over a new leaf and actually seems to be delivering what they promised.
There are some lines in the T&C's that cause me to pause, however.
This Reward is subject to promotional availability and the availability of any Reward is subject to change without notice. All Rewards are available on a first come, first serve basis. The Released Parties cannot be held responsible for flights that have sold out or no longer offer economy class tickets. Reward excludes public holidays and may be subject to restricted availability over peak periods.

Reward available while Reward supplies last.
This would seem to give TRCo an out if the promotion becomes oversubscribed, though I think they would face significant backlash if they tried something like that. Then again, I would have thought the same thing back in 2008.
Comparison To Dockers / JC Penney In 2008
This promotion looks very similar to the free flight version of the Dockers / JC Penney promotion from 2008. Back then, you had to choose from 8 destination cities — now we get 49. Back then you had to depart from one of the origination cities — now there does not appear to be any restrictions on point of origin.
2008 Strategy
My strategy in 2008 was to request expensive city pairs in the hopes of getting a high value ticket which I could then cancel to obtain a credit directly with the airline such that I could use it for anything I wanted. I also wanted to ensure that I would be booked on one of the legacy carriers such that I could use the credit to chase status.
The obvious origination choices were Honolulu and Anchorage. Honolulu was problematic, however, in that ATA was often the cheapest to the islands, and I definitely did not want a credit with ATA. So I requested Anchorage to Boston for a variety of expensive summer dates.
TLC eventually booked me a ticket from Anchorage to Boston on Continental. I then called Continental directly to cancel the ticket. After paying a $115 change fee to Continental, I had a credit of about $600 that I could use for anything.
From looking at my notes, I spent $100 on the TLC ticketing fee, $115 change fee, and $125 on Dockers stuff to acquire the voucher. That's a $340 outlay. In return I received a $600 credit on Continental and some pants. Assuming I needed the pants (which I did), that was a $385 return.
2015 Strategy
The simple strategy is to just request a flight from your home airport to a destination that you want to visit. That will certainly work, and you should get good value from it.
A more aggressive strategy would be to again request a flight between expensive city pairs on expensive dates. However, as I posted above, the language of the T&C's seem to give TRCo room to wiggle out of expensive tickets this time, so it might not work. But even if they refuse to book the flights you request, I would expect you to get to select alternatives. In other words, there will almost certainly be some back and forth.
Another strategy is request flights between city pairs that are only served by one carrier. For example, if you want to generate a credit with American, requesting a flight to Huntington, WV, would seem to accomplish that since only American serves that airport. Likewise, if you request Atlantic City, NJ, you can be assured that you'll be flying on Spirit, since United discontinued service from Houston.
Keep in mind that change fees are now around $200 for most carriers, almost double what they were in 2008. That could significantly limit the viability of such a book-and-cancel strategy.
Bottom Line
This has the potential to be a lucrative promotion. I estimated the value of the 2-night Hyatt stay certificates available during Happy You Year to be about $380. I would expect it to be possible to obtain at least that much value out of the free flight under the right circumstances. But it's also more restrictive, at least compared to Hyatt stay certificates which are a known commodity backed by a reputable company.
I was very skeptical about Happy You Year, but given that it seems to generally be going well, I want to believe that Fab-uary could also be good promotion.
To be honest though, I'm still a little skeptical.
Do you plan to do the Fab-uary promotion at Rite Aid? If you participated in Happy You Year, are you satisfied with the way it is being run such that you would sign up for Fab-uary?