Over the weekend both View From the Wing and Live and Let's Fly shared the heartbreaking story of a dog who died after being shipped on a United Airlines flight. The owner's mom checked the dog in to United in Detroit for what should have been a relatively simple itinerary to Portland, Oregon via Chicago.
For whatever reason, when the dog arrived in Chicago they were told he "didn't fit," which resulted in the dog being sent to an airport kennel overnight, and put on a flight the following day. When the dog arrived in Portland (20 hours late), he was lethargic, and non-responsive, and died shortly after reaching the vet's office.
To be clear, this is horrible, and I can't imagine how devastated the owner is. United is (of course) assuming no responsibility, which I'm sure is maddening, but is consistent with United's terms for pet travel.
But there are also some things the owner could have done to better insure against this awful eventuality — she certainly didn't do anything wrong, but she might have made different choices if she'd had better information. I have some experience with pet travel, so figured I'd share some tips, and some of my thoughts on what might have gone wrong here.
I'm not saying anyone should or shouldn't fly their dog on an airplane, but if you decide that you must, there are some things that might be helpful to know.
My dog is a (fairly) frequent flyer too
We are lucky enough to have an adorable labrador-mix, who has despite all odds ended up being the best dog ever (those of you who have had rescue puppies can likely relate), and we love her to distraction.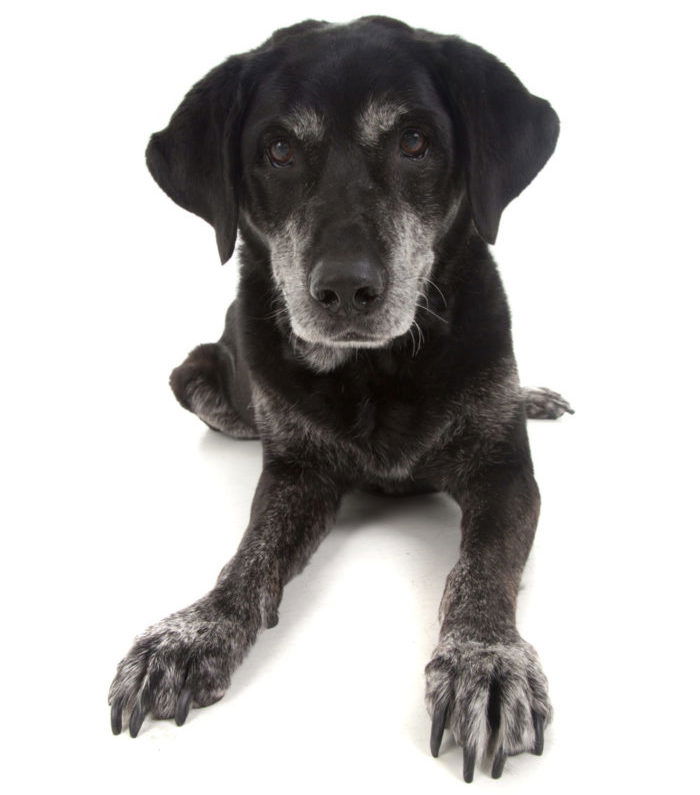 We made the decision (with our vet) early on that properly-managed and prepared-for air travel was going to be less stressful and traumatic for her than 20+ hour car-rides.
We try not to make flying with her a routine thing, of course, but the reality is that our lives are complicated — we've moved back and forth across the country a few times now, have had to take contracts in other states for various jobs, or needed her to stay with my cousin or in-laws when we had to go overseas for a lengthy period of time.
With all of that combined, she has probably averaged two trips a year with us over the past 10 years. Those flights happened more frequently when she was younger, but we pretty much have it down to a science. I would never falsely claim she was an emotional support dog, so when she flies, it's in the hold.
The "dog didn't fit" claim is a half-truth
Dog kennels are standardized, and given a series number depending on their size. My dog is ~65 pounds, but she's short for a lab, so fits in a #400 size kennel. Her crate will "fit" on nearly any aircraft. The next size up, a #500 kennel will still fit on a Q400, but won't fit through the cargo door of an E-175 without tipping it to the side, so many airlines don't allow that size.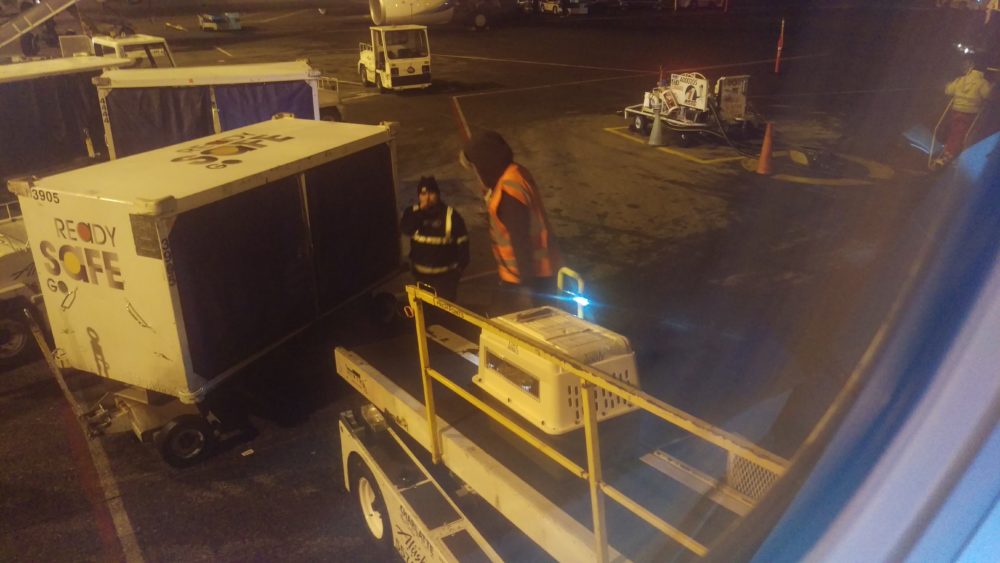 United notes that the largest kennel size they'll accept for United Express flights is a #400, with a #500 being the largest accepted for a mainline 737 flight. In this case:
Detroit > Chicago is operated by an assortment of aircraft, from A320s to regional United Express jets
Chicago > Portland is generally operated by a 737, but seems to occasionally be operated by an A320, or even an A319
Without knowing which flight the dog was booked on from Detroit to Chicago we can't perfectly extrapolate the size of the kennel. It seems plausible that the dog would have at least a #500 series, as I'm sure an 80lb male is taller than my dog. If the kennel was the even larger #700 series that further complicates things, as it wouldn't fit on a 737.
Regardless, when you make reservations to ship (or check) your pet, you have to give the series of the kennel, and space in the hold is then blocked out on all flights. Live cargo can only be in certain parts of the aircraft, so there is a procedure here, and there's no way a dog should have been accepted for hold travel if proper space wasn't available.
Given that, there are three possibilities I can see:
The owner misrepresented the size of the kennel when making the booking (or her mom purchased the wrong one, etc. — basically anything that would lead the airline to think the kennel was smaller than it was)
The United agent blocking space for the dog only did so for the first segment, not the second
United had an equipment change, swapping a scheduled Airbus A319 or A320 flight for a Boeing 737 flight
If the kennel were the wrong size, or space hadn't been blocked, that should have been caught at check-in. Unless the equipment change happened at the very last minute (and without knowing the exact flights involved we really can't tell), the dog shouldn't have been accepted as cargo if they wouldn't fit on the connection.
Basically, if the dog didn't fit, there was an operational reason for it, and United should own that.
So for future:
A #400 crate will fit on nearly everything
A #500 crate will fit on a Q400, but not an E-175, and American won't even accept a #500 on a 737, so check with your carrier for specifics
A #700 crate will not fit on a 737, which really limits your options domestically
Obviously you still have to buy the right crate for your pet, but knowing these restrictions makes it easier to anticipate potential problems.
Know the difference between cargo and baggage
Some airlines allow you to "check" your pet as excess baggage. Others require them to be shipped as cargo.
United is one of the latter, and requires you to use their "PetSafe" program. This is a nice name for cargo, and theoretically provides more checks and balances, but in reality means you're fully abdicating control to the airline, and have limited recourse when things don't go to plan.
We shipped our dog as cargo once with Northwest Airlines, and it was one of the most stressful days of my life (and probably hers).
When your dog is being shipped as cargo you have to take them to the cargo center, which is away from the passenger terminal, and generally isn't frequented by normal people. The check-in area at Dulles was cramped, noisy, and adjacent to a warehouse full of parcels that didn't instill much confidence that my "kid" was going to be treated more carefully than someone's seafood shipment.
We were given a tracking number, but the information wasn't terribly nuanced, and updated infrequently. I admit this might be better in 2017. We had no way to tell if she made it on to her flight until about an hour after departure, didn't know what was going on during her connection, and had no idea as to her condition until we were able to pick her up ~2 hours after her flight's posted arrival time.
It was a miserable day.
Have someone accompany your dog
What we've done since, and the only thing I would really recommend, is to travel with your dog as checked baggage. It's less expensive (you pay a ~$100 pet fee versus the exorbitant cargo rates), so it can even make sense to have someone courier your dog if you can't be there yourself.
Based on our guesstimates surrounding kennel size, it would have cost $428 or $529 to ship the dog as United cargo in this case. Round-trip tickets between Detroit and Portland are typically ~$350 or less, so even with the pet fee it's potentially less expensive.
In this situation you have to go to the check-in counter a bit early, but you are much more in control of the environment. You're there as TSA inspects the crate, can help put her on the baggage cart and meet the handlers, claim her if you have a long connection, and you can make sure the flight crew know your dog is on-board.
If your flight is delayed, you can fetch your dog and regroup, and if there are problems along the way you're positioned to address them.
Actually, if there's any way you can manage it, fly Alaska in the U.S.. They are hands-down the best of the domestic carriers when it comes to pet travel, and we've only had amazing experiences. Their system ensures everyone from the check-in agent to the pilot knows your dog is on-board, and they let you know that they know.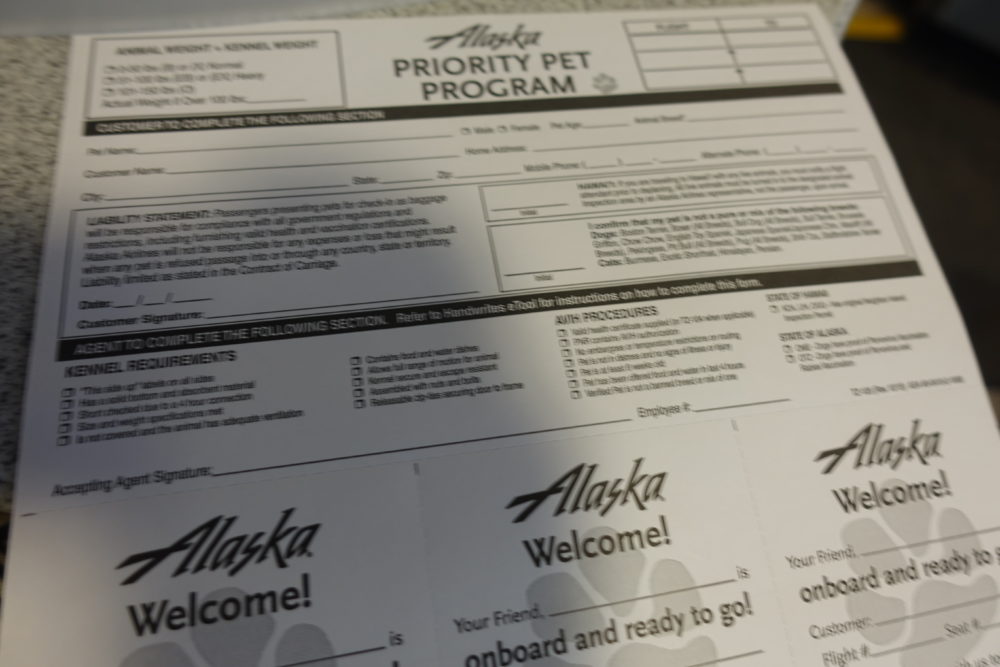 It's so reassuring to have the baggage handler come and talk to you during your connection, or have a flight attendant hand you a tracking tag before take-off. Everyone is on the same page, and as an airline Alaska seems to be more careful with pet travel in general.
Never assume airline employees care
This is a good rule for life, and something I mention frequently when talking about how to handle travel delays. Your travel is important to you. Your dog is important to you. Not necessarily to some random airport or airline employee.
That means you need to trust but verify everything you're told, by everyone involved. I've had issues before where cargo space wasn't blocked on the connecting flight, and so make it a practice to call back and confirm the booking details with a second agent.
Ask if the flights are on time, and what happens if they're delayed. In this case it could have helped to ask what type of aircraft was operating each segment, and verify the dog would be allowed — I'm sure the doggy Grandma would have been willing to bring the dog back the next day versus having it spend the night alone in the airport kennel.
It also doesn't make sense to me that the dog wasn't sent with food on top of his crate. The United shipping checklist specifically asks if food is accompanying the pet, but it also asks a lot of operational questions that were perhaps not given full consideration given the unfortunate result. That could have been an indicator that the check-in agent wasn't aware of the proper procedures, which would have been a red flag for me.
Stomach flipping is a thing that can happen to large dogs
If you haven't read other articles about this story, when the dog arrived in Portland he seemed lethargic and non-responsive. The owner bundled him up and started driving back to their home in Central Oregon, noticing that his condition didn't really improve.
I'm not sure if she took him to their usual vet or just a vet, but it sounds like it was about three hours after arrival when the dog received medical attention. The vet started CPR, but the dogs stomach had flipped, which crushes other organs, and the dog died shortly thereafter.
This in no way excuses United for their callousness or operational ineptitude, but large dog owners generally know that bloat is a risk you live with, regardless of the age of your dog. There was even a movie about it! That's why we all have slow-feed bowls and are advised against free-feeding and take other precautions.
My in-laws had a four-year old lab whose stomach flipped at home one evening, and subsequently had to be put to sleep, so it's not always something triggered by trauma (though that can happen too). Stomach-flipping was a potential risk for this dog even on his original itinerary, because these things can sadly happen.
It's horrible, and I hope something we never have to experience. But you should be aware of the symptoms, as well as other potential health problems that could arise from travel, and have a plan for them.
In my experience both with my own dog and observing others at baggage claim, dogs are almost always immediately fine and bouncy once you let them out of their crate. They might be mad at you (not mine, she's a good flyer, but we once saw an Australian Shepard completely shun his dad who had flown with him in favor of the un-implicated mom, which was hilarious), but they should be alert and normal.
If they aren't, notify the airline and then go immediately to an emergency vet.
Bottom line
I feel so badly for this woman. I'm sure this is incredibly difficult, especially when it seems an effort was made to follow all the right procedures. I doubt United will accept any responsibility, but there are definitely some operational questions here, or at least some discrepancies a careful agent could have noticed.
The reality is that there are still going to be circumstances where some of us have to check our pets on airplanes. The more you can do to educate yourself and control the situation the safer the experience will be for your fuzzy one.
Also, this might be the most controversial post I ever write on OMAAT, because this is one of those things that everyone has an opinion on. So let's start with the understanding that we're all going to disagree about the morality of flying with a dog in the cabin versus in the hold, owning pets at all, traveling versus never leaving the house, and please keep the comments civil. 😉
Any other tips for flying with pets?