Reader Liamlpa asked the following question in the "Ask Lucky" forum (it's long but, poses an interesting question):
Lucky: Do passengers booked on award tickets have fewer rights than those who 'pay' for their seats?

Was on a flight yesterday (on one of your 'fanboy' airlines) and witnessed something I have never seen before: after boarding, a top tier elite who had booked four F class tickets for his family using miles was asked by airline rep which of the two seats he was going to involuntarily downgrade. Understandably, this was a very tense situation.

The flight was oversold and two of the seats in the F cabin were broken (both facts had been announced prior to boarding).

The interesting thing here is that this guys seat assignments did not include the broken seats. The explanation he was given (somewhat humiliatingly in front of everyone one board) was that his seats were the only ones that were 'not paid for' because he had used miles and an $11 issuing fee.

After asking what his options were (and being told he could be forcibly downgraded), he sent his two children to the back of the plane and was handed two $500 vouchers for future travel.

Gotta say, I felt really bad for him…..and am not sure that I would have accepted the situation so diplomatically.

Any advice what to do/say under a similar situation? Refuse the vouchers? Deplane (if your schedule permitted)? Any DOT protections?
That's an unfortunate situation, and it definitely sounds like it wasn't handled well by the airline representative.
What are your rights if you're downgraded?
When it comes to your actual rights on an airline, there are two things to consider:
The contract of carriage
The regulations from the "authority" relevant to your flight (like the Department of Transportation)
Many airlines don't address downgrades in their contract of carriage. For example, I don't know on which airline the above happened, though perhaps it's Emirates. Emirates' contract of carriage doesn't even address downgrades.
Furthermore, most regulatory authorities simply require that the airline refund the passenger the fare difference in the case they're downgraded. So there's not much in the way of "rights" when it comes to downgrades.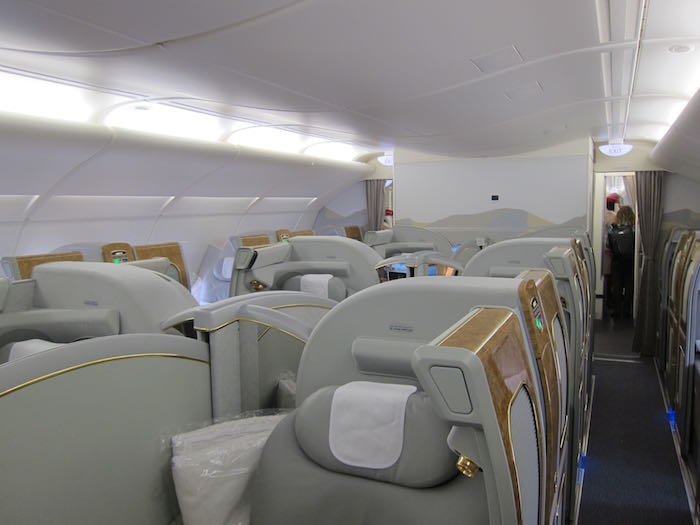 How should airlines prioritize downgrades?
This seems to be the crux of the issue. Rather than downgrading the two people who booked the broken seats, the airline downgraded two award passengers who had different seat assignments.
Essentially the airline created a "priority" list of the cabin, presumably based on status, fare, etc., and then downgraded the two "lowest priority" customers. I actually think that's a fair policy. Seat assignments aren't guaranteed, so if you have to downgrade two passengers involuntarily, it doesn't seem unfair to downgrade those who paid the least and had the least status (while the dad was a top tier elite, I assume the kids didn't have status).
The original question posed was whether those on award tickets have fewer rights than other passengers. The answer to that is no.
It could have also been that everyone was flying full fare first class, and all but two passengers had status. If that were the case, those two passengers would have likely been downgraded. It could have been that all but two first class passengers were on full fare tickets, while the last two were on discounted tickets. They may have been downgraded.
While passengers might be "ranked" in situations like this, I guess the only person who is always safe is a full fare passenger who has top tier elite status.
The situation certainly sucks, though I don't think it's unreasonable for airlines to prioritize customers by status and fare paid.
What would I have done in this situation?
The last question is what I would have done in this situation. Unfortunately there probably isn't much I could do.
I'd take the voucher they were giving and then request a refund for the difference of miles after the fact, if I absolutely wanted to be on the flight.
Otherwise I'd check my options, and see when the next available flight with first class would be. Then I'd weigh whether it's worth it to me to wait for that flight, or if I should just take the downgrade.
Bottom line
This is one of those crappy situations which is rare but certainly does happen. Personally I don't have any issue with airlines "prioritizing" passengers based on fare and status, as it seems like a logical enough way to make such a determination.
You're always entitled to a refund in the difference of fare/miles between the two cabins, and also have the right to take the next available flight with space in your ticketed cabin. But beyond that there's not much contractual liability — anything else would be a "gesture of goodwill" on the part of the airline.
In the above instance I'm hoping "back of the plane" means business class (perhaps back of the A380 upper deck), and not the actual back of the plane.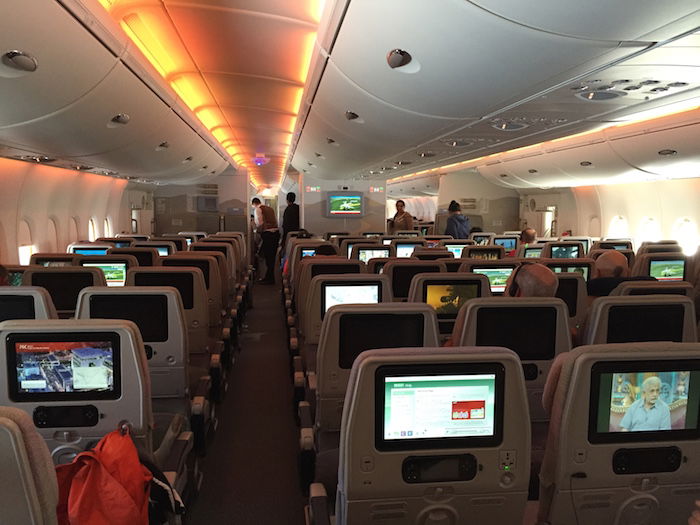 How do you think airlines should handle downgrades — by status/fare paid, or based on who was booked in the broken seat?