The major hotel chains sometimes sell discounted gift cards, which is a great way to lower the cost of hotel stays. For the past few years Fairmont has been offering bonuses on gift card purchases at least twice a year.
They typically offer one of these promotions around Mother's Day, and this year will be no different. Fairmont is now back with their latest offer, which will be going live today.
Per a post on Fairmont's Facebook page, you'll be able to buy a Fairmont e-gift card with a 20% bonus today (Friday, May, 10, 2019), from 2PM until 5PM EST.
Historically each person can only take advantage of the promotion once, though you can purchase up to $5,000 worth of gift cards under the offer, which would lead to a $1,000 bonus.
Each gift card can be worth at most $2,000, so you'd want to load your shopping cart with a few gift cards if you wanted to maximize the offer.
You can choose whether you want to buy gift cards in USD or CAD. While you can use the gift cards in currencies other than the ones they're issued in, the conversion rates used for those purposes may be unfavorable.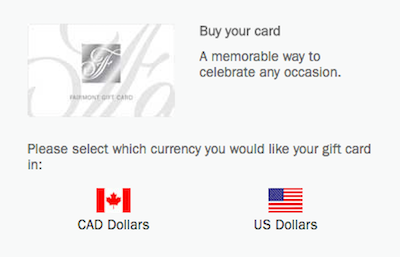 The gift cards don't expire, and you don't have to stay at a Fairmont hotel to use a gift card — they're also valid for restaurant and spa purchases.
I know Tiffany used this for her stay at the Fairmont Kea Lani a couple of years ago, and it saved her quite a bit of money.
Bottom line
In general these Fairmont gift card deals are worthwhile, as getting a 20% bonus card represents a very nice offer. If you have some Fairmont stays coming up, then I'd seriously consider this. Since Fairmont gift cards don't expire, it's tough to go wrong if you stay with Fairmont at least semi-frequently.
If you're interested, be sure you set an alarm for later today.
Do you plan to take advantage of this Fairmont gift card offer?