I have extremely good luck with upgrades. That's largely a function of putting a lot of effort into choosing which flights I take. I've never missed an international upgrade, and can count on one hand the number of domestic upgrades I've missed on American over the past couple of years.
But like I said, that's not a coincidence, and won't necessarily reflect the average person's experience. When I book a flight I'm always trying to book during off peak times, and always carefully compare the number of "premium" seats taken in economy (since those are potentially filled by other elite members vying for an upgrade), as well as the number of first class seats already occupied. The lower those numbers, the better!
Well, today is my unlucky day. I'm taking two flights on American, and I missed my upgrade on both of them. In fairness I also didn't think I'd get the upgrade when I booked. But I actually had a specific time I needed to fly, which limited my options. And economy certainly isn't a big deal, especially on American, where you get a free drink and snack as an Executive Platinum member.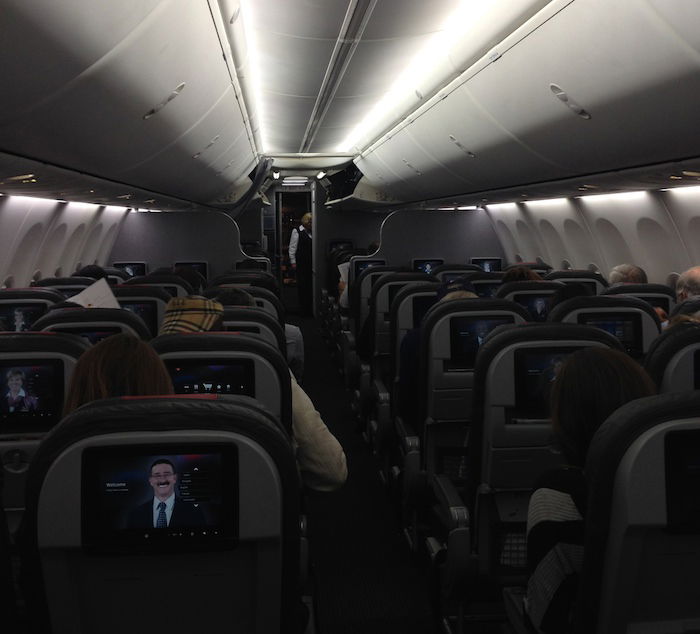 Sitting in economy has got me thinking — do you prefer an exit row/extra legroom seat, or a regular seat with an empty middle?
I was presented with this option on my second flight. There was a standard economy seat with an empty middle which I could have selected (the gate agent suggested it would probably stay empty), or I could have chosen an exit row seat with virtually unlimited legroom. And I was torn as to which to pick:
On one hand I'd rather have more elbow room than more legroom, since I find it easier to work if I don't have someone seated right next to me
On the other hand, it's sort of difficult to even open a laptop in a standard economy seat when the seat in front of you is reclined
I still think I prefer a standard seat with an empty middle, since I have an extra tray table on which I can put things, and more space under the center seat to store things. But to sort of counteract that, the challenge is that an empty middle seat could always fill up last minute, especially with how full flights are nowadays. With the number of standby passengers there are, almost every flight feels like it goes out with every seat occupied.
So I guess I'd take a guaranteed empty middle seat over a guaranteed exit row seat, but I'd take a guaranteed exit row seat over a shot at an empty middle seat, if that makes sense.
I'm curious how you guys feel. Below is a poll where you can vote on your preference, though feel free to share your strategy in the comments below!
[poll id="75″]