Just under two weeks ago Etihad published a pretty awesome fare of ~$1,450 roundtrip in first class between Colombo and Dallas. Historically these types of fares often weren't honored, though the Department of Transportation did issue a ruling a while back protecting consumers from post-purchase price increases. Ultimately it's up to the airlines as to whether or not they want to follow those rules, though they're subject to huge fines if they choose not to.
As a result we've seen airlines almost always honoring mistake fares as of late. We hadn't really heard anything from Etihad on these fares for a while, though it appears as if some people have written correspondence from Etihad now regarding these tickets.
James84 on FlyerTalk posted the following correspondence he received from Etihad:
Dear Mr _____,

We are writing to address your booking for travel from Colombo to Dallas in Diamond First Class and Pearl Business Class under booking reference XXXXXX.

We note that the fare you have paid was not the applicable fare for the class of travel indicated and is even lower than the applicable economy fare for that routing; however, will honor the ticket as booked. Please note, though, that we will not permit any changes to this booking of any kind unless the fare difference between the fare we received and the correct applicable fare is paid. These flights are not eligible for bonus miles, and are not accompanied by chauffeur service or for lounge access.

You will be permitted to cancel the ticket will a full refund.

If you require any further information about the booking, your travel or cancellation of the trip, please contact our call centres on the below numbers:

Colombo – 00 971 2 599 0000
USA – 1888 838 4423 or 00 971 2 599 0000
Canada – 1 866 948 1081 or 00 971 2 599 0000

Should you require any further details you can also contact us at [email protected].

Sincerely,

___________
On behalf Etihad Airways
So I actually find this really interesting. I mean, technically I think Etihad is honoring the fare. At least they're honoring the contract of carriage to the extent that they agree to transport you between point A and point B.
But are they really honoring the fare? I mean, if an airline publishes certain benefits for flying in a certain class of service and Etihad refuses to honor them, are they really honoring the ticket? For that matter, how are they going to control lounge access? Both award and revenue fares qualify for lounge access, so how will they single out those people on mistake fares?
Or maybe they're just blowing steam and trying to threaten people so that they'll voluntarily choose to refund their tickets? And what's next, not serving those that booked the mistake fare food or drink on the flight?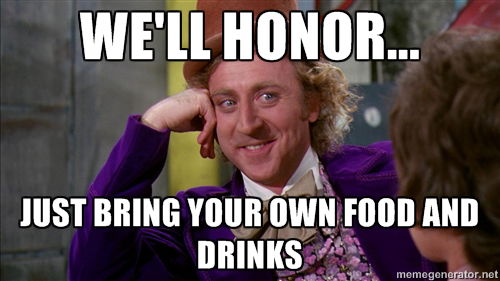 But I do think this is really bad business. When you have a mistake fare and choose to honor it, you might as well make the best of it and generate as much goodwill as possible. Honoring the ticket while taking away the benefits of flying in first class kind of seems like it would generate a lot of ill will.
What do you guys think? Should people just be grateful that Etihad is honoring the fare? Do you feel like not offering miles or honoring chauffeur service and lounge access will generate ill will towards them?
(Tip of the hat to Gary)