A couple of weeks ago Etihad Airways announced that they'd begin flying the Airbus A380 between Abu Dhabi and New York as of December 1, 2015.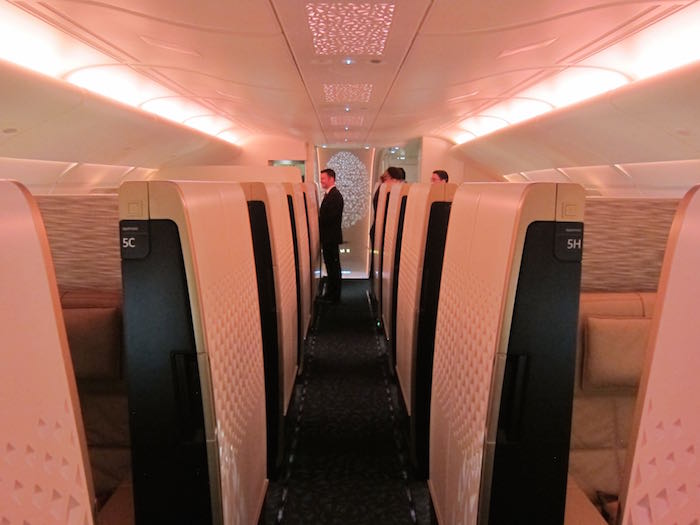 Etihad A380 First Class Apartments

While Emirates has well over 100 A380s on order, Etihad has only ordered a total of 10 of them, and will be flying them exclusively between Abu Dhabi and London, Sydney, and New York. Etihad's A380s are truly one-of-a-kind, in that they feature amazing First Class Apartments.
I had the opportunity to fly the Etihad A380 inaugural flight from Abu Dhabi to London late last year, and was blown away by the hard product. The First Class Apartment is unlike any first class hard product I've ever seen.
The best part is that Etihad partners with American AAdvantage, and Etihad has been extremely generous about making first class award space available on these flights.
While Etihad didn't initially make premium cabin award space available on their A380s, they eventually got around to it:
The pattern has been remarkably similar for the Abu Dhabi to New York route:
When the route between Abu Dhabi and New York was first announced, no First Class Apartment award space was made available
A few days later, Etihad began making one First Class Apartment seat available on many flights between Abu Dhabi and New York
It looks like Etihad is in some cases making two A380 First Class Apartment seats available between Abu Dhabi and New York, which they weren't initially doing
As a reminder, American AAdvantage charges 90,000 miles for one-way first class between the US and Middle East (US Airways miles can't be redeemed for Etihad since they're not a partner, though once Dividend Miles merges into AAdvantage in the next couple of weeks, it will become possible).
For more information on searching space, see my primer on finding Etihad award availability using AAdvantage miles.
Bottom line
While there aren't many dates with two First Class Apartment award seats available between Abu Dhabi and New York, it's nice to see that it's finally starting to happen on their New York flight. After all, flying in premium cabins is even more fun when not alone!
(Tip of the hat to Josh)