While I love Etihad's onboard product, the airline isn't known for great customer service on the ground, be it at the airport, online, or by phone. The extent of their social media presence seems to be them responding to consumers and telling them to contact them via their social media email address, which they very selectively respond to.
Via B747-437B on FlyerTalk, it looks like Etihad has a new "premium" Twitter account, for their elite members — @EtihadPremium:
We've launched a Twitter Channel to better serve you! We value your loyalty and have created a new channel that delivers a range of benefits with you, our guest, in mind.

Etihad Guest Gold members can now follow us on www.twitter.com/EtihadPremium and enjoy the following exclusive benefits:

Five minute response times
Dedicated service
Retro mileage claims
Exclusive deals

To sign up, please:

Email us at [email protected] with: a photocopy of your Etihad Guest Card, Date of Birth, Post Code, Twitter Handle.
Please allow 24 hours for review and verification.
Post-verification, our team will follow you on Twitter and send a confirmation email.
Follow us back at www.twitter.com/EtihadPremium

We look forward to welcoming you to our newest online destination, Etihad Premium.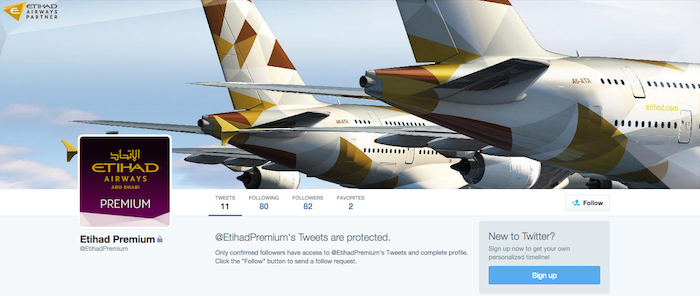 If well executed, that's a really cool concept, in my opinion. The account is protected, though apparently the extent of their five minute response time is a bot which responds to you saying you should email them so they can look into whatever issue you're having:
Please forward an email with all the details to this address [email protected] and we will look into it for you.
Thank you.
That's the same generic social media email address everyone gets, and presumably their responses won't be much more impressive.
Bottom line
If done properly, this has the potential to be a pretty cool concept. While there are some airlines that provide great customer service via Twitter, there's also a lot of "noise." For the most part I don't think airlines get as much benefit out of Twitter customer service as they could, since they're so focused on metrics like response time and the percent of people they respond to, rather than the quality of their responses.
That being said, a dedicated Twitter channel for an airline's top customers has the potential to be a great concept. It's just that Etihad probably isn't the airline to execute it.
What do you think about the concept of "elite only" Twitter customer service? Would you like to see other airlines offer something similar?