As far as non-US frequent flyer programs go, Etihad Guest is actually incredible generous in terms of their earning and redemption rates. They don't impose fuel surcharges on award tickets in most markets, and their rates for travel on their own flights are in many cases comparable to what American AAdvantage charges.
The real selling point of the program, though, is that they often run extremely generous promotions, both on the earning and redemption side. Sometimes they offer promotions for exponentially more miles on revenue tickets, while other times they offer discounts on award tickets.
This time around, Etihad Guest is offering triple miles for economy travel and quadruple miles for business & first class travel.
The basic terms of the promotion are as follows:
Valid for travel booked by June 4, 2015
Registration required by June 4, 2015
Valid for travel between May 13, 2015, and February 29, 2016
Blackout dates of July 15, 2015 through August 15, 2015, and December 15, 2015, and January 15, 2016, apply
Valid for travel on Etihad Airways operated flights and codeshare flights operated by Etihad Airways Partners
Bonus miles count as redeemable miles only (they don't count towards status)
It can take up to 60 days after travel for bonus miles to post
The great thing is how few terms there are with this promotion. All revenue fare classes are eligible for the bonus. As a reminder, here are the Etihad Guest mileage earning rates:
Etihad Guest gives the following examples of how many miles you can earn through this promotion:
For example, Los Angeles to Abu Dhabi is ~16,600 miles roundtrip. If you book a first class "P" fare you'd ordinarily earn 400% miles. Then you'd earn an additional 300% bonus through this promotion, for a total of 700% of flown miles.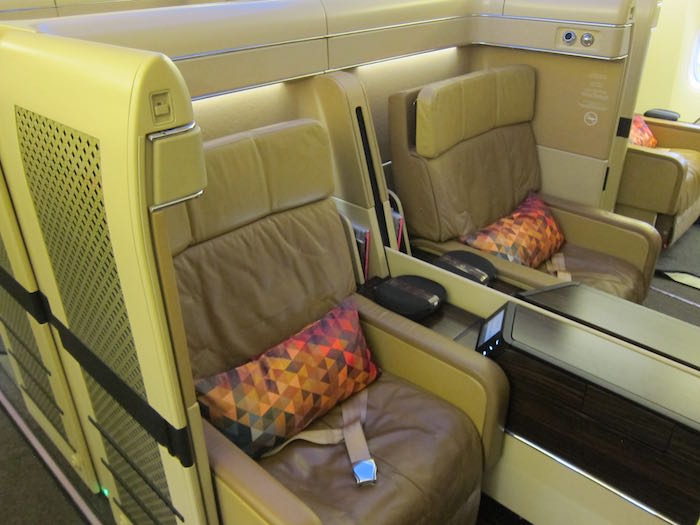 Even though you can now credit all Etihad flights between the US and Abu Dhabi to American AAdvantage, I'd say in many cases it could make a lot more sense to credit to Etihad Guest if you can take advantage of one of these promotions.
Bottom line
Admittedly under most circumstances it's not worth booking a premium fare on Etihad just to take advantage of this promotion. That being said, if you have paid travel coming up and flying Etihad is an option, this is certainly something which would make me consider flying with them.
(Tip of the hat to Mike)