Update: The hotel actually emailed me to confirm they'd be refunding me the difference while I was writing this post. All's well that ends well (minus a couple hours of my life)!
I stayed at the Andaz West Hollywood for a few nights back on October 17. It's one of my favorite hotels to redeem Gold Passport Diamond suite upgrades at, given that their paid rates are reasonable and the suites they confirm upgrades into are nice.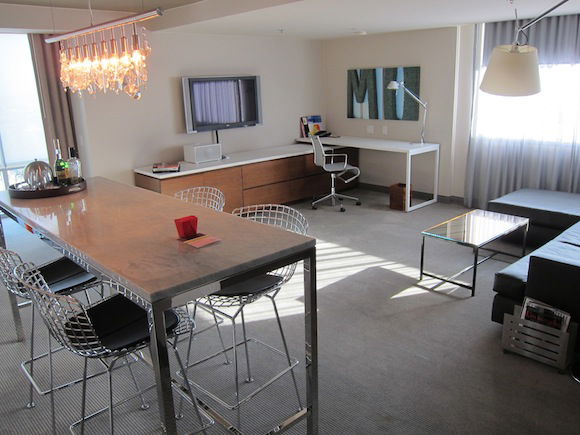 So after making my reservation I called Gold Passport to apply one of my Diamond suite upgrades (given that I had three left that expire with this membership year), and everything seemed fine.
At domestic US properties I never actually check out, since 99% of the time the billing is correct, and when it's not it usually just required a quick call to account. So when they emailed me the folio that evening I noticed that they charged me for a suite instead of the room I had booked. I figured it was an oversight, so the following morning (Tuesday) I called the Andaz's in-house accounting department. No one answered so I left a message with them. By Friday they didn't call back, so I called again, and this time was transferred to Hyatt's central accounting department.
I spoke with Kesha and explained the issue to her. I figured she'd catch on pretty quickly, but she informed me that whenever a suite upgrade is applied the rate is recalculated. I was actually rather dumbfounded and figured I misunderstood her. So I asked her "so you're saying that when I apply a Diamond upgrade I get charged for the suite?" "Yes sir." I mean… seriously?
Obviously I wasn't going to get anywhere with her, so I asked her if it would be okay if I also got Gold Passport on the line for a three way phone call. I'm not going to lie, secretly there's nothing I love more than putting two phone agents up against one another. Gold Passport phone service is consistently phenomenal, in my experience, and I got Drew on the line. I explained the issue to her, and within 30 seconds she got it.
Then Drew and Kesha began a pretty interesting conversation. Kesha pulled the "you don't understand what I'm trying to say" card, while Drew pulled the "can we please get this fixed, it's not the guest's fault" card. Basically what apparently happened is that when Gold Passport applied the suite upgrade they coded it incorrectly, so the hotel it just looked like I switched my rate (though they also pulled a Diamond suite upgrade from my account). Kesha continued with "well who's going to pay for the suite then?" while Drew told her which code to put into the computer. After nearly an hour on the phone both Kesha and Drew seemed to be on the same page, and Kesha promised the refund would be processed.
Over a week later Kesha emails me the following:
Greeting,

I sincerely apologize for any inconveniences, However, we are unable to process the credit in differences the guest was requesting. Thank you for choosing Hyatt, we hope to see you again. Please feel free contact us if you have any further questions. 1-888-587-2877or /Na .

[email protected]

Sincerely,

Hyatt Customers Services
First of all, for a US based agent that grammar is just atrocious. But more importantly, what kind of bull$&*% resolution is that? "Hey, I promised I'm going to credit you the refund, so let me just tell you by email that that's not happening, but I won't give you a reason why."
So I phoned up Hyatt accounting again, and got a different agent that I had to get up to speed on the problem. After about 20 minutes on the phone she promised to talk to Kesha and call me back. So about 30 minutes later she called me back and said that apparently they "misunderstood" the situation, and would now get the refund processed.
Then today I receive the following email, which I think was intended to be emailed internally instead of to me:
Guest: Ben Schlappig

Regarding your suggestion to return the diamond suite upgrade, the guest was very upset and stated absolutely not that he was to be credited for the overbilling.

Thank you,

Hyatt Shared Service Center
Nearly a week later, is their solution really to return my Diamond suite upgrade rather than refunding me the difference in rate? Seriously?
Now to be clear, I'm giving Hyatt a hard time because I find usually there's not a better brand out there for managing expectations and providing good phone service. Like I said above, Gold Passport customer service is consistently the most professional in the industry, so the stark contrast for the accounting department (which you'd think would be even more competent) is shocking.
Curious to see what they come back with next…