There's nothing I love more on this blog than the Delta apologists. I've said it before and I'll say it again — I think Delta is the best run legacy carrier in the US, and that's because they have a fantastic route network and incredible operational reliability. Those are the most important things an airline can do for business travelers. End of story.
Delta's fresh coat of paint
Earlier in the week I wrote about Delta rebranding their cabins, which I think can most accurately be compared to a fresh coat of paint… at best. I didn't consider the announcement to be especially significant one way or another. I just found it hilarious that they were rebranding all cabins and pretending things changed.
https://www.youtube.com/watch?v=wL6vjaRckNM
For example, Delta rebranded BusinessElite as Delta One. In their own words (per their FAQs on "the new Delta experience"), what's changing?
How will the new Delta One™ be different from BusinessElite®?

Like BusinessElite, Delta One reflects the significant investment Delta has made in the customer experience and offers the utmost luxury for longer flights with chef-curated menus and flat-bed seats (available on most long haul international and most cross-country flights between JFK and LAX or SFO).
Goodness, chile. Usually if you have the liberty to create your own FAQs you at least answer them.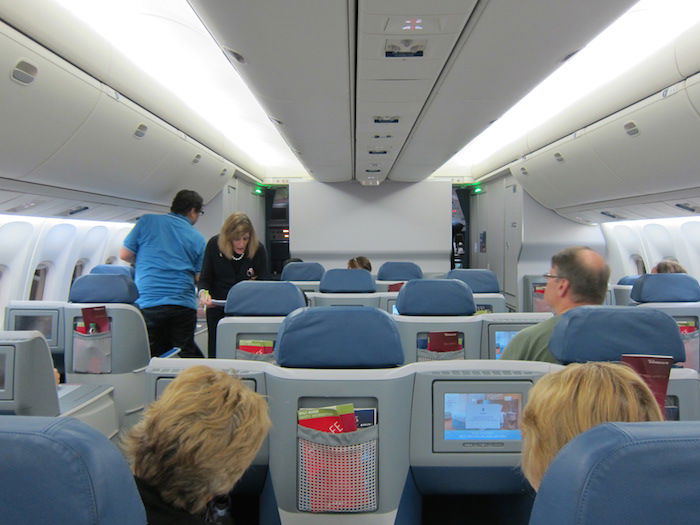 Delta's new Comfort+
Anyway, the most significant difference is with Economy Comfort, which Delta is rebranding as Comfort+. In the process they're:
Adding unlimited free drinks and snacks
Taking away the drink vouchers that Gold Medallions and above previously received when flying coach
Taking away Gold Medallion members being able to assign Comfort+ seats at the time of booking — now Gold Medallion members can assign them 72 hours before departure, and Silver Medallion members can assign them 24 hours before departure
Why Comfort+ isn't totally bad for Gold & Silver Medallion members
One thing I overlooked — and which I didn't really see pointed out by many others — is that presently Gold Medallions don't receive complimentary Economy Comfort on international flights. While they receive it at the time of booking for domestic flights (as of now), they only receive a 50% discount for Economy Comfort on international flights.


Under the new system, both Gold and Silver Medallion members win at least somewhat, as they'll be able to assign Comfort+ 72 hours and 24 hours out, respectively… even on international flights!
And to those pointing out only the crappy seats will be available then, I don't think that's entirely true. A lot of upgrades only clear within three days of departure, so it shouldn't be too tough to snag a good seat in Comfort+.
Bottom line
Whether or not this is good or bad news depends entirely on your travel patterns. If you're a Diamond or Platinum Medallion it's good news because you get unlimited free snacks and drinks in Comfort+. If you're a Gold Medallion it's probably good news if you primarily fly internationally, while it's probably bad news if you fly primarily domestically.
Just figured I should point this out, since it was news to me…