Delta Air Lines flight 89 bound from Los Angeles to Shanghai today experienced engine issues after takeoff. The Boeing 777-200 had to return to LAX. However, the plane was too heavy to land, so it had to dump fuel before it could do so.
Dumping fuel is totally routine when a wide body has an emergency landing, since a 777's maximum takeoff weight is significantly higher than its maximum landing weight. Typically when airplanes dump fuel they do so over an area that's either not populated, or over the water.
However, for whatever reason this Delta plane dumped fuel over a populated area, and in this case it even dumped fuel over a school, causing minor injuries to 27 people.
VIDEO ↩️ DIVERSION RETURN
Delta #DL89 to Shanghai returning to Los Angeles shortly after departure. Reported an engine failure (compressor stall) on departure.@ShorealoneFilms captured the flight dumping fuel, to reduce landing weight. ARFF standing by. pic.twitter.com/knaK5dKWXe

— Tom Podolec Aviation (@TomPodolec) January 14, 2020
Specifically, 17 children and nine adults have been treated at an elementary school in southeast Los Angeles after a plane dumped fuel on the school's playground. More than 70 firefighters and paramedics responded to the school.
The plane also dumped fuel in other areas, though it's not yet known whether anyone else was injured.
So, what would cause a 777 to dump fuel at a low altitude over a populated area? Looking at flight tracking, it seems that the plane was only in the air for a total of 25 minutes, and it reached a highest altitude of 8,000 feet. The plane returned to the airport pretty immediately, as you can see based on the below map from Flightradar24.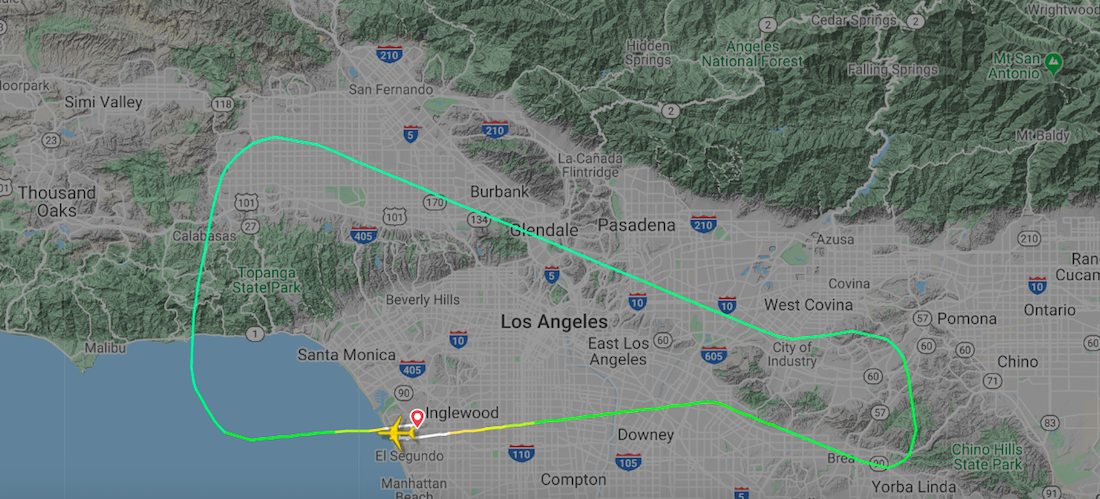 While details are still emerging, on the surface this would suggest to me that it was a fairly serious emergency that required returning to the airport ASAP. Usually if a heavy plane dumps fuel the flight will take a lot more than 25 minutes — the plane will fly out over the water and enter a holding pattern while it dumps fuel, before returning to the airport.
In this case they clearly decided that for whatever reason there was no time for that, and they needed to dump fuel ASAP regardless of where they were flying.
Thank goodness that there were no major injuries, and that the plane landed safely. Like I said, an emergency landing as such is pretty routine and doesn't mean the plane is in danger, though the fact that the plane was only in the air for 25 minutes and dumped fuel during this time, suggests that this was most likely a serious situation.