It's always cool when airlines publish notable statistics about their frequent flyers. I'm not talking about the secrets they typically guard (like how many members they have in each elite tier), but rather essentially when they "brag" about some of their members.
I just saw Delta's Milestone Awards for 2019, where they recognize Medallion members who achieved some of the "most remarkable feats," as Delta describes it. This is the second year in a row where Delta has published these.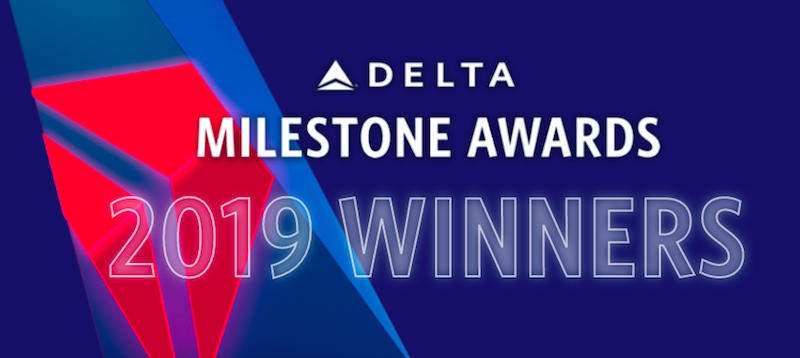 Let's take a look at some of the most interesting people in terms of their 2019 Delta flying activity. As a reminder, presumably all of these statistics are based on activity credited to SkyMiles accounts, so this doesn't factor in travel on non-partner airlines, etc.
https://www.youtube.com/watch?v=LBGaD5P5-ws
Medallion members who flew the most
First here's a look at the Medallion members who flew the most in each tier:
One SkyMiles Silver Medallion member flew a total of 103,340 miles
One SkyMiles Gold Medallion member flew a total of 113,335 miles
One SkyMiles Platinum Medallion member flew a total of 162,986 miles
One SkyMiles Diamond Medallion member flew a total of 455,186 miles
One SkyMiles Diamond Medallion member flew 244 segments
I'm not surprised that the SkyMiles member who flew the most flew a total of 455,186 miles. As he's described, the top flyer lives in Zurich, works in New York, and has family in California.
455,000 miles averages about 8,750 miles per week, which basically translates to one transatlantic crossing per week. That's a lot of flying, but also not surprising.
Perhaps the most notable thing is that a SkyMiles Silver Medallion member flew 103,340 miles during the year. Ouch.
If he earned at least 50,000 Medallion Qualifying Miles he would have earned Gold Medallion status, so that means on average he was earning less than half an elite mile per actual flown mile.
One has to wonder if he could have done better by crediting to another program, especially since a majority of his travel was presumably on partner airlines.
Other notable achievements
Here are a few of the other notable achievements in 2019 that I found most interesting:
One SkyMiles member traveled to 21 countries
One SkyMiles member visited 47 destinations
One SkyMiles member flew on 41 redeyes
One SkyMiles member earned 1,007,805 miles on partner airlines
One SkyMiles member flew 71 roundtrip one-day trips
One SkyMiles member took 148 business trips, and 125 of those were booked with one day notice or less
One SkyMiles member donated a million miles to SkyWish
I find all of these to be cool to see, though not particularly surprising. I feel bad for the person who took 41 redeyes in 2019, though I also feel like there are lots of road warriors who take a redeye more or less every week.
The 125 last minute business trips is perhaps somewhat surprising. As the Seattle based flyer describes his flying patterns:
"I'm available Monday through Friday to go anywhere at any time. If I get a service call, I book right away and leave from whatever city I'm in. I can leave Monday and not get back until Friday, not knowing in advance where I'm going to be on any given day."
The person earning over a million miles on partner airlines also isn't surprising. You can earn a maximum of 75,000 miles per trip, so that's like an expensive once monthly international business class ticket.
Bottom line
It's always cool when airlines publish statistics like this, and I find it's a great way to engage members and perhaps even encourage them to increase their loyalty.
Most of these "achievements" don't surprise me, though I do feel bad for the guy who flew over 100,000 miles and is only a Silver Medallion member.
Do any of the above stand out to you in particular?