Some of the popular Delta Amex co-branded credit cards are offering a great welcome bonus.
The best SkyMiles credit cards:
I know many people are trying to decide whether the Gold or Platinum version of the card is better for them, and I explained part of my thought process in deciding between these cards in this post.
Benefits of the Platinum Card over the Gold Card
Long term there are some benefits to the Platinum Card over the Gold Card, including that the card lets you earn Medallion Qualifying Miles towards status.
However, one of the other best perks of both Platinum Delta cards is that they offer a free domestic main cabin companion certificate upon your account renewal every year. There are some terms associated with this, though this can easily get you outsized value compared to the $250 annual fee (Rates & Fees).
When do you get the Delta companion certificate?
You'll receive the Delta companion certificate on the month of your cardmember anniversary, and it will be valid for 12 months when it's issued. Note that you don't receive this when you first apply for the card, but rather only starting with your first anniversary (and on every subsequent anniversary).
What are the restrictions on the Delta companion certificate?
Here are the basic restrictions to be aware of when redeeming a Delta companion certificate issued through the Platinum version of the card:
It's valid for roundtrip travel within the 48 contiguous United States
Residents of Hawaii, Alaska, Puerto Rico, or the USVI with SkyMiles accounts registered in those regions can use the certificate for travel from their home territory to the 48 contiguous United States
You have to pay the government taxes for the second traveler on the reservation
Companion certificates are only valid for travel in the L, U, T, X, and V fare classes
You can't combine a companion certificate with eCoupons
Travel has to be completed by the expiration date of the certificate
You have to pay for the ticket using a Delta Amex card
In the event you need to change your ticket, you'll pay a $200 per person change fee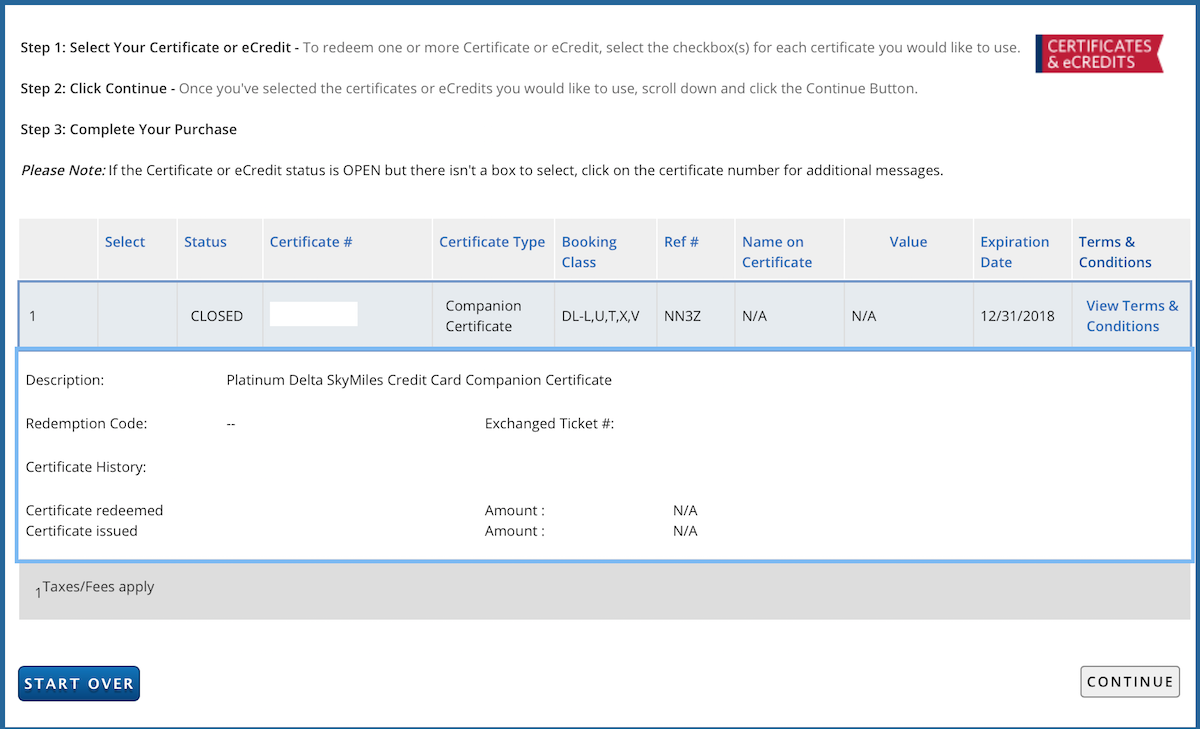 Can you earn miles for and upgrade Delta companion tickets?
When redeeming the Delta companion certificate, only the primary traveler earns miles, while the person traveling on the companion certificate doesn't. So this is great for someone who is an elite member, who travels with a family member who is a less frequent traveler.
Passengers traveling on Delta companion certificates are eligible for complimentary upgrades to both first class and Comfort+ based on the status of the higher tiered member. However, these tickets are not eligible for mileage upgrades, Global upgrades, or Regional upgrades.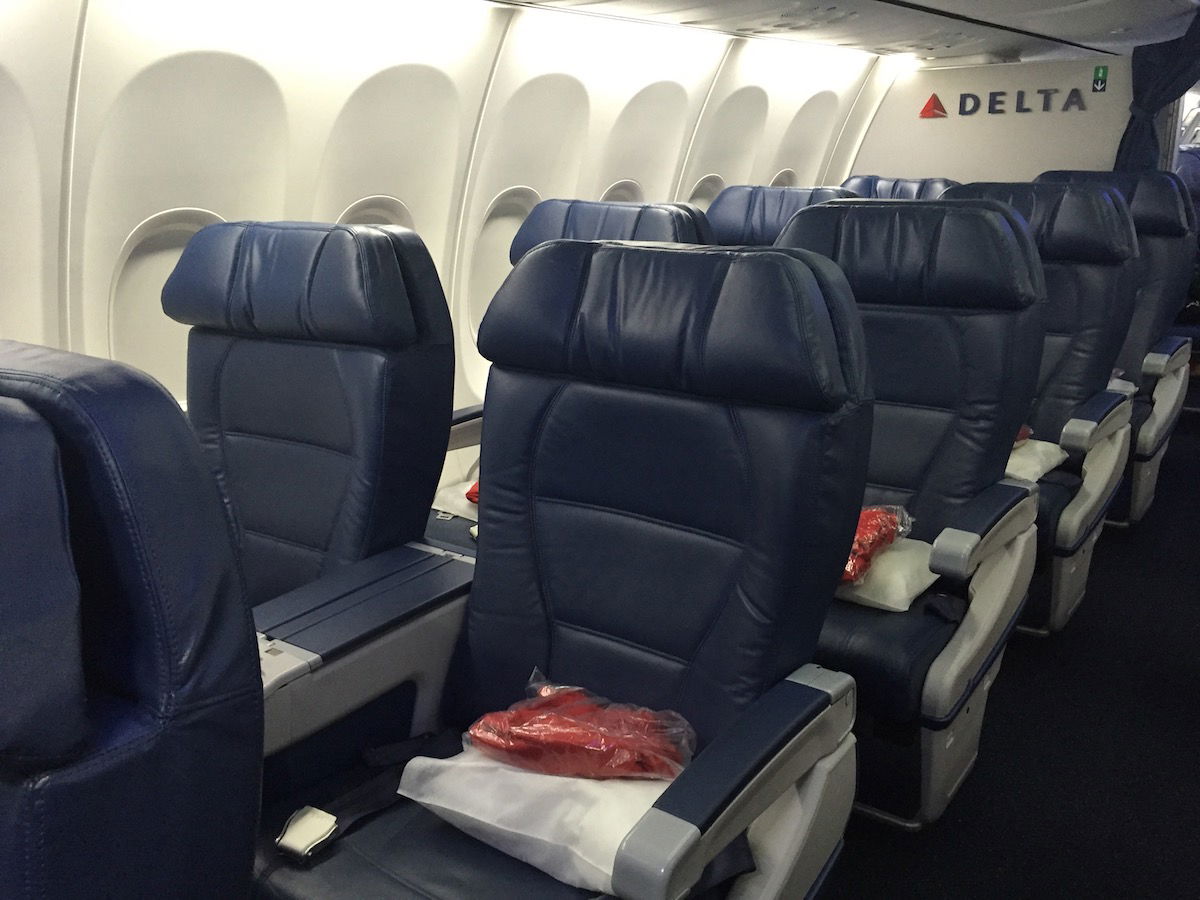 You can receive a complimentary first class upgrade when redeeming a companion certificate
How useful is the Delta companion certificate really?
This certificate has the potential to be quite valuable. The biggest restriction here is on fare classes — the companion certificate is only valid on L, U, T, X, and V fare classes. This covers most of Delta's cheaper economy fare classes, and excludes most of Delta's more expensive fare classes.
Given how expensive domestic airfare often is nowadays, essentially paying $250 plus tax to take a companion along is a great deal.
Let's look at an example. Let's say I wanted to fly from New York to Seattle roundtrip around Thanksgiving, for travel November 21 through November 27, 2018. The fare that's readily available is also one that's eligible for a companion certificate.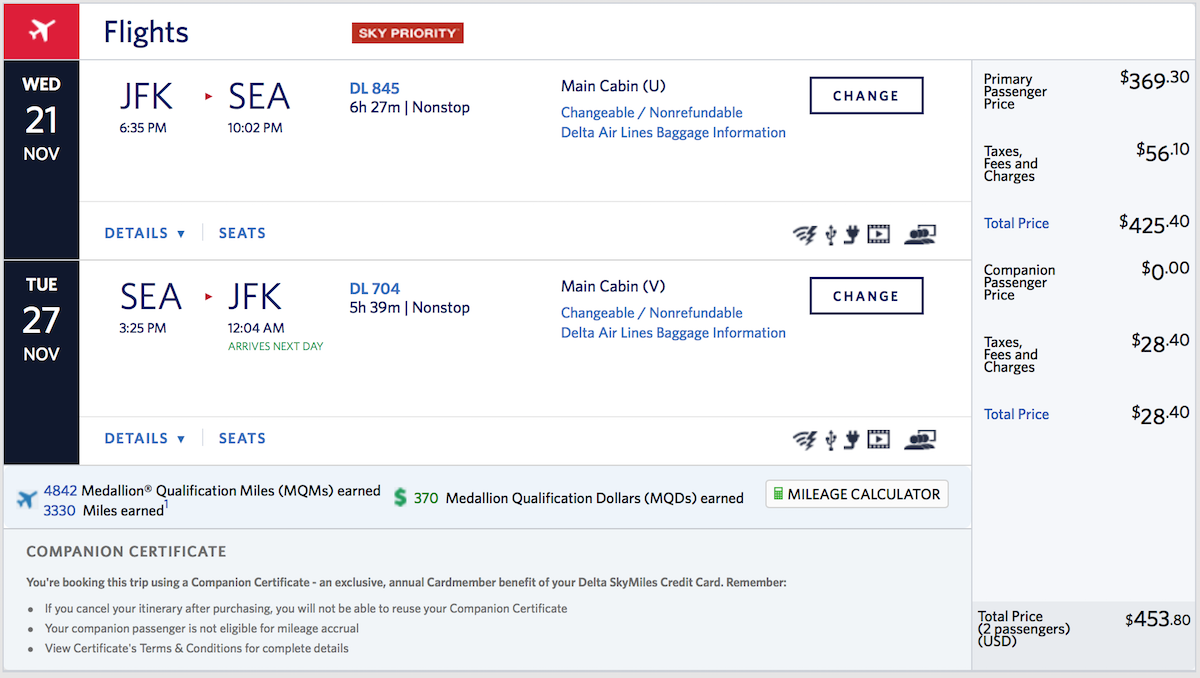 The ticket for one passenger would cost $425.40, and then you could add a second passenger for just $28.40 in taxes and fees. That's a heck of a deal.
That's just one example, but there are lots of example where this works out. Nowadays a vast majority of non-basic economy fares are $250+, so you'd come out ahead using this certificate.
Bottom line
There are some restrictions to be aware of with the companion certificate offered by the Platinum Delta cards. For example, only select economy fares are eligible, and the companion doesn't earn miles.
Even so, basically getting a companion to fly with you for ~$275 (when you factor in the annual fee on the card plus standard $28.40 in taxes) is a heck of a deal for anyone who flies Delta with any regularity.
This can be especially useful if you're a Delta elite member, since you can earn miles and get upgrades on these tickets. Your companion would also be eligible for upgrades, but just wouldn't earn miles.
If you've used a Delta companion certificate, what was your experience like?
The following links will direct you to the rates and fees for mentioned American Express Cards. These include: Delta SkyMiles® Platinum American Express Card (Rates & Fees).