While United was the first of the "big three" US carriers to introduce extra legroom economy seating (called "Economy Plus"), Delta has done the most to monetize it.
Back in late 2014, Delta rebranded their extra legroom economy seating as Comfort+, and in the process introduced some additional amenities for those passengers, including complimentary alcoholic beverages and snacks. Ultimately it seems smart to differentiate the product a bit, in hopes of convincing more people to pay for it, rather than it primarily being used by elite members who receive it on a complimentary basis.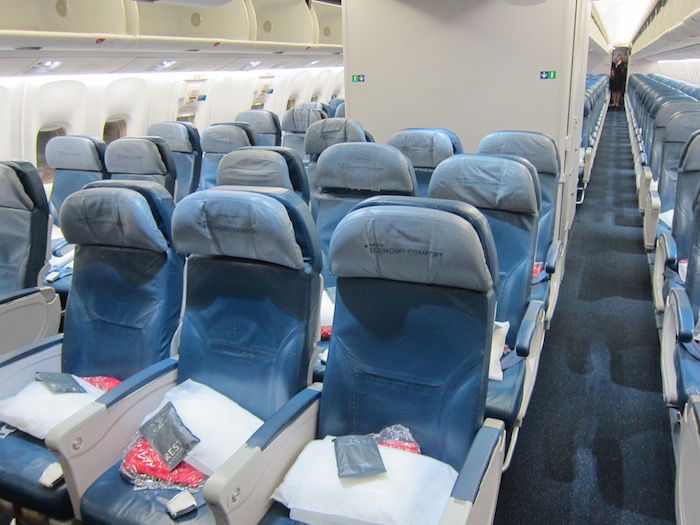 The biggest change to Comfort+ was announced late last year, when Delta introduced Comfort+ as a separate fare class on select flights. This went into effect for flights as of May 16, 2016 (last week). There were a couple of major implications:
You can now outright redeem miles or pay in cash for Comfort+, rather than it just being a buy-up option after booking; in other words, it's now a separate fare class with separate inventory
As a Medallion member you now have to request an upgrade to Comfort+ just as you would to first class, rather than just being able to select it directly from the seatmap; fortunately they haven't added capacity controls to Comfort+ upgrades… yet

The motive here is pretty obvious, as Delta wants passengers to start thinking of Comfort+ as a separate class of service which should be paid for, rather than something elite members are always "entitled" to. It's similar to what they've been doing with first class, and for that matter Delta has made it clear that they want to greatly increase the percentage of Comfort+ seats sold for cash.
While the changes to Comfort+ initially only applied to flights within the United States and Canada, Comfort+ being a separate fare class is now being expanded internationally, per the Medallion Program Updates page:
Effective May 21, 2016 for flights departing on or after September 19, 2016, Delta Comfort+ will be a booking option just like Main Cabin or First Class for flights to and from the Asia Pacific and Latin America/Caribbean regions. This includes travel between the U.S 50 and Canada to the Asia Pacific region or within the Asia Pacific region, excluding China, Hong Kong, and Taiwan as well as travel to Mexico, the Caribbean, Central America, and markets in South America where First Class product is available (Colombia, Ecuador, and Venezuela).
So for flights as of September 19, 2016, Comfort+ will be a separate fare class in the following regions:
For flights to/from/within Asia, excluding flights to China, Hong Kong, and Taiwan
For flights to/from the Caribbean/Latin America region, excluding flights to Mexico, the Caribbean, Central America, and markets in South America where First Class is available (Colombia, Ecuador, Venezuela)
I don't know what's up with the complexity with which they're implementing this. As you can see, Europe isn't being included in these changes, and many destinations in Asia and Latin America aren't being included either.
For Asia I wonder why they're specifically excluding China, Hong Kong, and Taiwan. For Latin America, I understand the distinction between markets with First Class and markets with Delta One (basically markets which are and aren't eligible for complimentary elite upgrades), but why are they excluding First Class markets, since these changes were first rolled out on domestic flights anyway?
Now if you search for tickets (whether paid or award) as of September 19, you'll see the option to book Comfort+ for the above mentioned regions. For example, here's a search between Atlanta and Tokyo Narita: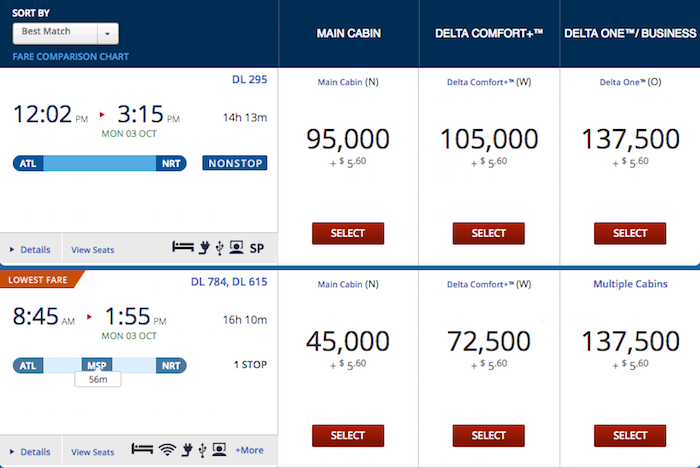 The disparity in pricing is fascinating. While the cost of economy and business class awards can vary greatly, historically the cost of Comfort+ upgrades has been fairly consistent. However, in the above examples the cost difference between Main Cabin and Comfort+ is quite different by routing — in one case it'll cost you an extra 10,000 miles, while in another case it'll cost you an extra 27,500 miles.
Just as a point of comparison, in the case of a paid ticket, the cost difference between Main Cabin and Comfort+ is consistent: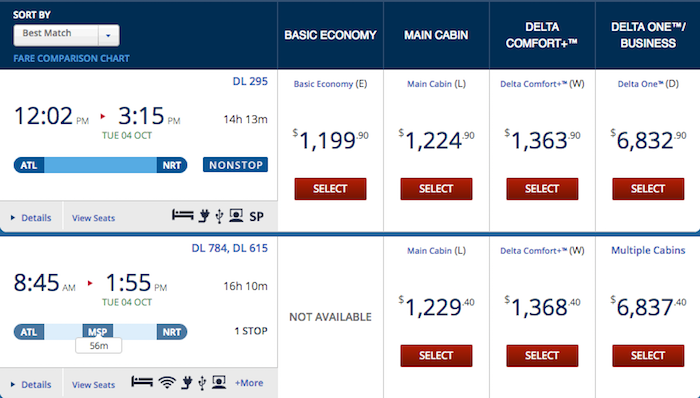 Bottom line
I'm not surprised to see Delta expand their attempt to differentiate Comfort+, though I am intrigued by the regions they're implementing this in. Short term there aren't any huge implications here, though the long term goal from Delta is pretty clear.
(Tip of the hat to laptoptravel)