Delta is the "best" of the "big three" US carriers, plain and simple. They have a fantastic route network, great on-time record, generally friendly employees, planes with amenities that business travelers value (wifi & power ports), etc.
The problem is that they know they're the best, and therefore they do just about anything they can to destroy the value of their frequent flyer program… because they feel that they just don't need it. The issue is that the other US carriers follow their lead, using the logic that if Delta is doing something then it must be the right thing to do.
Which brings us to Delta's latest changes to Comfort+… but first some background.
US carriers do premium economy differently
Many non-US airlines have "true" premium economy products, which are somewhere between economy and business class. As business class has improved over the years and as economy class has become tighter and tighter, there's a market for some middle ground.
So many airlines offer premium economy, which I guess could most closely be compared to domestic first class within the US, though perhaps a little bit less spacious.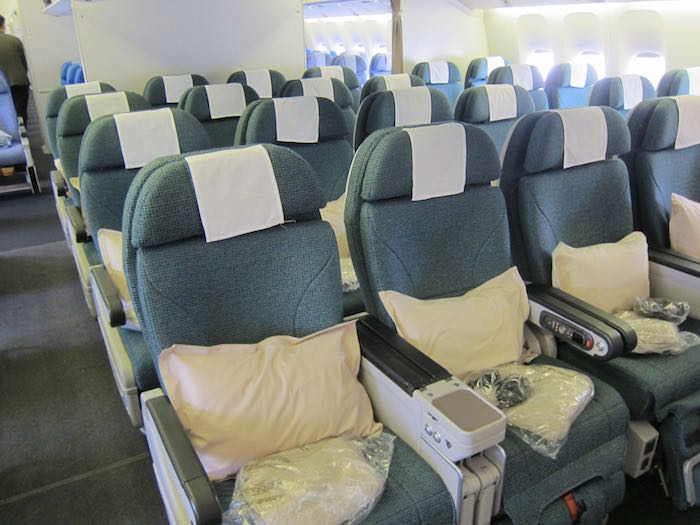 Cathay Pacific's premium economy
US airlines have historically not offered premium economy, though they have offered an extra legroom economy product. This started with United introducing Economy Plus eons ago, and then American followed with Main Cabin Extra and Delta followed with Comfort+. What's different is that they're typically the same economy seats which simply have a bit of extra legroom.
As a general rule of thumb the extra legroom cabin has been complimentary for elite members (at least higher tier elites), though airlines have been doing more to monetize it, understandably.
Delta's "innovating" extra legroom seating
While Delta was at first a follower when it comes to extra legroom economy seating, they've slowly become the innovator.
Late last year Delta announced they were rebranding their extra legroom seating to Comfort+. Perhaps the most significant distinction is that they began offering free alcoholic beverages and snacks in Comfort+, which is the first time we've seen a US airline offer that.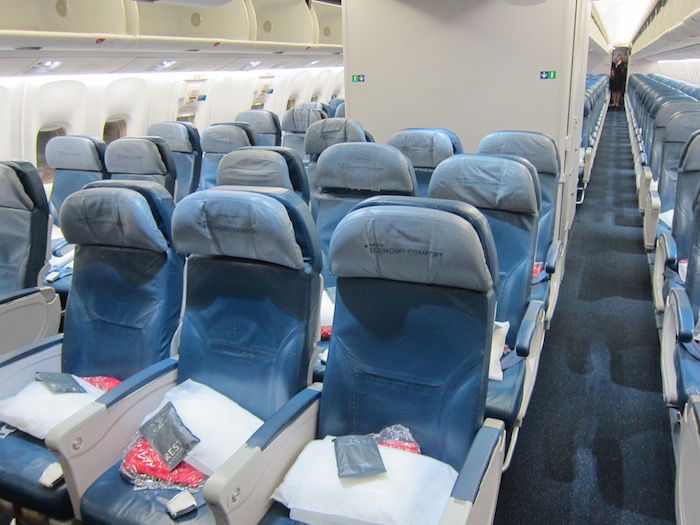 More recently they've clearly been trying to make it more like a separate class of service, as they've also started introducing curtains between the main economy cabin and Comfort+.
Clearly they're hoping for a return on investment, or else they wouldn't be making these changes. 😉
Comfort+ will become a separate fare class
Aaaaaand now we're learning Delta's motivation for trying to differentiate Comfort+.
As of May 16, 2016, Delta is introducing Comfort+ as a separate fare class.
In other words, previously you could buy regular economy and then pay to upgrade to Comfort+, while under the new system Comfort+ will have a specific fare class, and you can buy those seats directly.
If you look at flights as of May 16, 2016, you'll already see the fare classes loaded:

Similarly, you can also redeem miles directly for Comfort+. Take the above flight, where Comfort+ is $25 more than the "normal" Main Cabin fare.
If redeeming miles, you can redeem an extra 5,000 SkyMiles for Comfort+. Spending an extra 5,000 miles for a ticket which would cost an extra $25 isn't exactly much of a deal, at half a cent per mile.

So Delta is finally marketing this as a completely different product, much like non-US carriers market premium economy.
What are the implications of Comfort+ changes?
Okay, Delta now has a separate fare class for Comfort+. So what?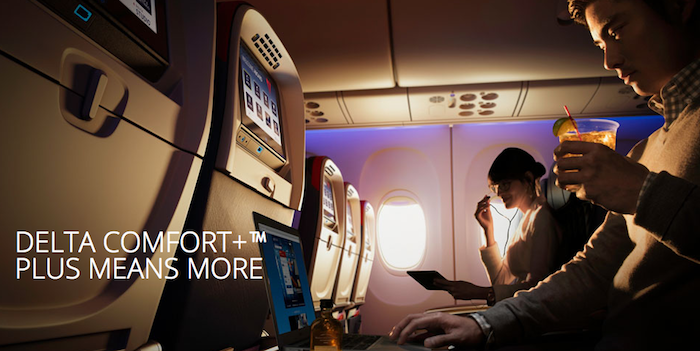 Not surprisingly, Delta isn't being especially straightforward in publishing these changes, but rather is making us connect the dots about the implications by revealing information in the form of FAQs.
The first interesting change is that Platinum and Diamond Medallion members will have to go through an extra step to request Comfort+ seats. Previously they could directly assign them on the seatmap when booking, while now they'll have to book and then click the "Request Upgrade" box on the passenger information page. Here's how it's explained in the FAQs:
AS A DIAMOND OR PLATINUM MEDALLION MEMBER, HOW CAN I TAKE ADVANTAGE OF MY COMPLIMENTARY ACCESS TO DELTA COMFORT+ FOR FLIGHTS WITHIN THE U.S. 50 AND CANADA DEPARTING ON OR AFTER MAY 16, 2016?

In order to take advantage of complimentary access to Delta Comfort+ for flights within the U.S. 50 and Canada, select a Main Cabin ticket and make sure to check the Delta Comfort+ box in the Request Upgrade section of the Passenger Information page. Your upgrade will be based on availability at time of ticketing or anytime thereafter. For your convenience, you can update your Complimentary Upgrade request at any time prior to departure in My Trips on delta.com, by contacting Delta Reservations or by requesting at check-in.
The worst change is probably that Delta is cutting guesting privileges into Comfort+. Previously Medallion members could take up to eight companions into Comfort+, while under the new system they can take at most one companion for free. Here's how it's described:
As PART OF MY MEDALLION BENEFITS, WILL MY TRAVEL COMPANION STILL ENJOY COMPLIMENTARY ACCESS TO DELTA COMFORT+?

For flights within the U.S. 50 and Canada, departing on or after May 16, 2016, Medallion members and one SkyMiles traveling companion may enjoy complimentary access to Delta Comfort+ when traveling in the same reservation on Delta and Delta Connection carriers. Clearance priority will be based on the priority of the lowest level SkyMiles member in your reservation. For flights prior to May 16, 2016, Medallion members and up to eight traveling companions in the same reservation may be eligible for Delta Comfort+ upgrades. Terms and conditions apply.
The part which makes no sense is where it says "clearance priority will be based on the priority of the lowest level SkyMiles member in your reservation." So if a Diamond Medallion is traveling with a Gold Medallion on the same reservation, does that mean they can only select Comfort+ seats 72 hours out? That makes absolutely no sense.
For a reference my friends in Atlanta may understand: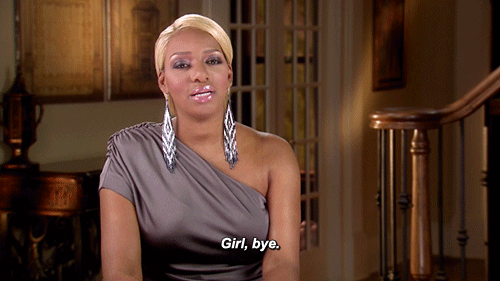 My thoughts on these changes
These changes don't surprise me, and frankly, I sort of commend Delta for their creativity. Unfortunately they're just too damn good at what they do, and we can't fault them for creatively trying to monetize on their value-add products. They know how to maximize shareholder value, that's for sure…
What remains to be seen is how many miles you'll accrue for booking directly into Comfort+. Will it offer a class of service bonus, much like paid first or business class would? Per the "earn miles" page on delta.com, flights in "W" class earn 150% MQMs: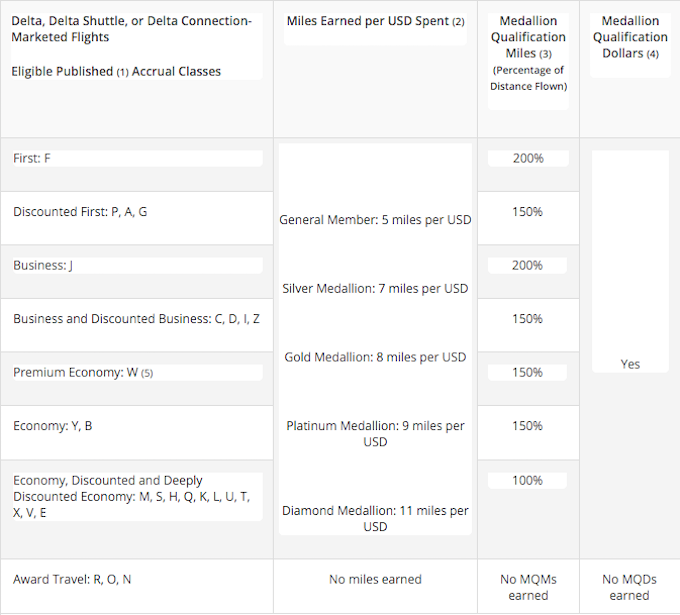 That being said, there is a specific disclaimer stating that this is only valid for flights operated by Air France, Virgin Atlantic, or Virgin Australia. So will there be a different accrual rate for travel in "W" class on Delta?
I'm also curious about how Comfort+ "availability" will work. Short term I don't think Delta will put any capacity restrictions on Comfort+. But long term something tells me they'll start to have separate Comfort+ upgrade inventory, just like they have for first class.
Just because a first class seat is available for sale doesn't mean you can upgrade to it, and I see no reason Delta would act differently towards Comfort+.
Bottom line
Delta has clearly been trying to differentiate Comfort+, so it was only a matter of waiting for the other shoe to drop. Is this move good for consumers/elite members? Absolutely not. Is this a smart revenue enhancement technique on the part of Delta? I'd say so.
Eventually my guess is that Comfort+ upgrade inventory will be a subset of actual availability. Heck, maybe long term elite members will be lucky if they can upgrade to Comfort+, and upgrades from economy to first class aren't even an option anymore. I'm sure it's all a part of Delta's long term plan. And good for them, I suppose.
The major implication here is that when Delta does something, United and American follow. So keep your eyes out for that…
What do you make of Delta's Comfort+ changes? What do you think their long term strategy is?