Delta has announced that they're overhauling their boarding process. Or at least that's how they view it. I'm not sure it's quite as radical as they think.
Zone boarding has been the standard in the airline industry for decades, and going forward Delta will instead start boarding by branded fare purchased. Personally I don't think they're actually dumping zone boarding, but rather they're just rebranding it. Delta says that this is part of their effort to bring consistency, simplicity, and clarity to the gate and boarding experience.
These changes will kick in on all Delta operated flights globally as of January 23, 2019. With this, Delta will introduce new color accents that distinguish Delta's fare products (Basic Economy, Main Cabin, Delta Comfort+, Delta Premium Select/First Class and Delta One).
Each fare product will have a specific color, inspired by Delta's primary brand palette.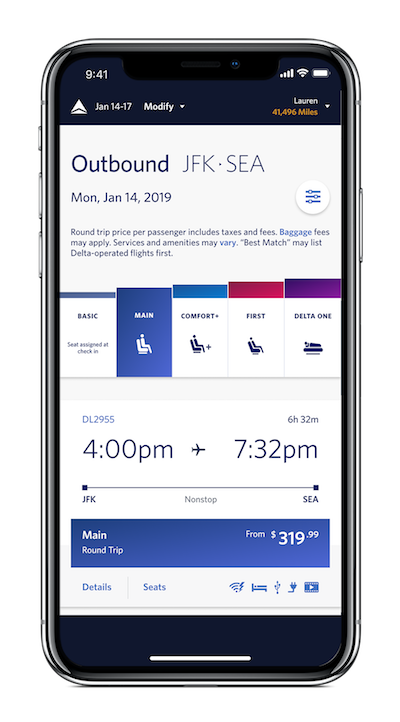 Delta's SVP and and Chief Marketing Officer had the following to say about these changes:
"Every customer values consistency and a sense of knowing what to expect when they're traveling. We have been listening to our customers about the stress they often feel at the gate before boarding, and implementing small changes for years. This latest enhancement further refines how Delta's process works and is designed to better link the Delta product they purchased to differentiated experiences throughout their journey."
With these changes, Delta will rename boarding groups to reflect the branded fare purchase, and will also increase the number of boarding groups to encourage fewer customers to line up in the gate area at any one time.
Here's a chart showing the new boarding order:
The reason I say these changes might not be quite as radical as Delta makes them out to be is because fundamentally main cabin boarding isn't changing. They'll just rename Zone 1 as Main Cabin 1, rename Zone 2 as Main Cabin 2, and so on.
The biggest differences here are to priority boarding:
For flights with Delta One, Delta One and Diamond Medallion customers will be invited to board first, followed by Premium Select customers
For flights without Delta One, first class and Diamond Medallion customers will be invited to board first
Previously they then boarded all Sky Priority customers, but now they'll board Comfort+ and then Sky Priority; this is bad news for Platinum Medallion members, who will now board after Comfort+ (assuming they're not in the cabin)
Clearly this change comes down to branding more than anything else, and doing everything they can to reinforce the experience that a customer purchased. Rather than just saying "Zone 2" they'll say "Main Cabin 2," and they hope that makes things clearer.
While I can appreciate that they want to stick with their color palate, am I the only one who thinks this could confuse people? Since "Passport Plum" isn't a color everyone is familiar with, I'm not sure whether this colored branding makes things easier or more confusing.

Bottom line
Delta makes it sound like they're reinventing the wheel with this new boarding process. I'm not sure I personally see these changes as being such a huge deal.
Delta isn't actually getting rid of zone boarding. Rather they're doing what they can to have the boarding announcement reflect the experience someone purchased, though for a vast majority of passengers, they'll still either be in Main Cabin 1, Main Cabin 2, Main Cabin 3, or Main Cabin 4.
So while I appreciate them making the process less arbitrary and better helping people understand what they purchased, I do think the similarity of the colors adds confusion, and I wouldn't say that they're getting rid of zone boarding.
What do you make of Delta's new boarding process?