The International Air Transport Association (IATA) Annual General Meeting has taken place in Miami for the past several days, and as usual, quite a bit came out of it. A lot of what's discussed is higher level stuff about the direction the industry is headed, though it looks like carry-ons have also been addressed.
Long story short, IATA wants to "optimize" the accommodation of carry-on bags by standardizing (and in many cases decreasing) their maximum size. Their argument is that this new standard carry-on size would allow everyone on planes with at least 120 seats to have room for their bags.
Here's the IATA press release, entitled "Airlines to Address Carry-On Bag Dilemma:"
Miami – The International Air Transport Association (IATA), announced a new initiative to optimize the accommodation of carry-on bags given differing carry-on bag sizes and airline policies.

Working with airline members of IATA and aircraft manufacturers, an optimum size guideline for carry-on bags has been agreed that will make the best use of cabin storage space. A size of 55 x 35 x 20 cm (or 21.5 x 13.5 x 7.5 inches) means that theoretically everyone should have a chance to store their carry-on bags on board aircraft of 120 seats or larger.

An "IATA Cabin OK" logo to signify to airline staff that a bag meets the agreed size guidelines has been developed. A number of major international airlines have signaled their interest to join the initiative and will soon be introducing the guidelines into their operations.

"The development of an agreed optimal cabin bag size will bring common sense and order to the problem of differing sizes for carry-on bags. We know the current situation can be frustrating for passengers. This work will help to iron out inconsistencies and lead to an improved passenger experience," said Tom Windmuller, IATA's Senior Vice President for Airport, Passenger, Cargo and Security.

IATA is working with baggage tracking solutions provider Okoban to manage the approval process of bag manufacturers. Each bag meeting the dimensions of the specifications will carry a special joint label featuring IATA and Okoban as well as a unique identification code that signals to airline staff that the bag complies with the optimum size guidelines.

Several major baggage manufacturers have developed products in line with the optimum size guidelines, and it is expected bags carrying the identifying label will start to reach retail shops later this year. Recognition of the IATA Cabin OK logo is expected to grow with time as more airlines opt-in to this IATA initiative.
The first thing worth noting here is that adopting this policy would by no means be compulsory for member airlines. It's suggested as a way to (theoretically) make their operations run more smoothly, and while many airlines follow most IATA suggestions, not all will.
IATA is proposing carry-ons to be limited to 21.5 x 13.5 x 7.5 inches. How does this compare to some US airlines?
American, Delta, and United limit carry-ons to 22 x 14 x 9 inches
Alaska limits carry-ons to 24 x 17 x 10 inches, which is as far as I know the most generous carry-on policy of any airline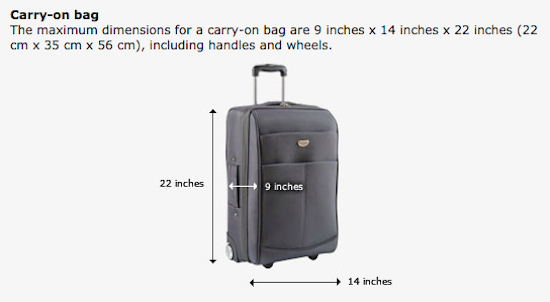 Bottom line
Personally I don't view this as some evil plan by IATA to extract more revenue out of passengers (though they'd have an incentive to do that as well). Instead I suspect they're genuinely trying to find a solution to what's a real problem for airlines. The carry-on bag situation for many airlines can impact on-time departure performance, which can cost airlines millions of dollars.
Of course I'd argue the problem with the current carry-on "situation" — at least in the US — isn't the limit as such, but rather the lack of enforcement.
So we'll see whether airlines adopt the new IATA standard. I doubt it'll happen overnight, and I suspect it will mostly just happen for airlines which already have less generous carry-on policies.
How do you feel about IATA's suggestion to shrink carry-on bags?