On Monday night I managed to score a bump off the later SFO to IAD redeye. Everything sounded great, until we got to the hotels they could accommodate me at — "Hmm, looks like we have the Red Roof Inn, Best Western, or Country Inn. Which did you prefer?" To me that sounded more like "Which would you prefer, seat 26B on an A320, seat 43E on a 777, or seat 34E on a 757?"
Now I hate to sound like a snob (and I'm sure many will perceive this post as being snobby), but hear me out. You know the show "Monk?" Well, I'm sorta kinda just a little bit like him, in the sense that I over analyze things and am kind of disgusted by hotels in general, especially when you consider how many people sleep in the same beds and stay in the same rooms in a given year. Well, I kind of think the cheaper the hotel, the more corners they cut when it comes to "cleanliness," and I think for the most part that's true. Fortunately I'm able to use hotel points to stay at nice hotels when actually vacationing, and at least stay at three star major chain brands like Doubletree, Embassy Suites, etc., when mileage running, even when United is footing the bill. Regardless of what class the hotel is, I'm always a bit "careful" in hotels.
Anyway, I figured it couldn't be that bad, and to be honest it wasn't…. at least not that bad.
The good news is that they share a hotel shuttle with all the crap hotels north of SFO, so the shuttles run frequently.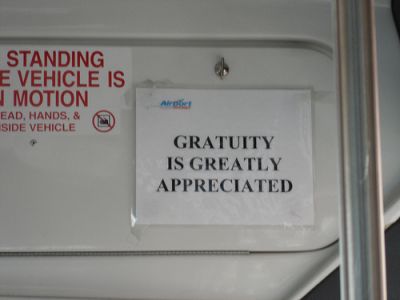 Not begging would be greatly appreciated
When I arrived at the hotel I was not a happy camper. The hotel had exterior hallways like any two star roadside motel.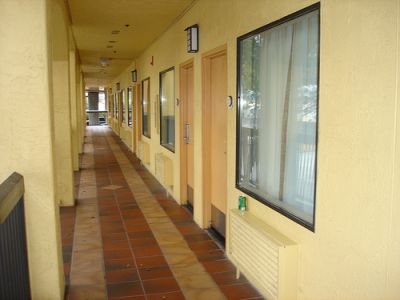 Not my soda!
At check-in I was asked for my ID, which I showed from my wallet, because it has a special ID holder. "No, you need to take it out." Fine, I took it out and he went to the back room and made a photocopy. I didn't have much ground to stand on in terms of rejecting his request, but that obviously ticked me off! Oh well. At check-in I was also handed a "welcome" kit.
Wow, Pepto Bismol, Advil, Alka Seltzer. They must assume everyone showing up is either totally wasted or back from an all-you-can-eat buffet. I was kind of expecting something else in the "welcome kit" as well given the type of hotel, but we won't go there. 😉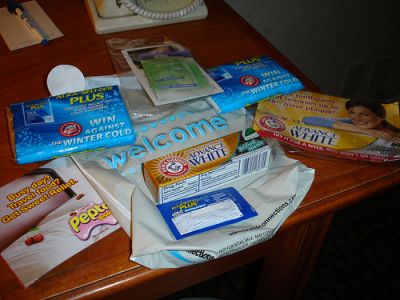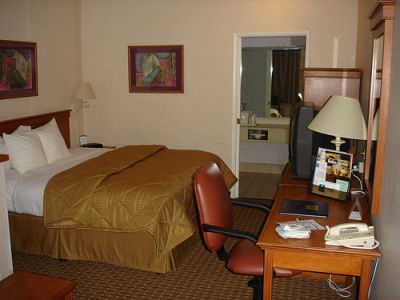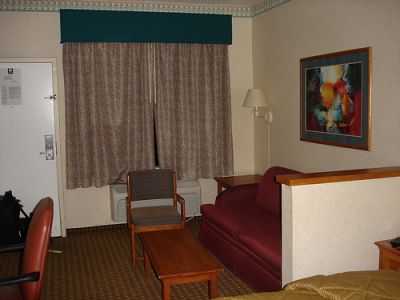 What bothered me the most was that the curtains pictured above were the only thing separating me from the outside corridor. Given that they didn't close all the way, anyone could just peak right through. Doesn't make me feel all that safe.
I also thought the internet log-in page was pretty funny. There was a picture of the Burj Al Arab. Sorry, but this ain't no Burj!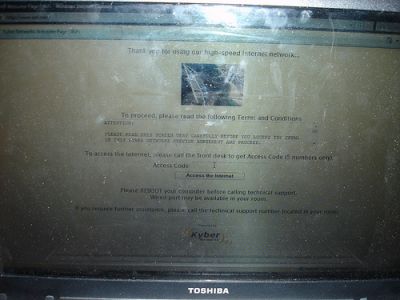 Yeah, I know I need to clean my computer screen
In the end it was worth it for the bump, and it made me appreciate the hotels I usually get to stay in due to my crazy hobby. It's kind of like flying in an economy "minus" middle seat and then appreciating the simple things in life like domestic first class. 😀