The information and associated card details on this page for the Carlson card has been collected independently by OMAAT and has not been reviewed or provided by the card issuer.
In early April Club Carlson first announced a huge change to the Club Carlson Premier Rewards Visa Signature® Card. For years the card offered an amazing benefit whereby the second night of every award redemption was free, which is an incredible perk. That means when staying in increments of two nights, you were basically getting 50% off redemptions.
That benefit was being discontinued as of June 1, 2015, so a couple of days ago Travis shared some great tips for maximizing the benefit before it went away.
There's understandably a bit of confusion about when the deadline is to book with the second night free benefit, given that it's supposed to be "discontinued as of June 1, 2015." To me that means that May 31, 2015, is the last day to book under the offer.
However, according to the Club Carlson rep on Twitter, you can continue to make second night free bookings through 11PM CT today, June 1, 2015.

What has already kicked in, however, is Club Carlson's category changes, which were steep. Overnight these category changes went into effect, whereby we're seeing over 300 properties change categories, and about two thirds of them are going up in price. The biggest sting has to be how many are becoming Category 7 properties. Previously there were just 11 of them, while now there are more than six times as many Category 7 properties.
So if you snoozed and haven't yet made your second free night bookings, you still have several hours to do this… it'll just be under the new award chart.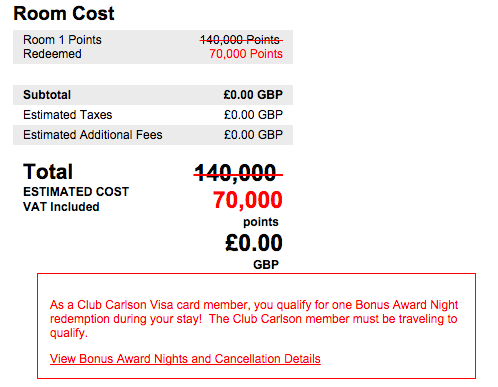 Do keep in mind that in some cases the cost of redemptions went down, so this means you actually have an opportunity to book the hotels that went down in category at the new, lower costs, with the second night free benefit. For example, the Radisson Blu Amritsar has gone from a Category 3 to Category 1 property, so you can now book that for 9,000 points per night. And if you book by tonight, you can get the second night free.

Happy booking!