Qatar Airways consistently publishes excellent premium fares, especially if you're traveling out of select markets, like Cairo, Casablanca, Colombo, etc. While fares are typically fantastic to begin with, at the moment they're offering a Ramadan fare sale.
While there are lots of great fares to be had, the best business class deal I see is between Colombo and Boston. The fare is valid for bookings by June 10, and for travel through December 15, 2016. You also have to travel as a party of two to get the best possible price.
As usual with these fare sales, seats are limited and some blackout dates apply.
So, how good is the Colombo to Boston business class fare? The total for two passengers is $2,646, or ~$1,323 per person. That's incredible.
This trip covers a distance of ~19,000 miles roundtrip, and if you credit to American AAdvantage you'd earn a 50% bonus on elite qualifying miles.
Perhaps best of all, the flights between Boston and Doha are operated by the Qatar Airways A350, which features Qatar's fantastic reverse herringbone business class product. All around I think Qatar has among the best business class products in the world, between the seat, availability of wifi, on demand dining menu, excellent food & drink selection, etc.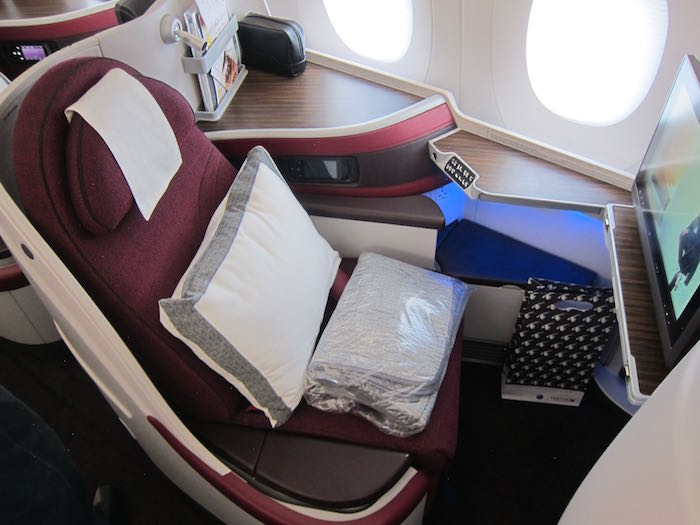 It goes without saying that this type of ticket won't be practical for everyone, given that it's for travel from Asia to the US, and not the other way around. However, this could be practical for someone based in Asia, and also for crazy people based in the US, who don't mind doing a lot of positioning. If you're planning two trips to Asia, for example, plan the journey from Colombo to Boston as the return of your first trip, and the journey from Boston to Colombo as the outbound of your second trip.
I'm very tempted by this fare. I'll probably pass on this one, since I'm requalified for American Executive Platinum for this year. If we see a similar fare next year (which I'm sure we will), maybe I'll use that as a way of easily requalifying for status.
Hopefully some of you can take advantage of this deal, though!
(Tip of the hat to alpenrock on FlyerTalk)