Want to plan a Ritz-Carlton cruise? Contact

[email protected]

for more details, as he can help you plan your journey, and add additional perks.
I just booked my first cruise in over a decade, and I'm really excited!
I used to be obsessed with cruise ships
You guys know how obsessed I am with planes. Well, in my pre-teens I was every bit as obsessed with cruise ships. Living in Florida, my parents would take me on a cruise once a year (typically Carnival), and it was the highlight of my year.
I was so obsessed with cruise ships that I remember when I went to dinner with my parents at a young age I'd bring all the Carnival brochures that had all of their cruise itineraries in them, and then I'd fake "sell" my parents those cruises (they'd tell me where they wanted to go, and I had memorized all the cruises, ships, etc.).
Yeah, I was a weird kid (and am still weird, so not much has changed).
Then I fell out of love with cruises
I don't know at exactly what age it happened, but eventually I lost interest in cruises overnight. I'm not sure there's a good reason for it, or if it's just that I moved on. On some level I was put off by cruises.
At the time we typically took cruises that cost under $100 per day, and I asked myself "what kind of corners are they cutting that make these kinds of prices possible?"
So I went from loving cruises to not putting any thought into them.
I do recognize that over the years cruise lines have innovated, but still, I haven't had much interest:
While cruise ships are getting more amenities, there are now ships with 6,000+ people, and that just seems like a chore in terms of getting on, getting off, etc.
While there are smaller ships and higher end cruises, it seems that they're very much targeted at retirees/seniors; it could be that my impression is wrong, and there's nothing wrong with that really, but I get the impression we wouldn't fit in very well
Why Ritz-Carlton cruises got me interested again
A couple of years ago Ritz-Carlton announced their entry into the cruising world with Ritz-Carlton Yacht Collection. At the time I didn't put much thought into it, though not too long ago I realized that they started selling journeys, and I started to get interested.
I suppose my interest really originated based on the name — as a Marriott loyalist now, the thought of a floating Ritz-Carlton intrigues me.
The more research I did, the more I actually loved the concept. They'll be rolling out three yachts over the coming years, with the first one setting sail in February 2020 (actually, I just realized that the very first cruise sets sail one year from today).
While most cruise ships keep getting bigger, this is different, as it really does seem like more of a yacht than a cruise ship.
The Ritz-Carlton yacht has about 150 rooms, so at most can accommodate 300 guests. Best of all, all rooms are exterior facing and have balconies. The smaller ship interests me for a variety of reasons, including that they can sail to smaller ports that other ships can't go to, and also that I feel like getting on and off the ship at ports won't be like other cruise ships, where as a kid I remember you sometimes had to line up for an hour.
Seriously, how swanky-looking is this ship?!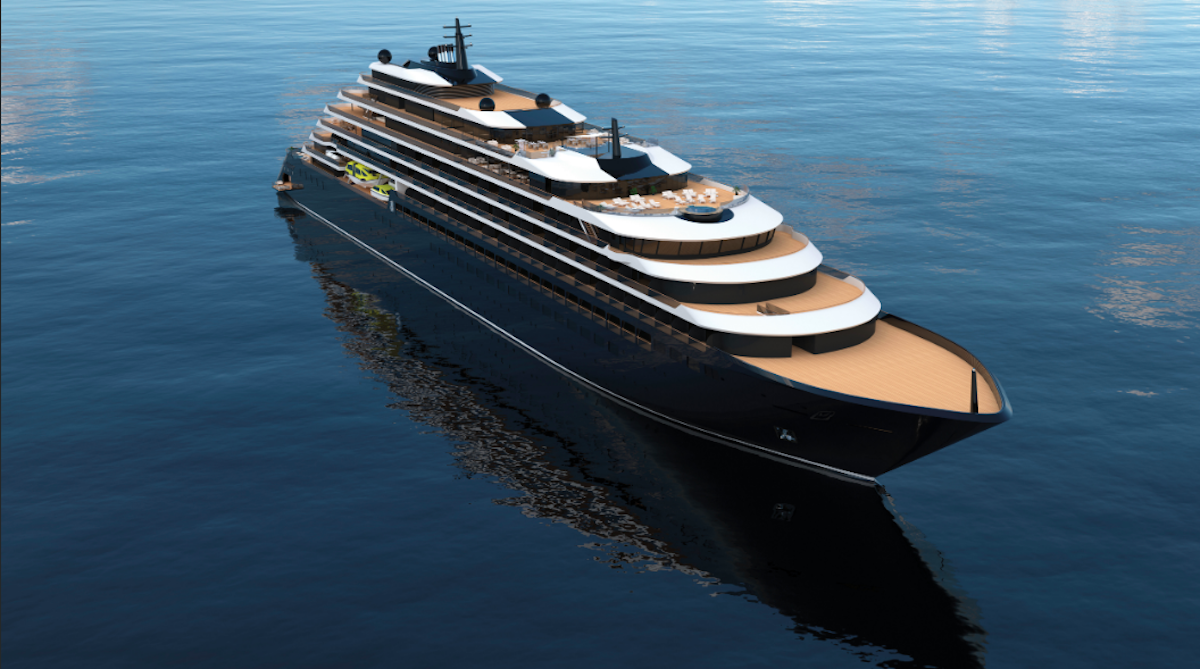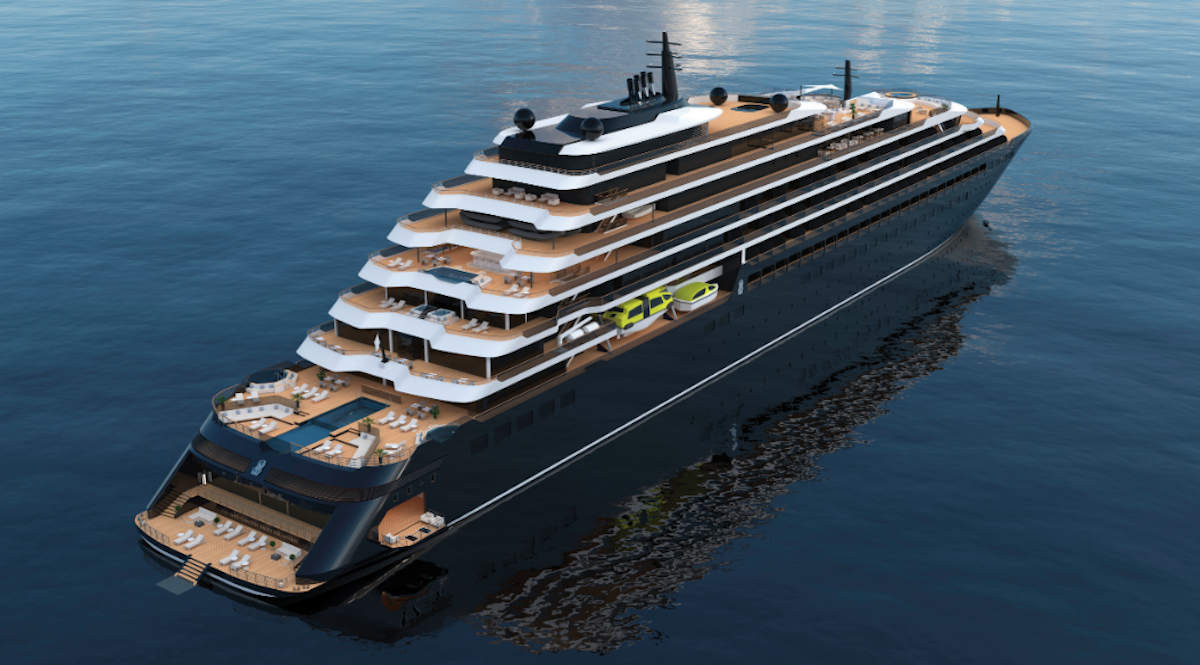 Unlike other big ships, this one doesn't have water slides, massive shopping malls, etc. Rather it just seems like a tastefully designed, smaller ship. Here are some renderings: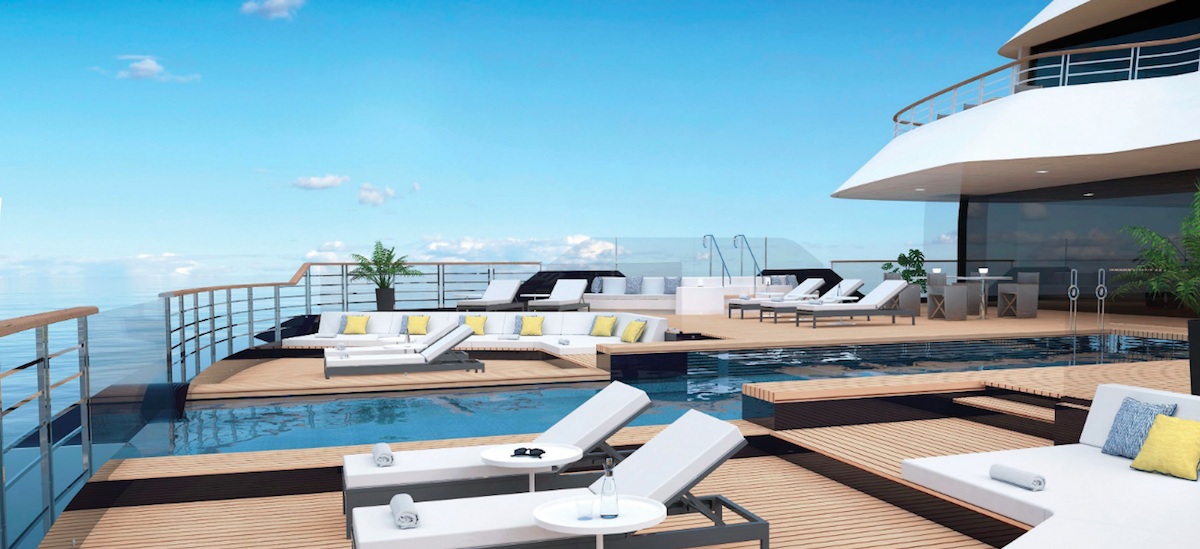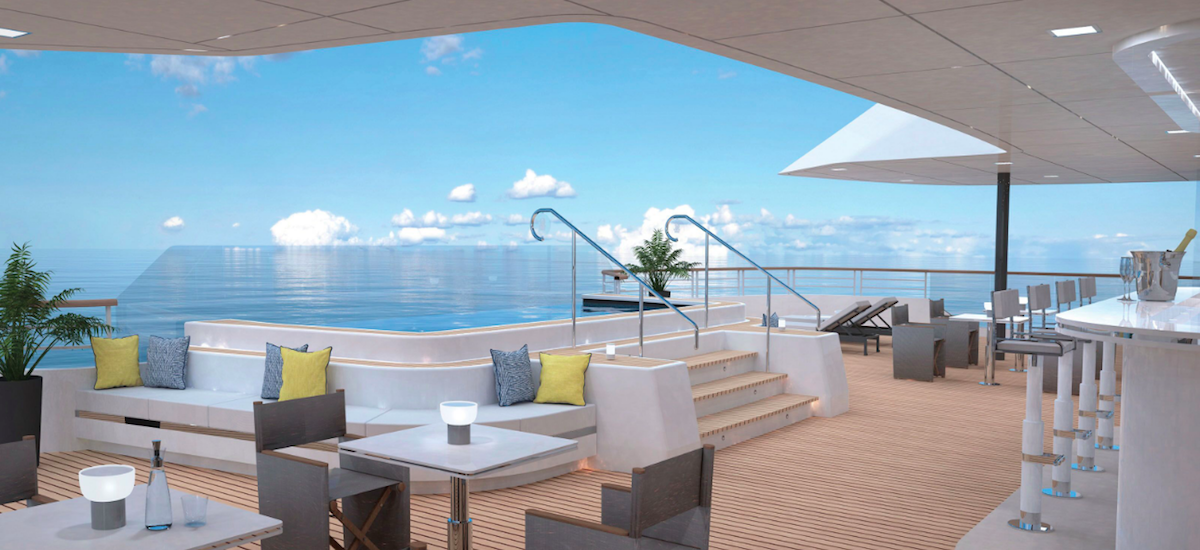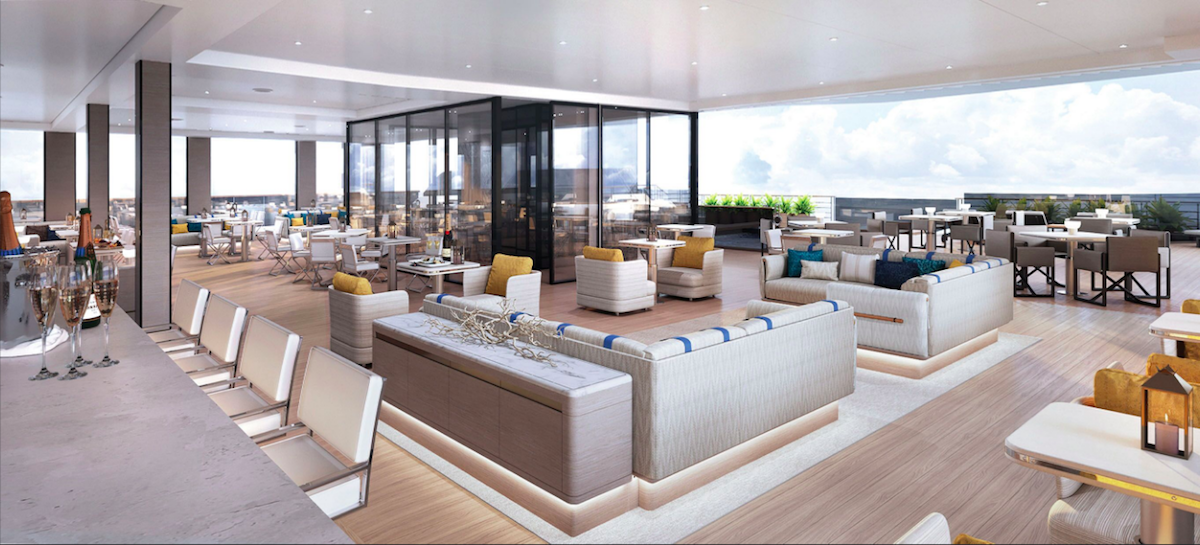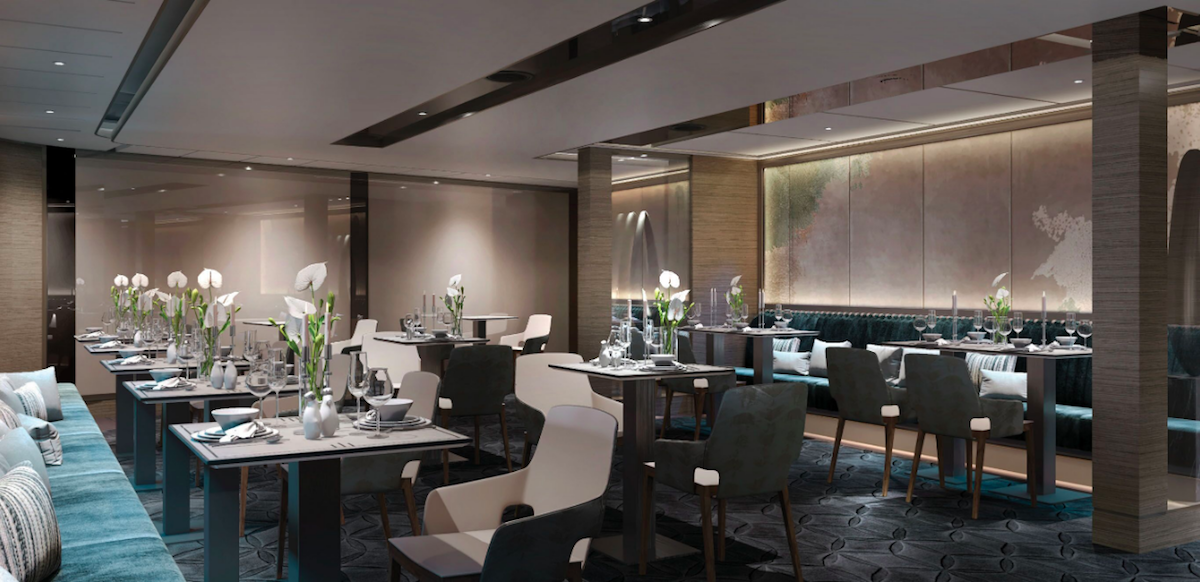 For anyone wondering, here's the deck plan for their ship.
There are some other cool things. While Ritz-Carlton cruises aren't cheap, at least they include all basic alcoholic drinks, all food, all gratuities, Wi-Fi, etc. So they're not nickel-and-diming you in the same way that other cruise lines are.
Where are Ritz-Carlton cruises sailing?
Ritz-Carlton Yacht Collection launches in February 2020, and as of now there's just a single ship. They have an awesome variety of cruises, ranging from Caribbean cruises, to European cruises, to transatlantic cruises. You can find the full listing of cruises here.
In addition to some more "typical" cruises, these two stood out to me: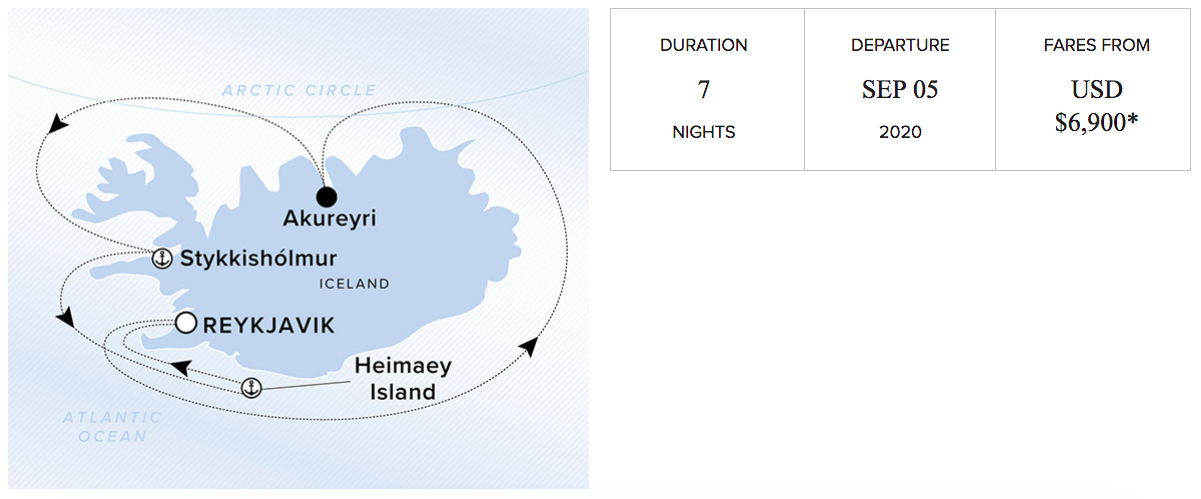 How expensive are Ritz-Carlton cruises?
In terms of pricing, it varies based on the itinerary you're looking at. As a general rule of thumb, it looks like for the cheapest cruises, rates start at about $540 per person per day based on double occupancy (on other cruises entry level rates are much higher).
Obviously that's still a lot, but frankly I was expecting it to be more expensive, especially given all the things that are included.
I mean, heck, the Ritz-Carlton Aruba, which is a resort factory that doesn't even look nice, costs over $1,000 per night per room in peak season not including anything, so by comparison this is a bargain.
Personally we decided to book one of the first sailings in the Caribbean, so that I can review the ship only shortly after it launches. It was also one of the cheaper cruises in terms of the cost per day.
How to book a Ritz-Carlton cruise
You can't directly book Ritz-Carlton cruises online, so you have two options:
You can either call Ritz-Carlton Yacht Collection and talk to someone on the phone
You can work with a travel advisor who can hopefully make the process a bit easier, can work by email, etc.; Ford has some experience having booked our cruise, and would be happy to help (and can get you the same pricing/he doesn't charge a fee), and can be reached at [email protected] (and other travel advisors are also welcome to leave their contact info below)
Bottom line
I'm really intrigued by Ritz-Carlton cruises, and can't wait to sail on one of their first voyages. I'm still undecided as to whether this will rekindle my love for cruises or not, but either way I think it should make an interesting story. It'll also be Ford's first ever cruise.
I'm curious how you guys feel about cruises in general, and if anyone else is considering a Ritz-Carlton Yacht Collection cruise?