Over the past couple of months, BLADE has made helicopter rides between Manhattan and the three NYC-area airports more affordable than ever before. BLADE is offering continuous helicopter rides to New York LaGuardia, New York JFK, and Newark Airport, from 7AM until 7PM on weekdays, and 3PM to 7PM on Sundays.
The cost is $195 one-way. While there are obviously cheaper ways to get between Manhattan and airports, this isn't half bad if you're located near one of the heliports, given that the helicopter ride takes just five minutes.
BLADE charges a consistent $195 one-way for these rides, and they've said that in the future they hope to make it even cheaper.
Well, at the moment BLADE has a promotion code where you can save $75 on your first flight with them. Just use promotion code AIRSOCIAL at the time you book.
To take advantage of this just download the BLADE app, and make sure you set up an account (this won't work without an account, since they want to make sure you're a first time user).
BLADE's app isn't especially good, in my opinion, and to see these continuous flights you have to scroll down on the main page to the section that has "Continuous Flights Between NYC And Area Airports" listed. If you just search via the main calendar these won't show up.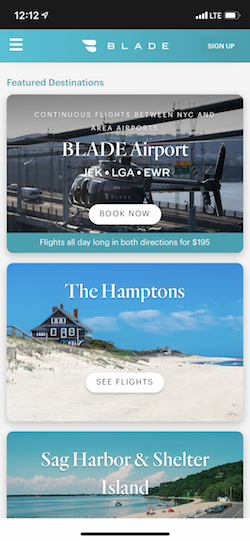 Then select your preferred airport.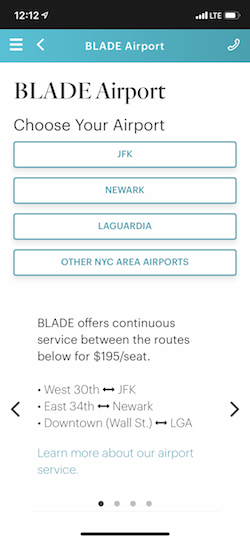 Then select the exact flight you want.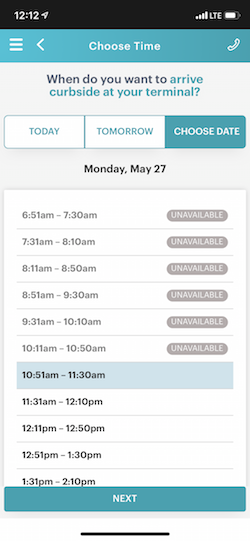 Then on the next page you'll see the total of $195. At the bottom you'll see the "Enter Code" field, which is where you can enter AIRSOCIAL and knock the price down to $120 one-way.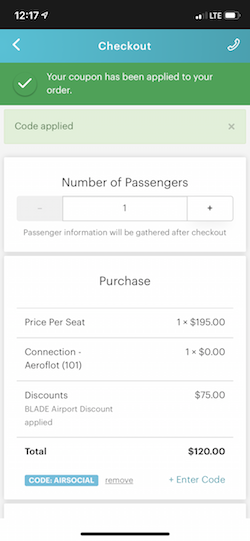 I'm not sure how long this promotion code will be valid — BLADE is publicly sharing it on Twitter, though they aren't sharing any specific terms regarding it. For now it seems to work on all airport journeys, though that may not always be the case.
A couple of important things to note regarding BLADE:
BLADE limits you to a 25 pound carry-on, so this is only useful if traveling light
Helicopters are more impacted by weather than cars, so if you don't think the weather will be great, this could be risky
Personally helicopters scare me (I recognize it's a mostly irrational fear — I also have a fear of chairlifts, spiders, social interactions, and The Family Chantel on 90 Day Fiance), and recently a helicopter often contracted by BLADE had an "emergency landing" (that's what BLADE wants to call it), which doesn't make me feel any better
Anyone plan to take advantage of this promo to give BLADE a try?
(Tip of the hat to God Save The Points)