As I've previously mentioned I was in the Maldives for four days this past week. Many of you may know that Bali is one of my favorite places on earth, so I often suggest Bali to people in lieu of Bora Bora or the Maldives, given that it's a lot easier to get there in comfort (Cathay Pacific and Thai Airways both fly to Bali and release plenty of award space). However, I was making that suggestion without having ever been to the Maldives, so I'm happy I can now speak from experience.
Over the past few days I've gotten a handful of emails from blog readers asking how the Maldives compares to Bali, and my response has essentially been "I'm not sure, they're totally different." And they really are.
Let's start with Bali. What I love about Bali first and foremost are the people. I find them to be among the friendliest and most genuine people of anywhere I've been. I also love the resorts, the variety of landscape on the island (bays, beaches, jungles, etc.), and the incredibly reasonable prices for everything, from five star hotels to massages. For the most part, the beaches in Bali aren't actually that spectacular. So for me Bali isn't a beach destination, per se. It's a relaxation destination where I like to hang around the pool, see stuff, and get massages.
The Maldives, on the other hand, is a bit like most Miss America contestants – absolutely stunning on the outside, though not a whole lot of substance to them when you dig deep (or just listen to their answers to questions in the pageant, for that matter).
The Maldives is literally one of the most stunning places on earth. What could be more amazing than an overwater bungalow sitting atop crystal clear turquoise water?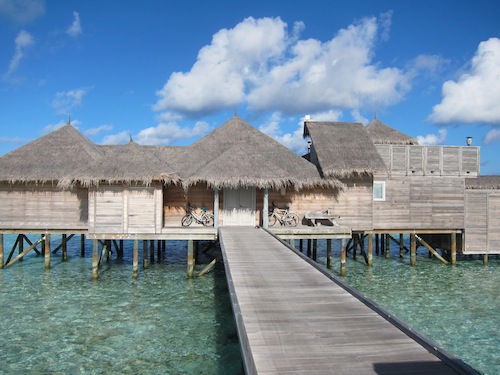 At the same time, that's where the awesomeness ends. Don't get me wrong, everything else was nice, though there's nothing else spectacular about the Maldives other than the setting.
One common complaint I hear about the Maldives is that the service isn't that great, no matter how high end the hotel is. We stayed at the Six Senses which goes for $800+/night and the service was good, though at no point great, as opposed to the incredible service we received in India. It's clear the locals all take these resorts for granted given that the island's economy is mostly made up of tourism, so they don't feel they have to put that much effort into what they do.
Furthermore, perhaps I'm stating the obvious, but most resorts in the Maldives are located on secluded islands, so you're more or less stuck on that island.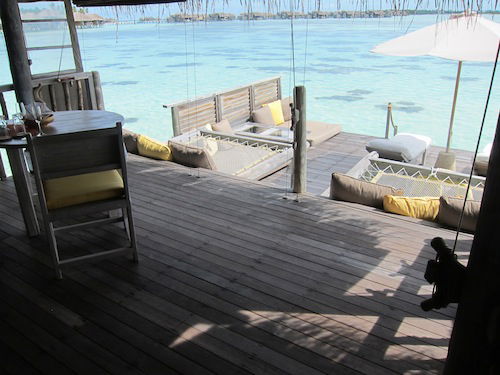 Lastly, and again this shouldn't be a surprise, the prices for everything are astronomical. An hour-long massage is $200, a surf and turf dinner buffet is $150+/person, and a glass of orange juice is $15.
So my goal here isn't to rag on the Maldives. It's one of the most beautiful places on earth and I don't think I'll ever forget how beautiful it is. At the same time, it lacks substance, so just expect that going in. If you go to Google Images and type in "The Maldives" I'm pretty sure you'll get a good feel for what it's like, because there's not a whole of substance beyond the physical beauty. Bali, on the other hand, can't be done justice with pictures, because it's the character of the place that I love.
So if you're into diving, swimming in crystal clear water, and laying at the beach, the Maldives is definitely for you. Just expect to pay dearly for it and to not have your expectations too high as far as service and other activities go.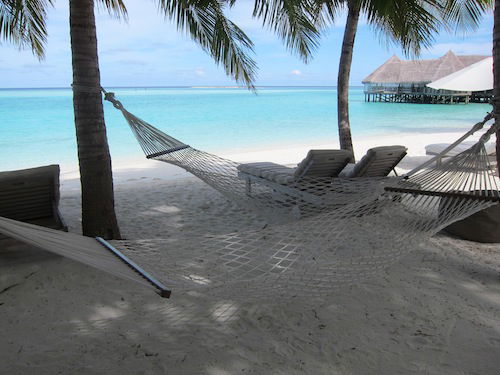 Of course a full trip report will follow in the coming weeks.
To those that have visited Bali and/or the Maldives, how do you feel?