Yesterday I wrote a post about flying on what I think is possibly the most elite heavy day of the year (the last Thursday in February).
My flight from Tampa to Dallas was a smelly one, as the guy next to me basically farted the whole way.
But he had nothing on the (new hire) flight attendant on my connecting flight. I don't even know where to begin.
On the plus side, my upgrade did end up clearing, thanks to a misconnect. So I had a bulkhead aisle, with a direct "view" of the forward flight attendant jumpseats.
The crew consisted of three older blonde ladies and a younger guy. While totally minor, I found it odd that he was wearing a beanie during boarding. While that's not an "approved" part of the uniform, I'm not the uniform police. But I did find it a bit strange.
His behavior really started to get weird after the first class meals were served. Suddenly the cabin started to smell like fried chicken.
Moments later he sat down in his jumpseat with a tray consisting of fried chicken and mashed potatoes. I don't think it's very good etiquette to bring on "smelly" food when you're a flight attendant, but whatever.
It was how he ate it that really got me. He ate the fried chicken with his hands (as one does), and then kept licking his fingers. The worst part, though, was how he ate the mashed potatoes. He had a fork on his tray, but instead he decided to use his finger as a utensil. He'd dip in his finger to get mashed potatoes, and then would lick it off his fingers.
The even worse part? He didn't wash his hands after finishing, and proceeded to go into the cabin to continue with service.
Sadly that wasn't all. Eventually he got back to his jumpseat, and I guess it wasn't comfortable enough for him, as he decided to use a cart "tray" as a legrest so he could put up his feet.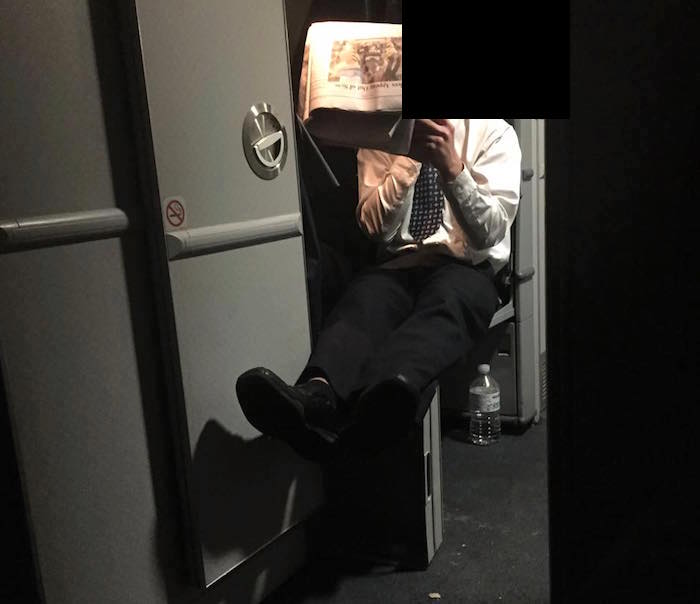 And then he sat there and bit his nails. For over a freaking hour. I don't know how that's even possible. Like he didn't even hide it. And I had a front row seat to the "action."
And again, he didn't wash his hands after doing that, and continued on with service.
As a selective germaphobe and hater of fried chicken (it's my second least favorite food after bacon — I know I'll get crap for that), it was borderline traumatic. 😉
I'm absolutely going to send American an email about him.
But I'm curious, should I have confronted him directly as well?
Curious how you guys would handle it.