The six month old Anantara Al Jabal Al Akhdar Resort was the second of three hotels I stayed at in Oman. I was invited for two complimentary nights to explore the resort and its facilities while in Nizwa. This post is not a review, but simply showcases the different room types, activities and dining options. All opinions expressed are my own, and I have not been paid to say or publish anything about the resort.
---
The brand new Anantara Al Jabal Al Akhdar Resort is located approximately forty minutes from the historic village of Nizwa. The long drive up the mountains requires a 4×4 vehicle, and is incredibly scenic.
All guests receive a special welcome ceremony on arrival with an Omani musician, hot towels, and an escort to the lobby. I was checked-in whilst I enjoying some Arabic coffee with dates.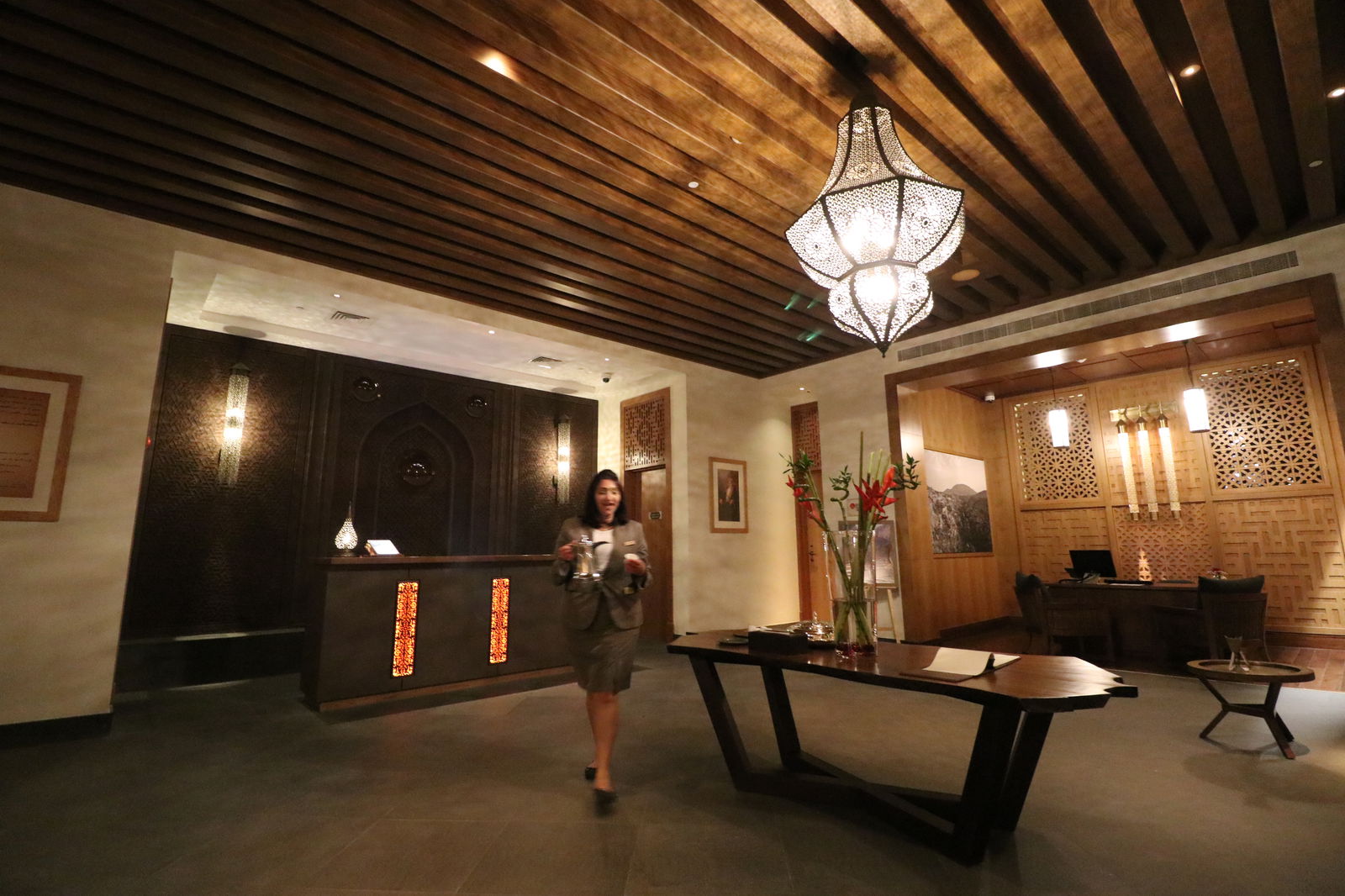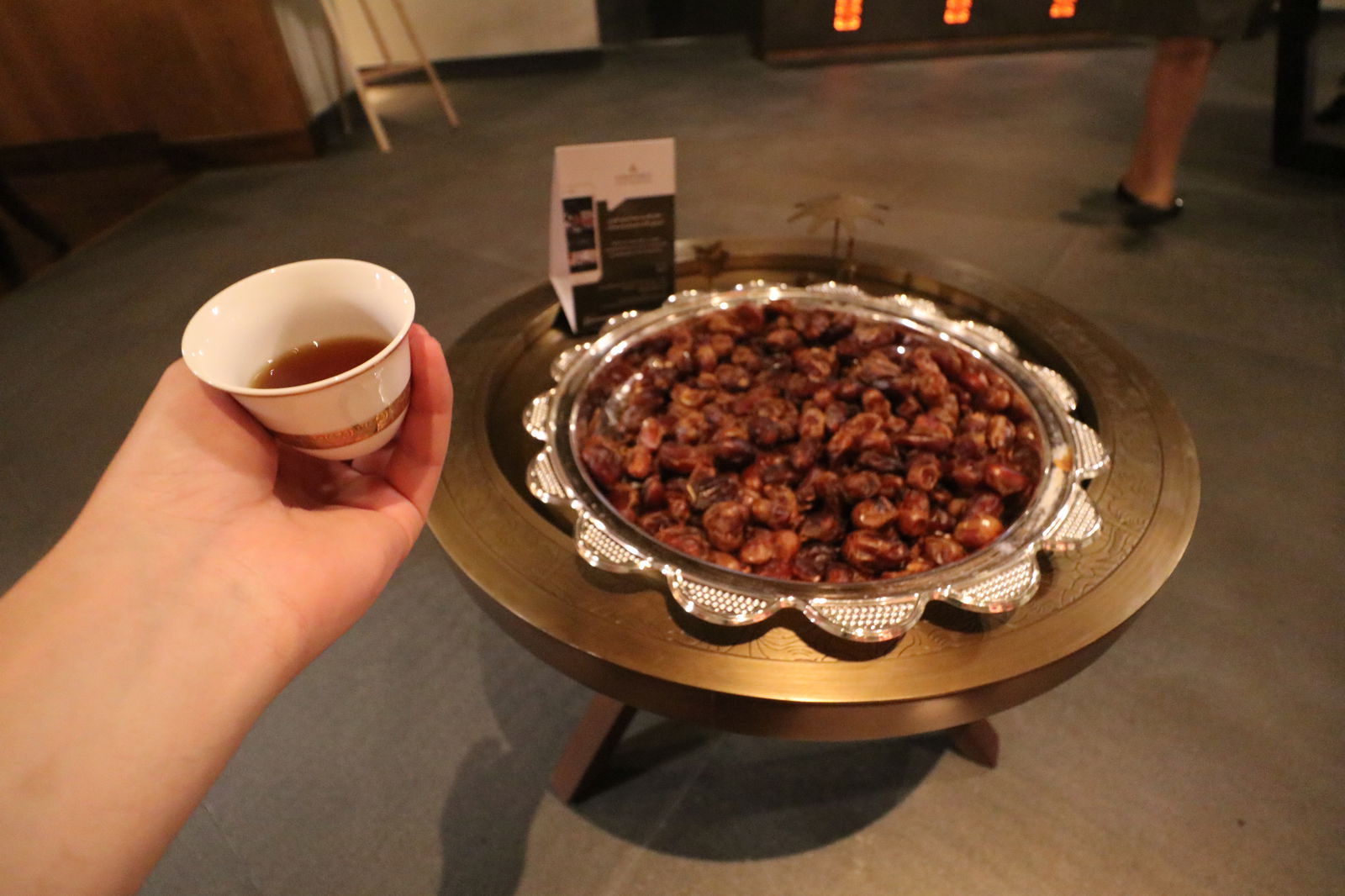 The lobby of the hotel was huge, and had several different rooms.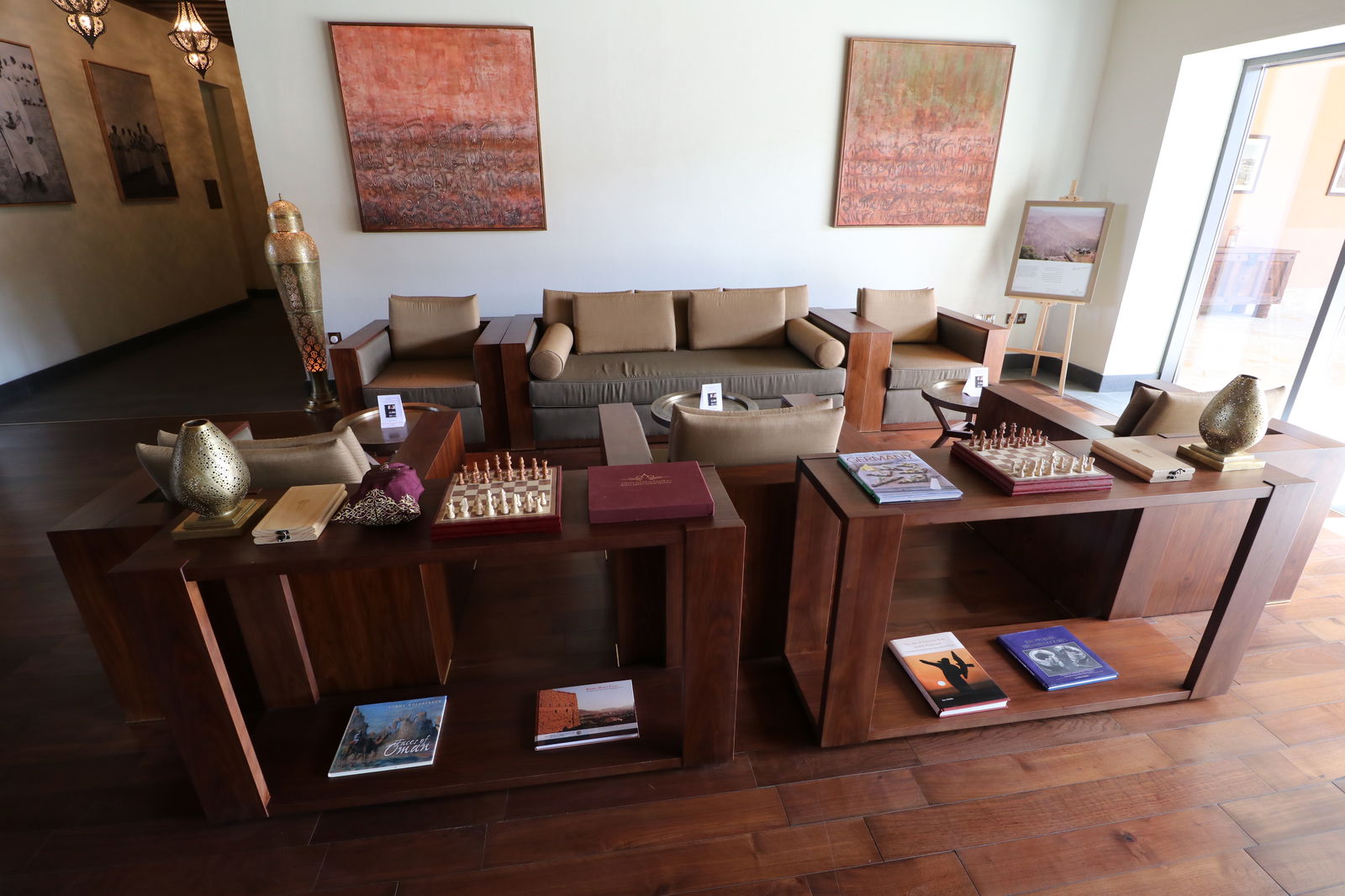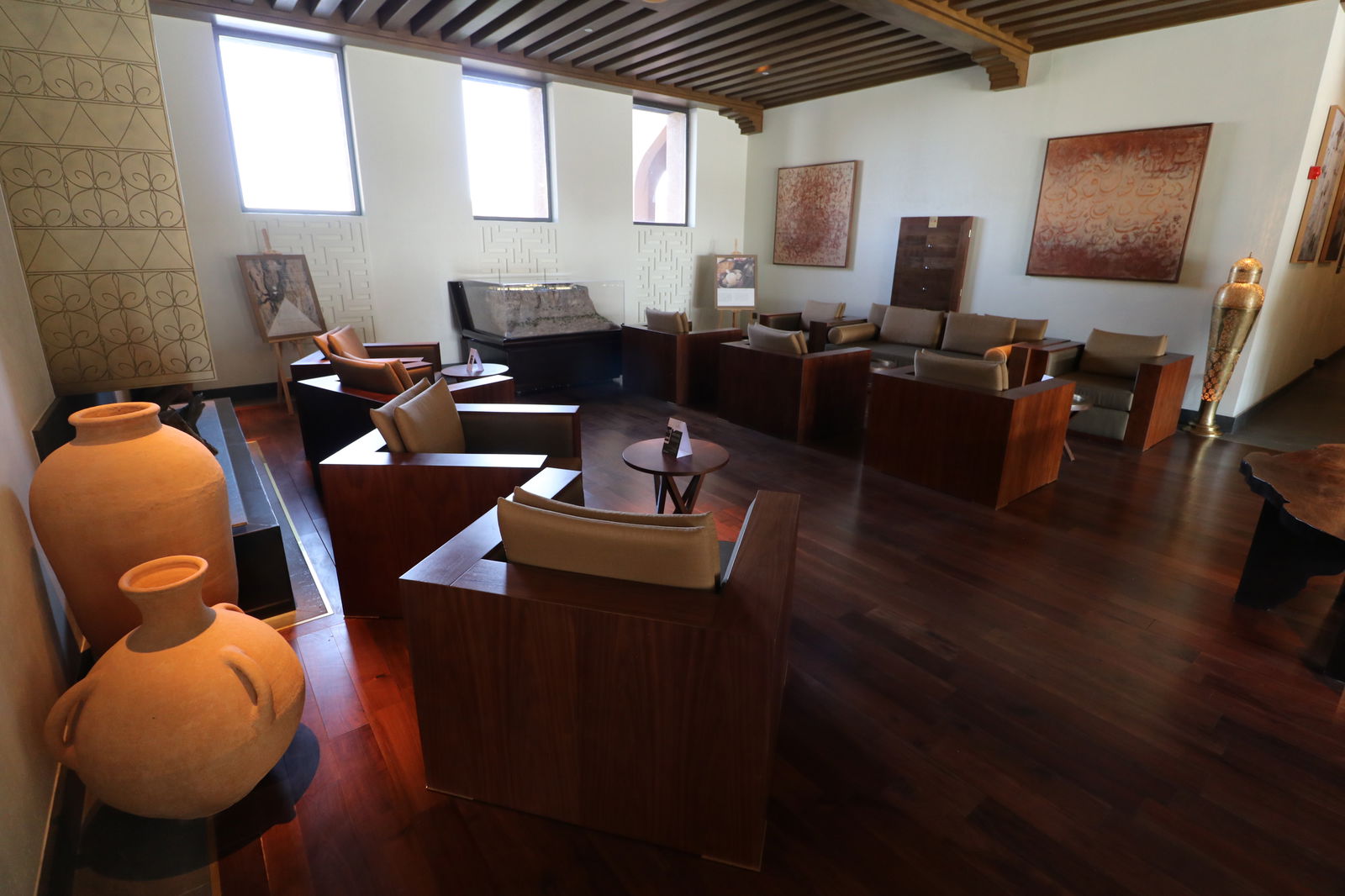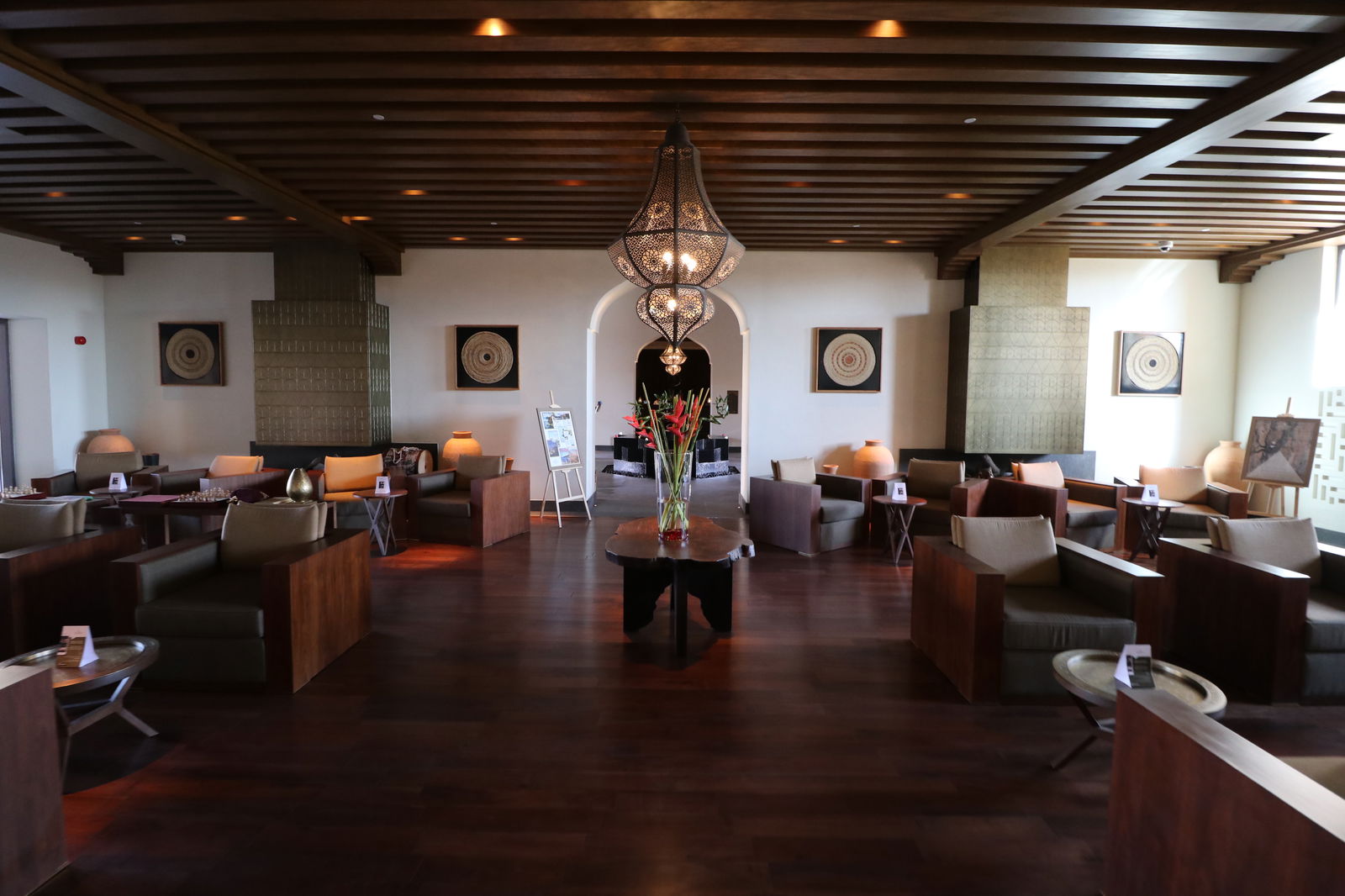 When everything was completed, I was escorted to my room by a Maldivian clerk. It was interesting hearing her story and why she'd left the Maldives to work here, when she had so many 5-star resorts to choose from at home.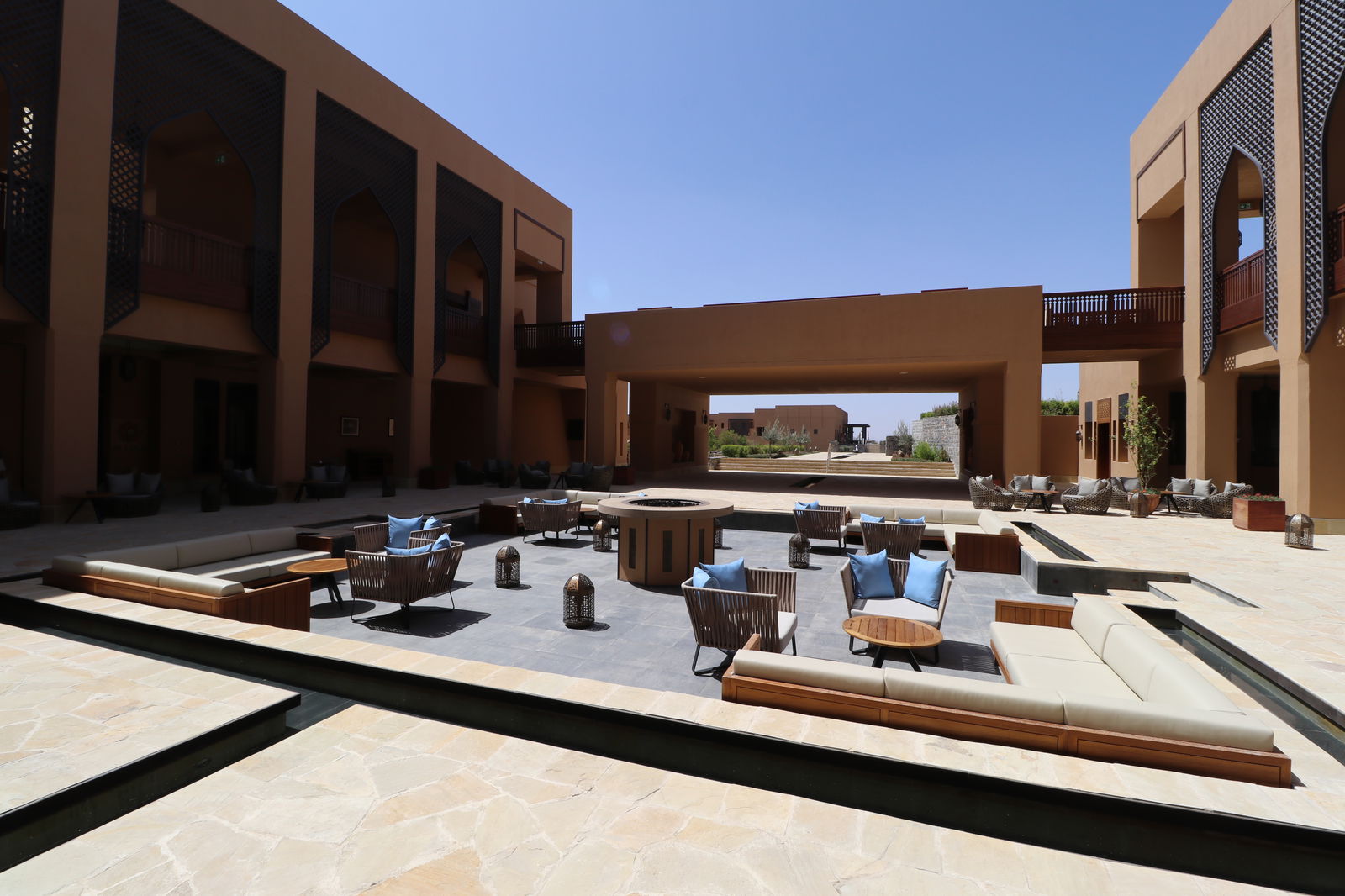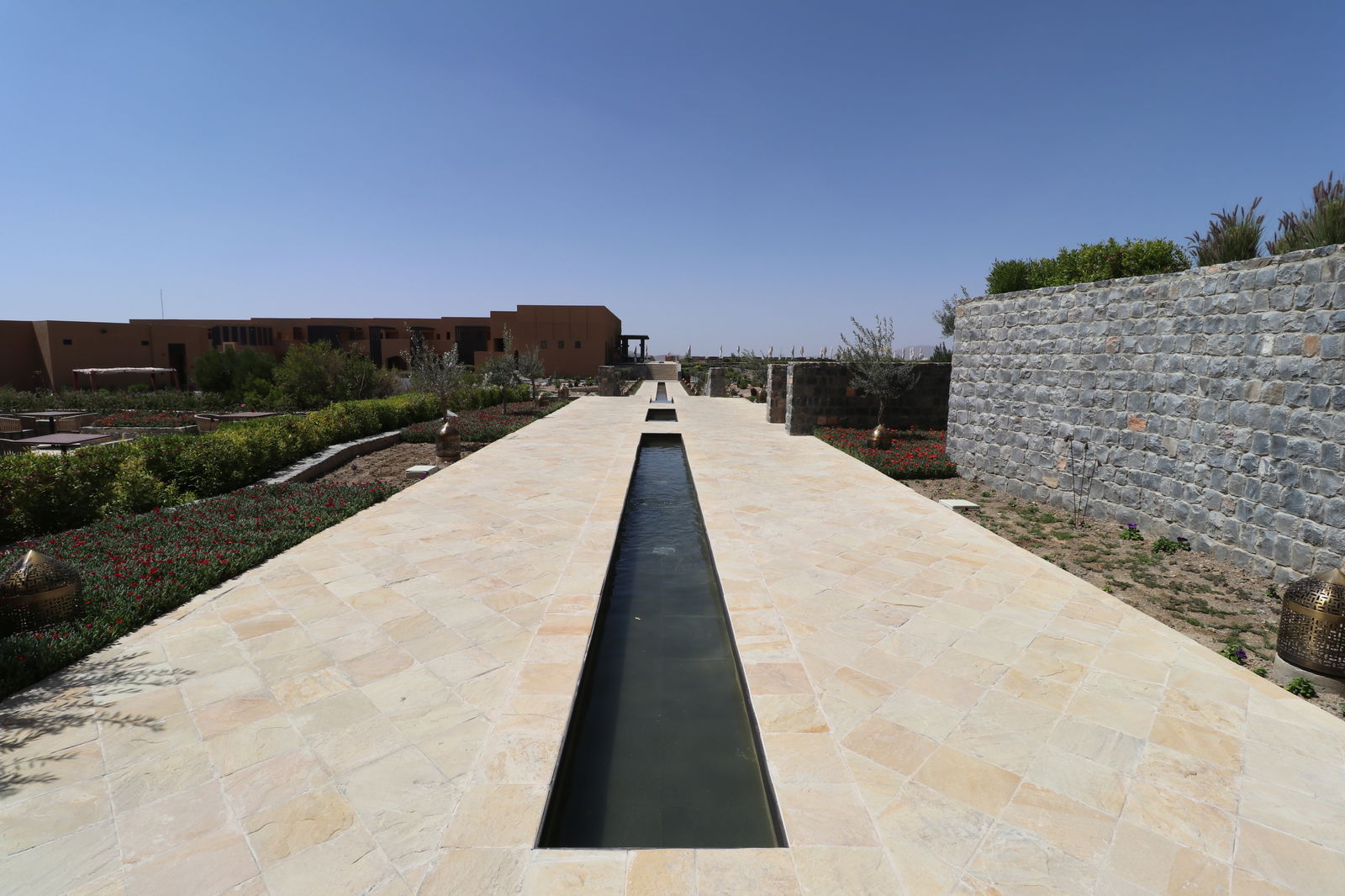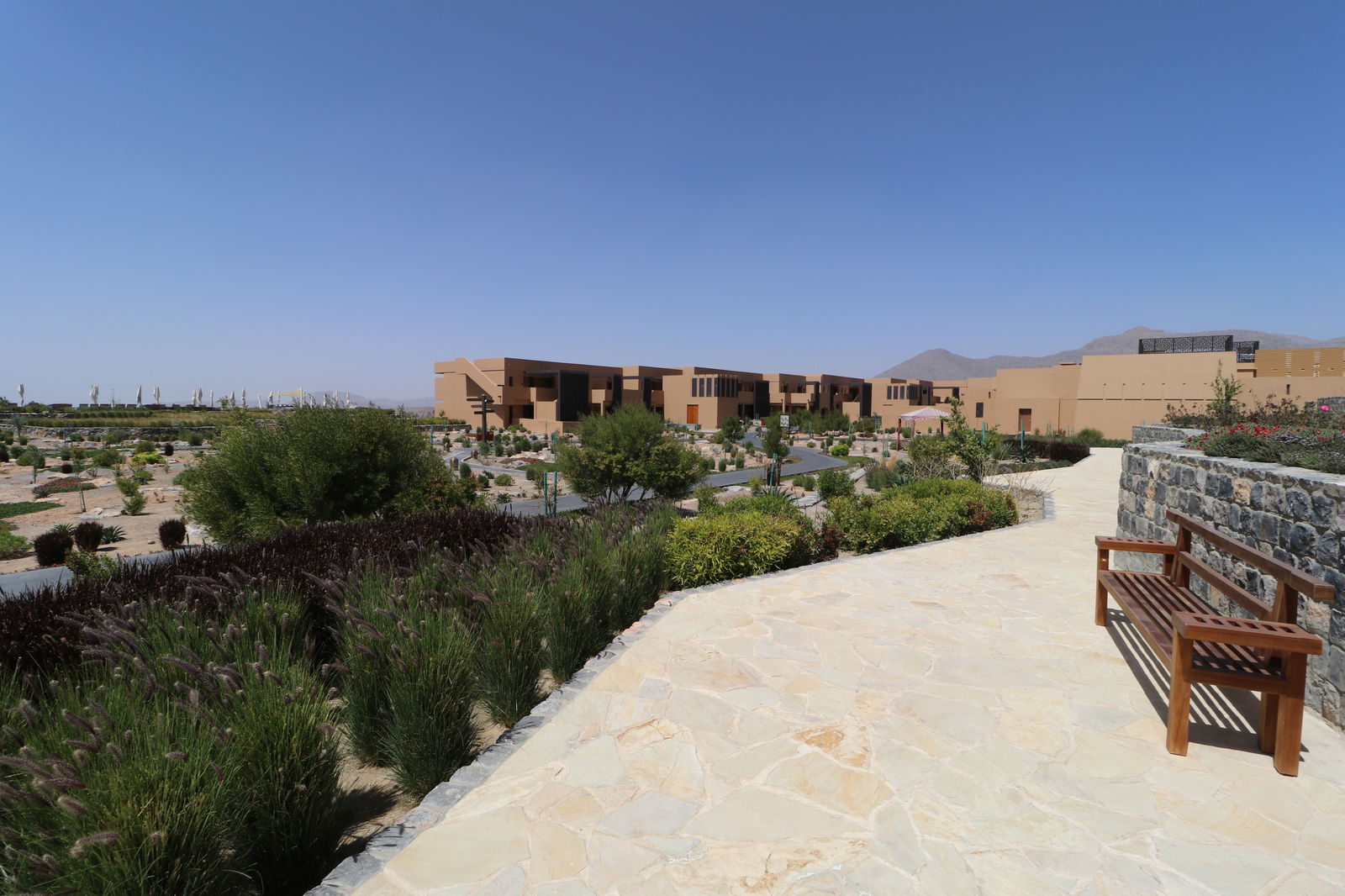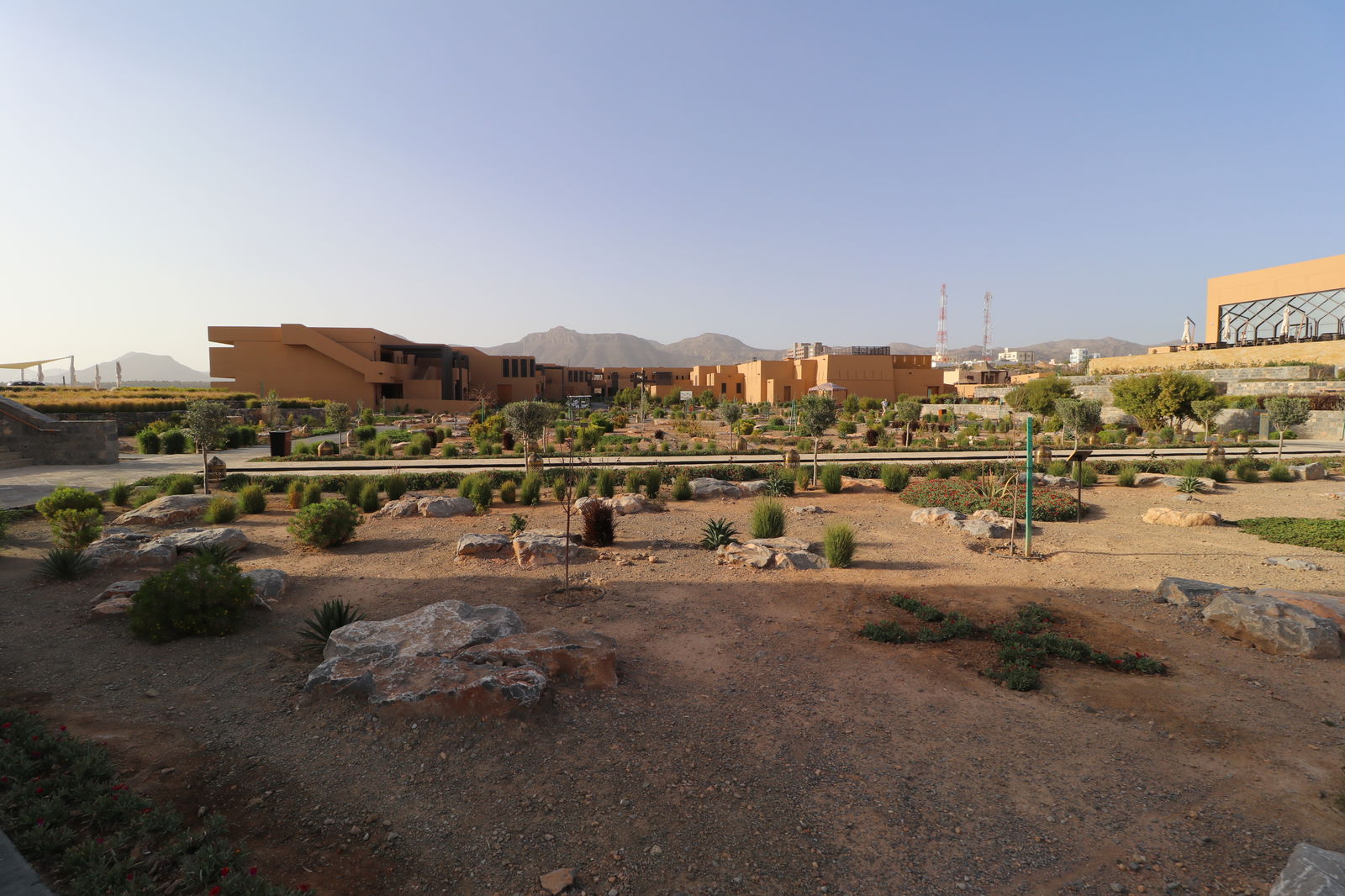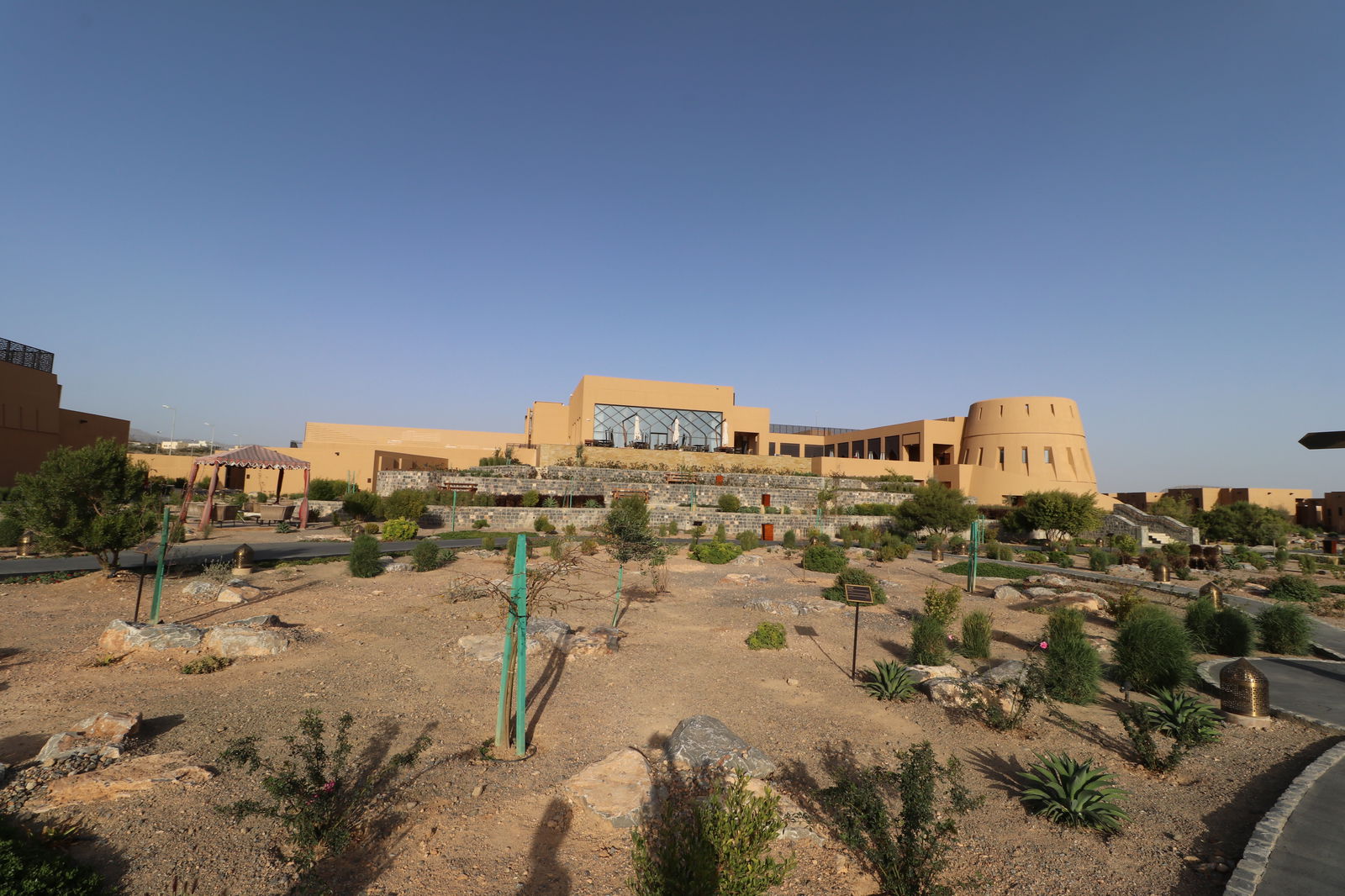 On the way, we passed a view point where you can socialize and watch the sunset over the mountains.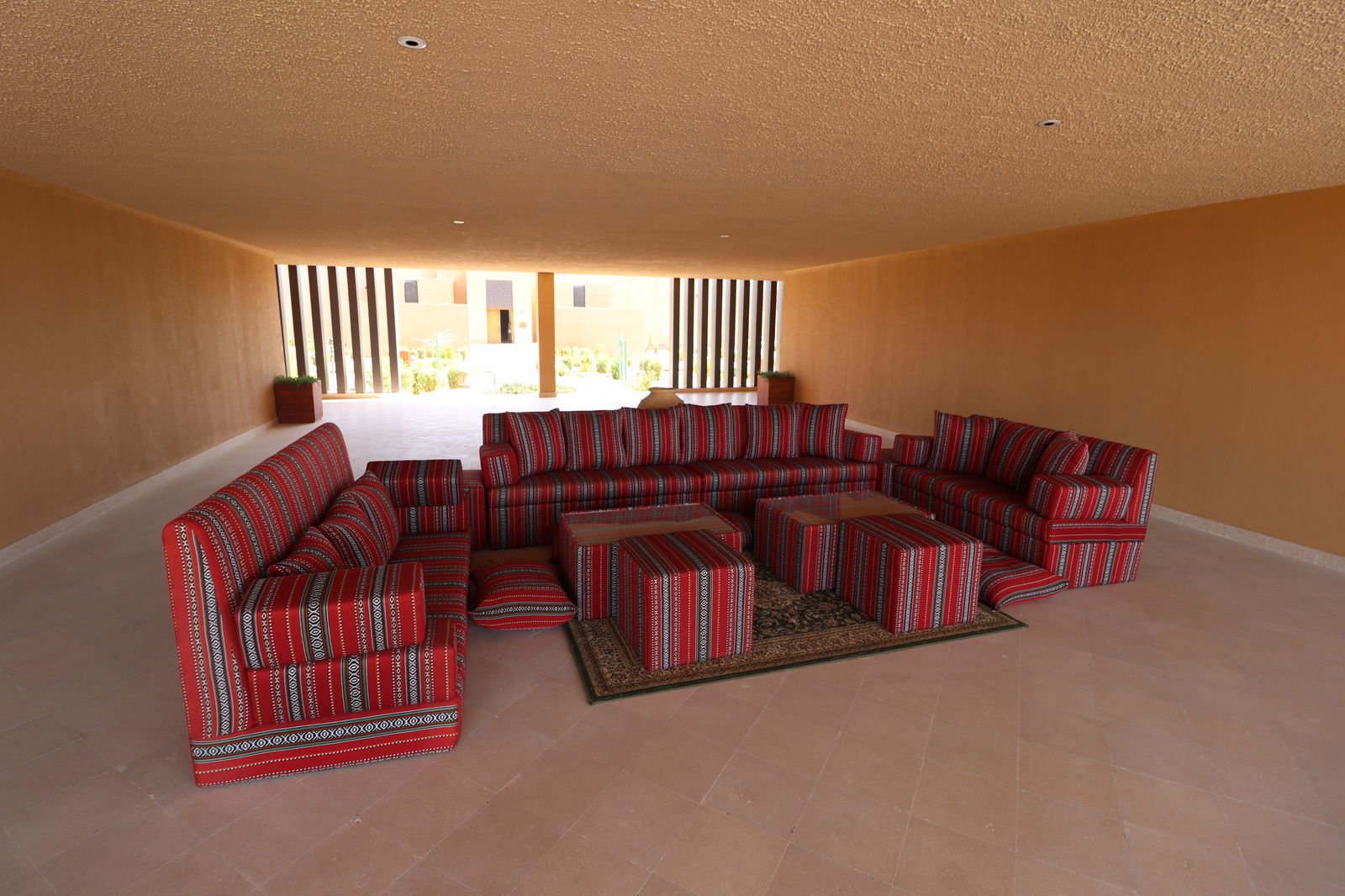 Small paths criss-cross through the newly planted greenery. These eventually brought me to my Deluxe Canyon View Room. Rates for this relatively "cheap" room category start at around $350 per night.
When I entered my room, the first thing I noticed was the beautiful Oman-inspired archway.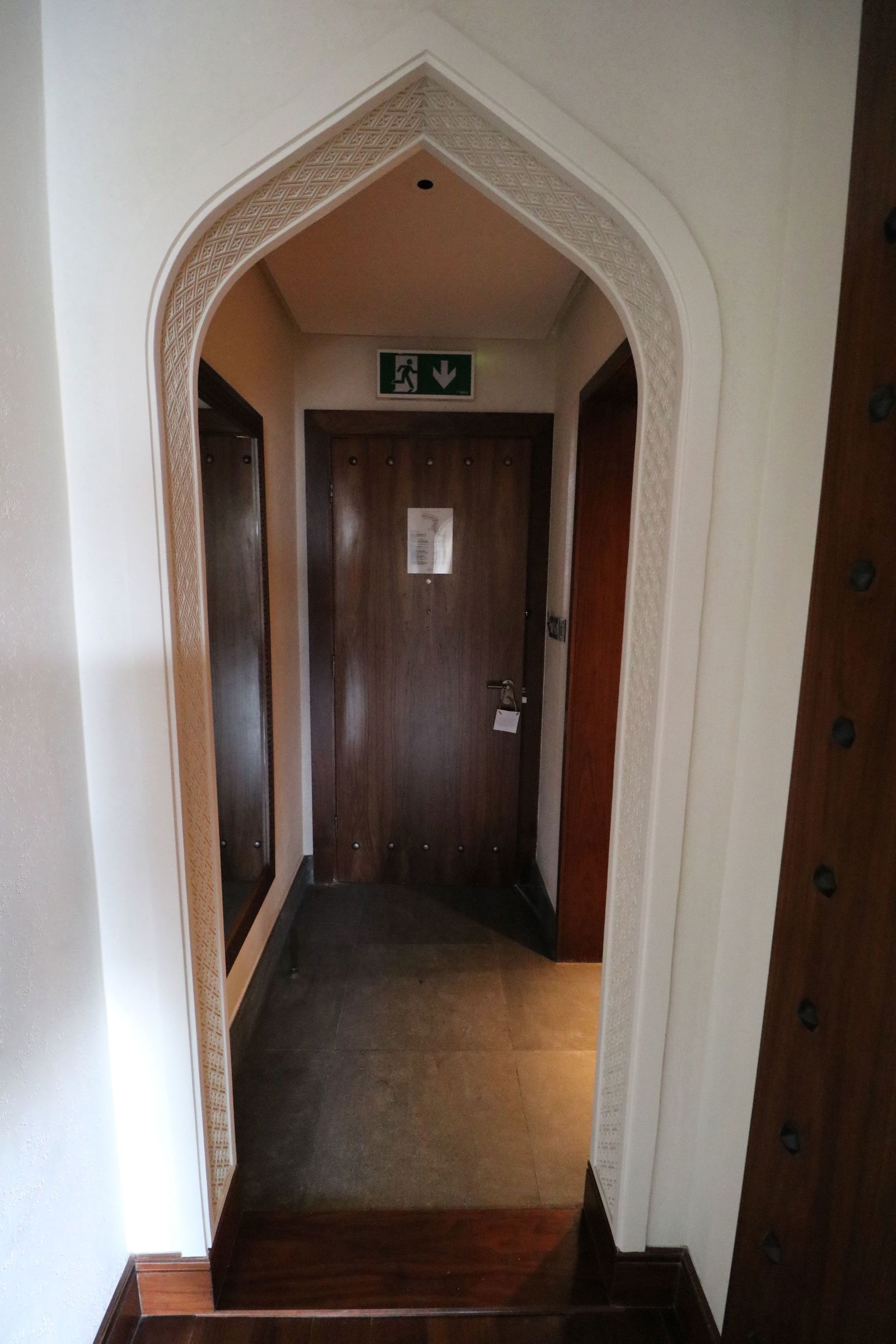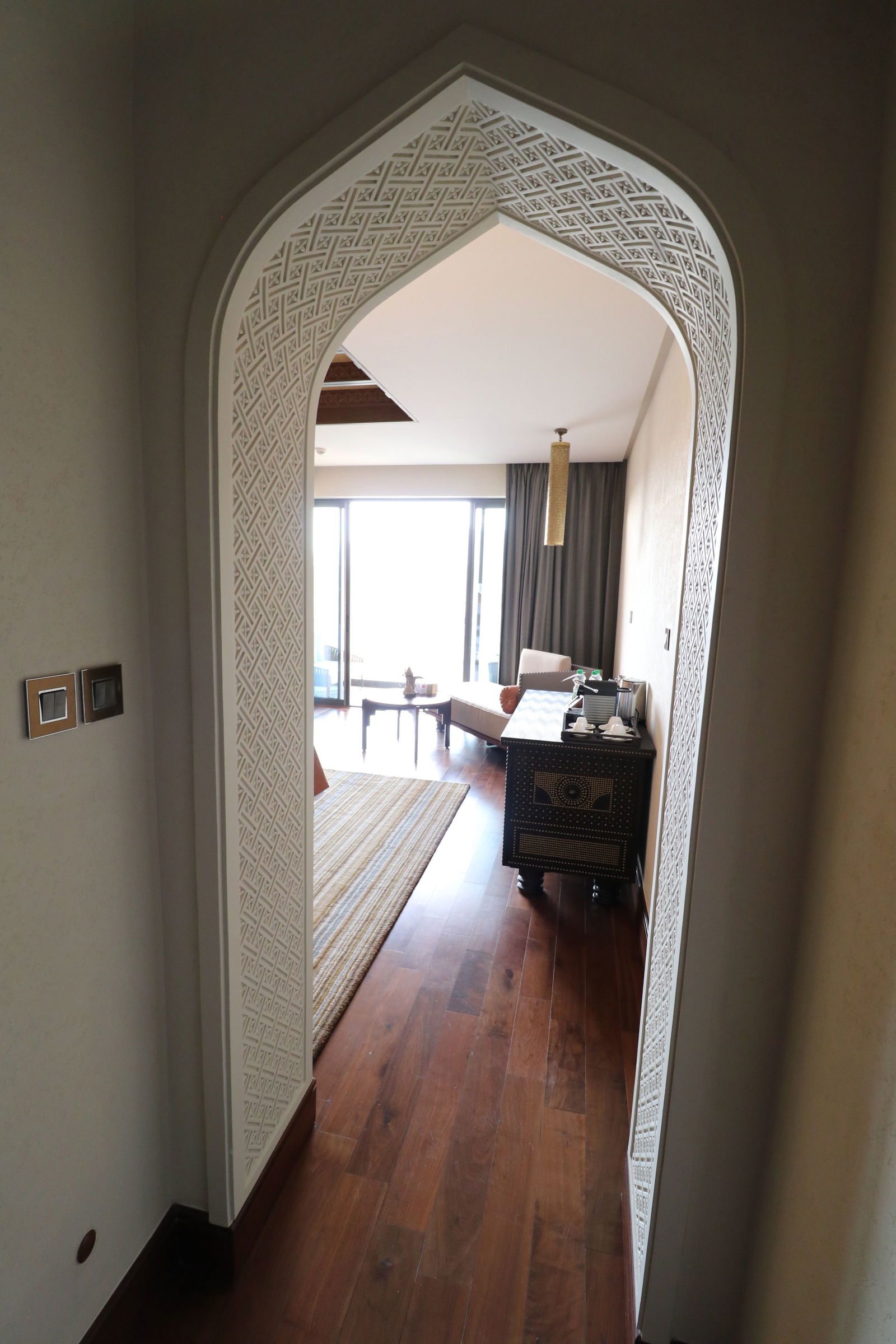 There was a luggage rack, wardrobe, and safe to the left in the hallway.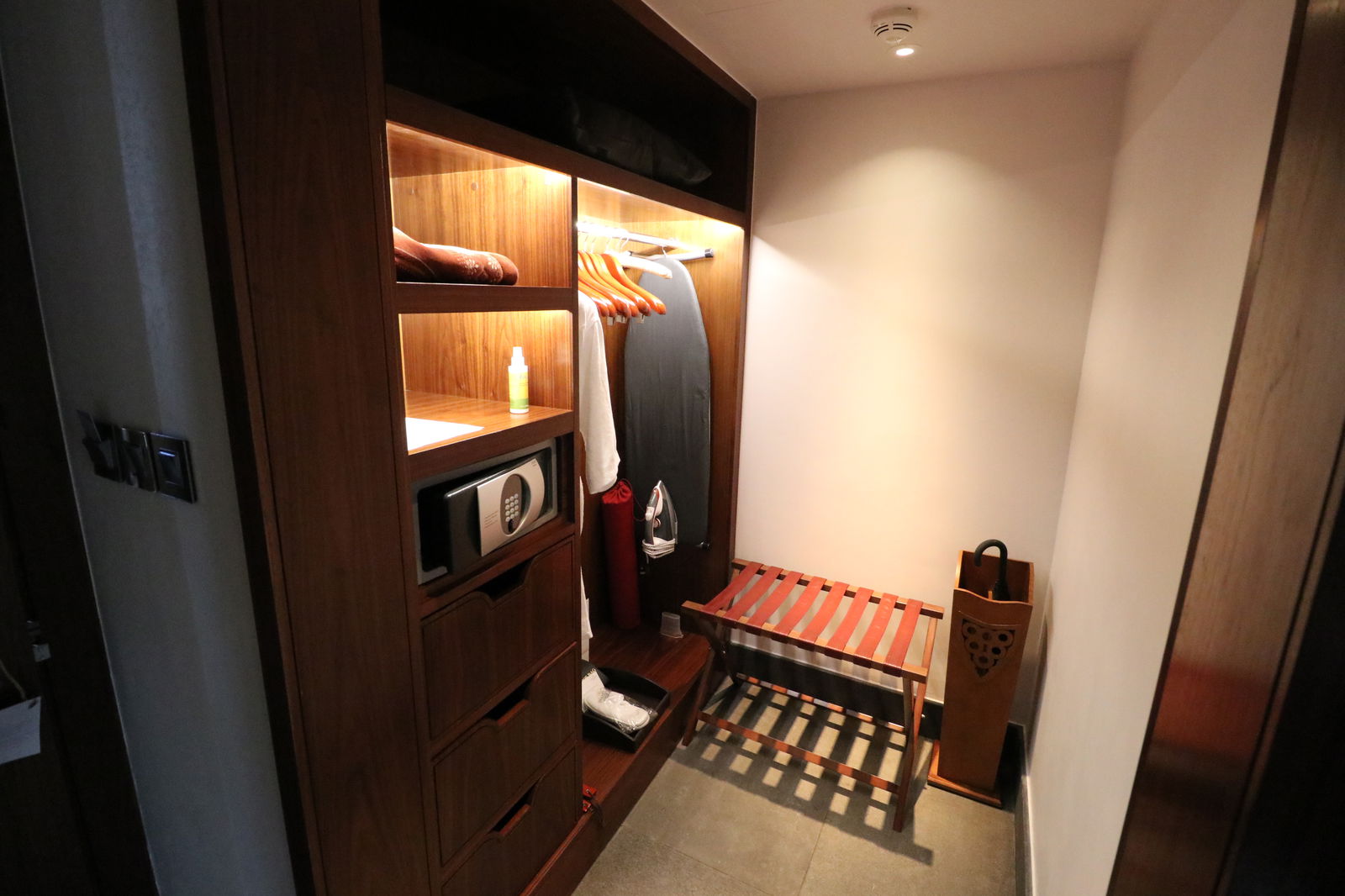 When I arrived, there was a little surprise on my bed. If you're interested, a similar welcome can be easily pre-ordered.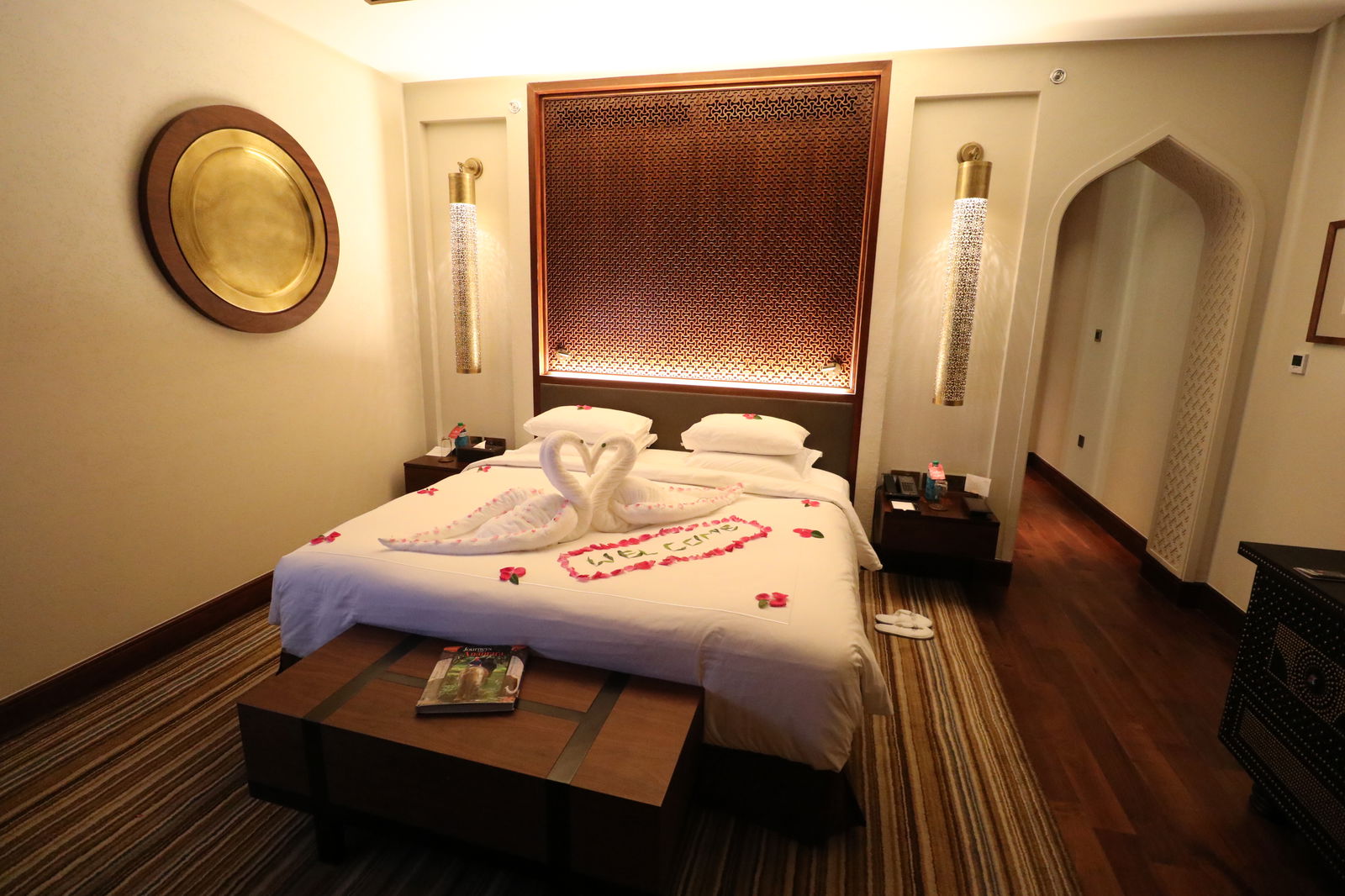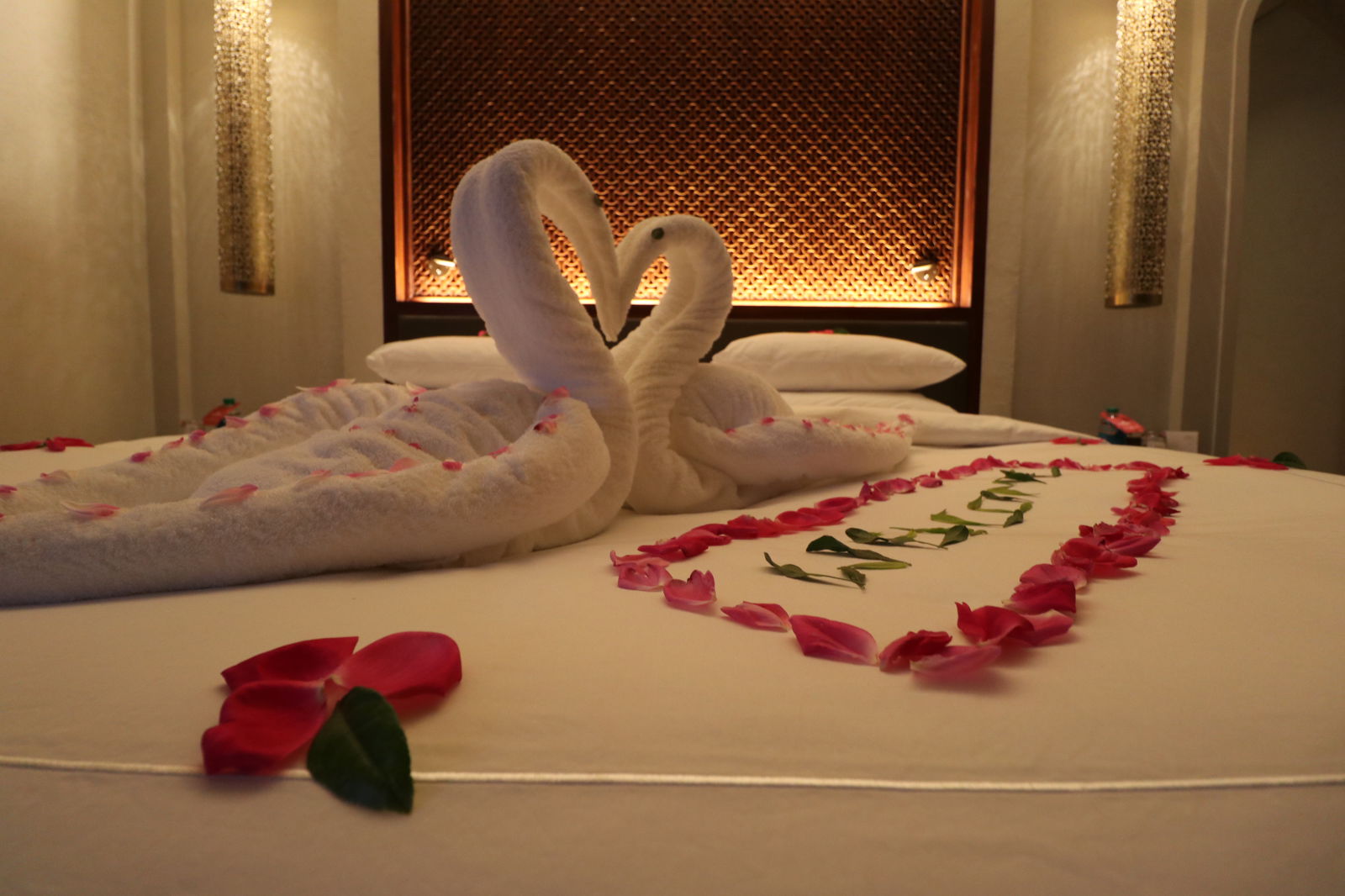 Since it was dark when I arrived, I took these pictures of an identical neighboring room the following day. At the center of the room was the large double bed, which had four fluffy pillows per person.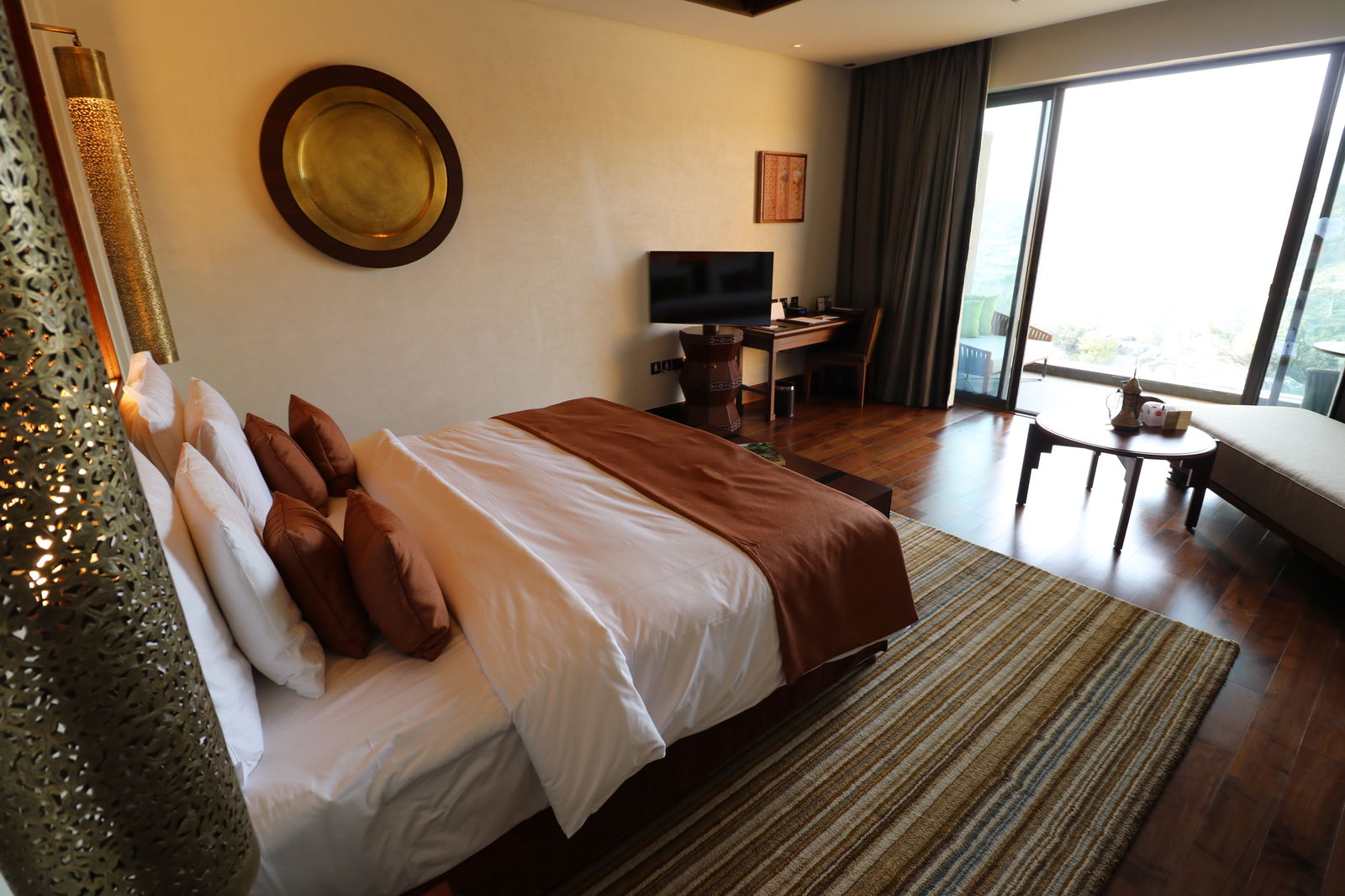 Right above it was a grand wood headpiece with gold lanterns on either side.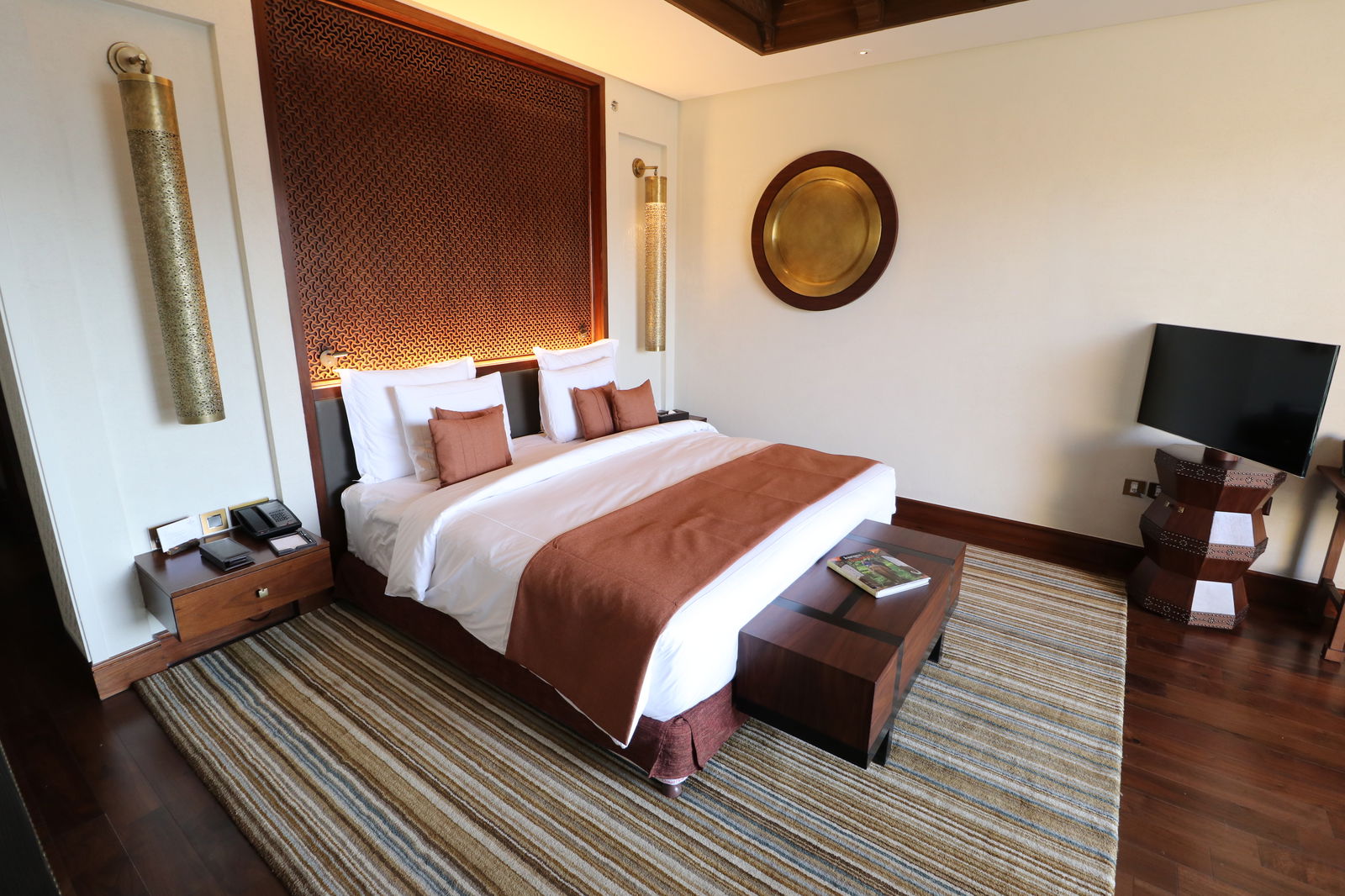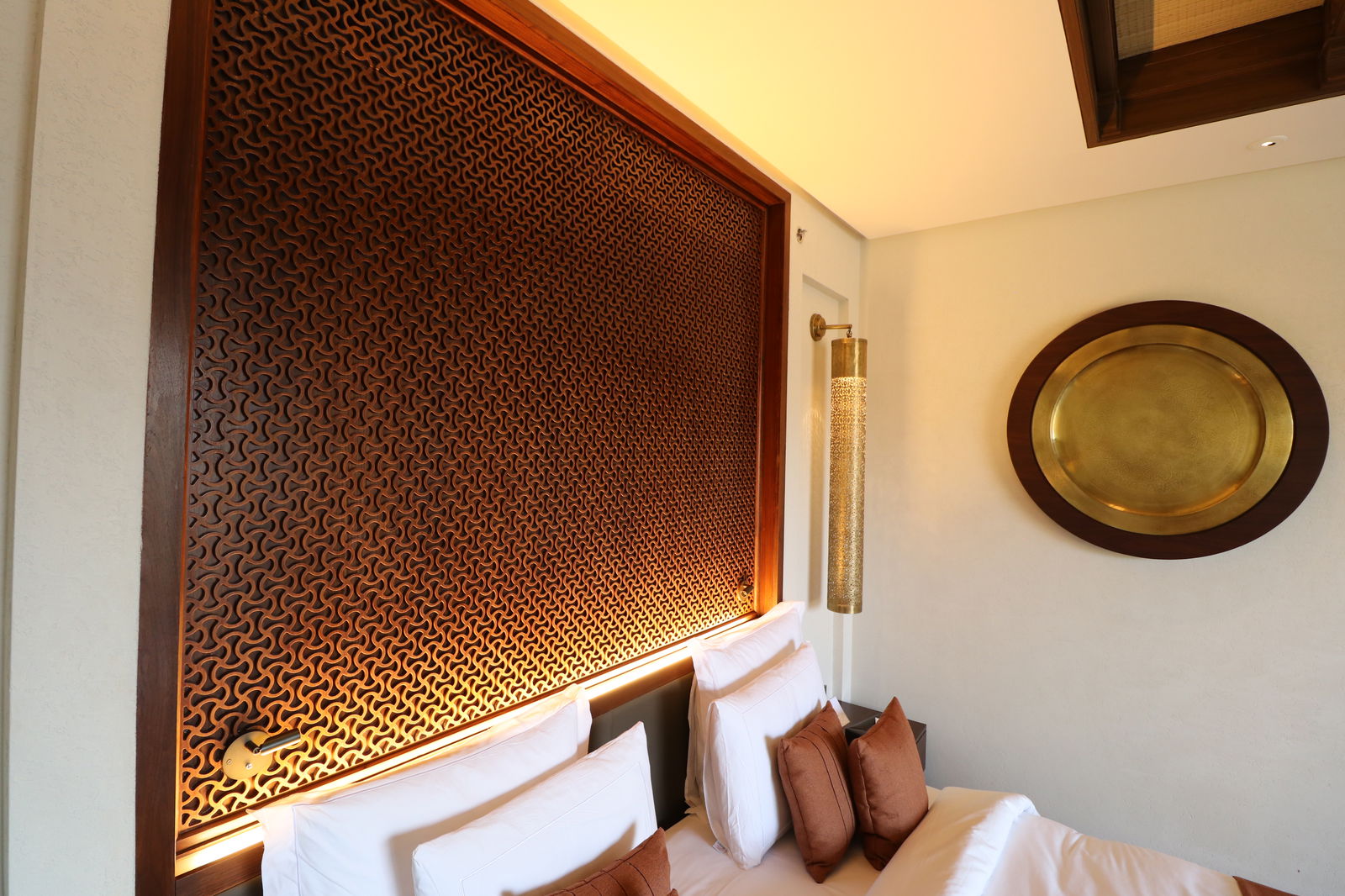 There is a couch on one side of the room next to a small table. Check out the teapot!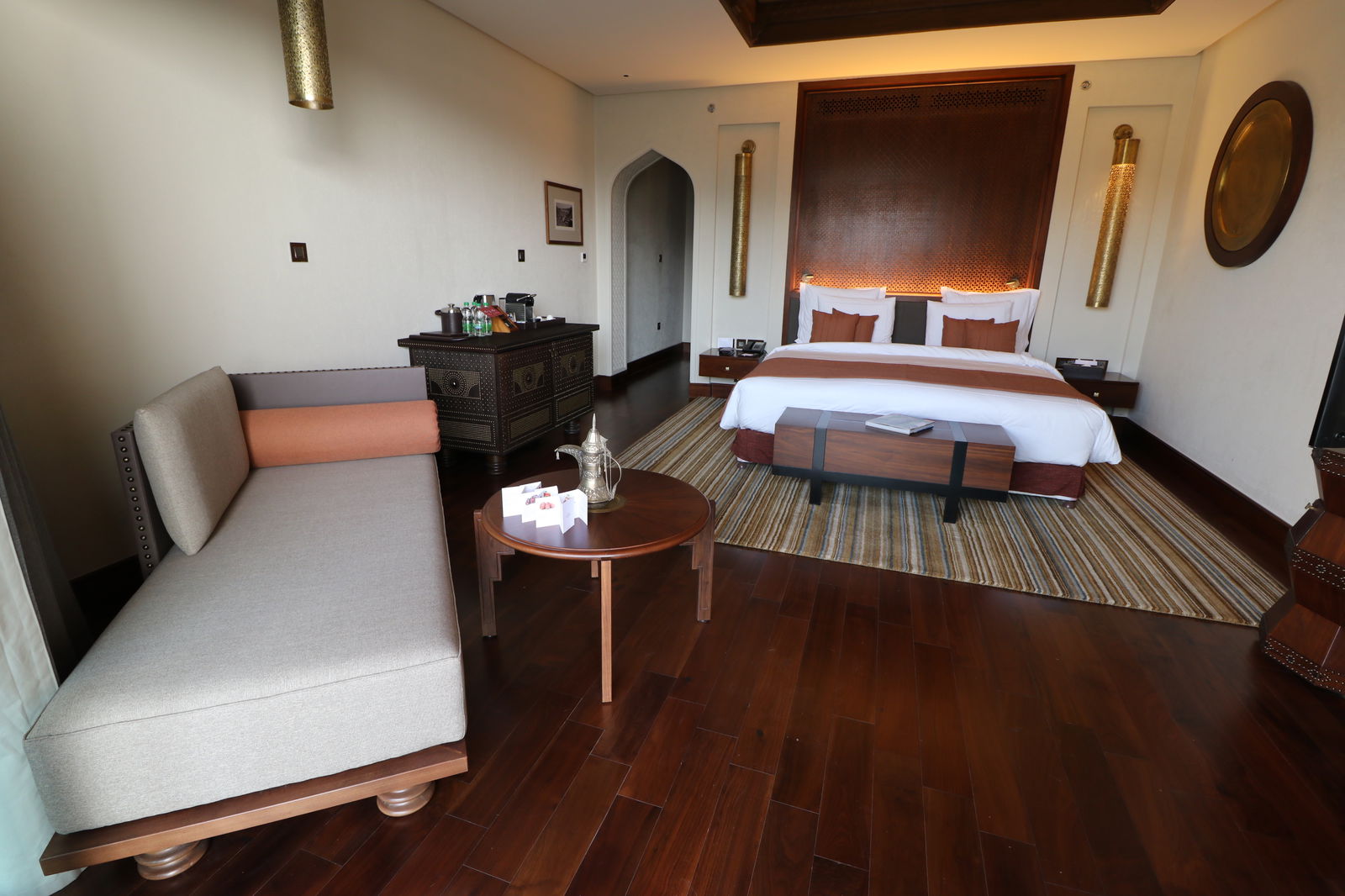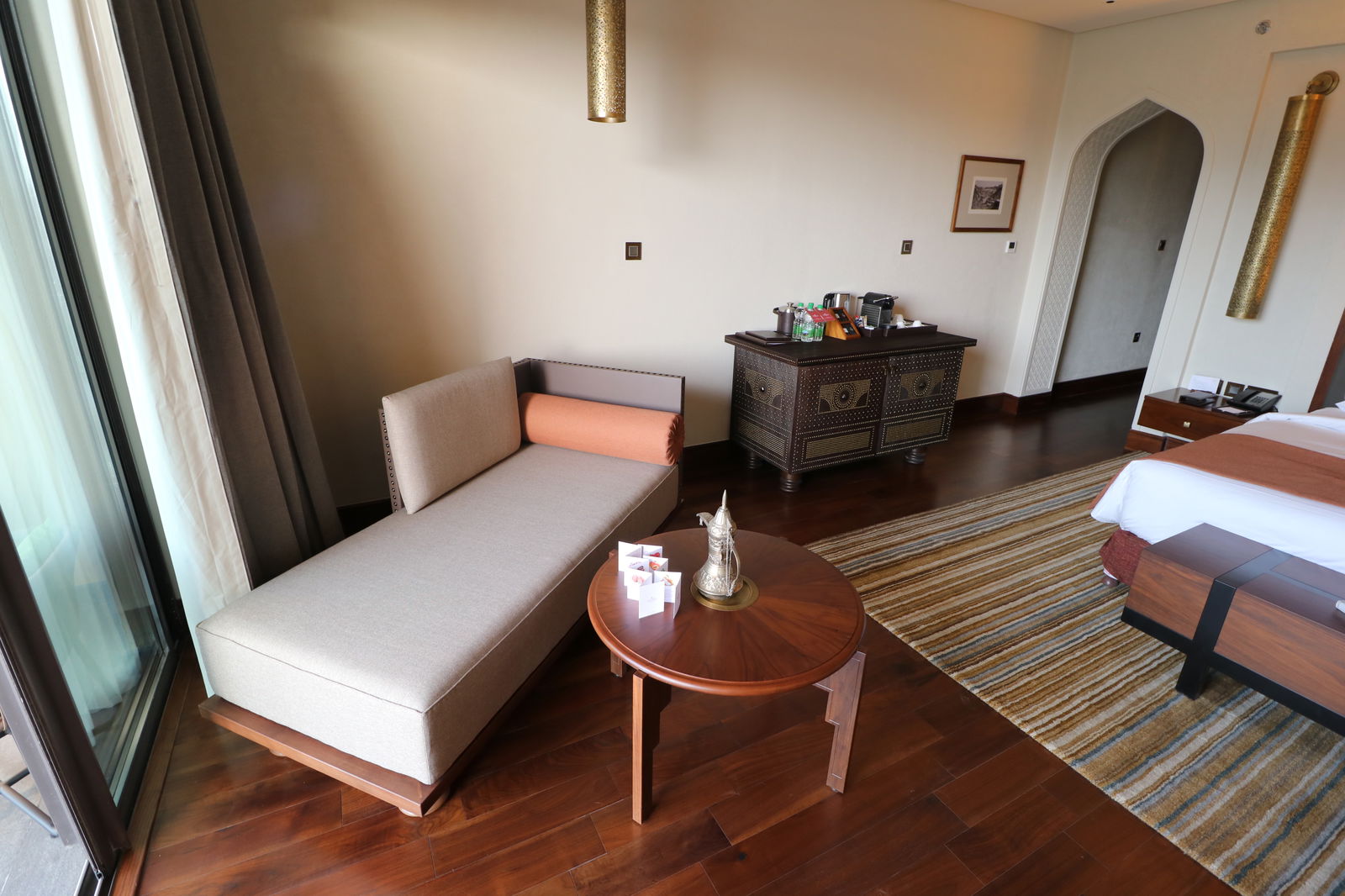 The table behind the couch featured various teas and coffees, and as well as complimentary water, which was appreciated.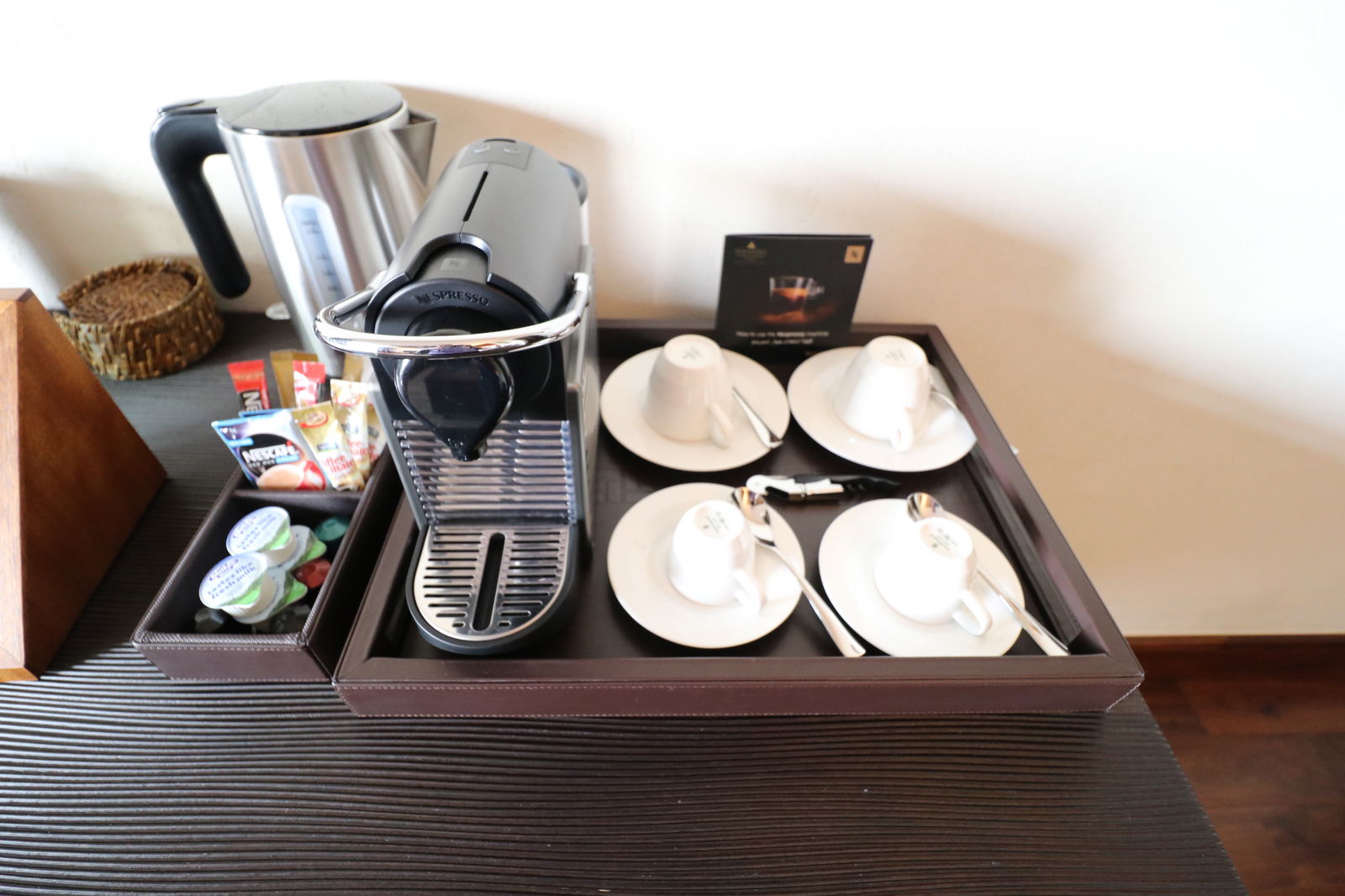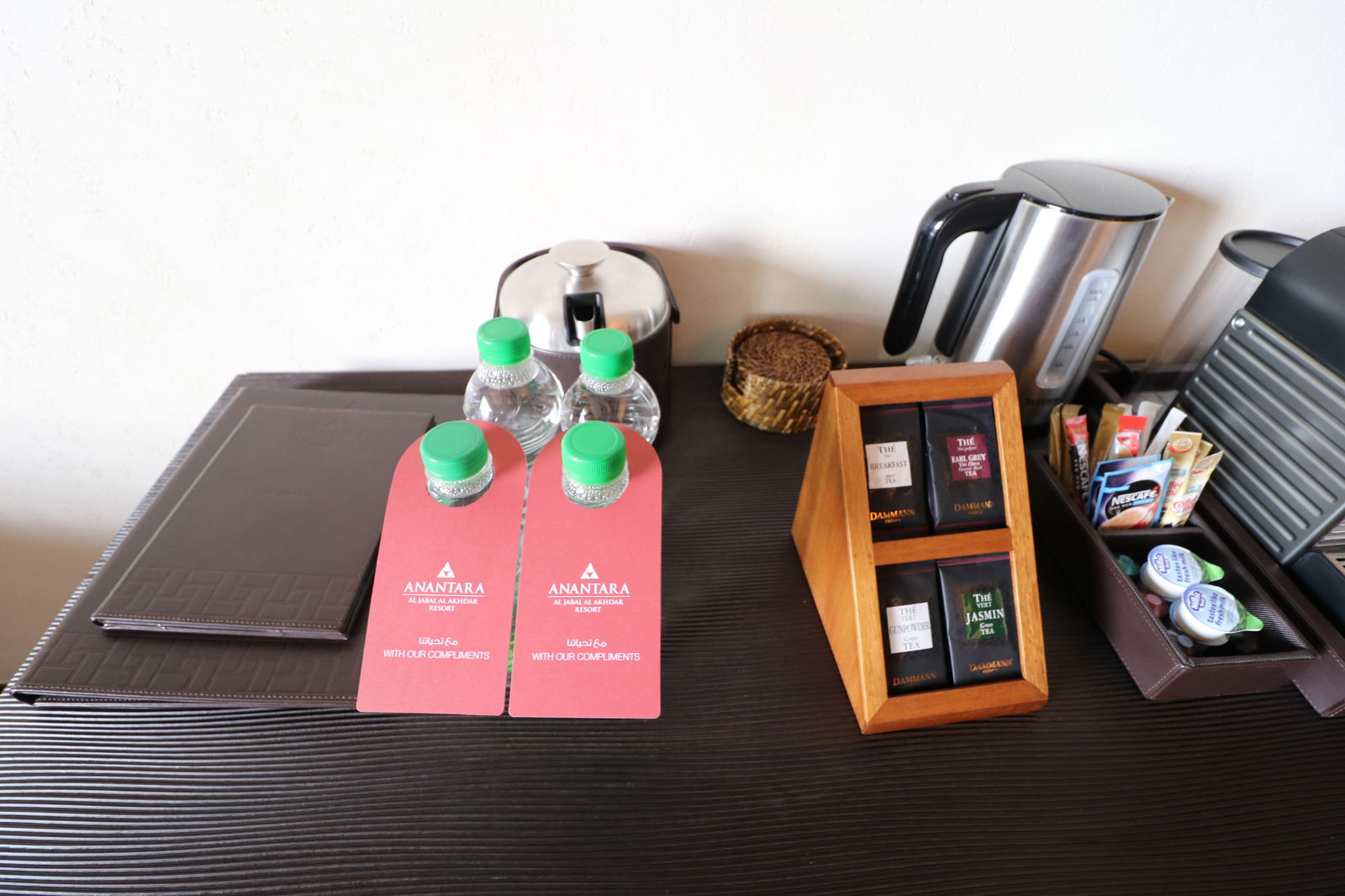 On the other side of the room there was a desk and TV. The Omani design of the TV-stand made a huge difference in the overall impression of the room. All too often resorts disconnect you from wherever you've traveled to, and often leave me longing to experience the local culture. Throughout the resort there were art pieces and design elements to remind me of my location and display local craftsmanship.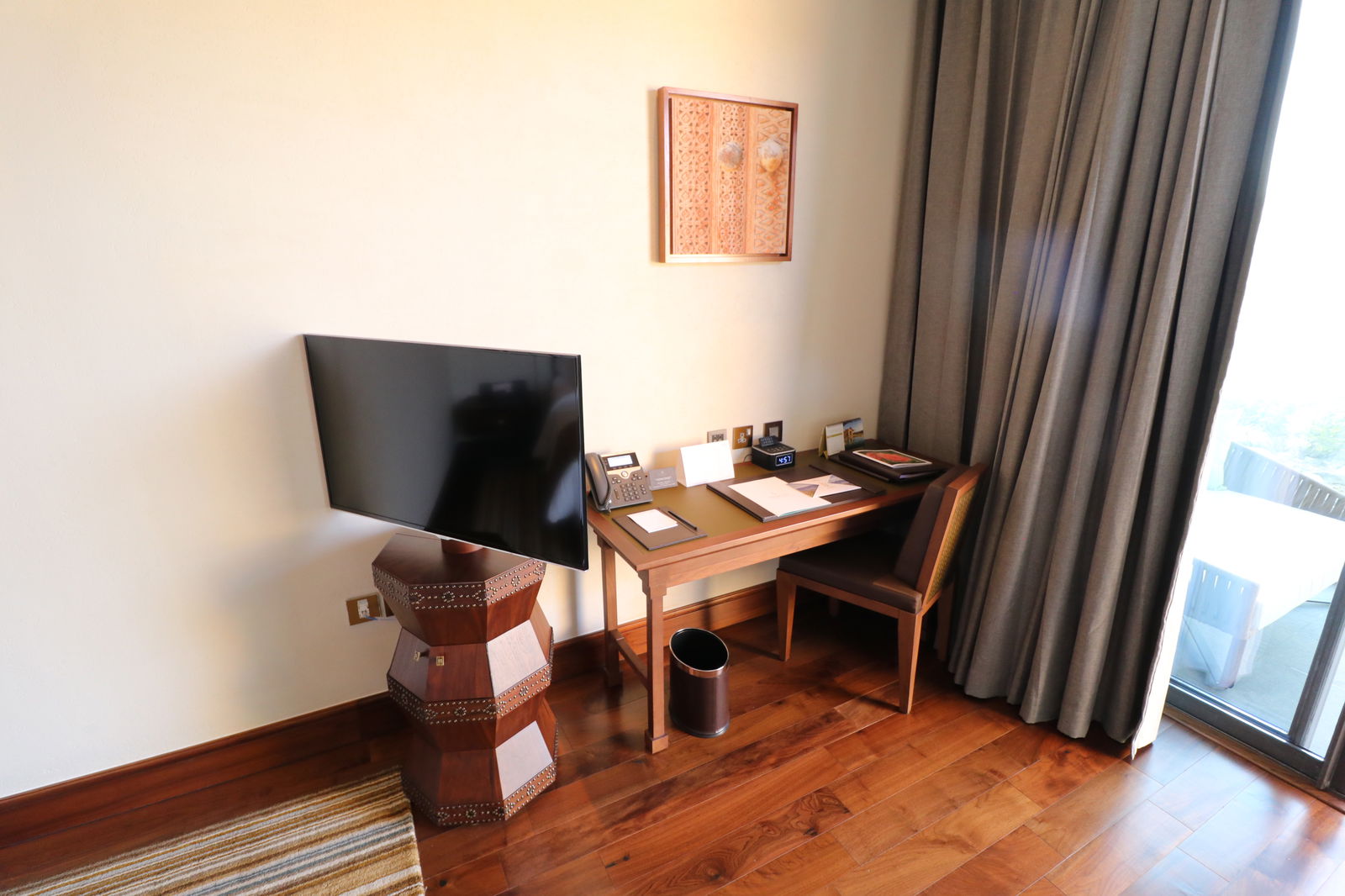 The desk behind the TV had multiple power ports, a phone dock, a resort guide, and a landline.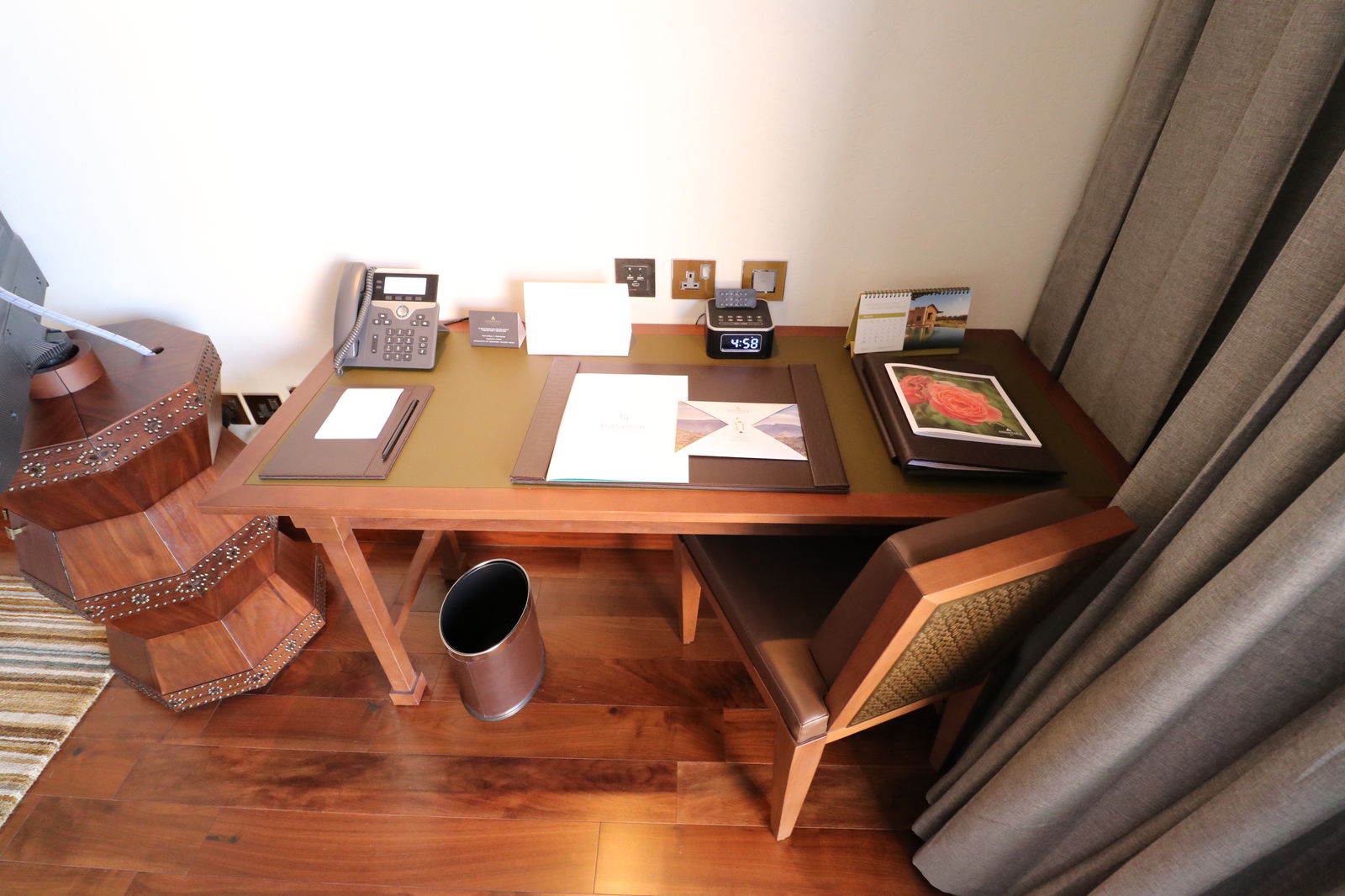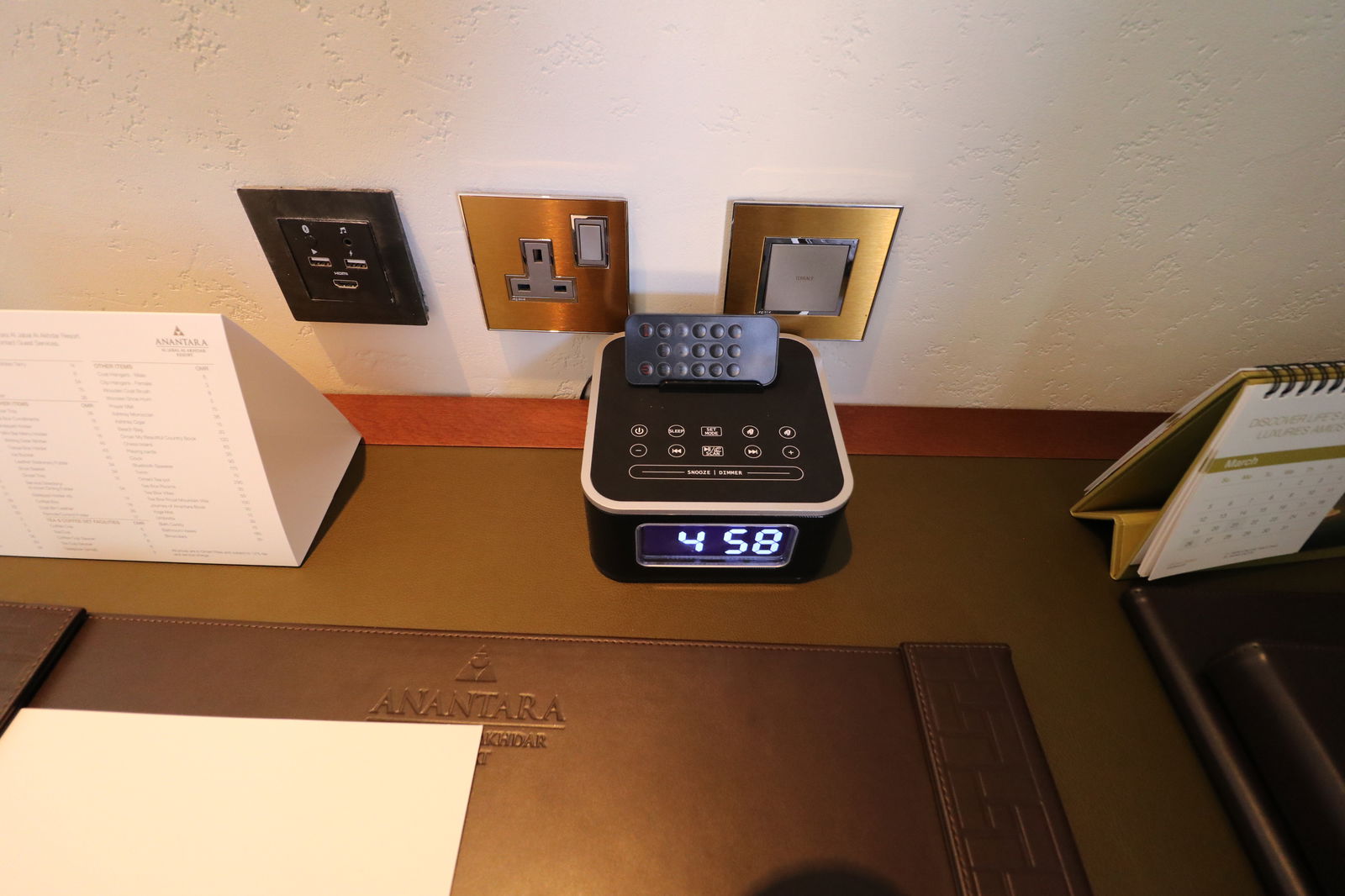 My Deluxe Canyon View Room had a private balcony with a view of the canyon below.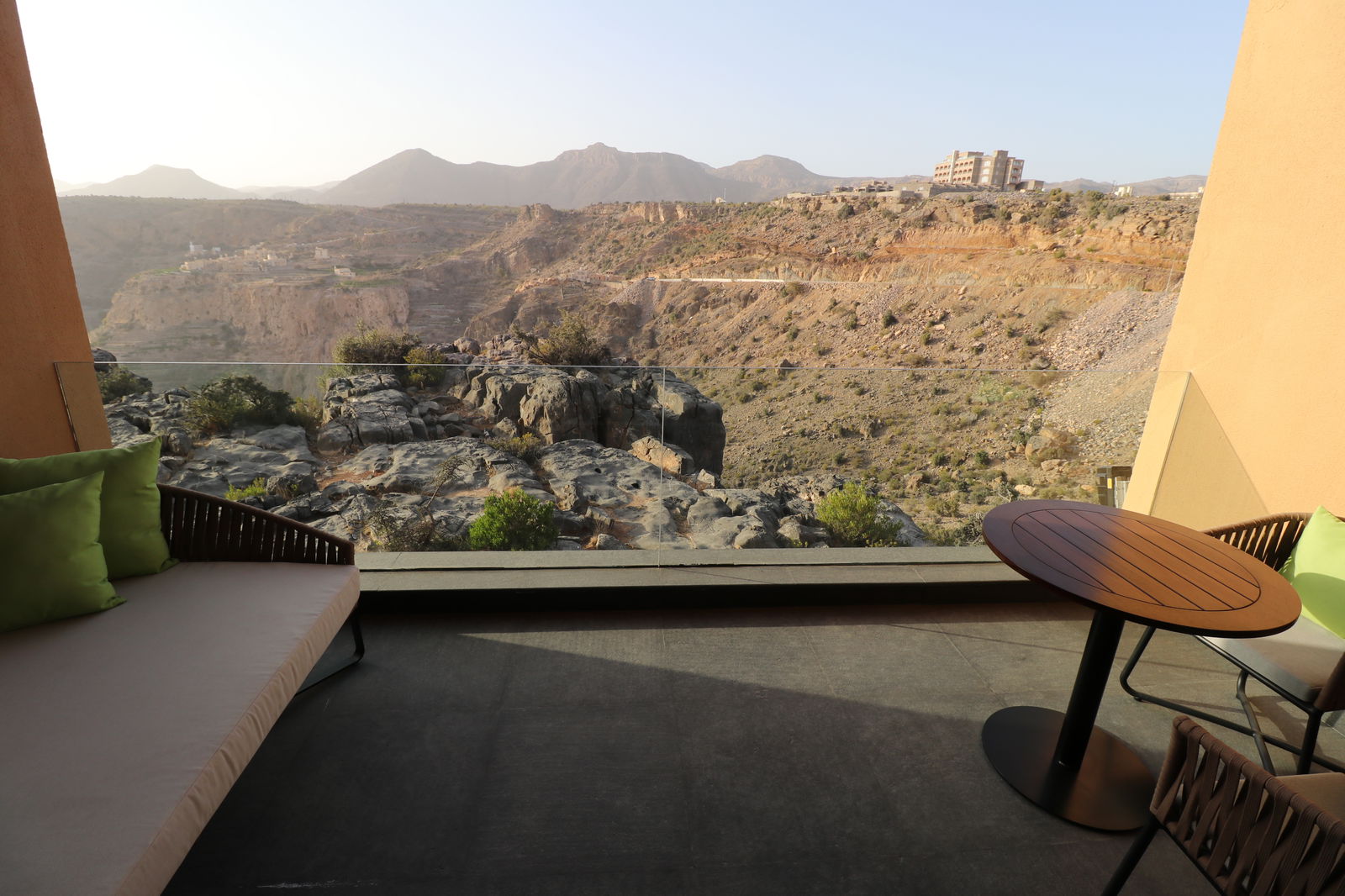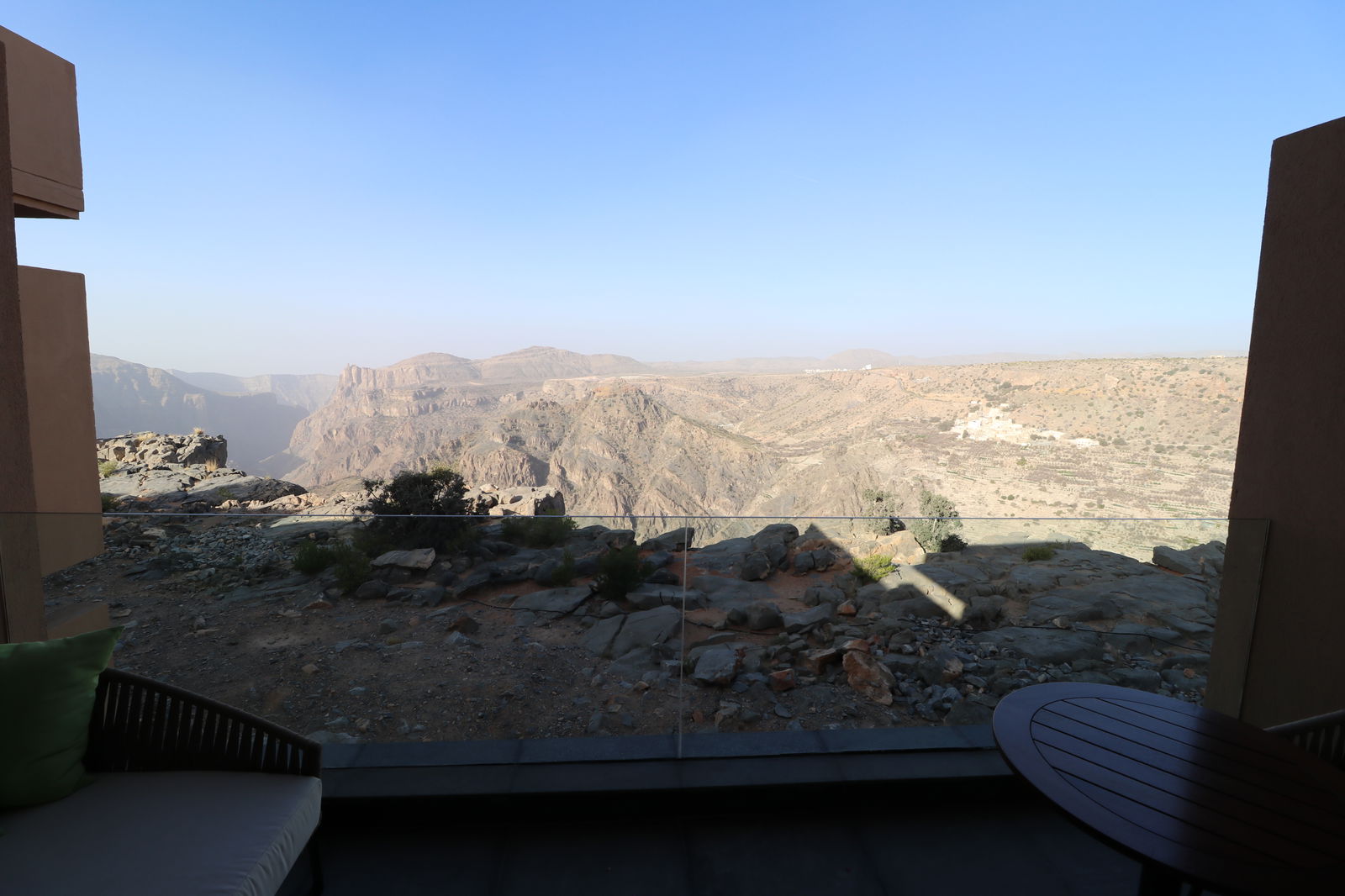 I loved being in the mountains and looking out over the sea of rock and then coming into the stone bathroom. A lot of materials used to build the hotel were actually sourced locally in the mountains of Jabal Akhdar.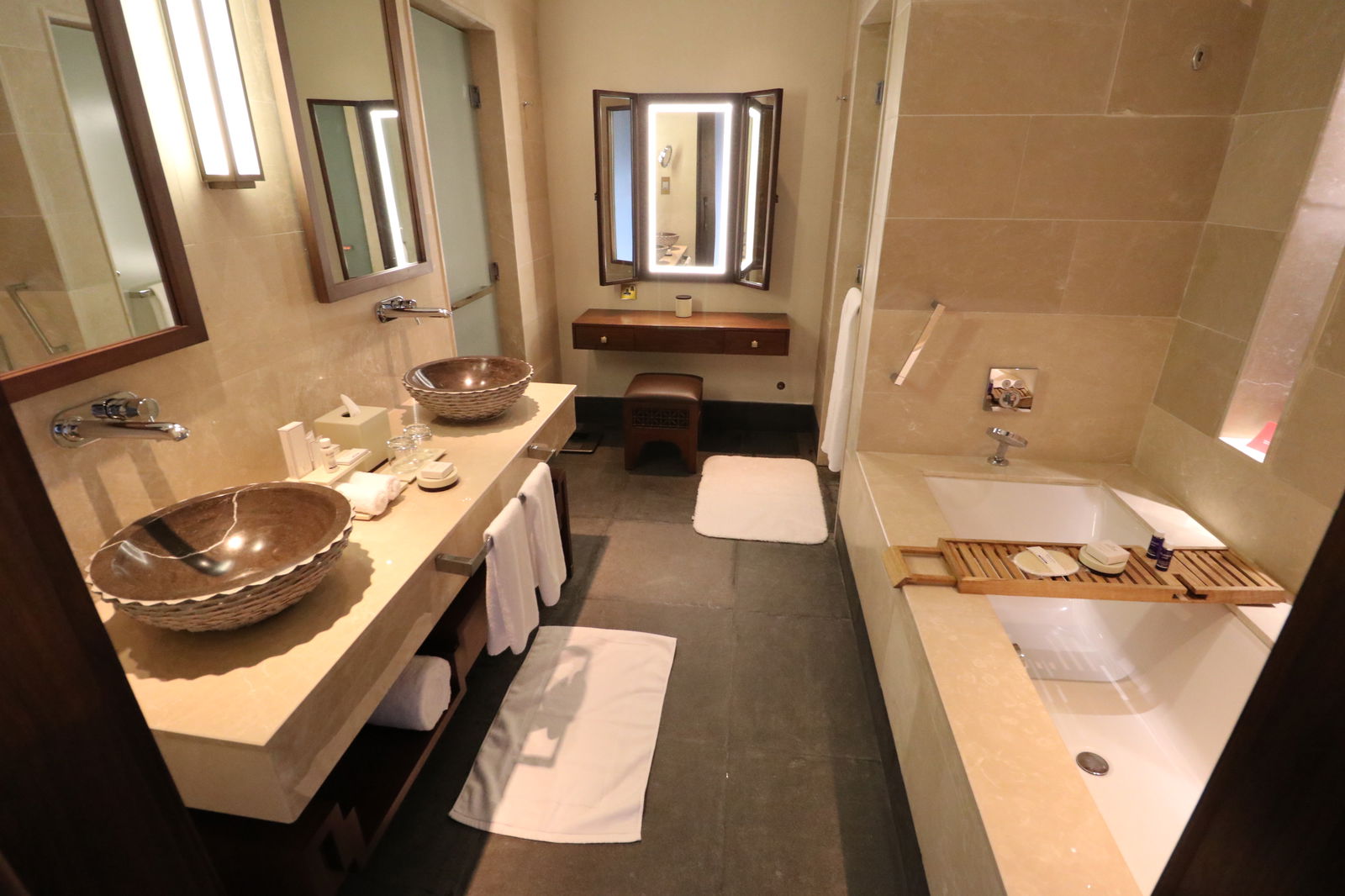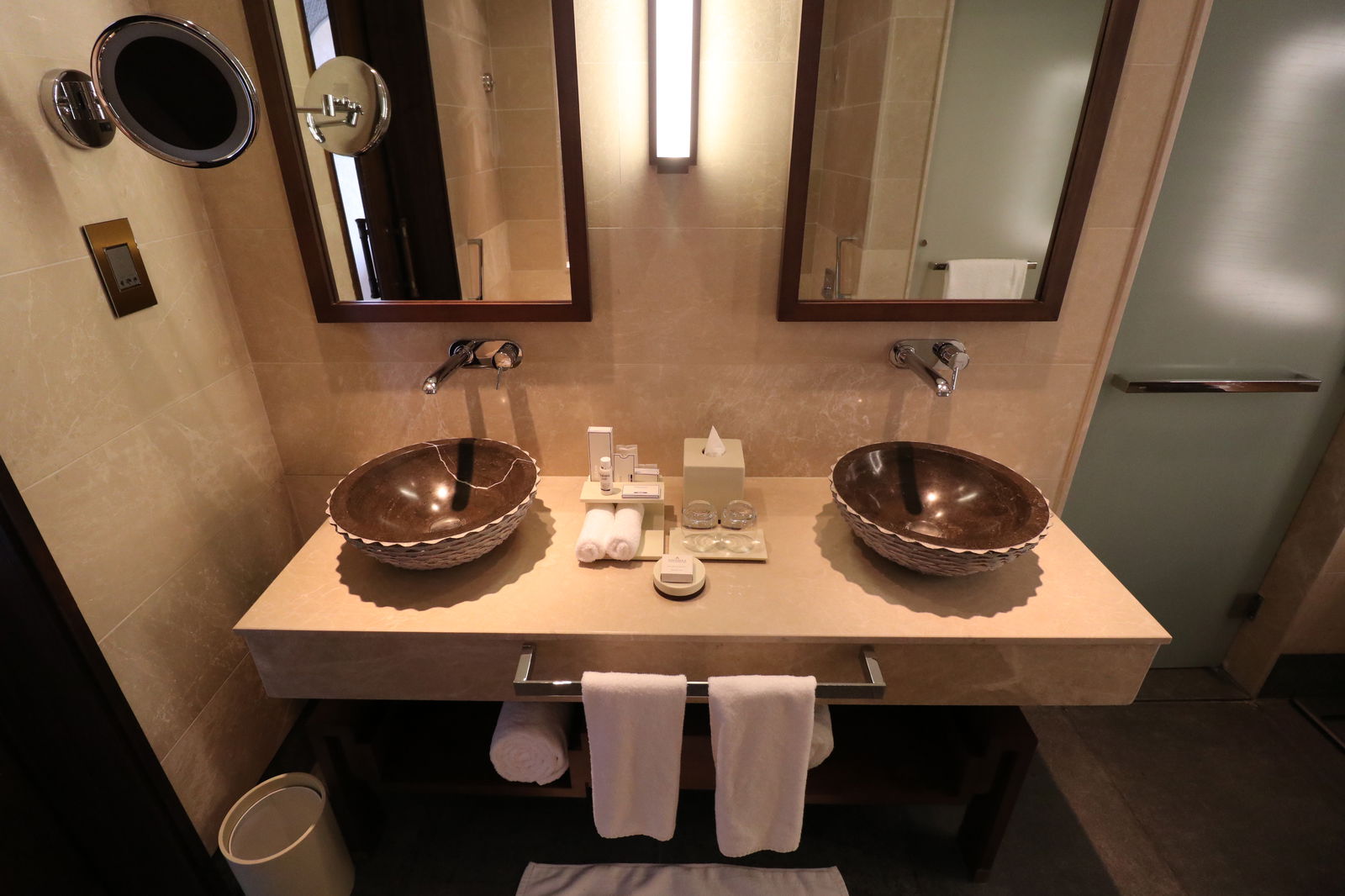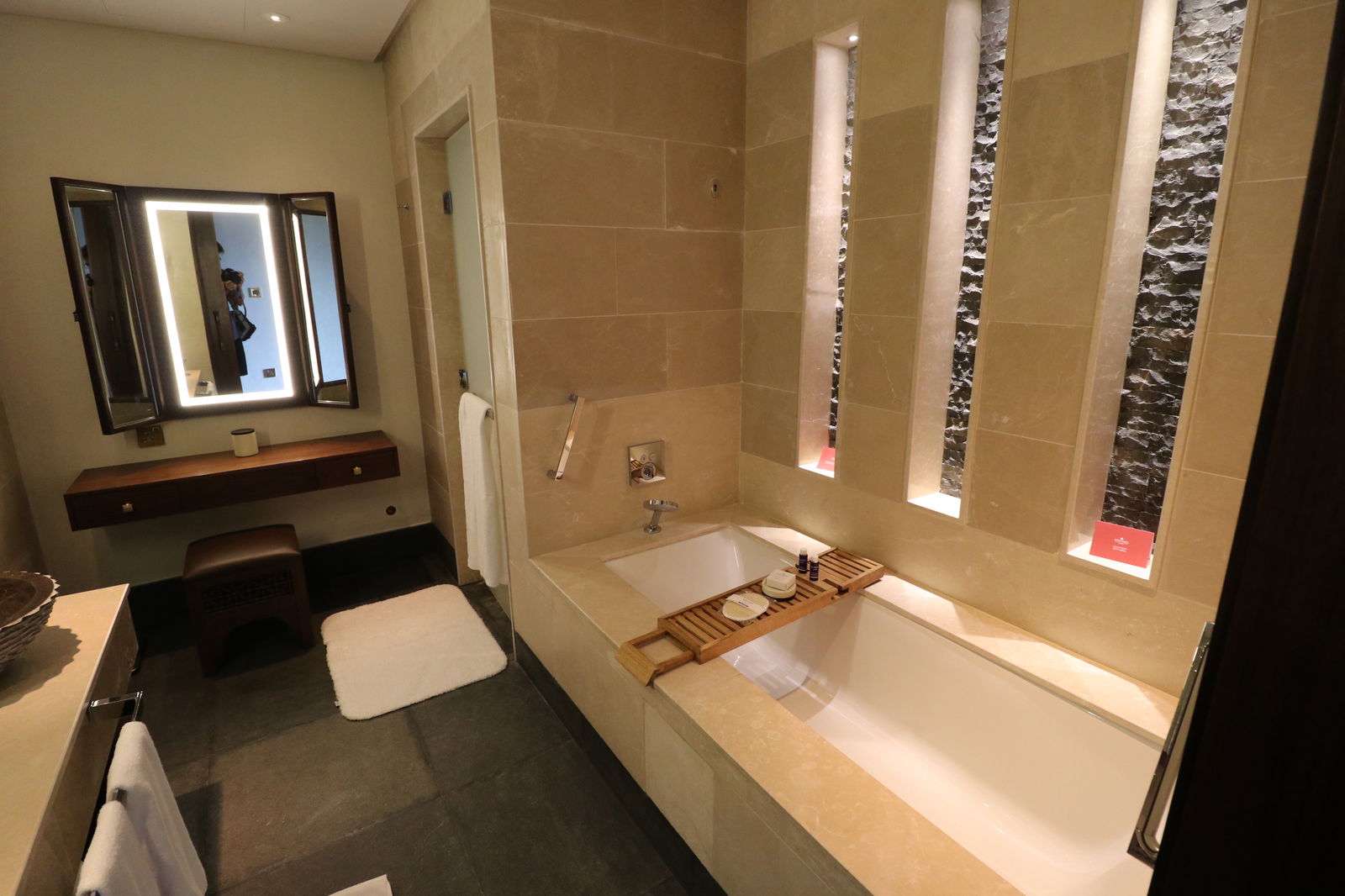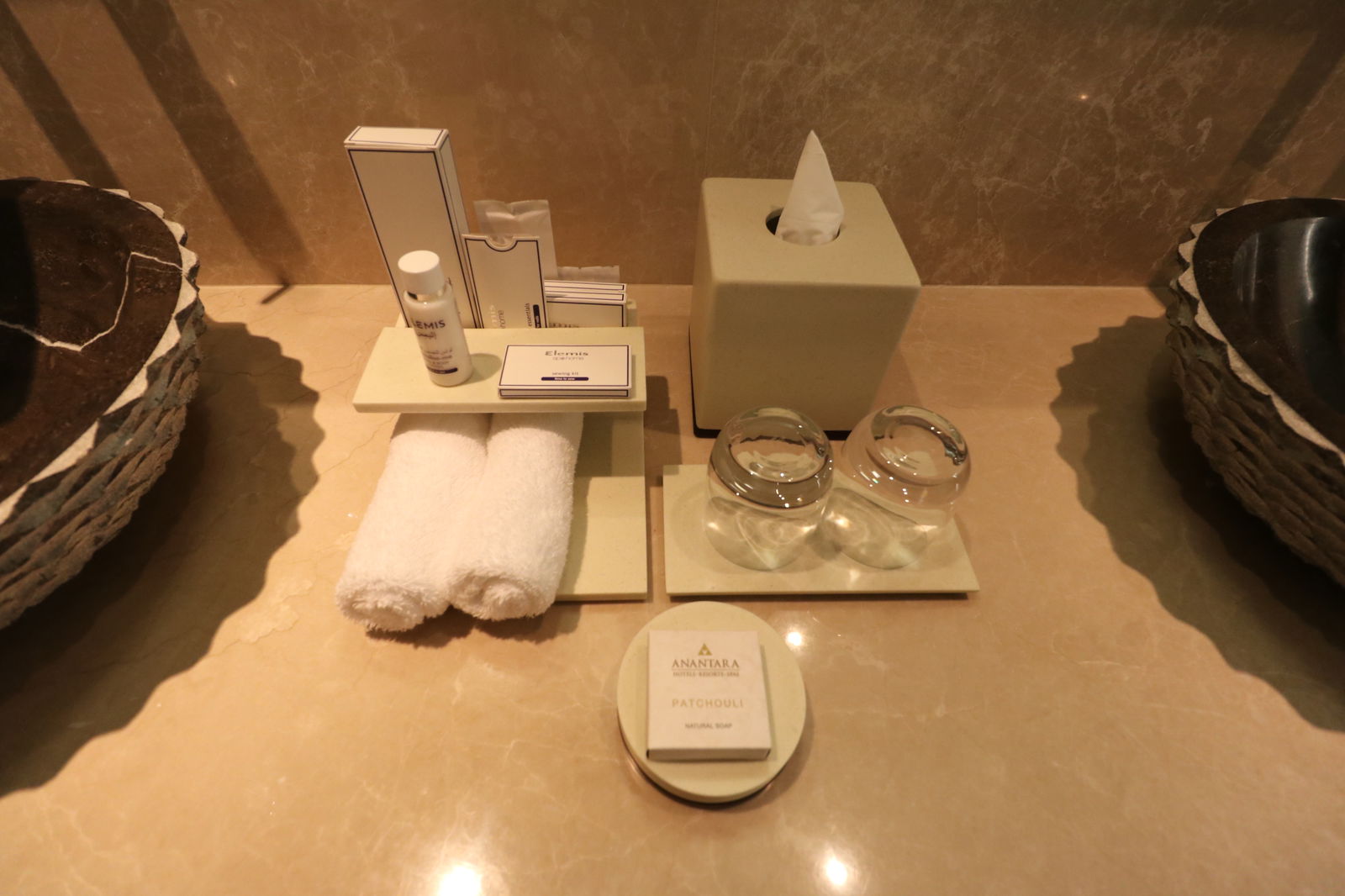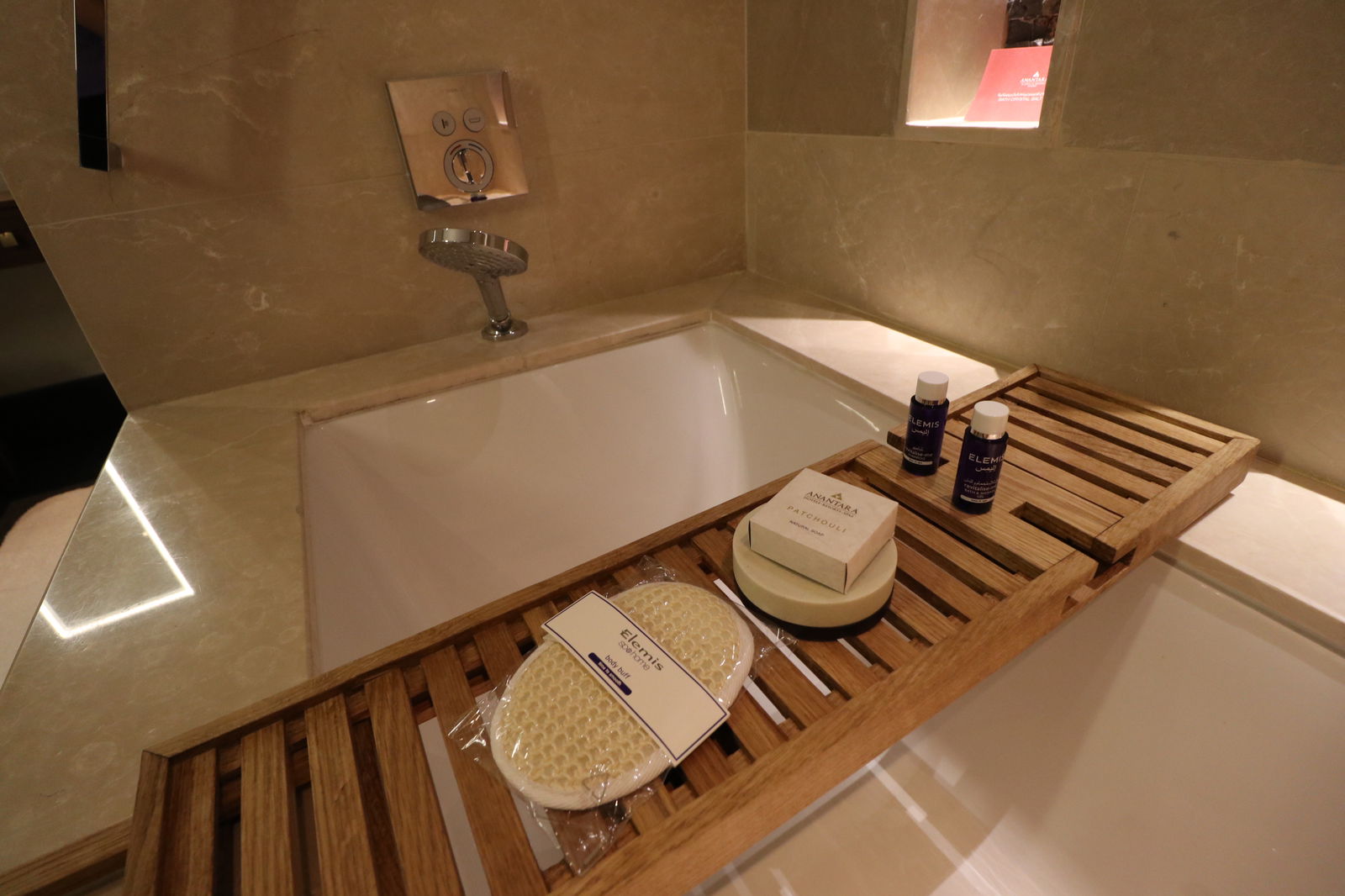 There was also champagne and fruit in my room, which I consumed in the bathtub while catching up on some TV shows.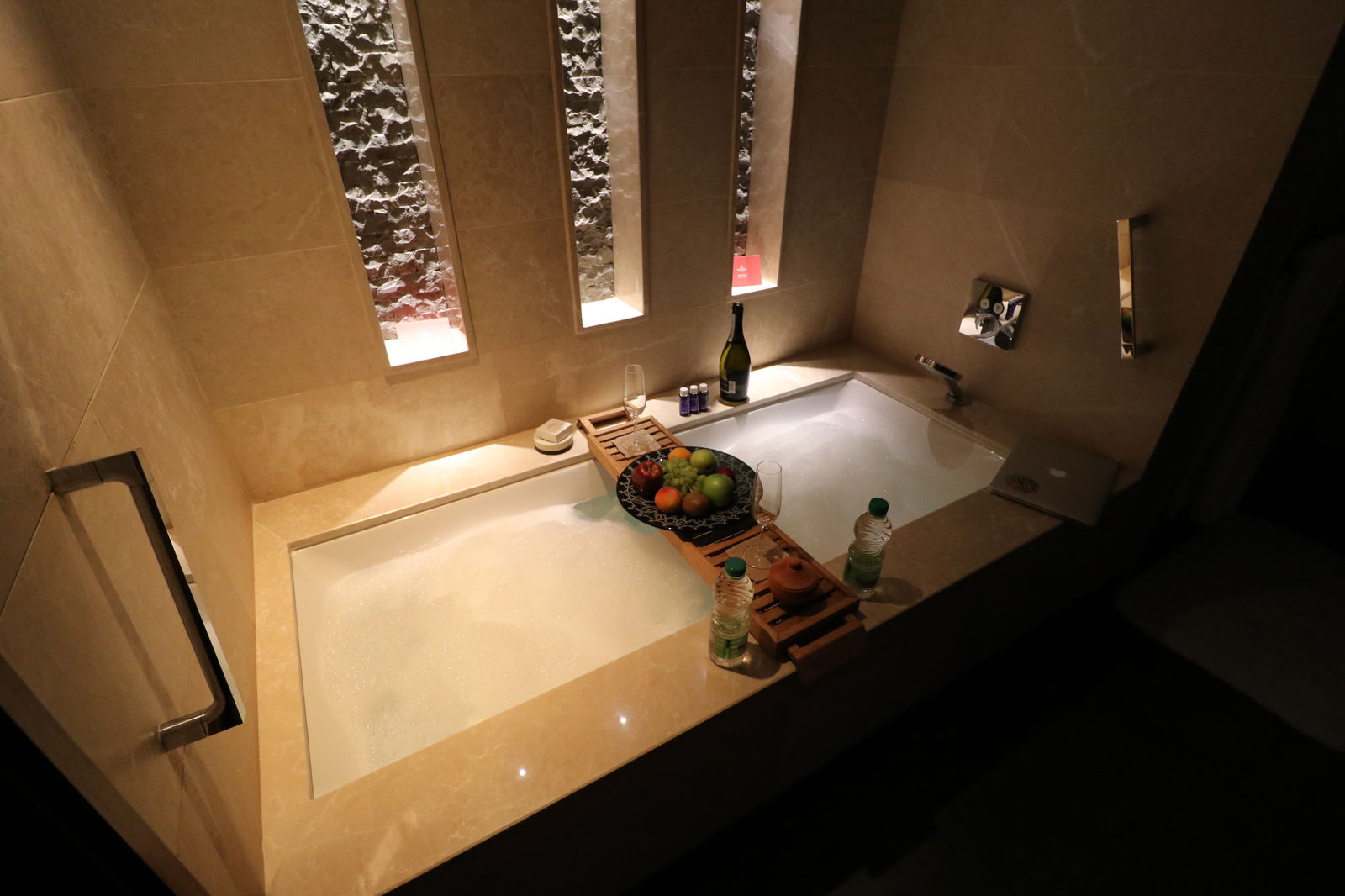 At the end of the bathroom was a vanity station.
The shower had a similar stone interior to the bathroom.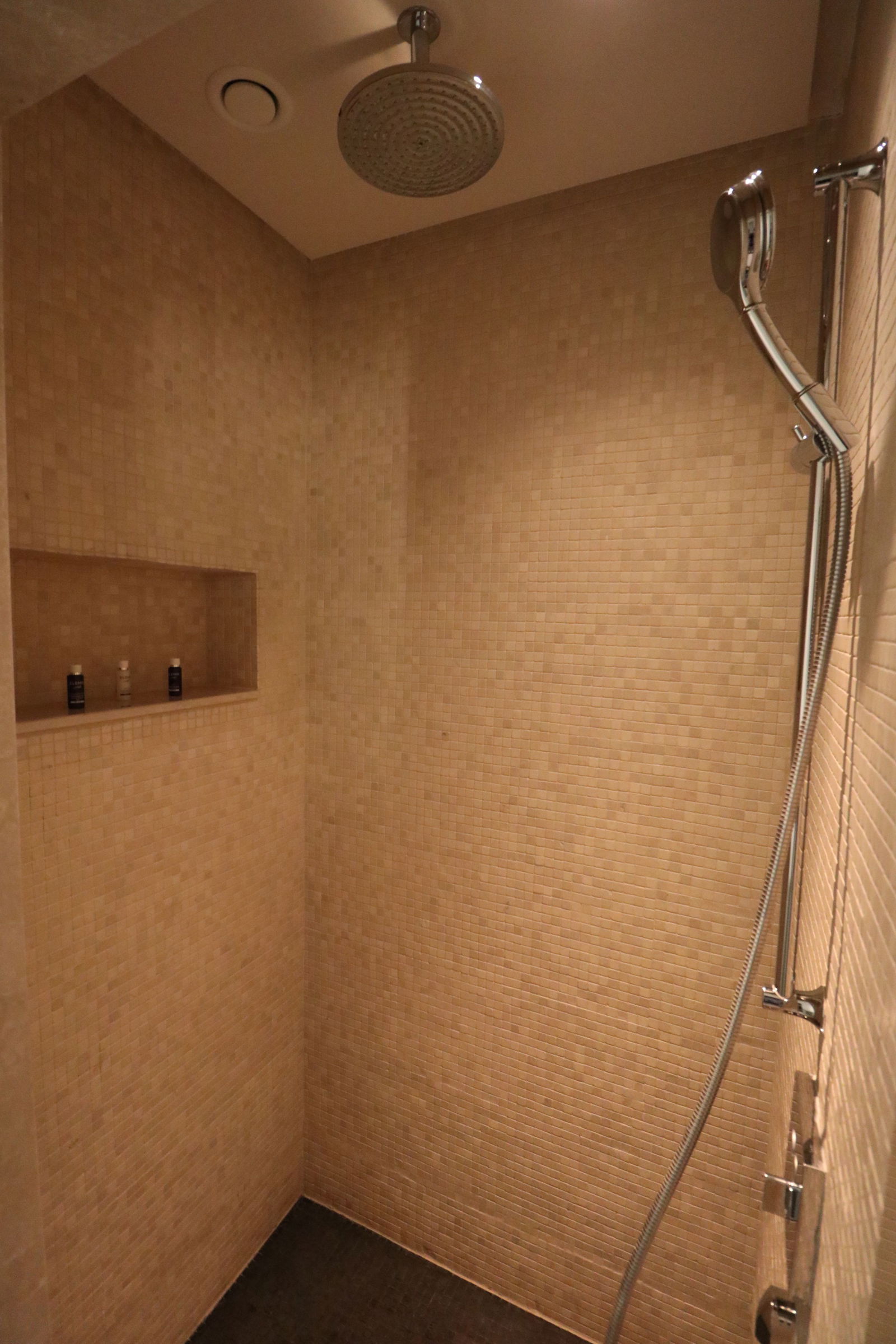 One Bedroom Pool Cliff Villa
My personal favorite room, the Pool Cliff Villa, was stunning.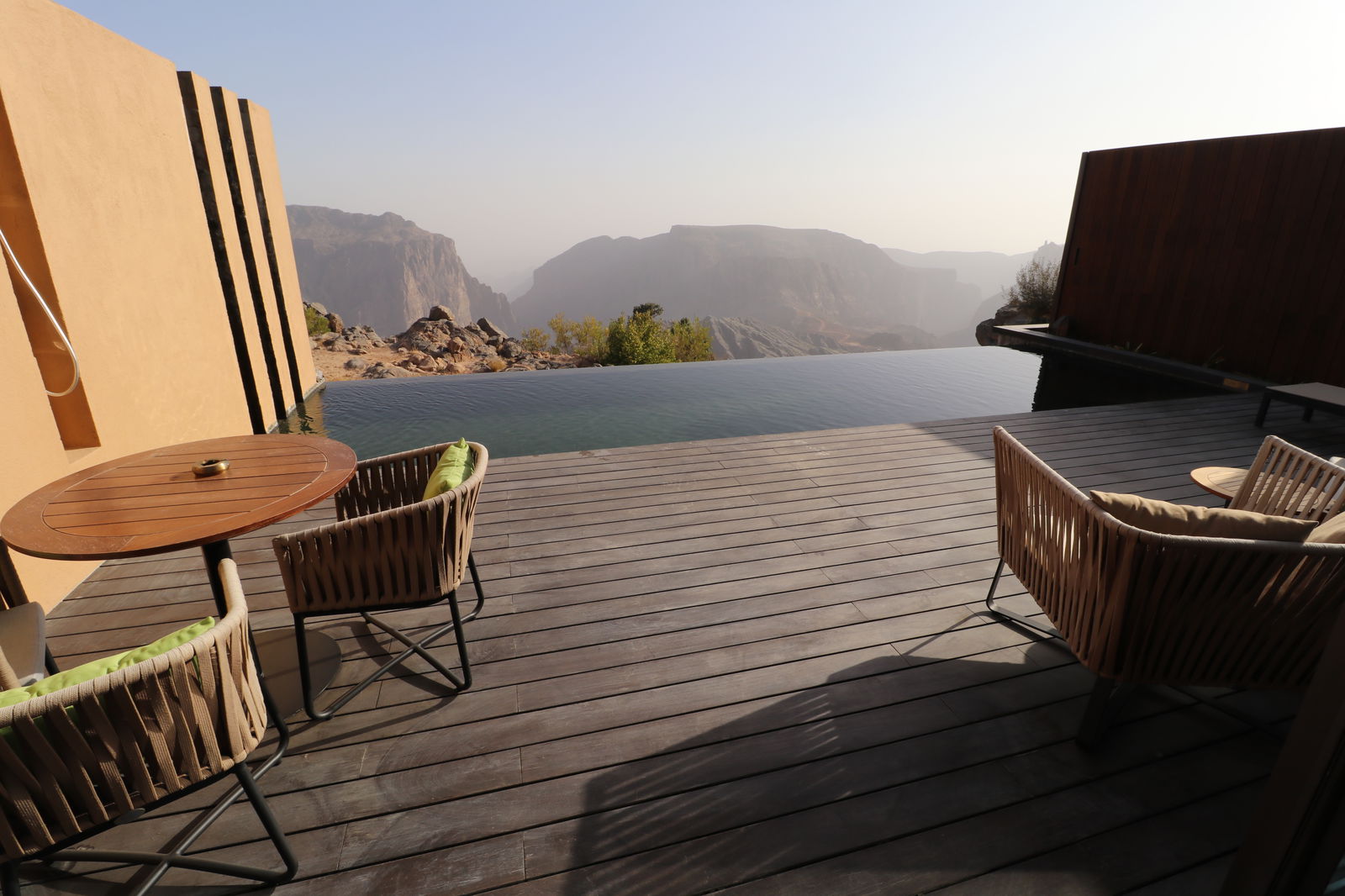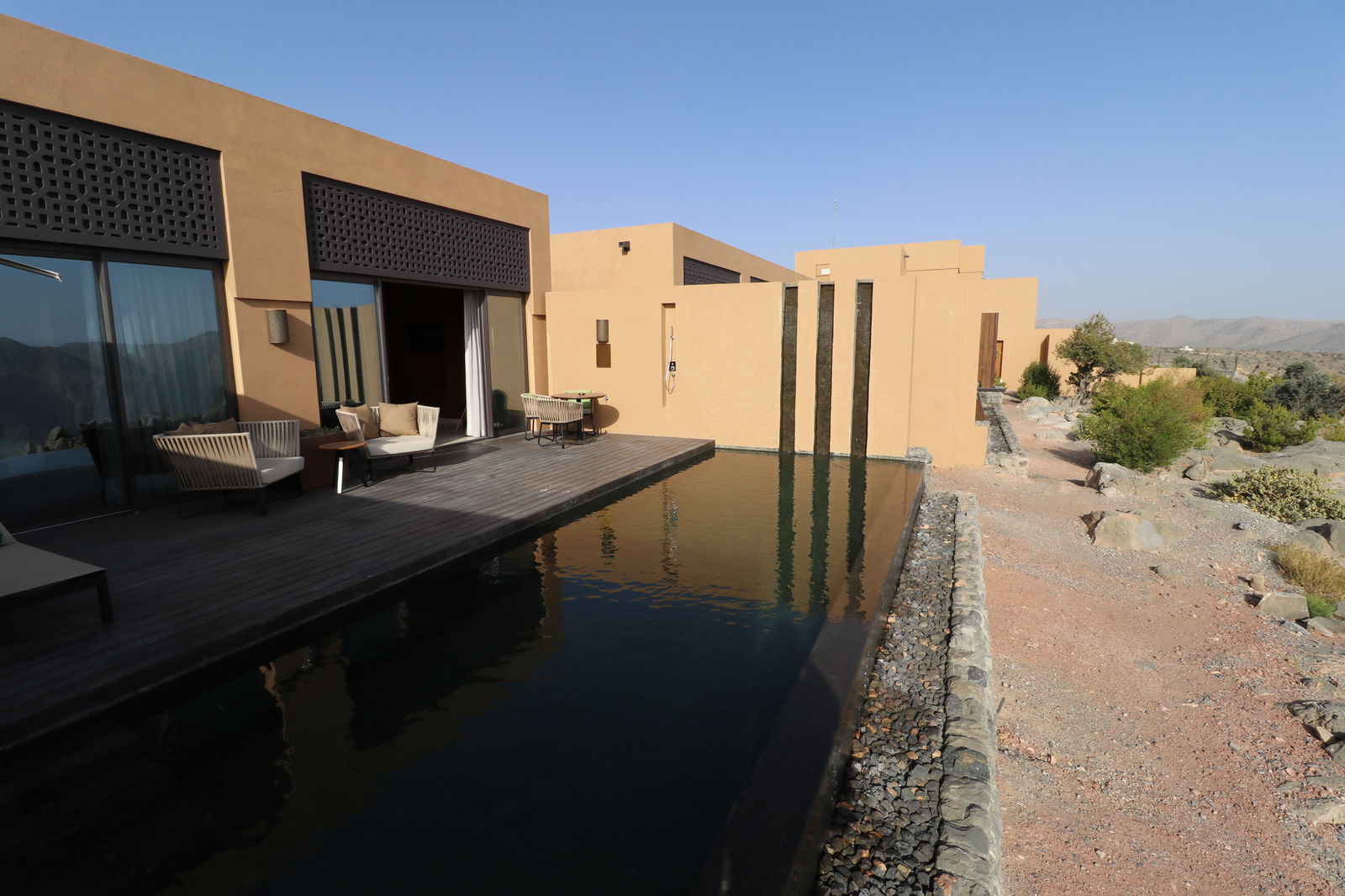 It comes with a private infinity pool in addition to a large living room and separate bedroom.
Three Bedroom Royal Mountain Villa
This is the most exclusive of all the rooms, and costs upwards of $5200 per night. My upcoming YouTube property tour will show these villas in greater detail. To give a sneak preview, the highlight had to have been the bathtub.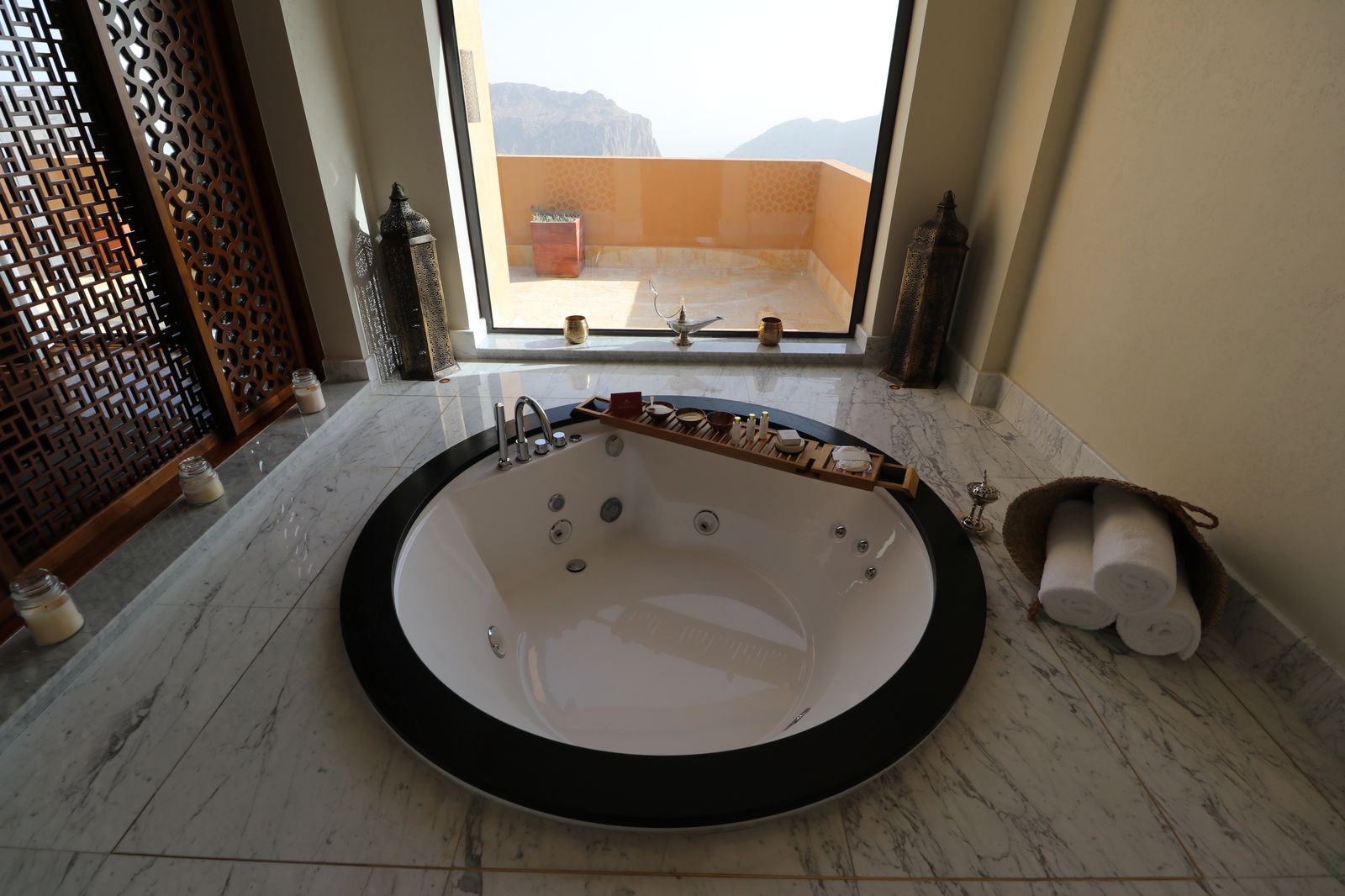 The various rooms in the villa featured different designs and unique Omani art.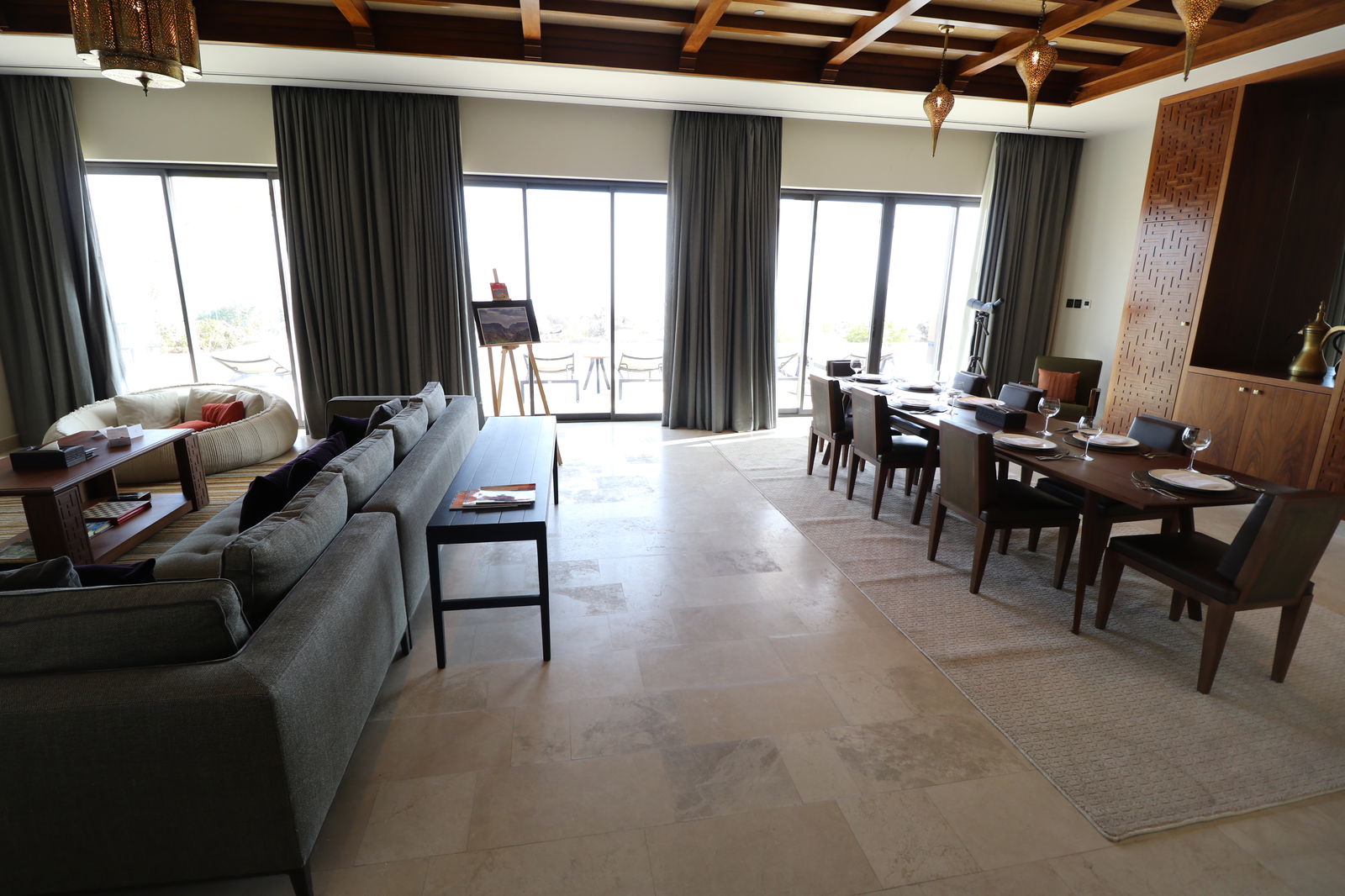 There was also a large private infinity pool with a jacuzzi.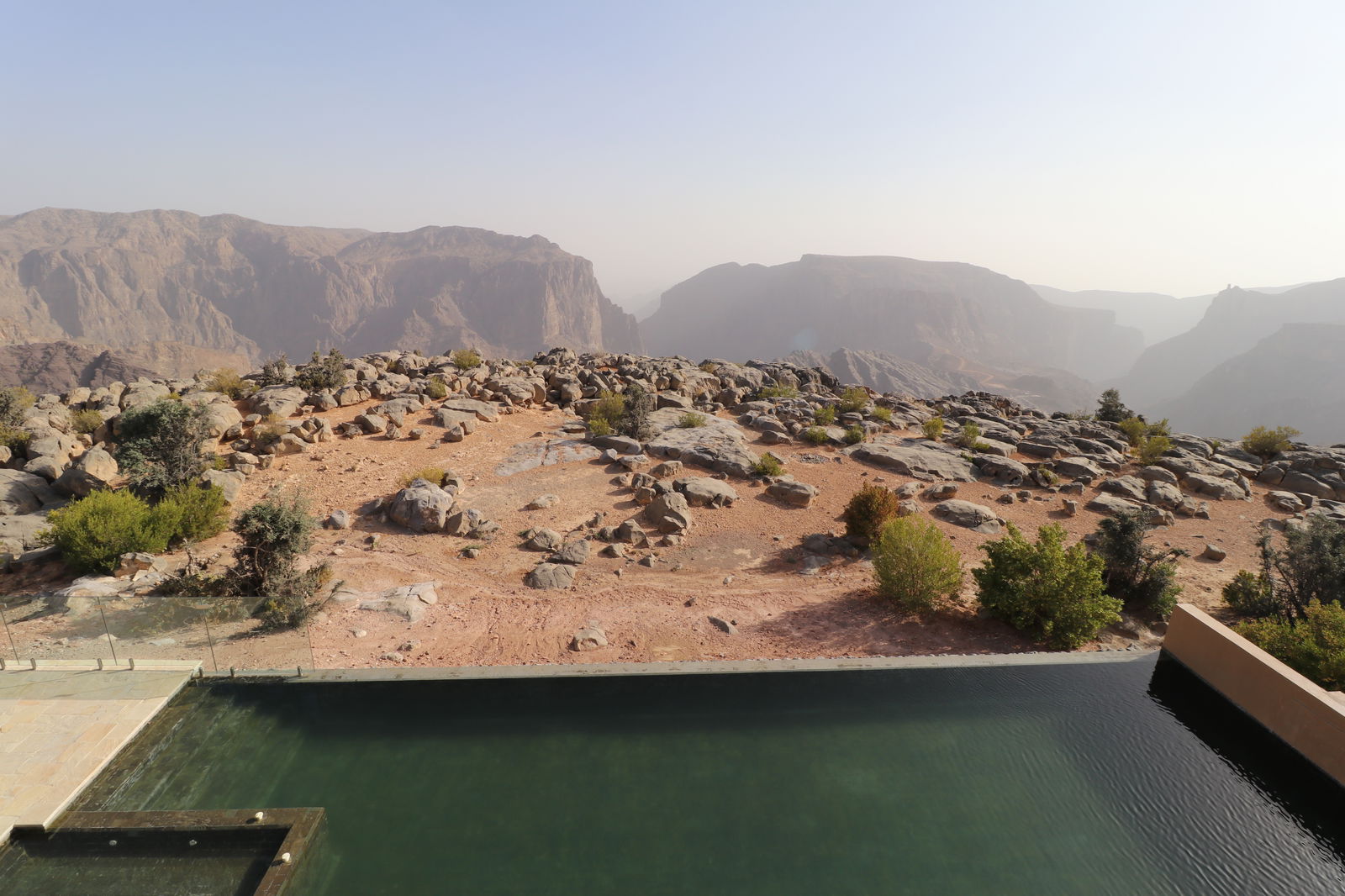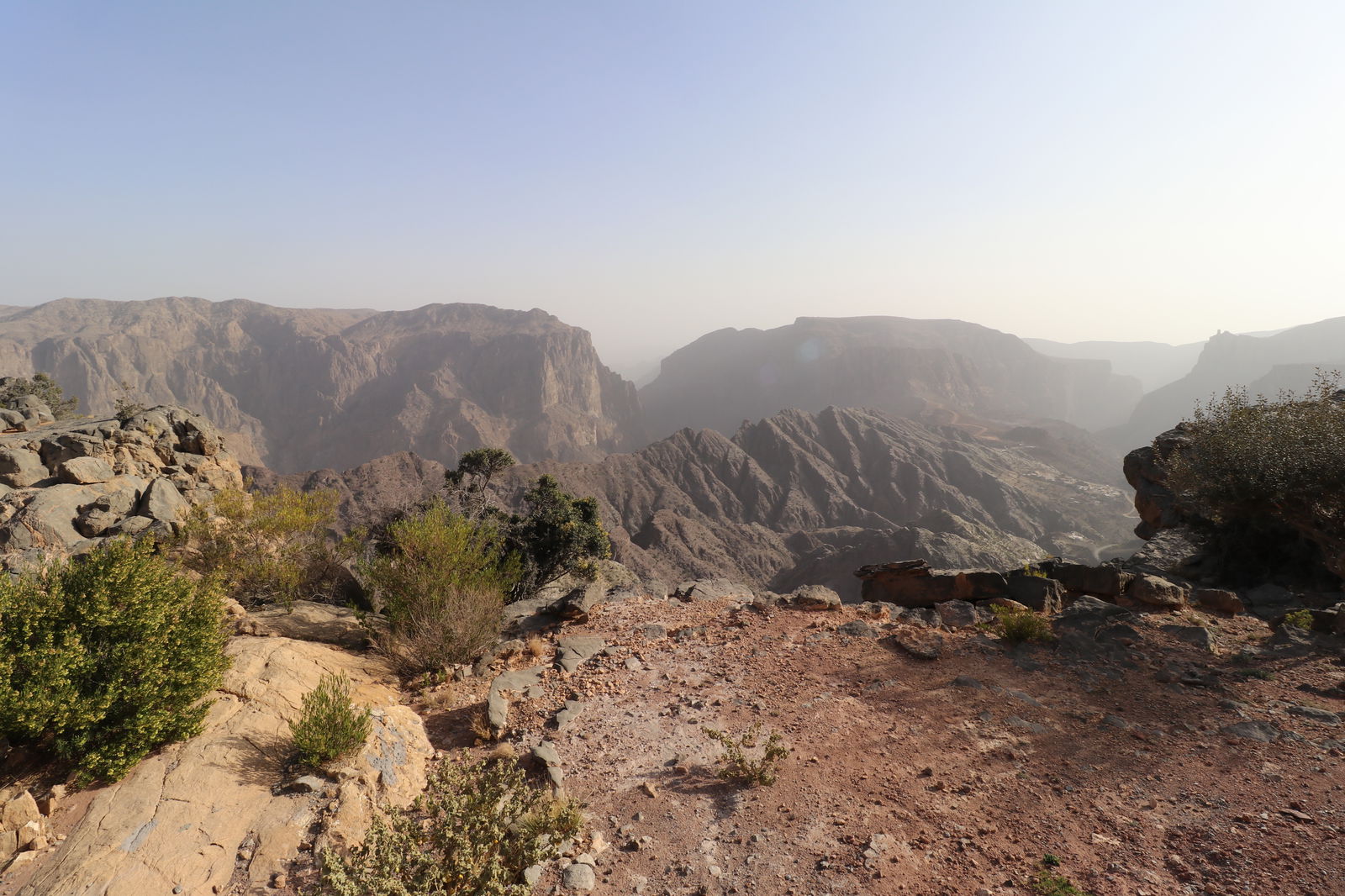 Activities
Being high up in Jabal Akhdar, you can either relax at the resort or explore the historic surrounding areas. There are many resort-led activities to choose from if the spa and sport facilities at the hotel aren't enough. The tours are a great way to learn about the history and communities in Jabal Akhdar, and offer some unforgettable views.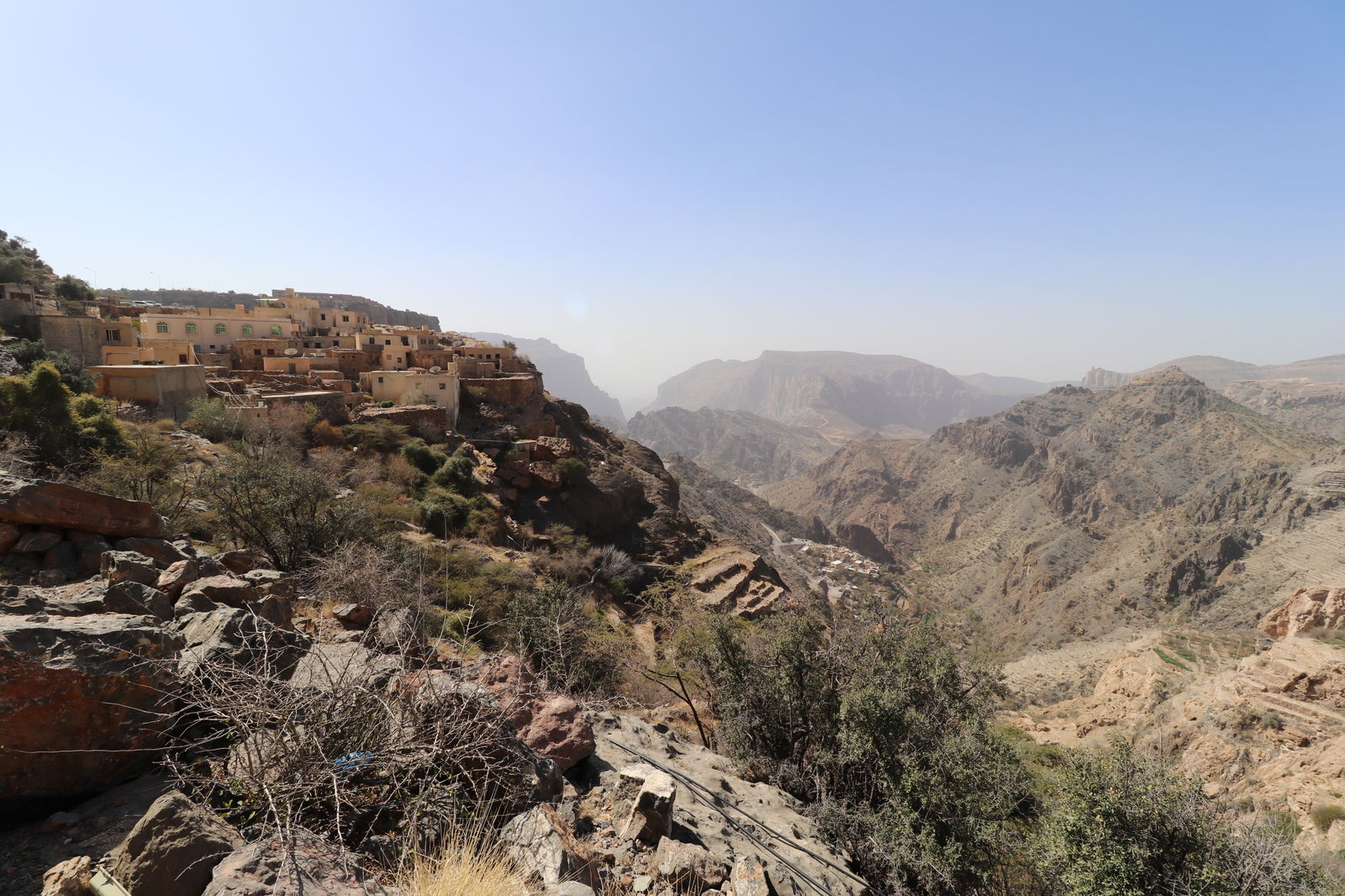 I did the Three Villages cultural walk, which led me through Al Aqr, Al Ayn, and Ash Shirayjah.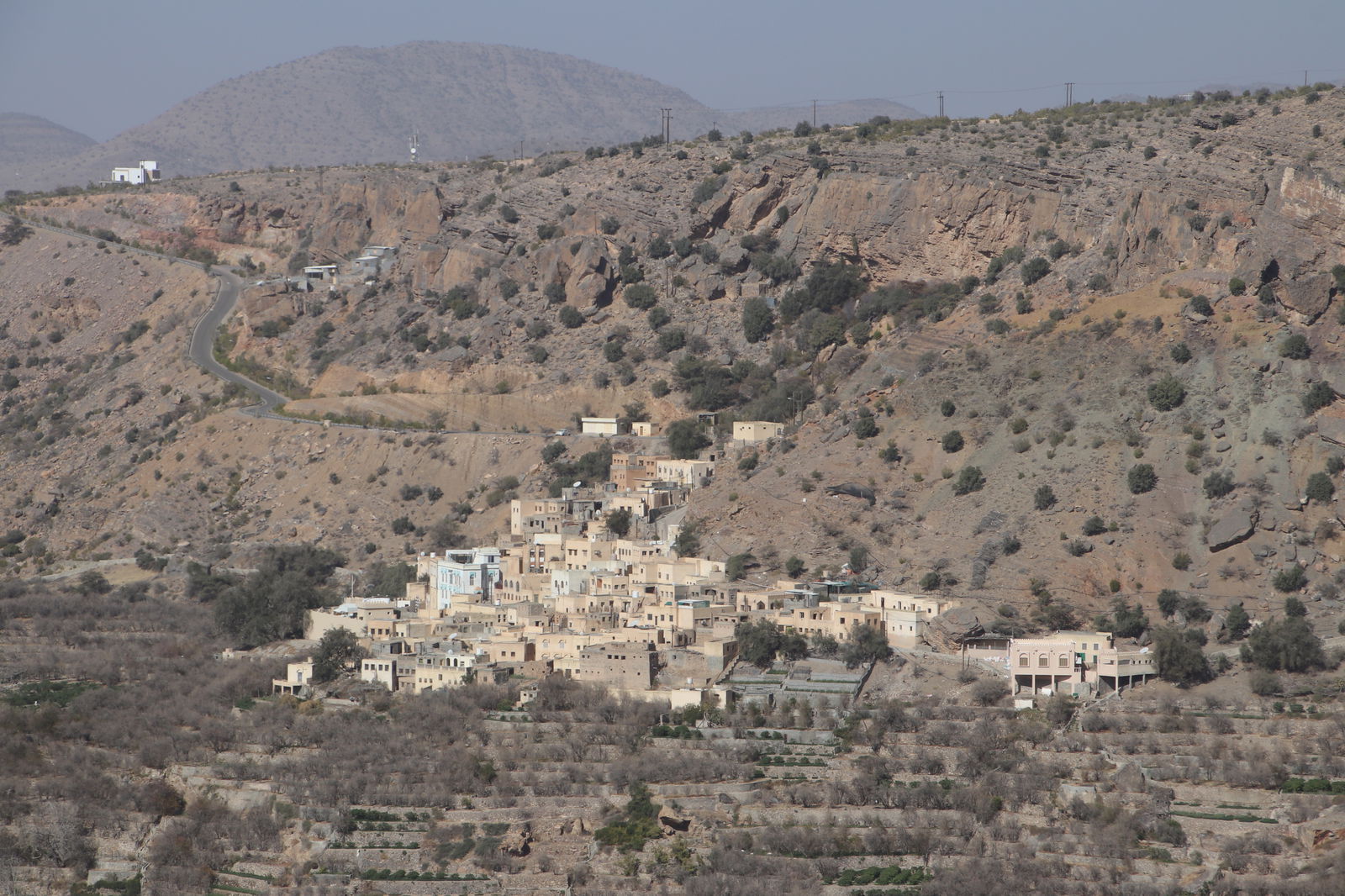 I got to learn all about the plantations and how they used an ancient irrigation system in their prosperous farms. The environment in Jabal Akhdar is perfect for growing a multitude of fruits and vegetables, which gave the locals a competitive advantage when selling their produce at the Souqs in Nizwa.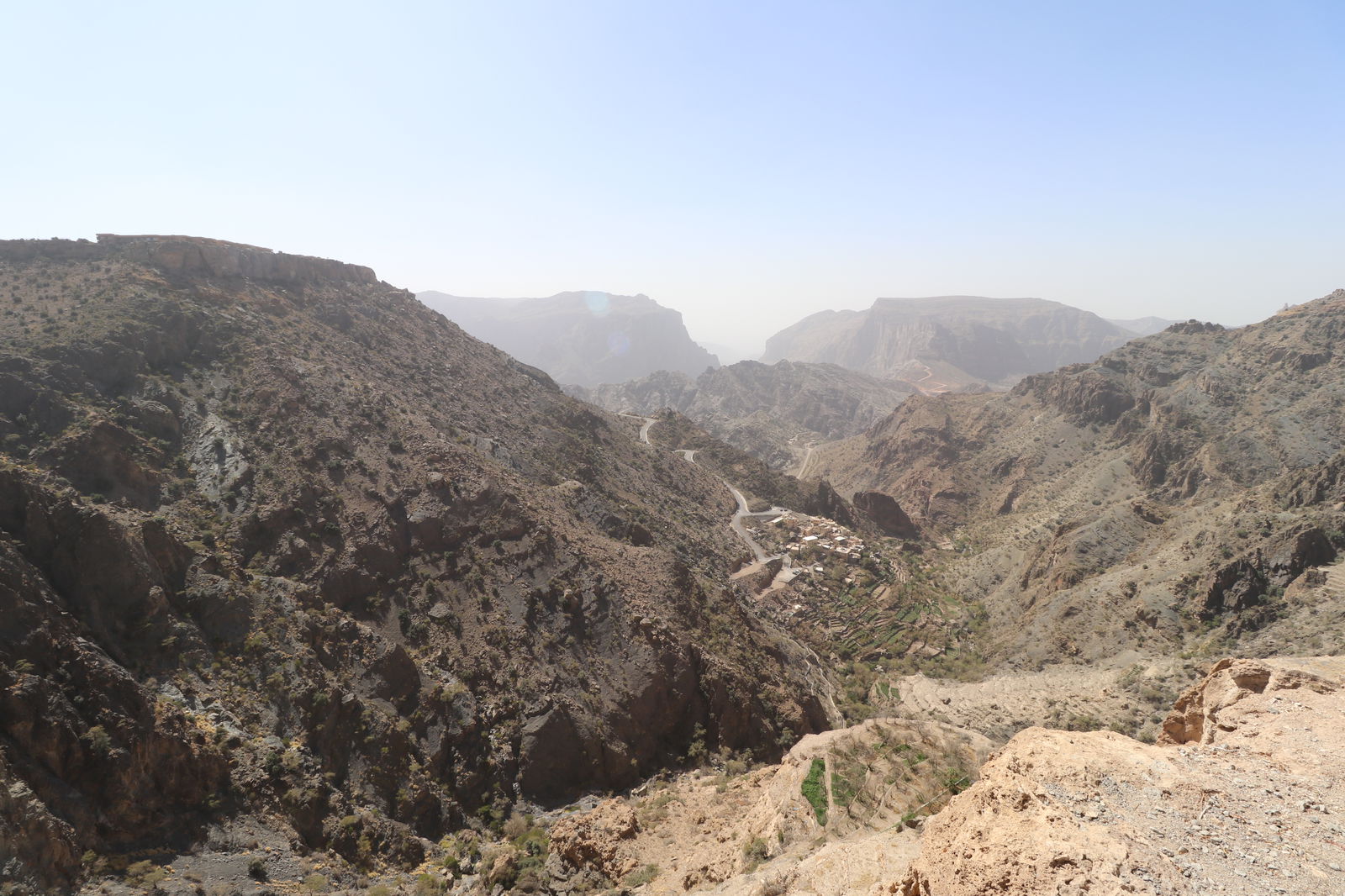 The walk featured some nice views of the hotel as well.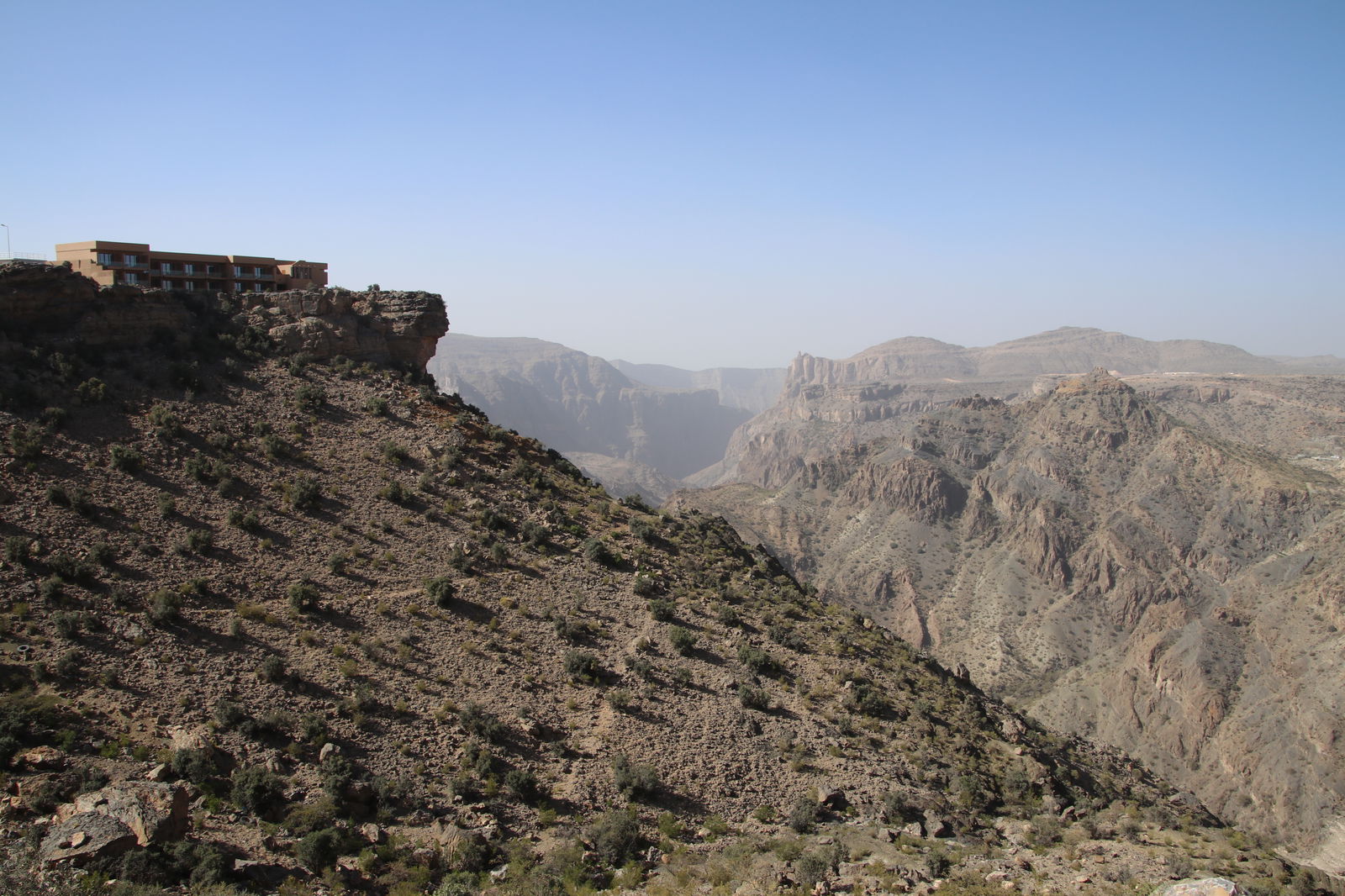 Most of the buildings in the villages were abandoned, though a few Pakistani workers lived there to maintain the farms. The tour guide grew up in the last of the three villages, so he had a lot of stories to share.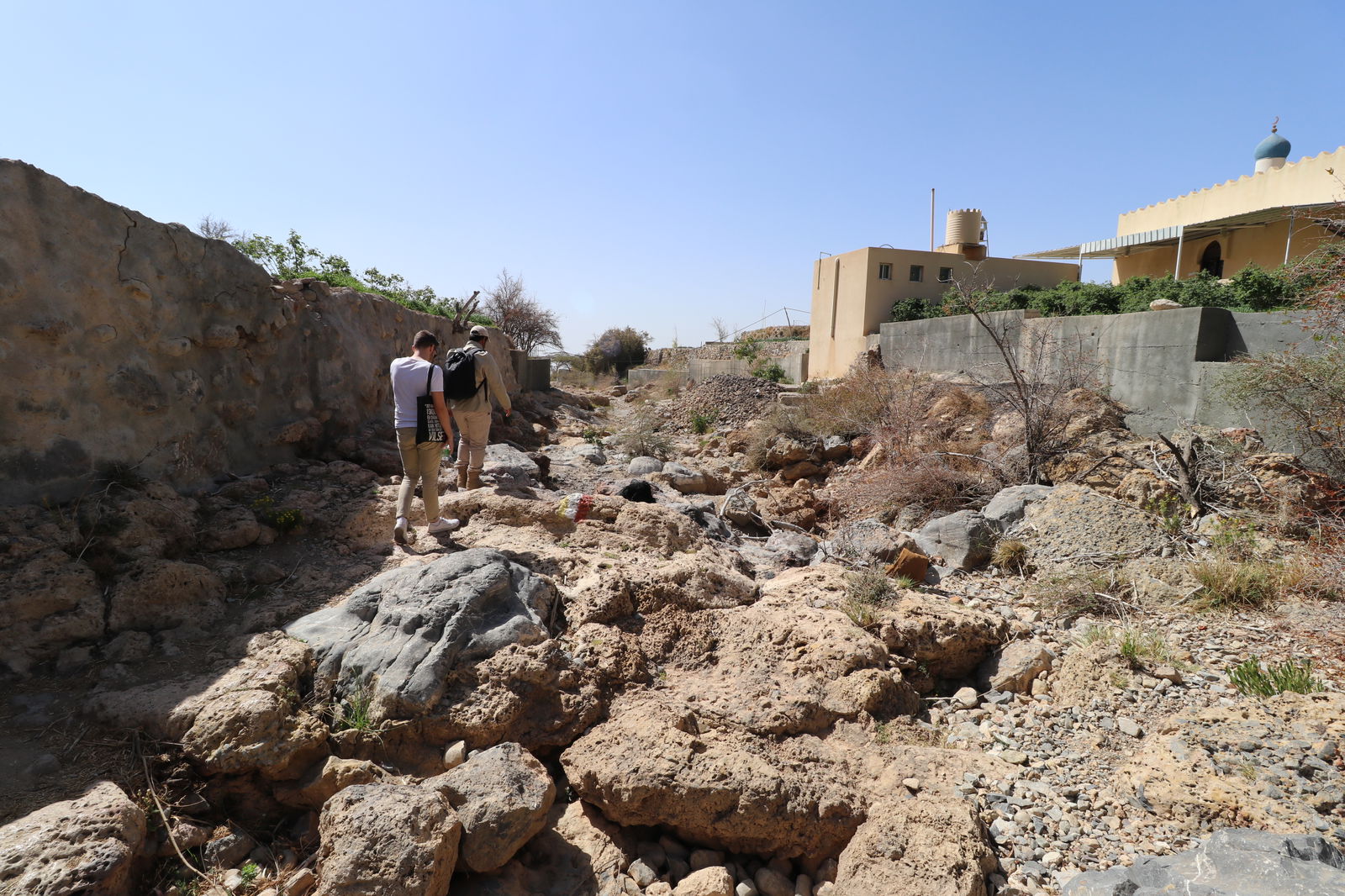 At one point, this Omani man invited us into his home for Arabic coffee with dates and oranges. He didn't speak a word of English, but was friendly and curious. I love sharing moments like these with locals when I travel.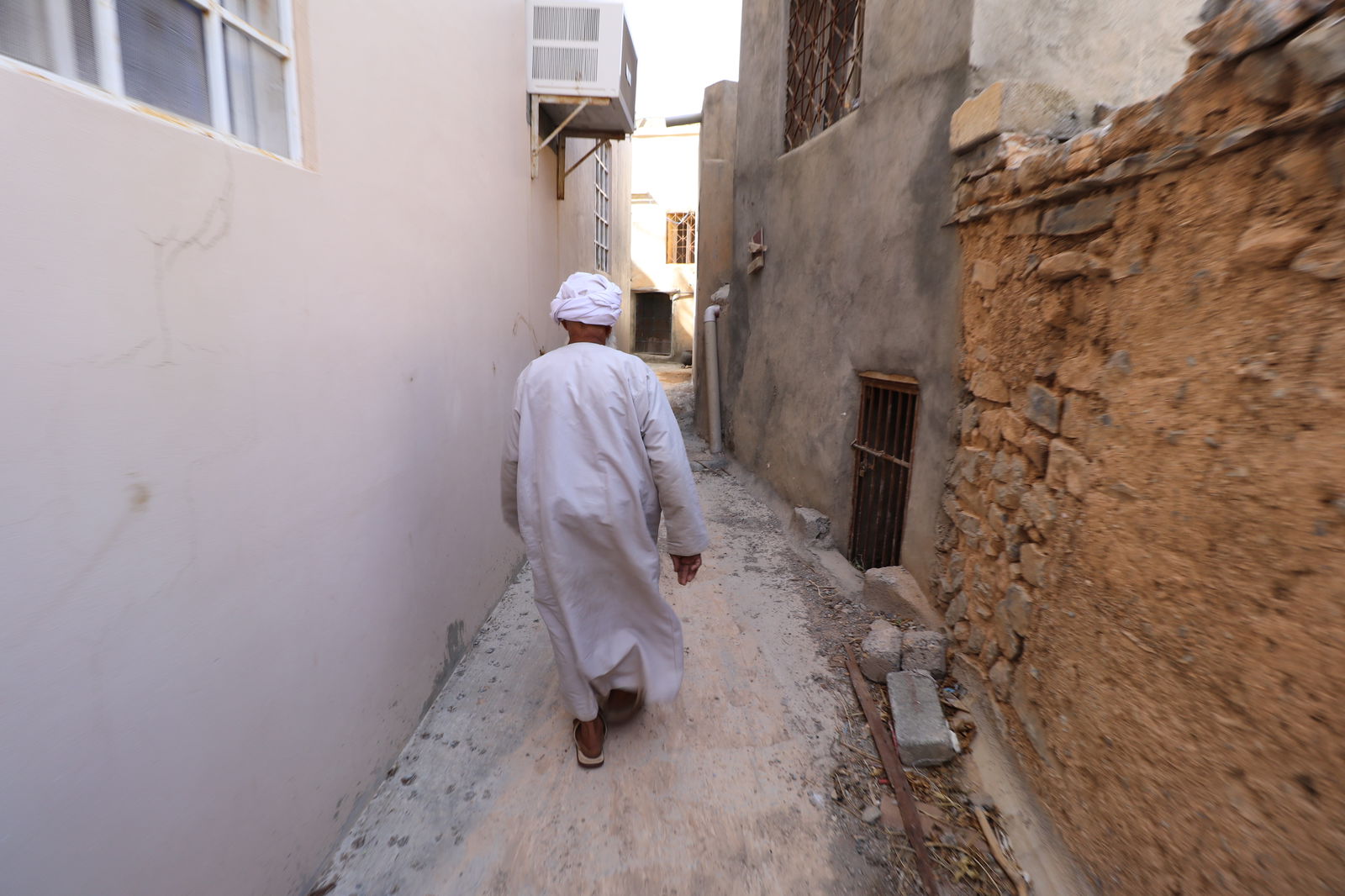 That afternoon I did abseiling and rock climbing, which was a lot of fun (and a little scary). 😉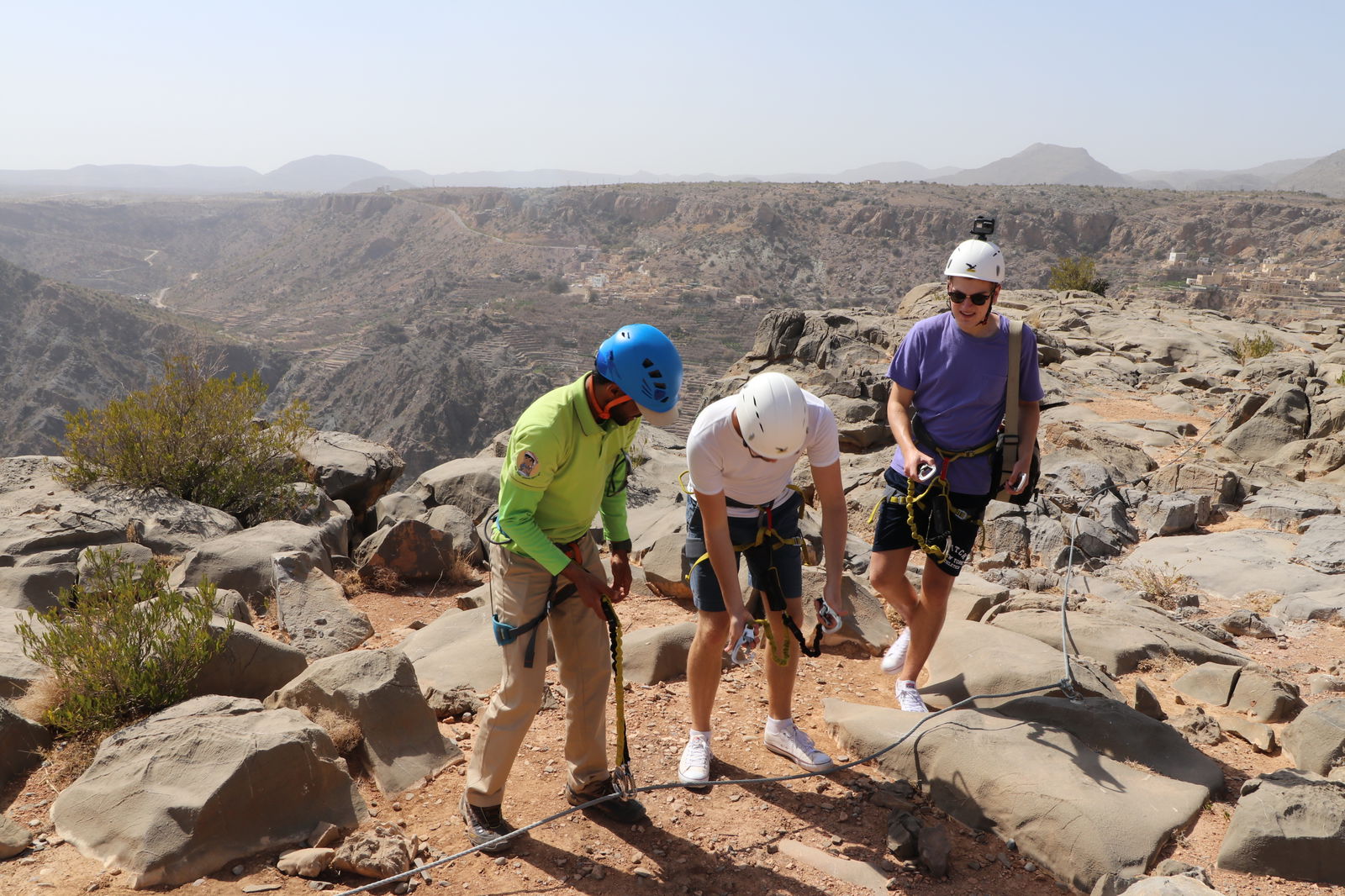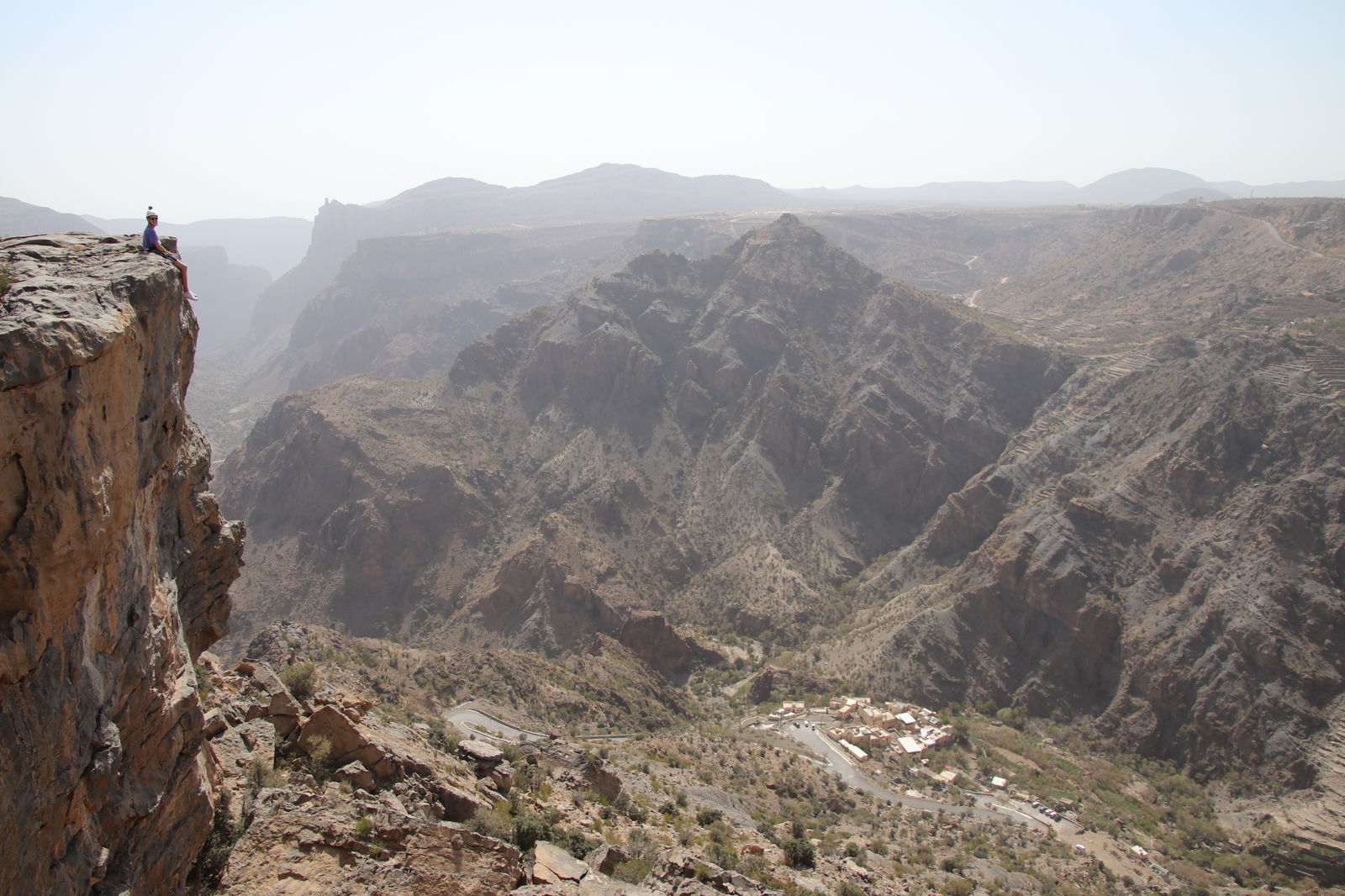 I can't imagine a cooler place to abseil down a cliff before climbing back up it.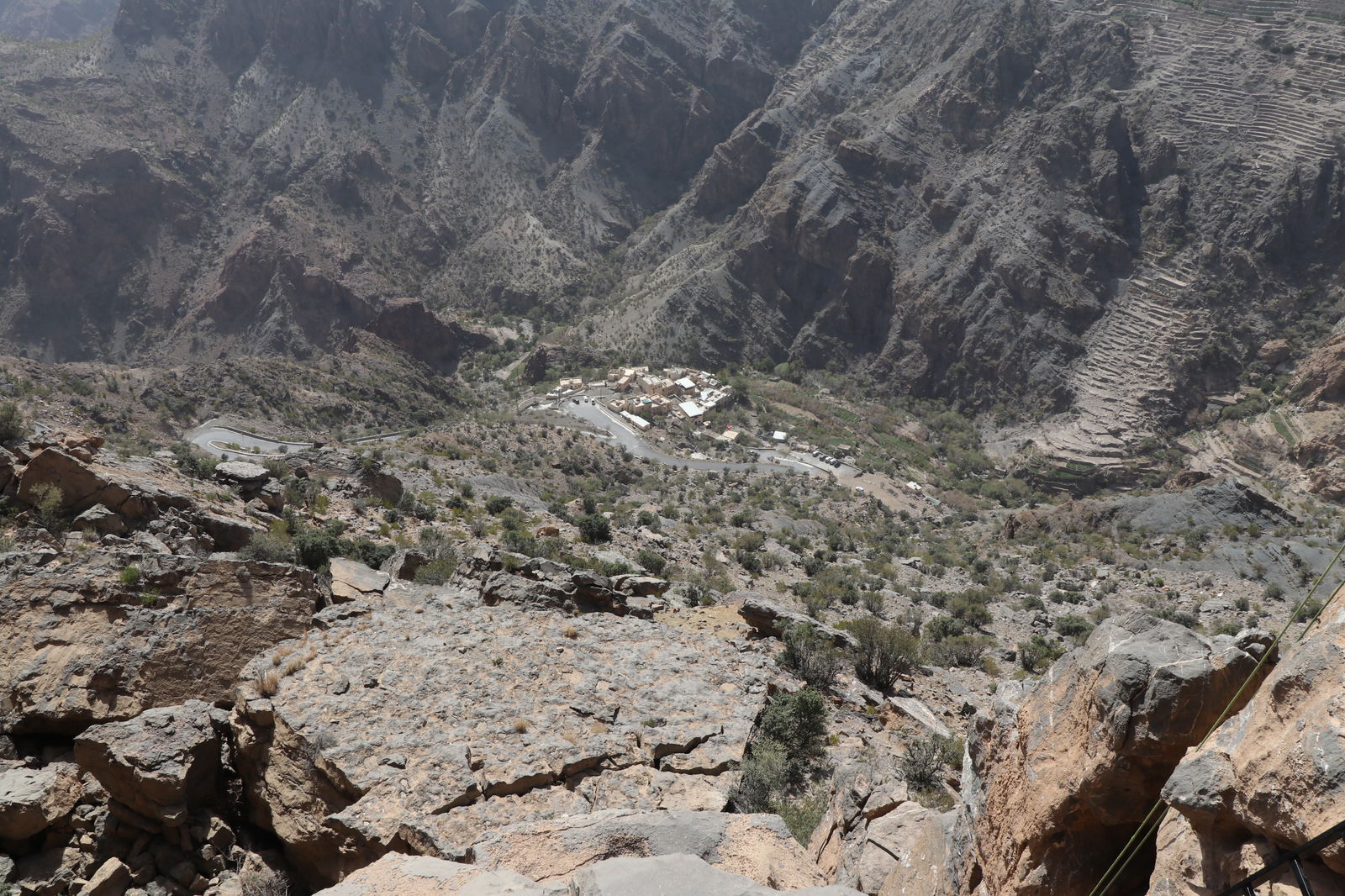 Besides these paid activities, there was a wide array of past-times to do at the resort. They had a gym with tennis courts and children's sections.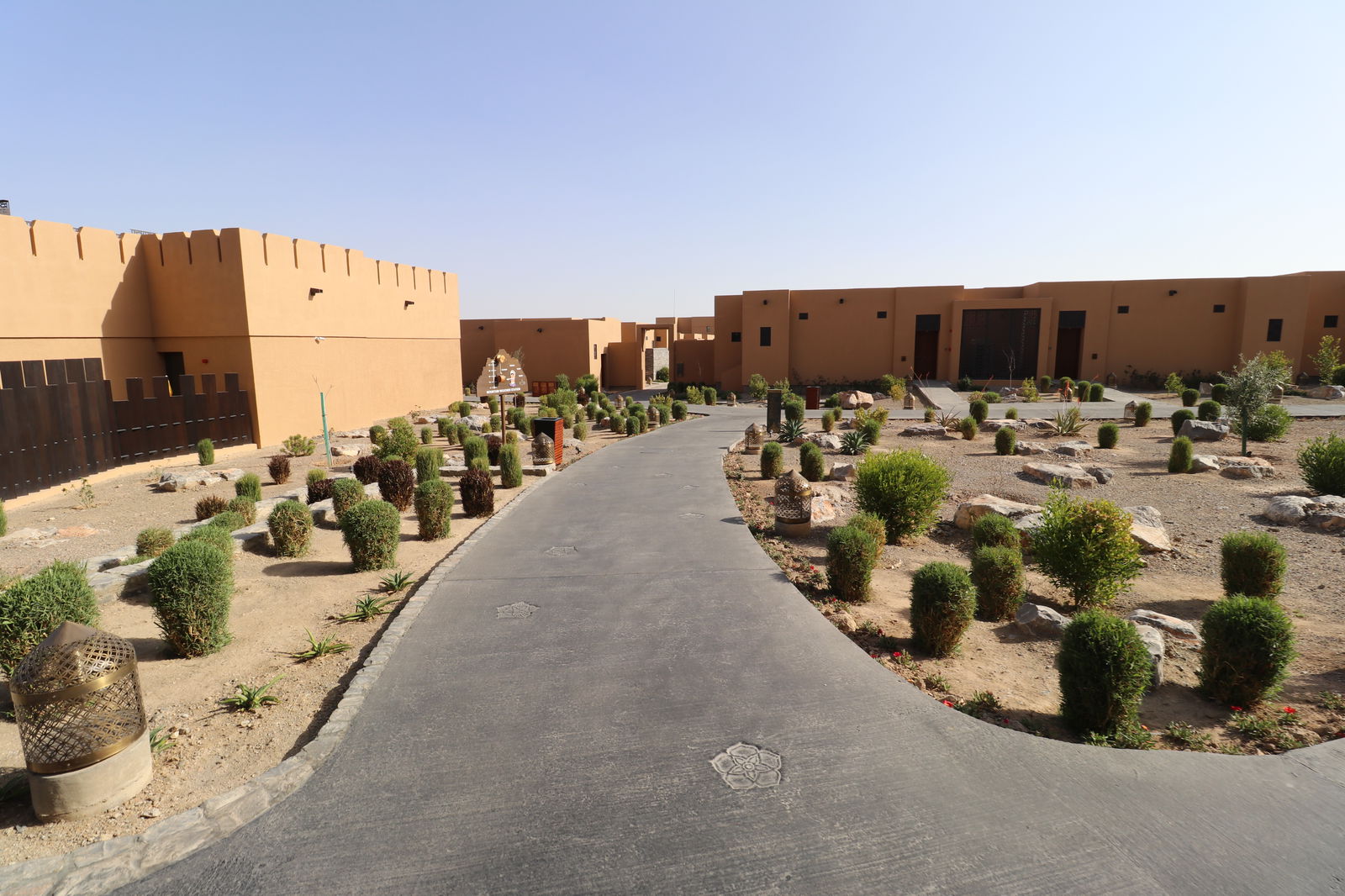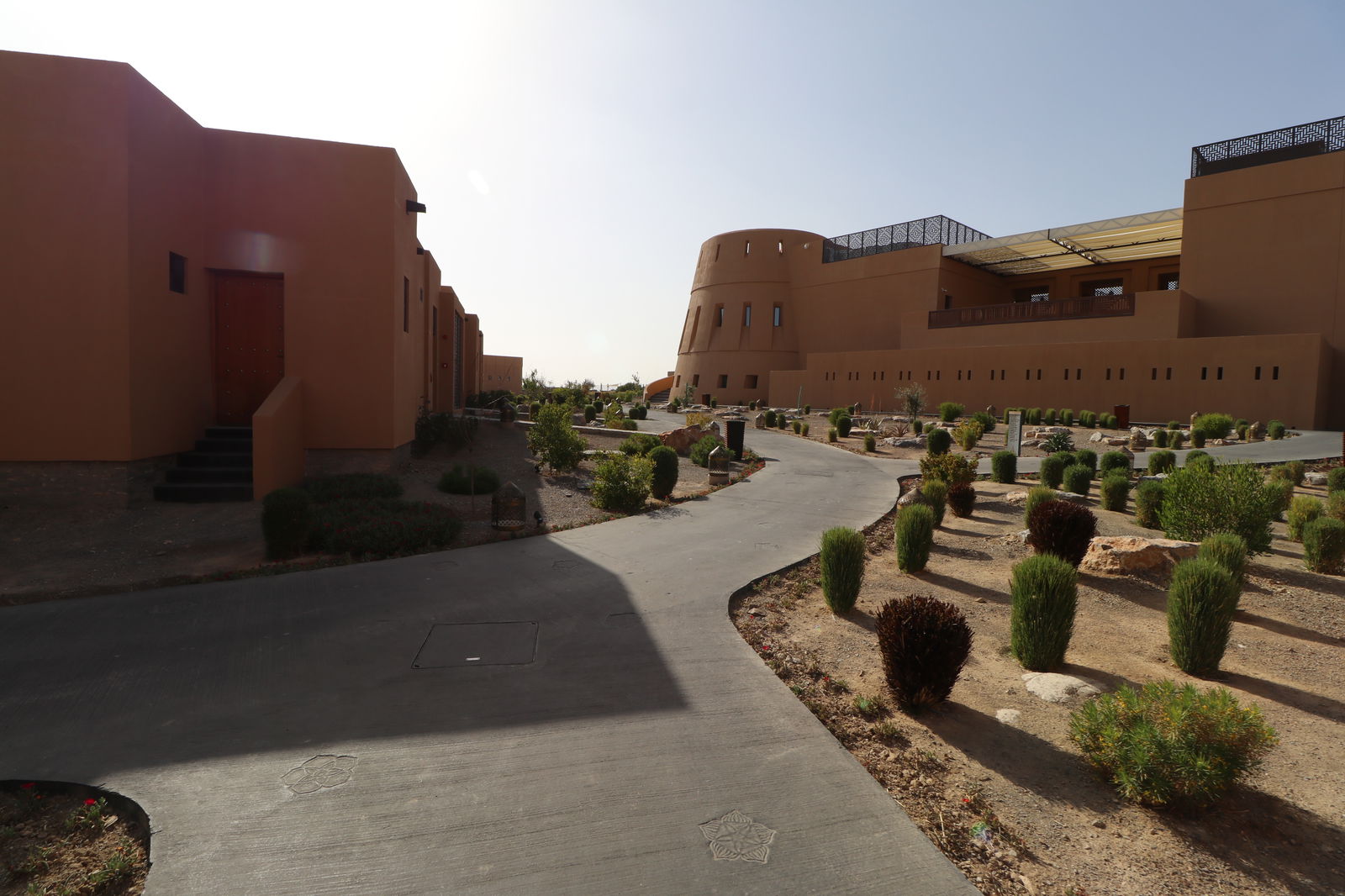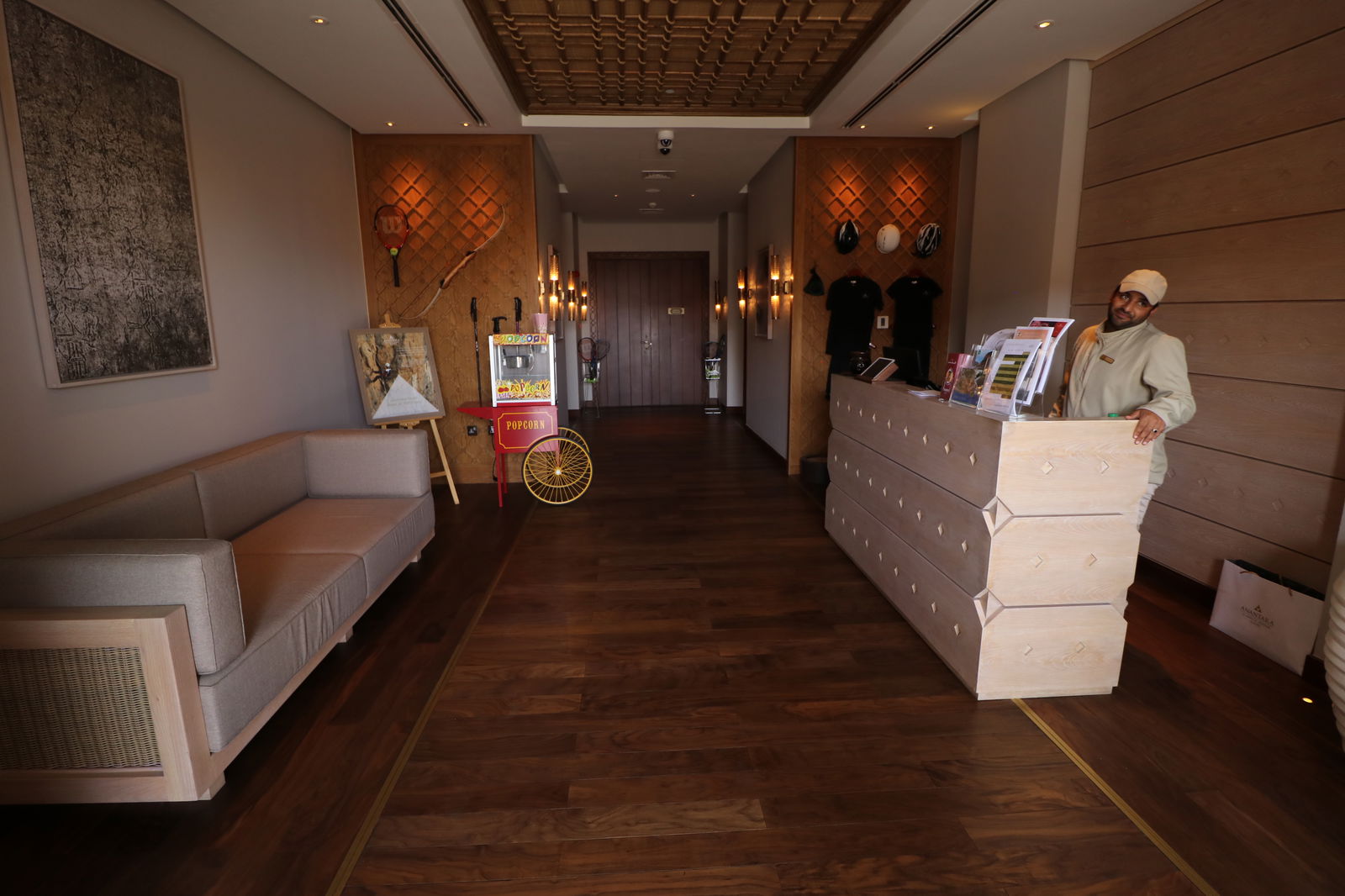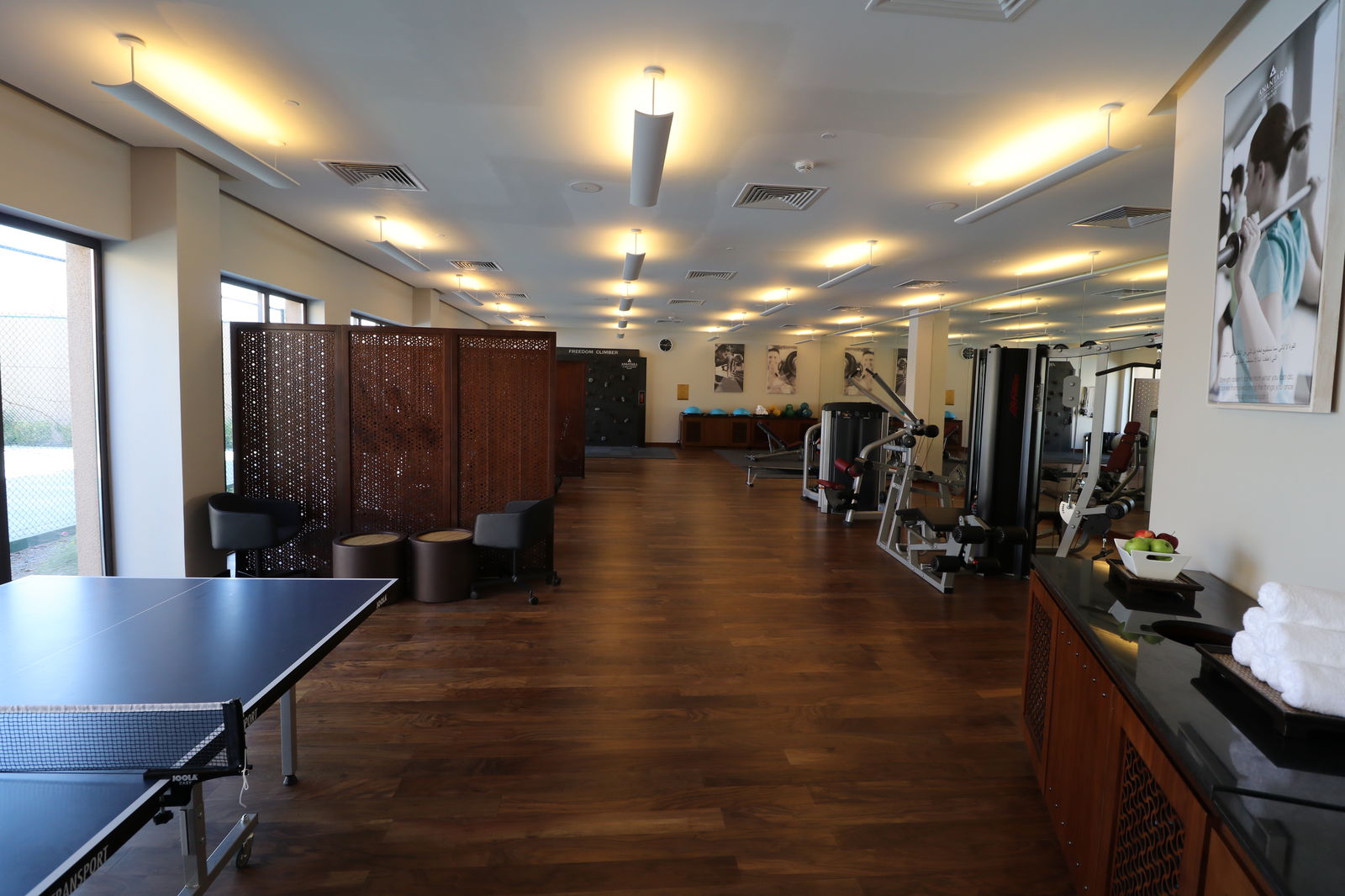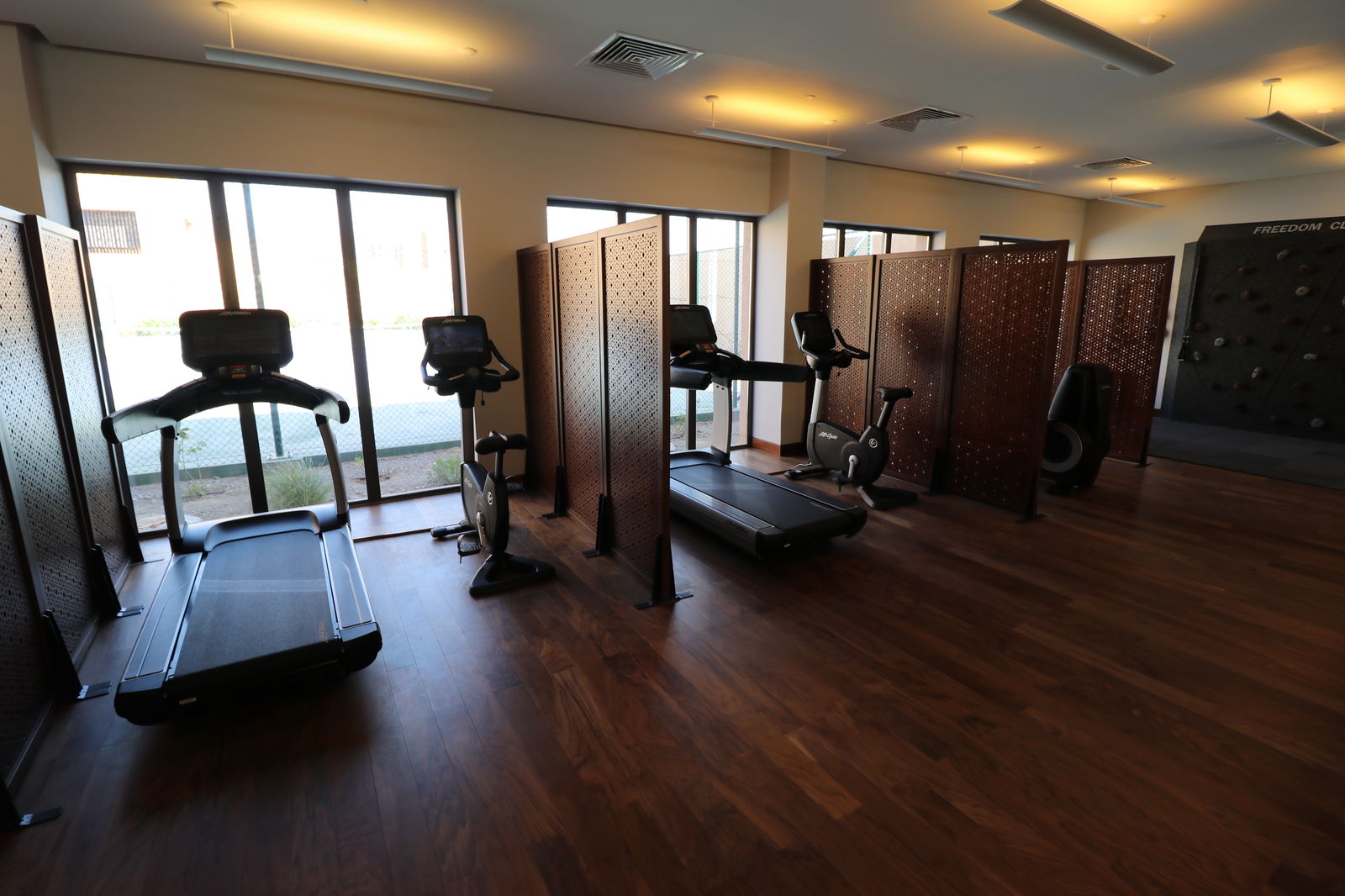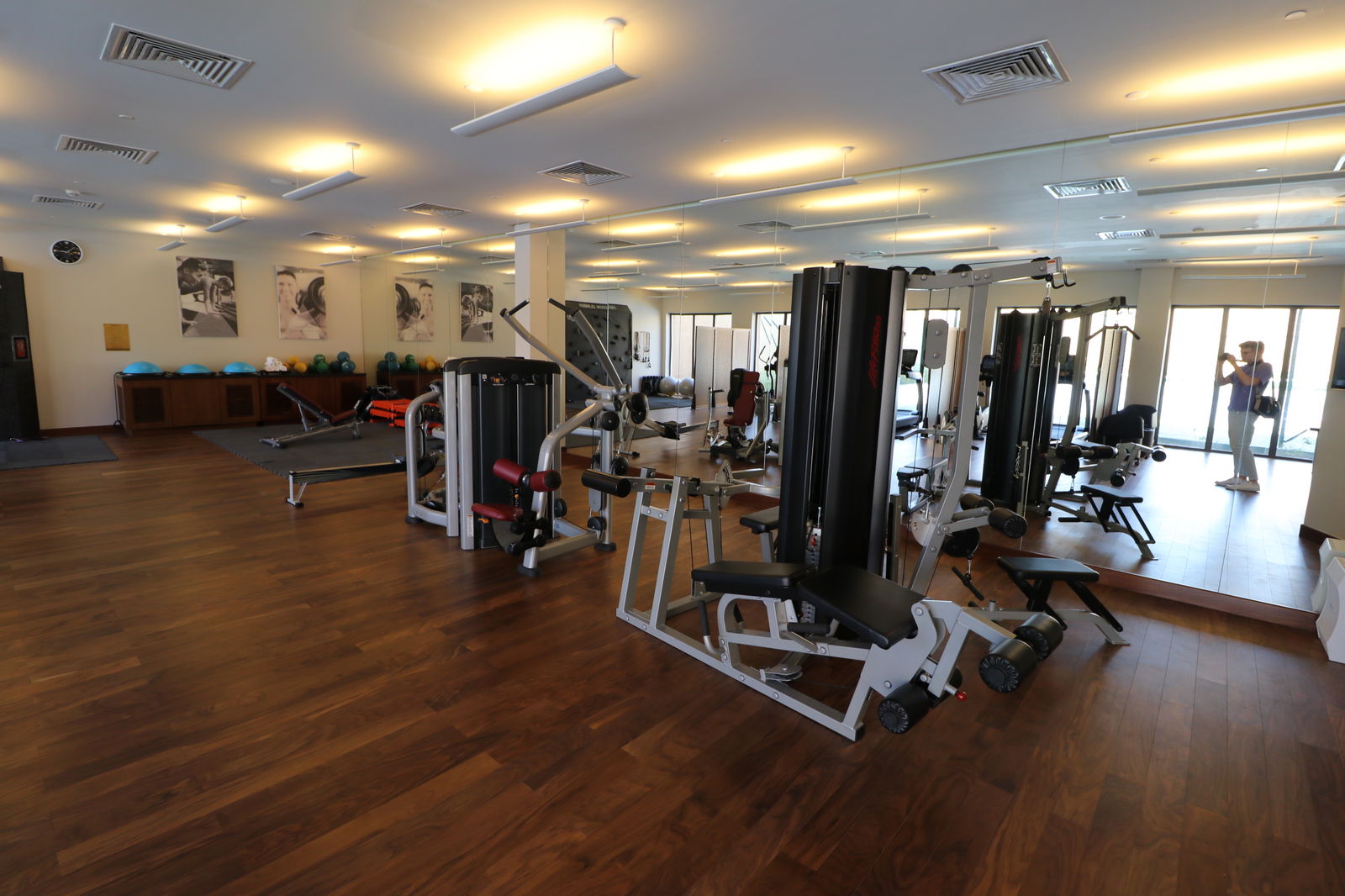 There were also rooms for teenagers to spend time with friends on a rainy day.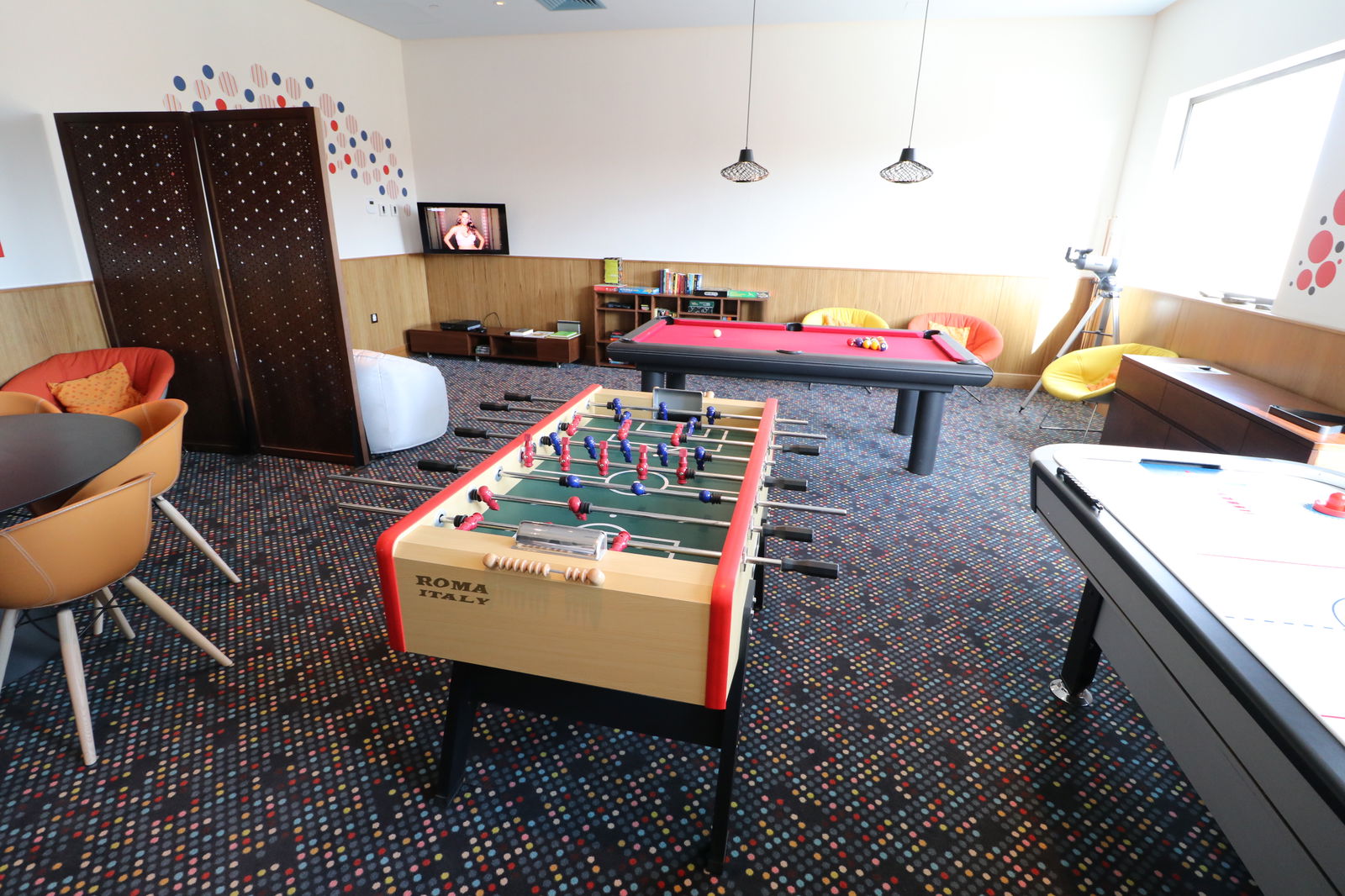 For those looking to relax, there was a spa. Access to the general spa facilities was free of charge, though there were plenty of advanced private treatments available.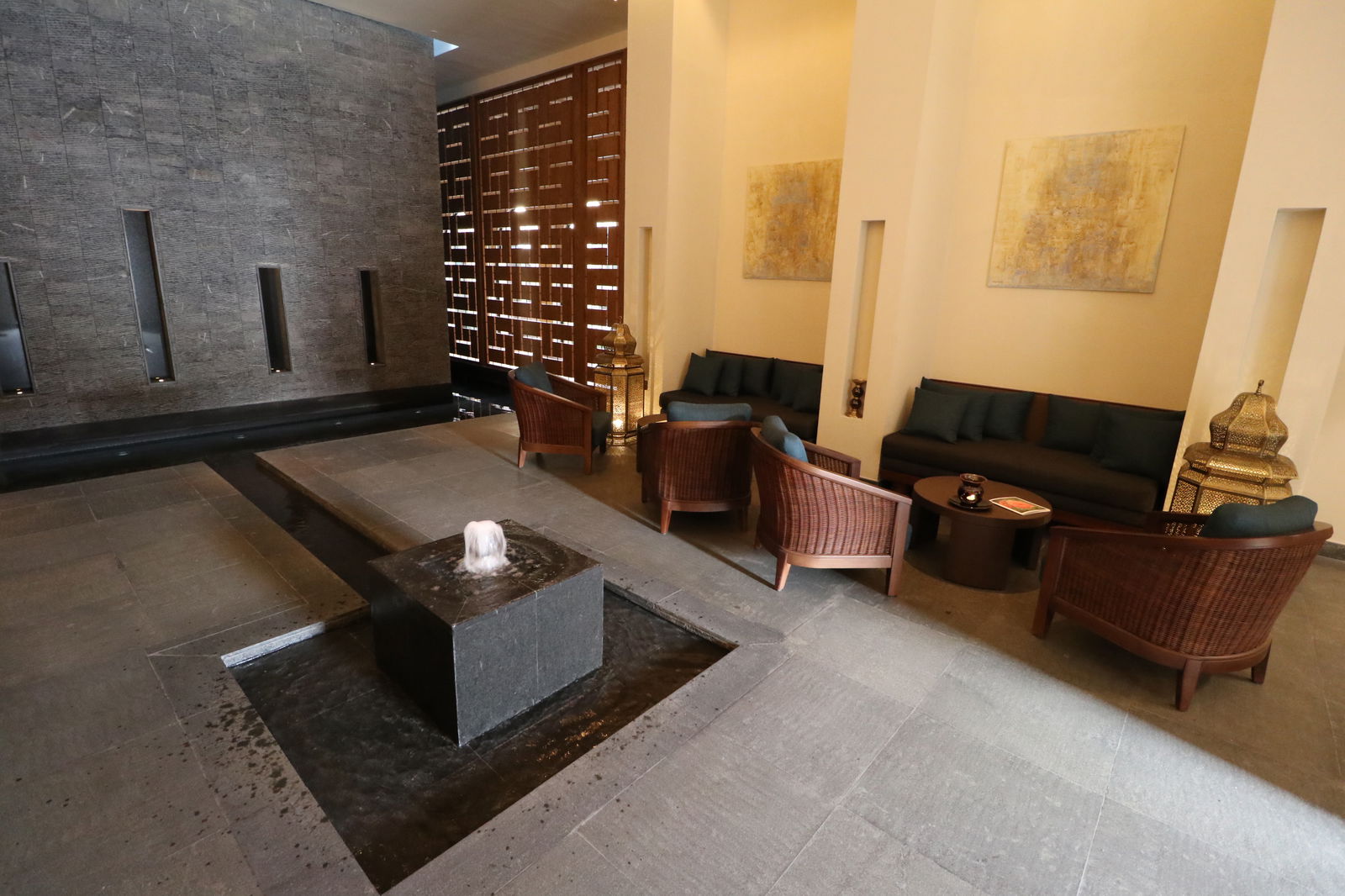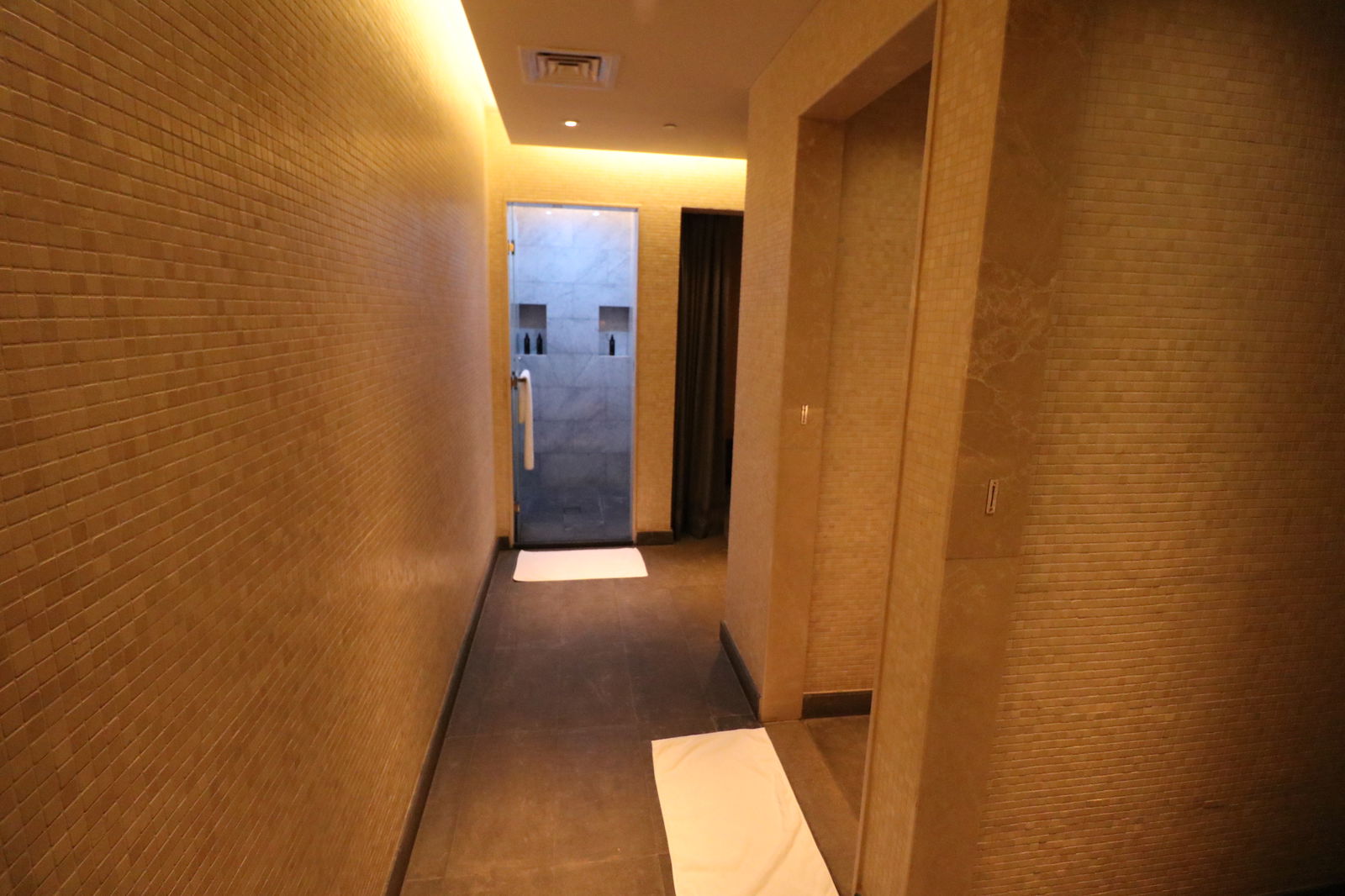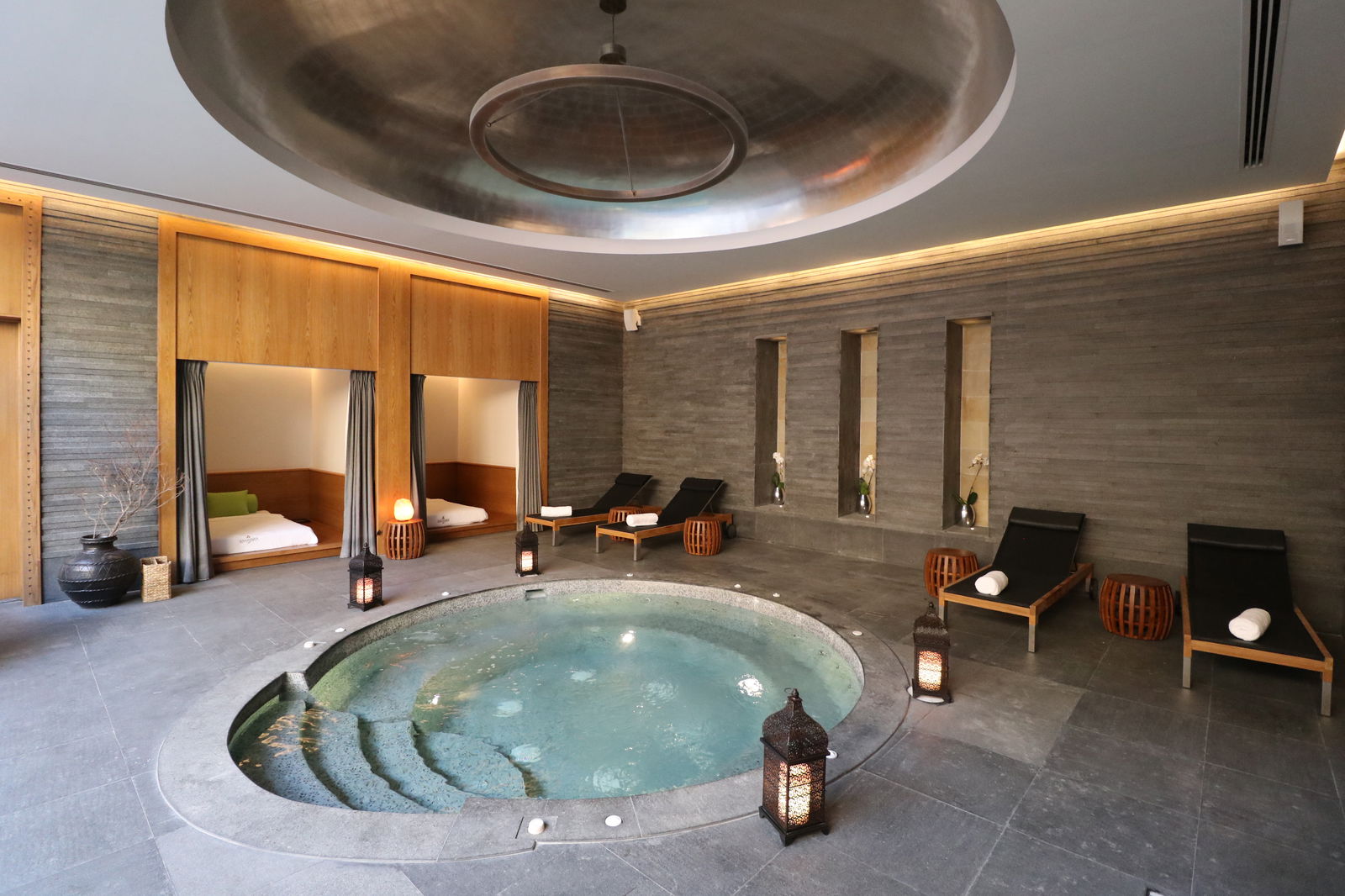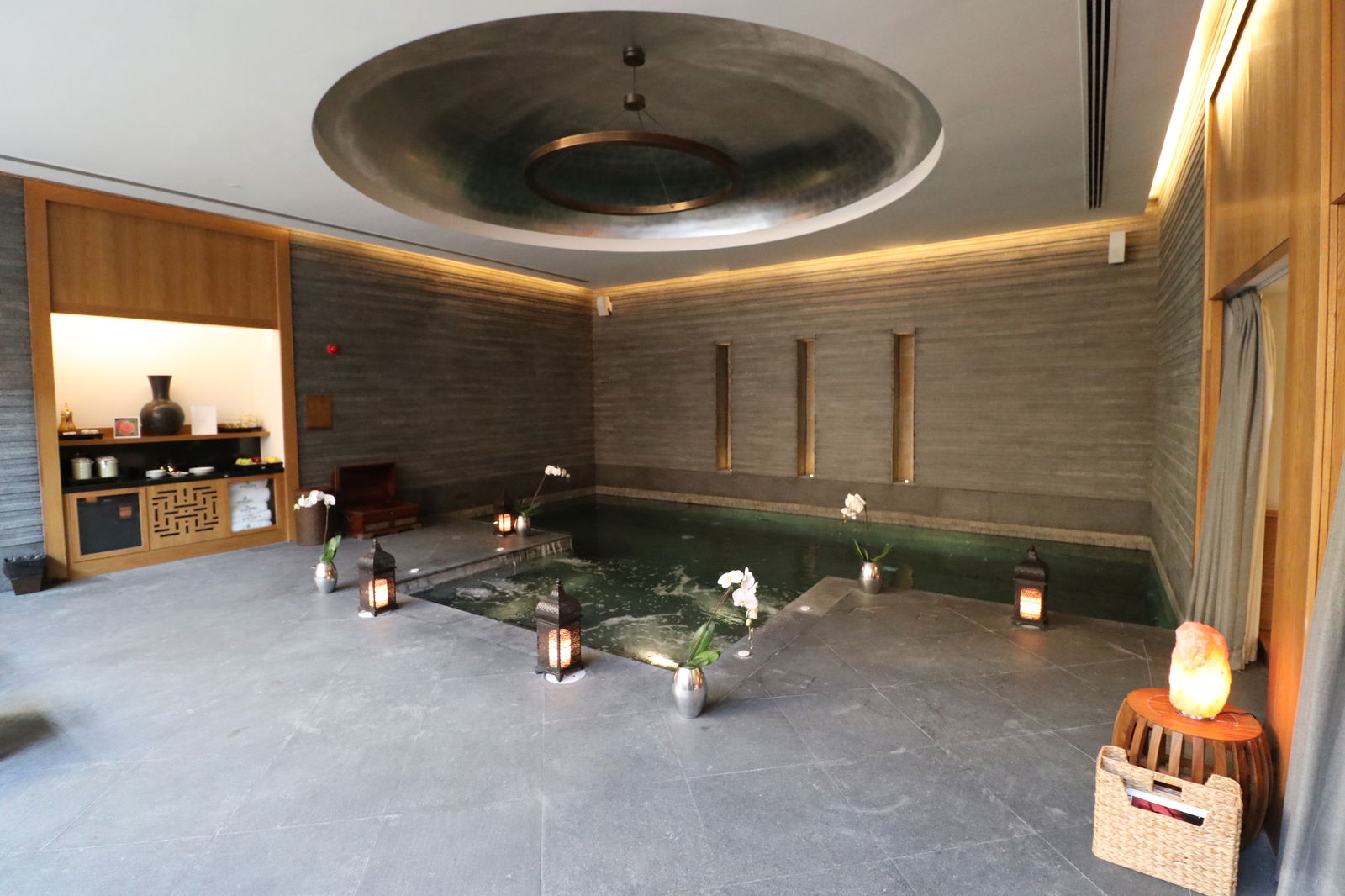 The must-do thing when staying at the Anantara Al Jabal Al Akhdar is to watch the sunset from Diana's Point (where Princess Diana went on her visit to Oman).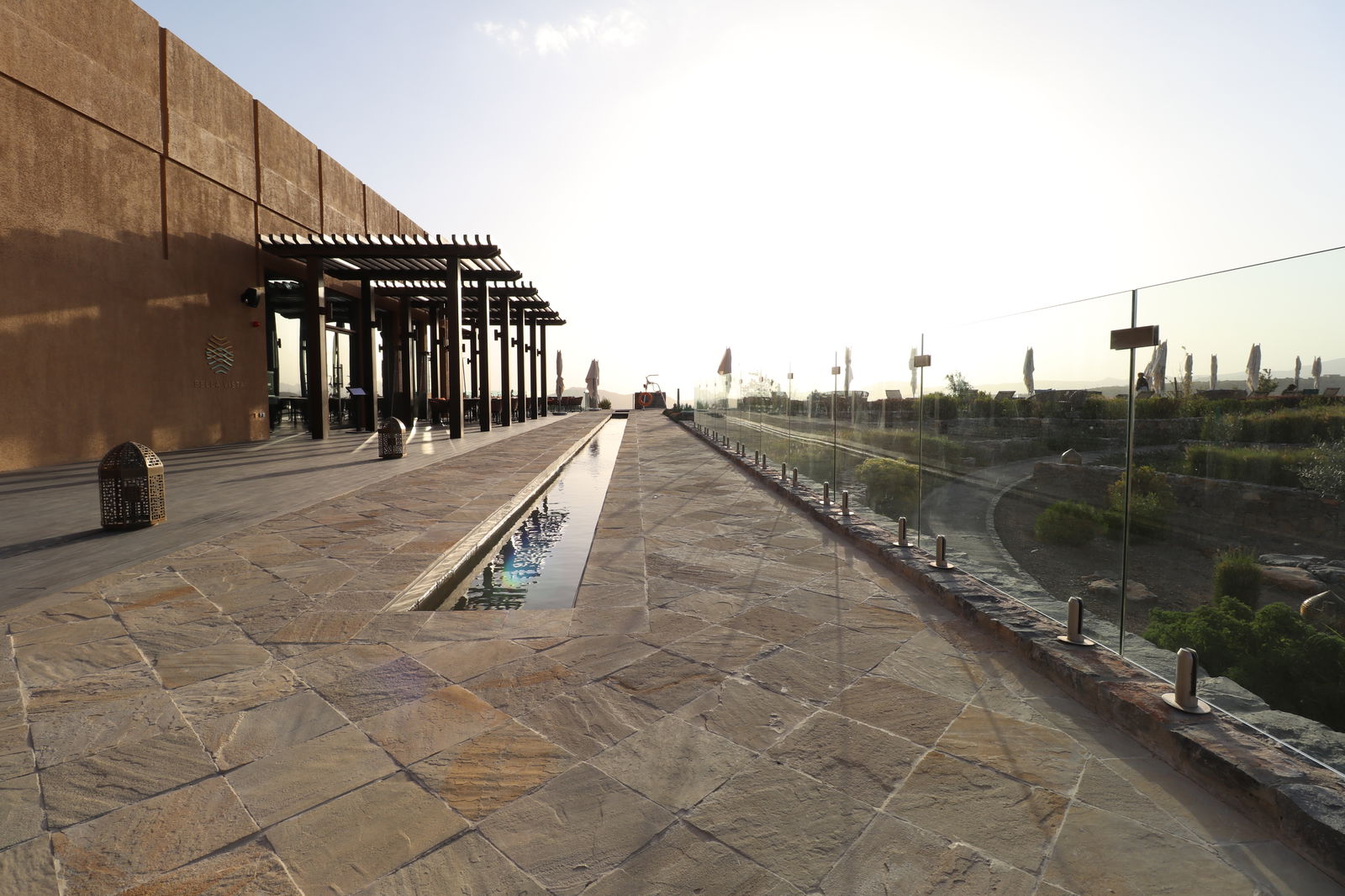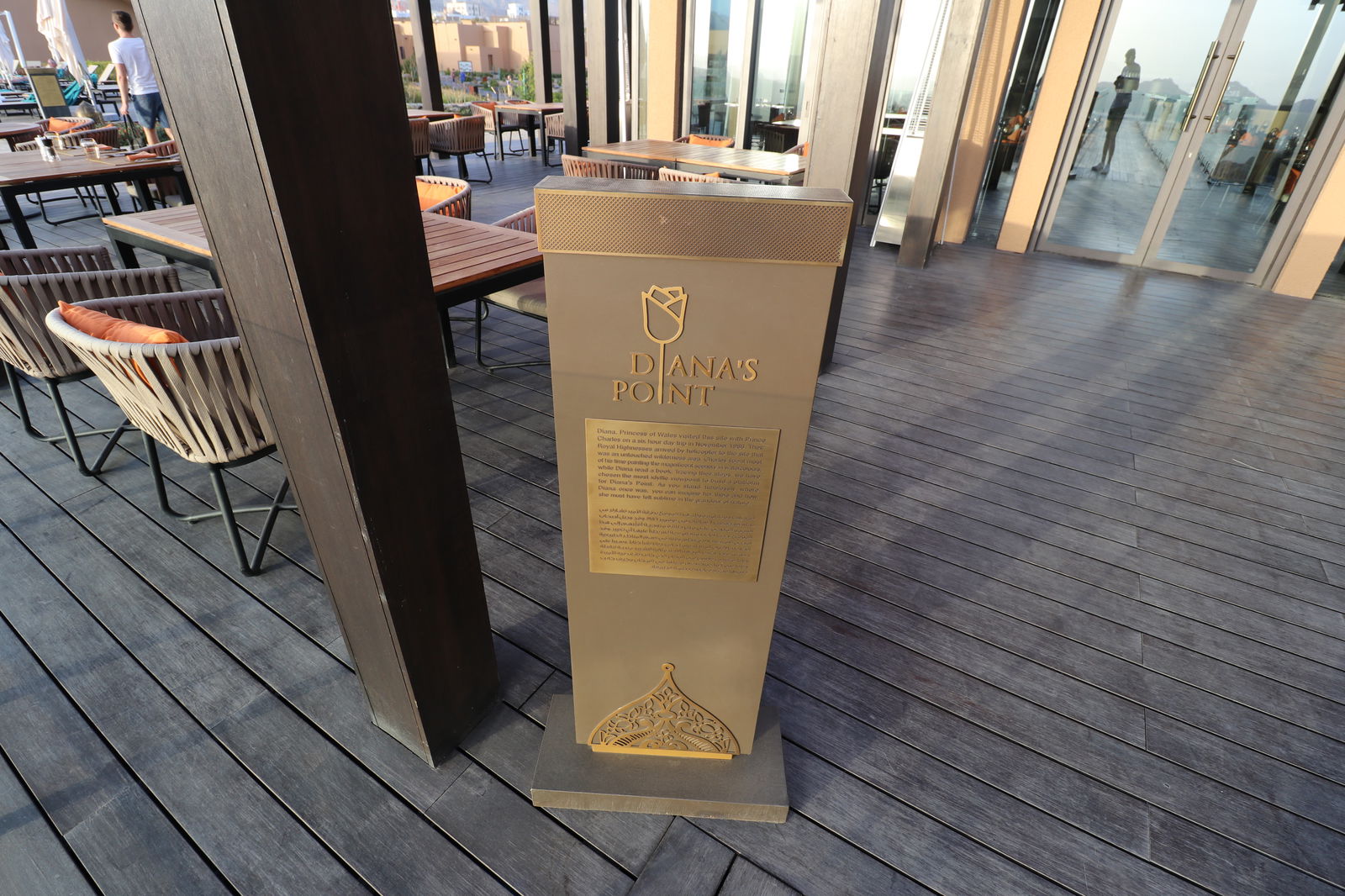 The viewing platform is at the center of the resort and offers breathtaking views.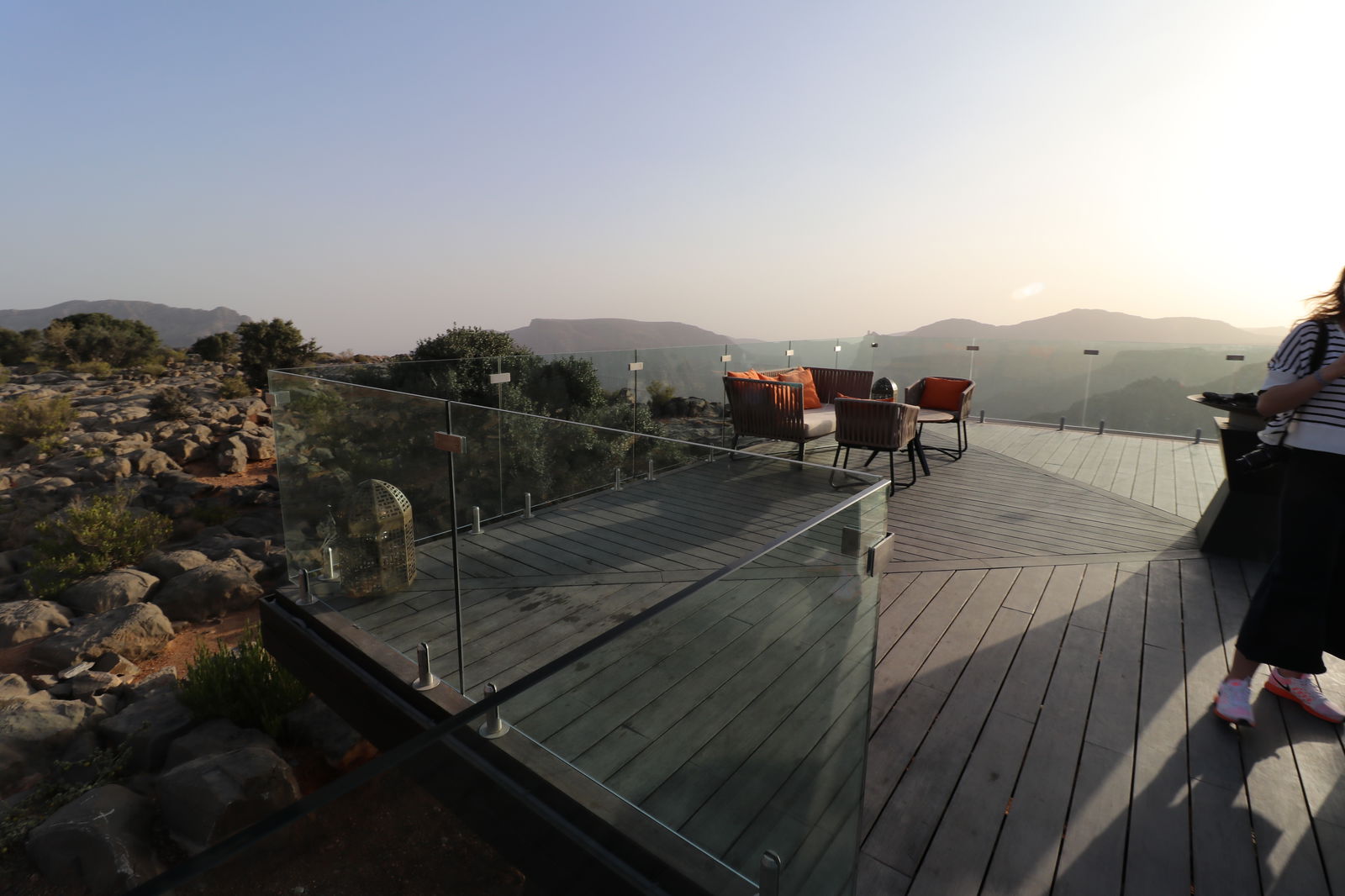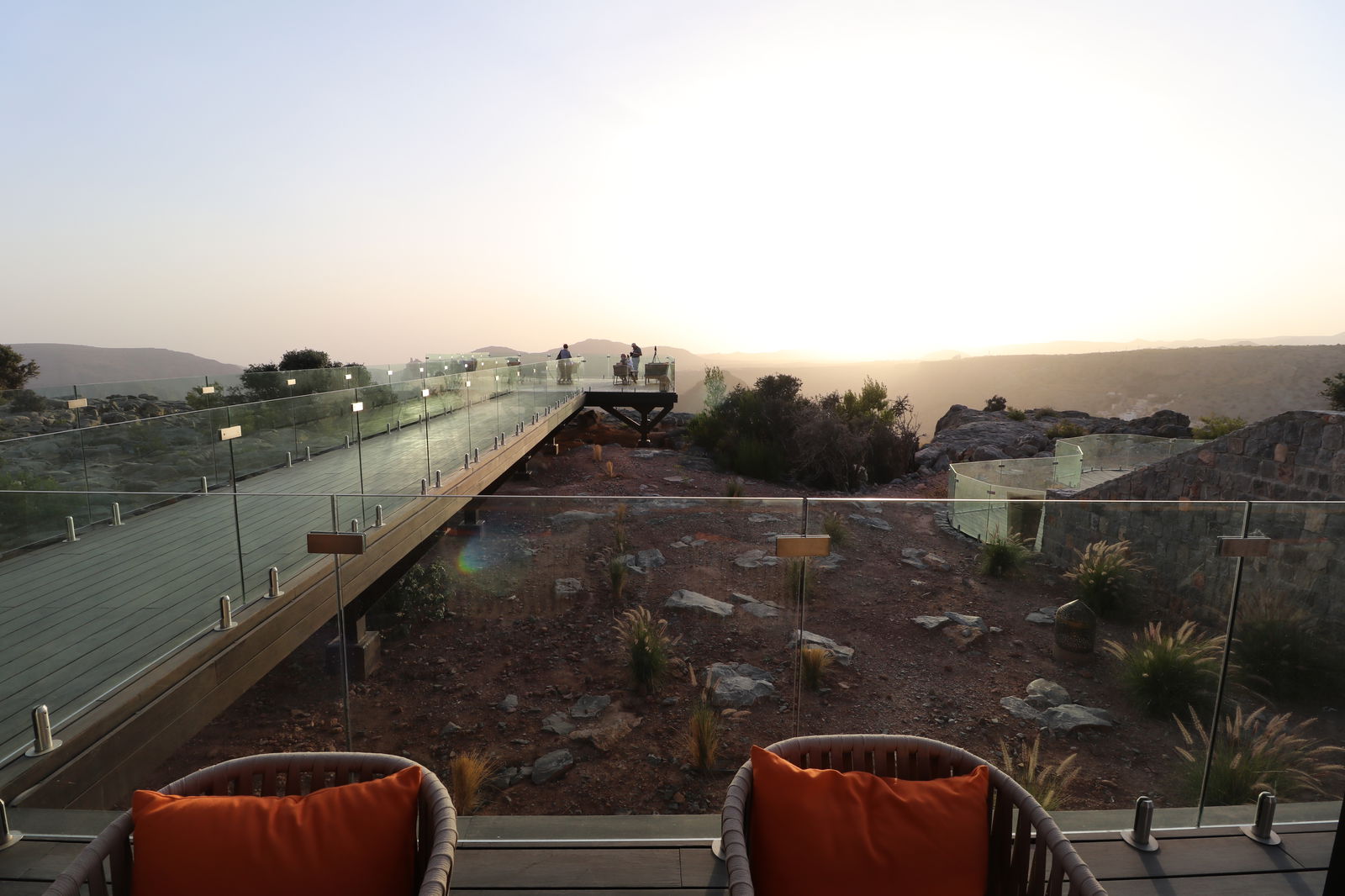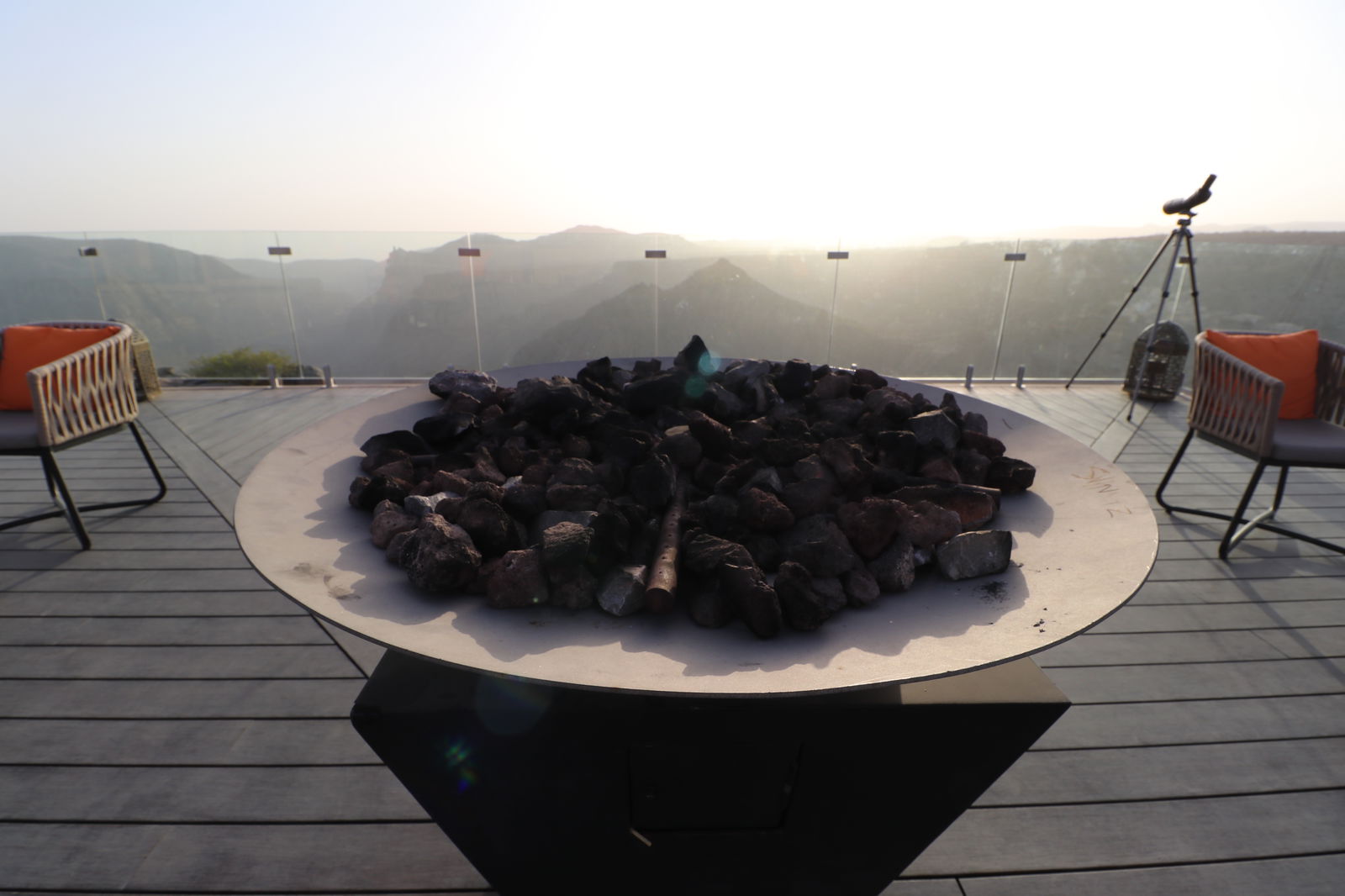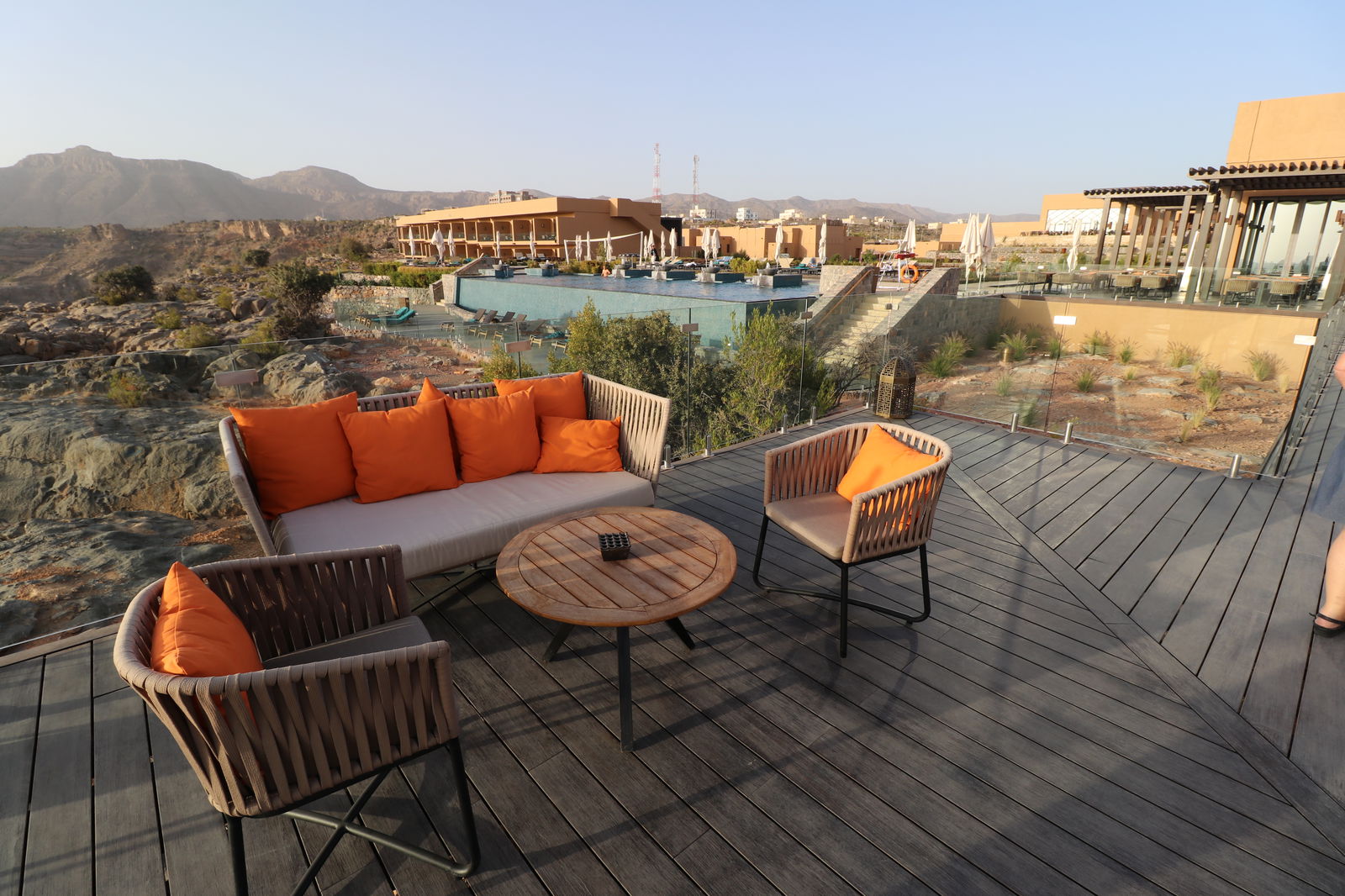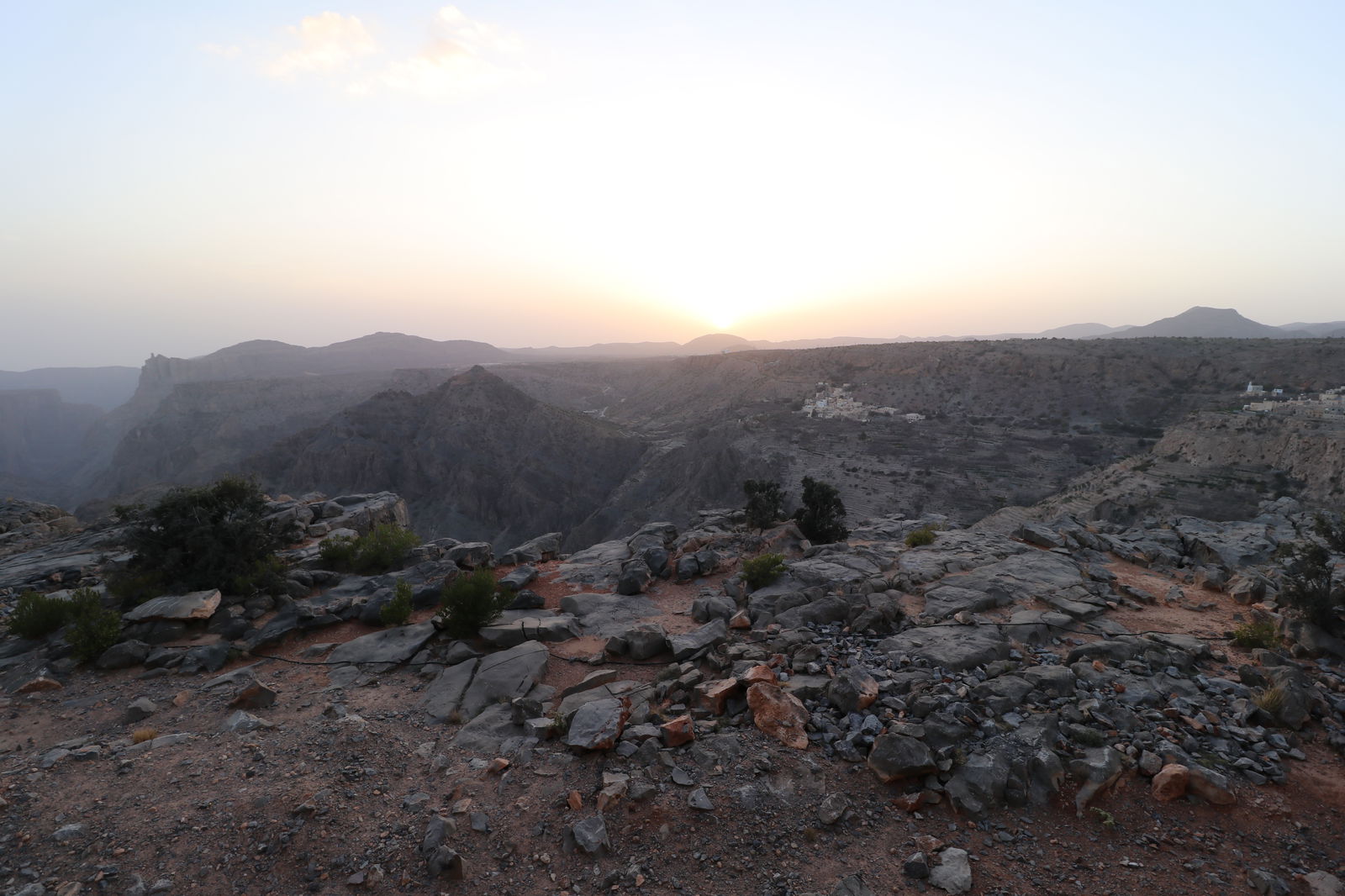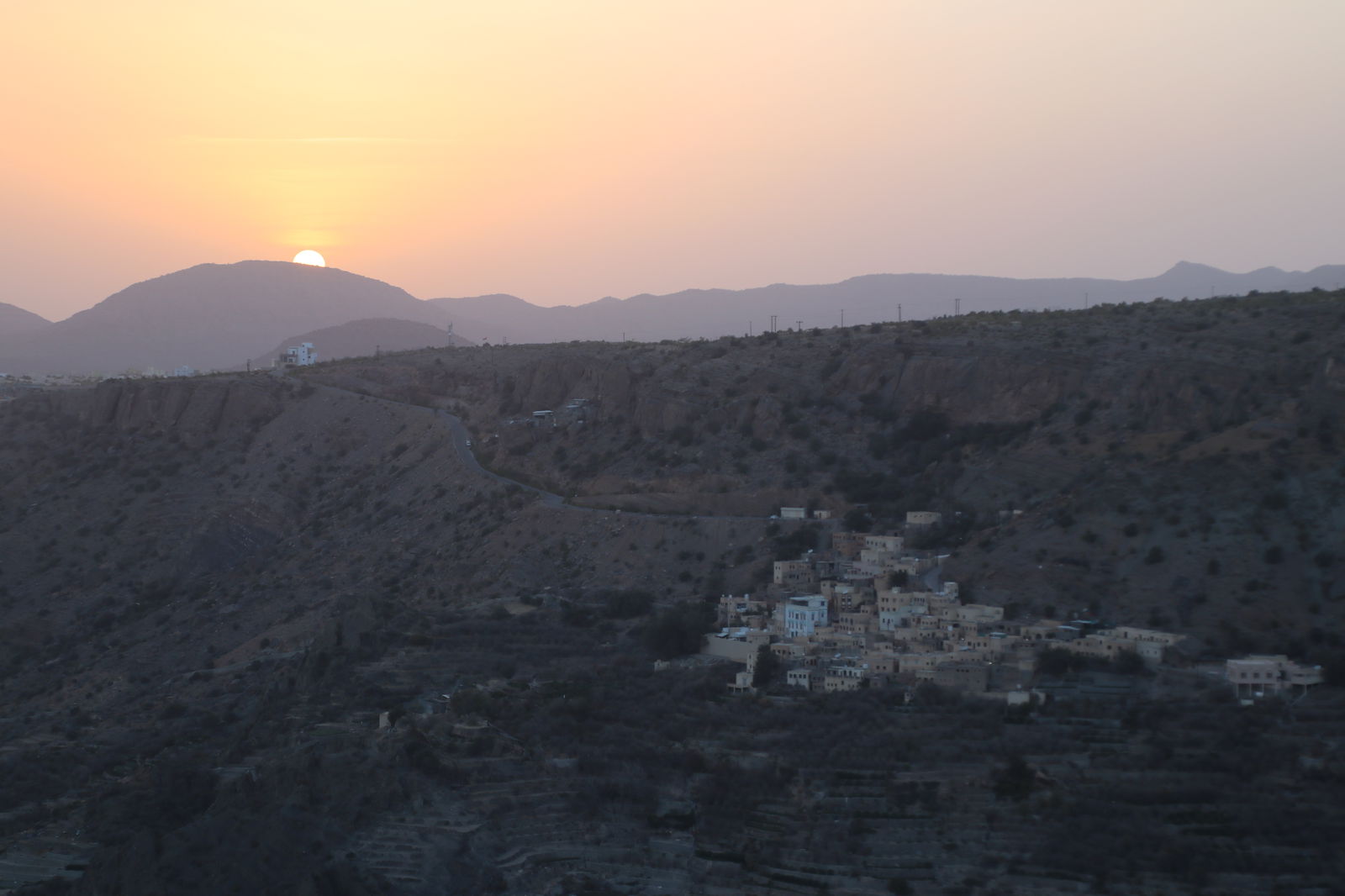 Dining
Breakfast was served at the restaurant Al Maisan.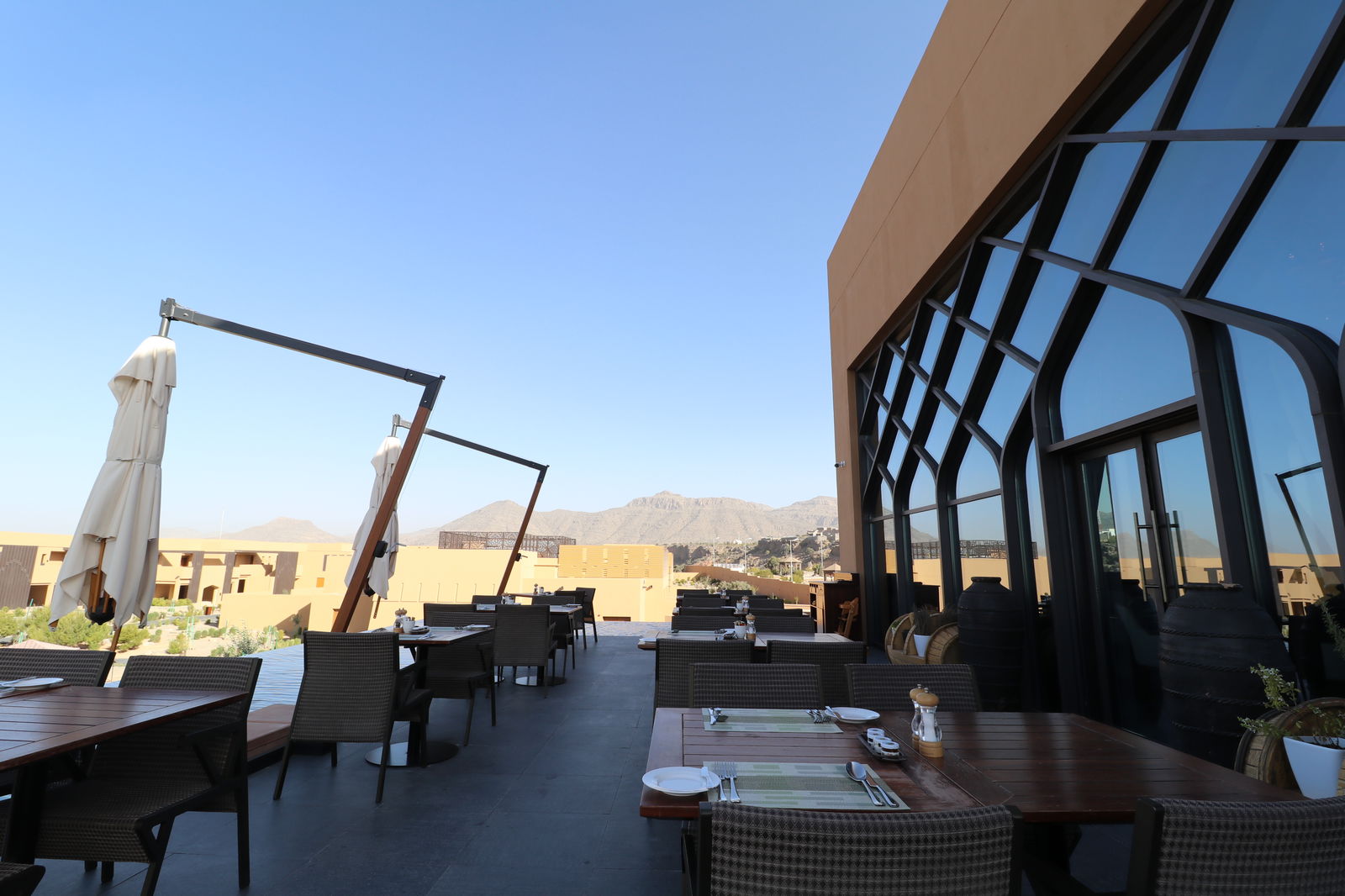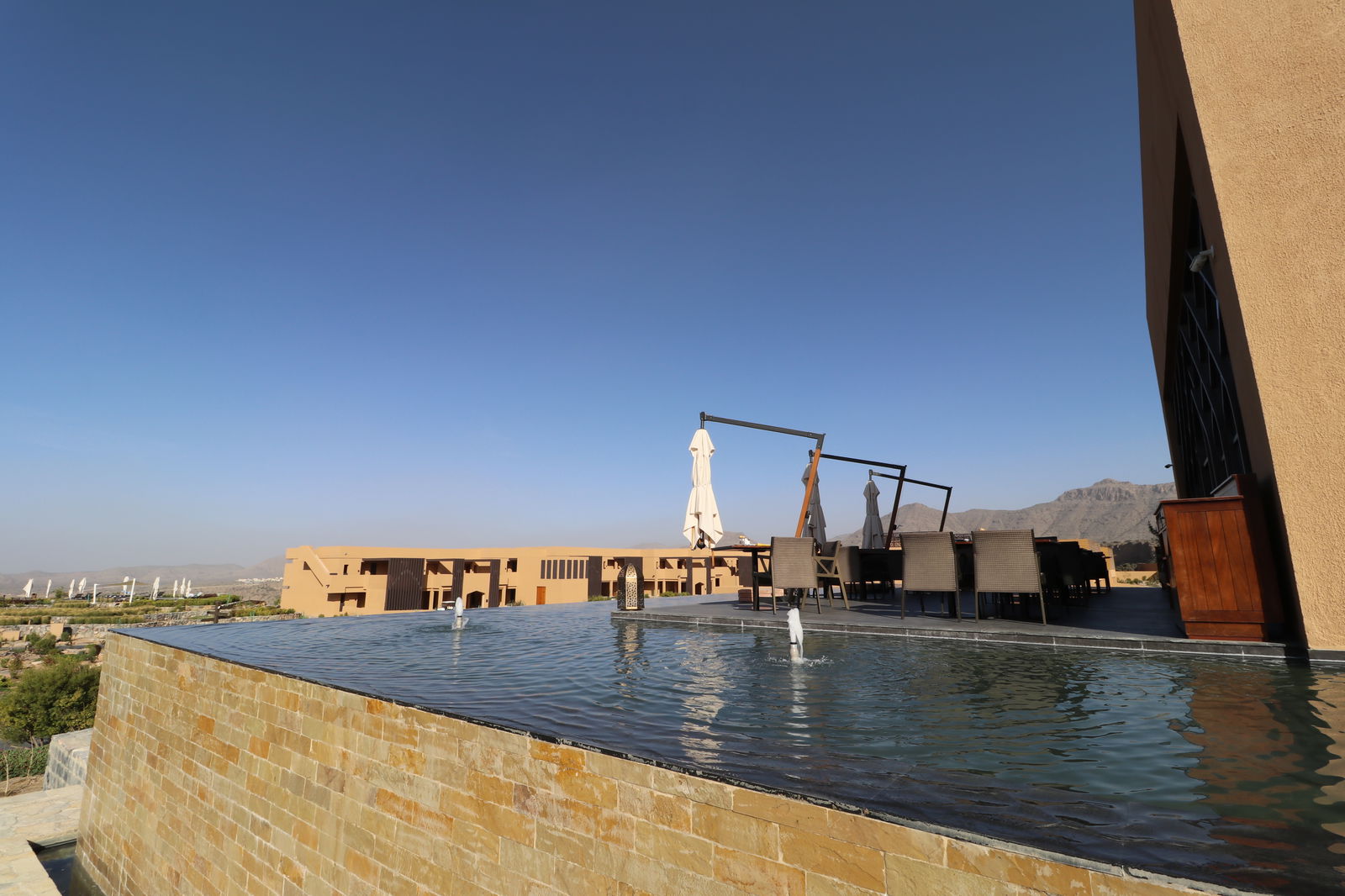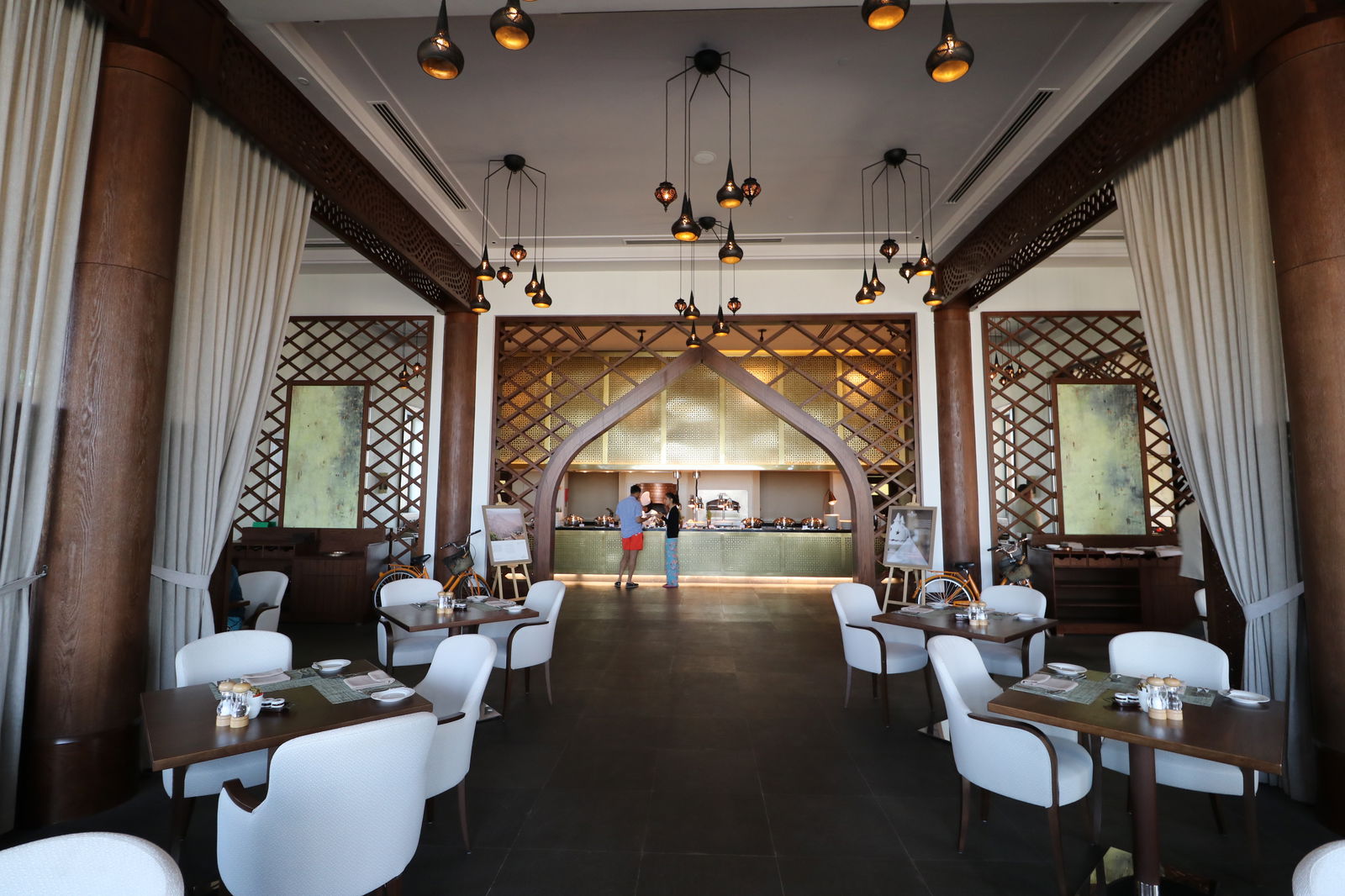 The spread was as impressive as the design.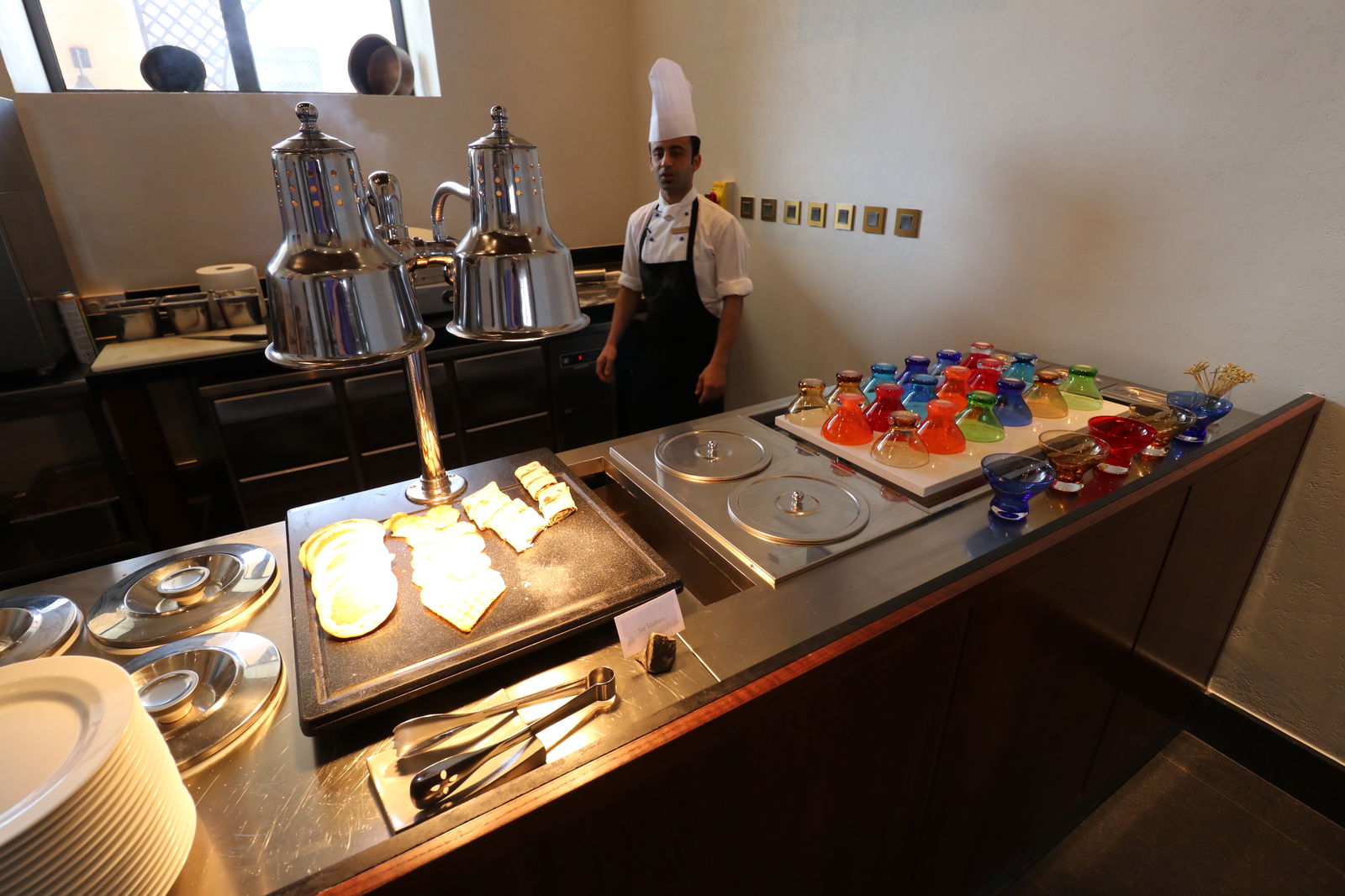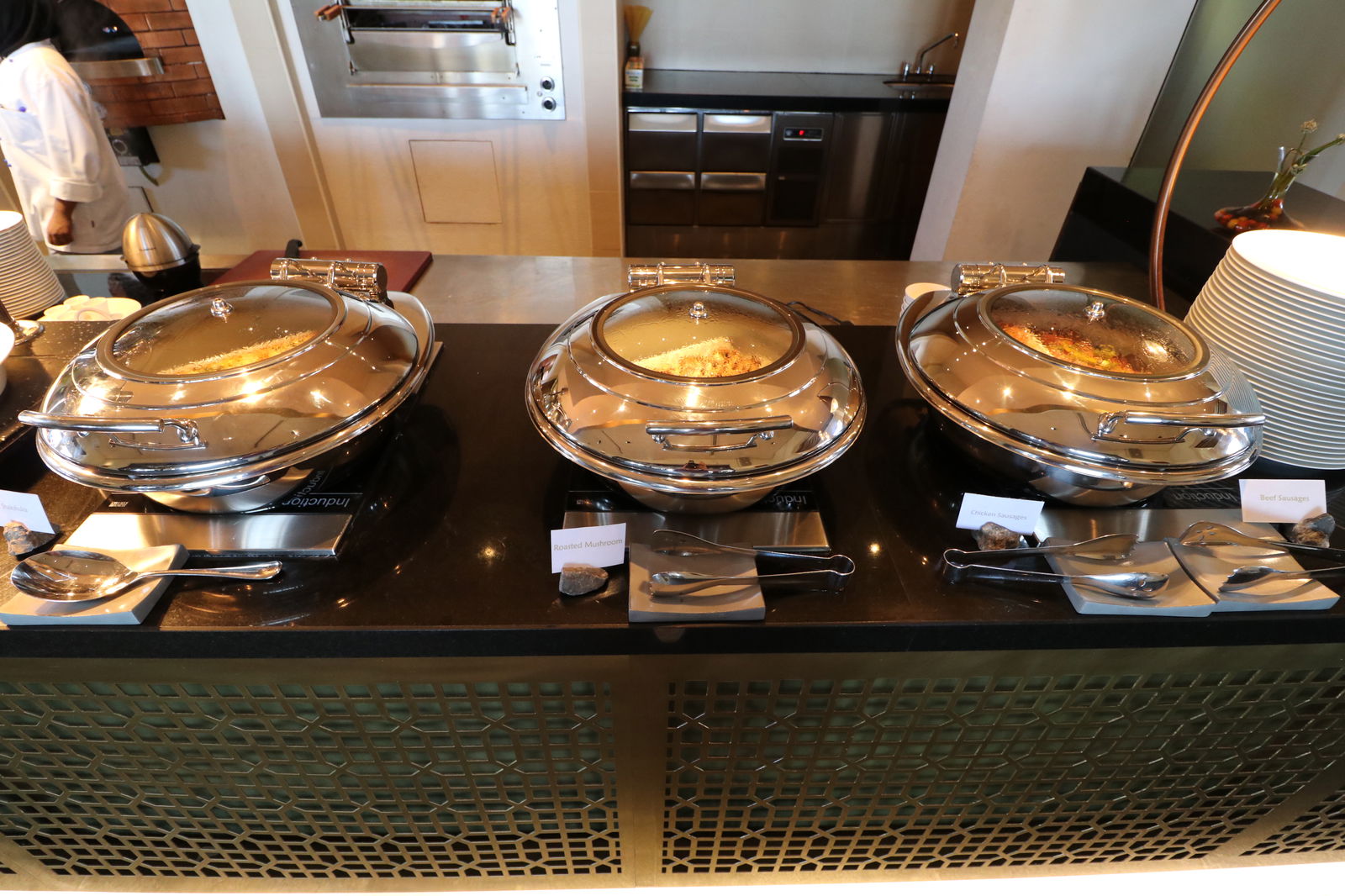 There were around 10 hot meal options…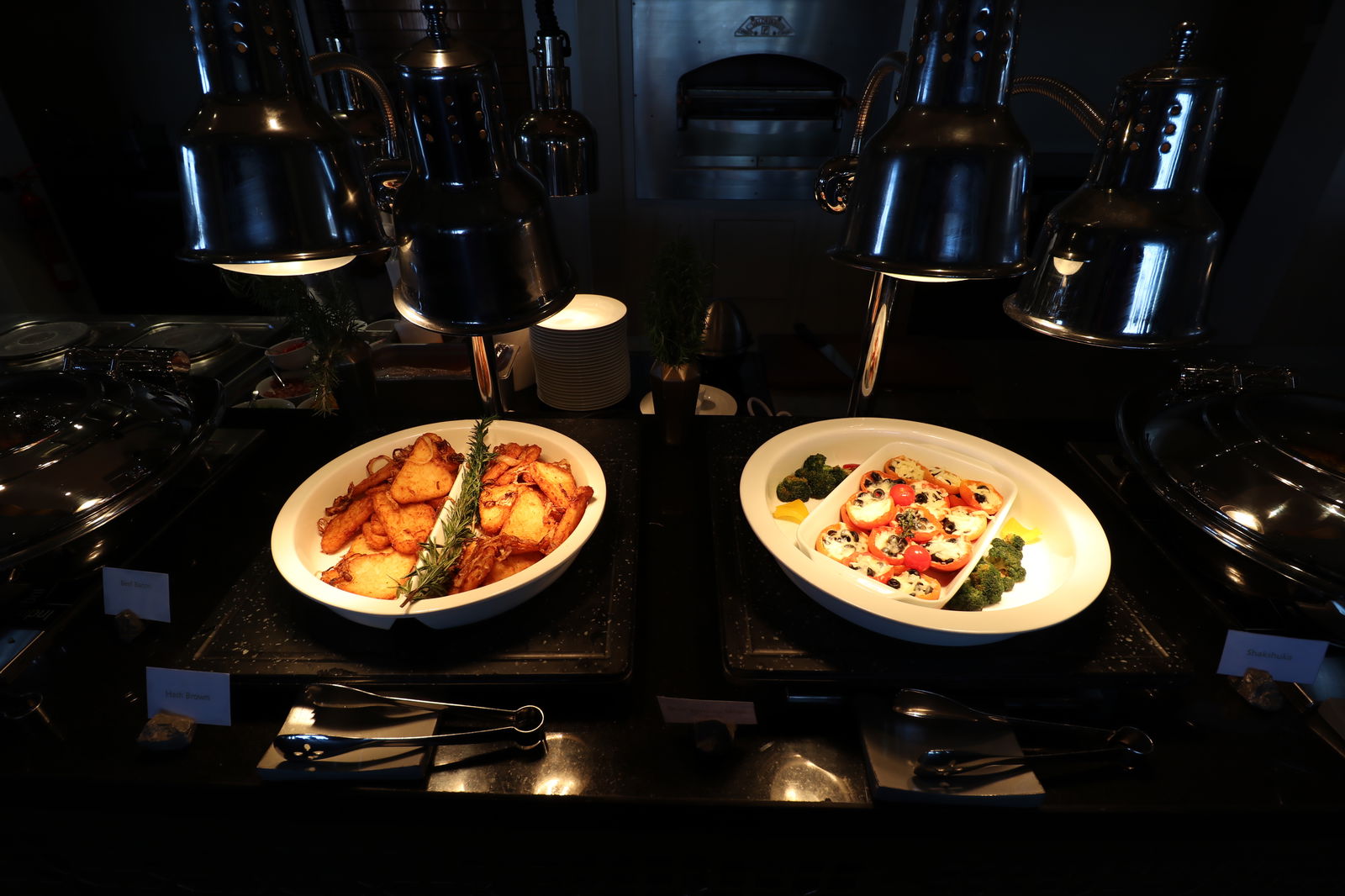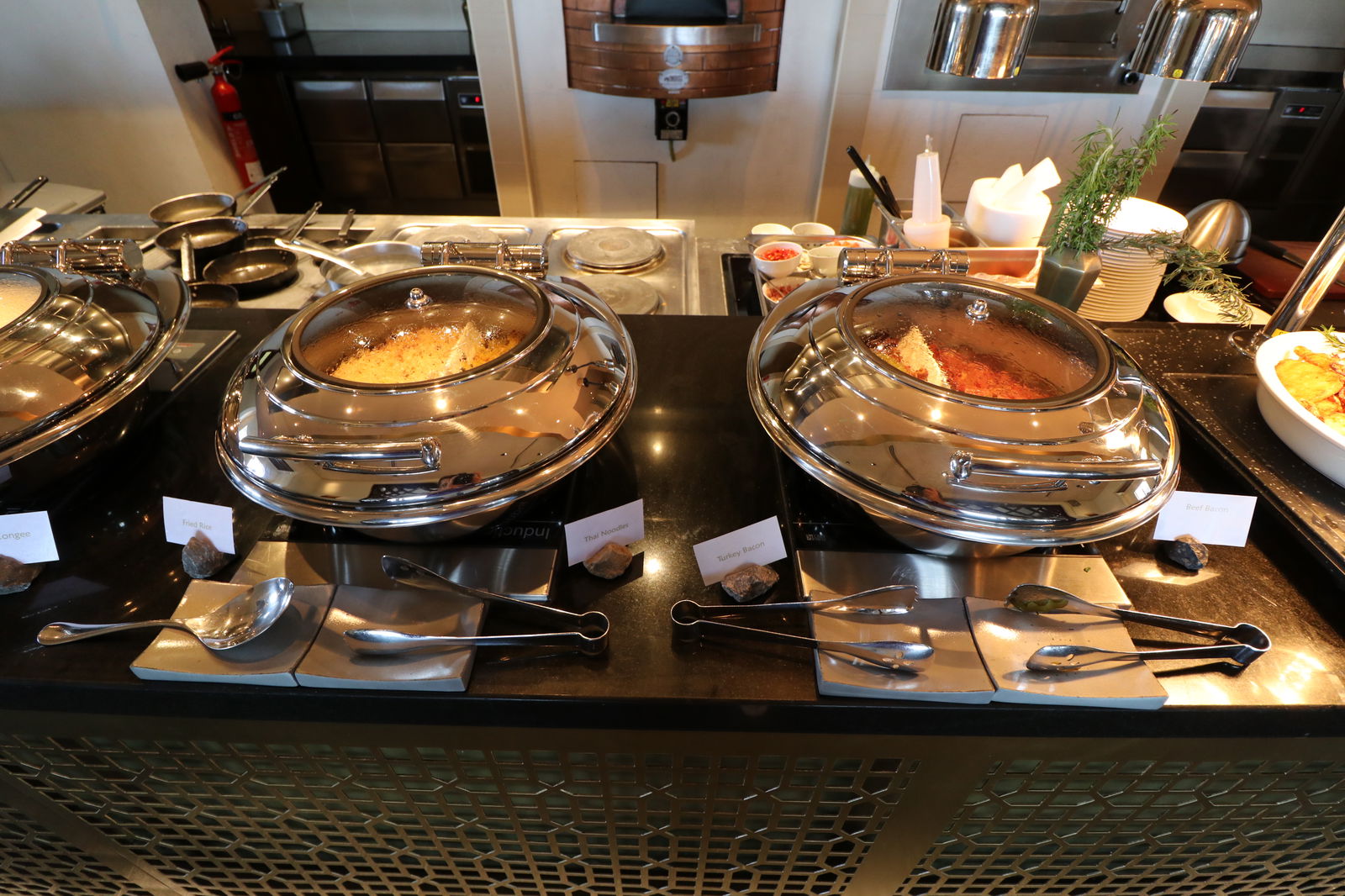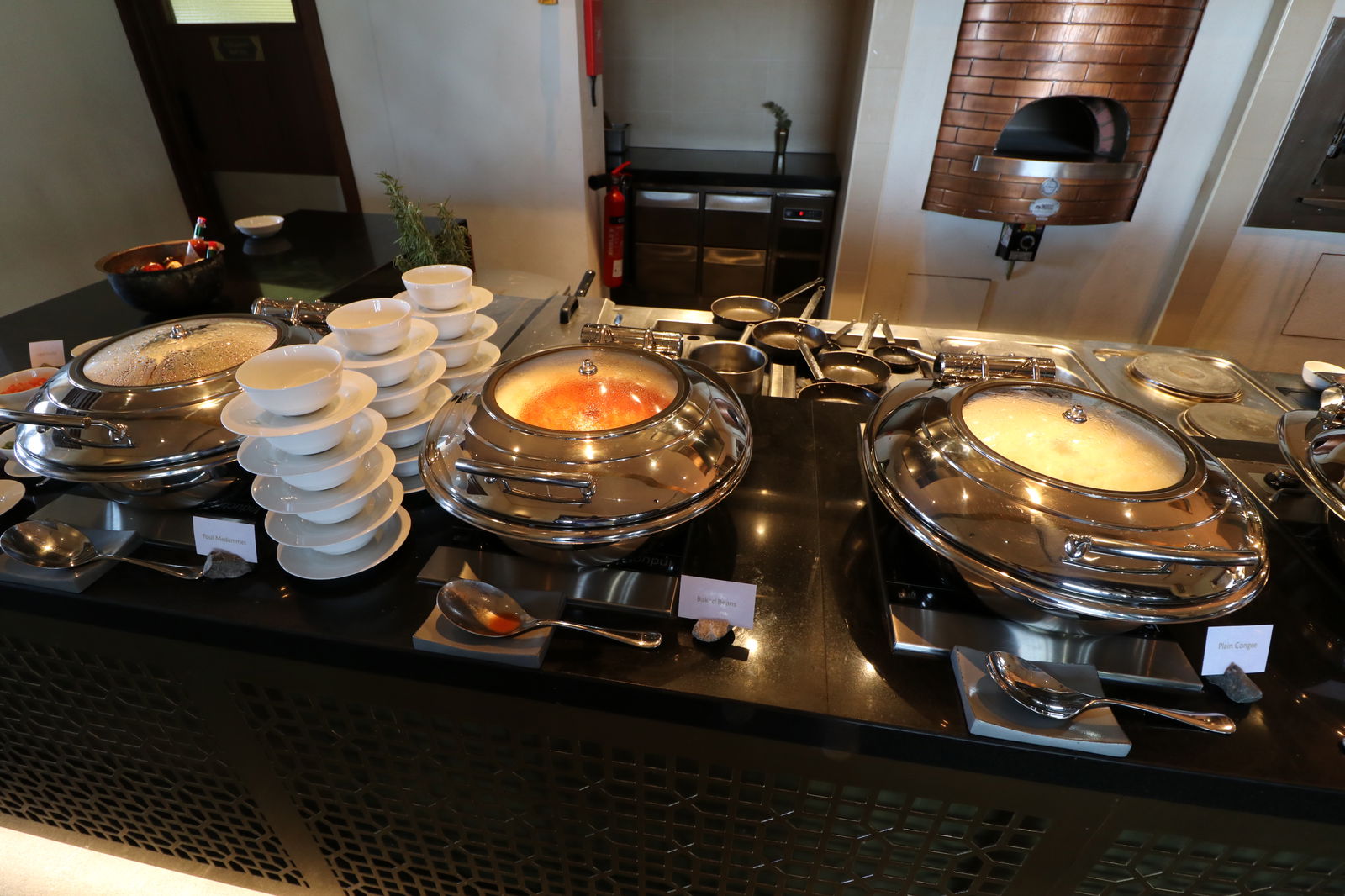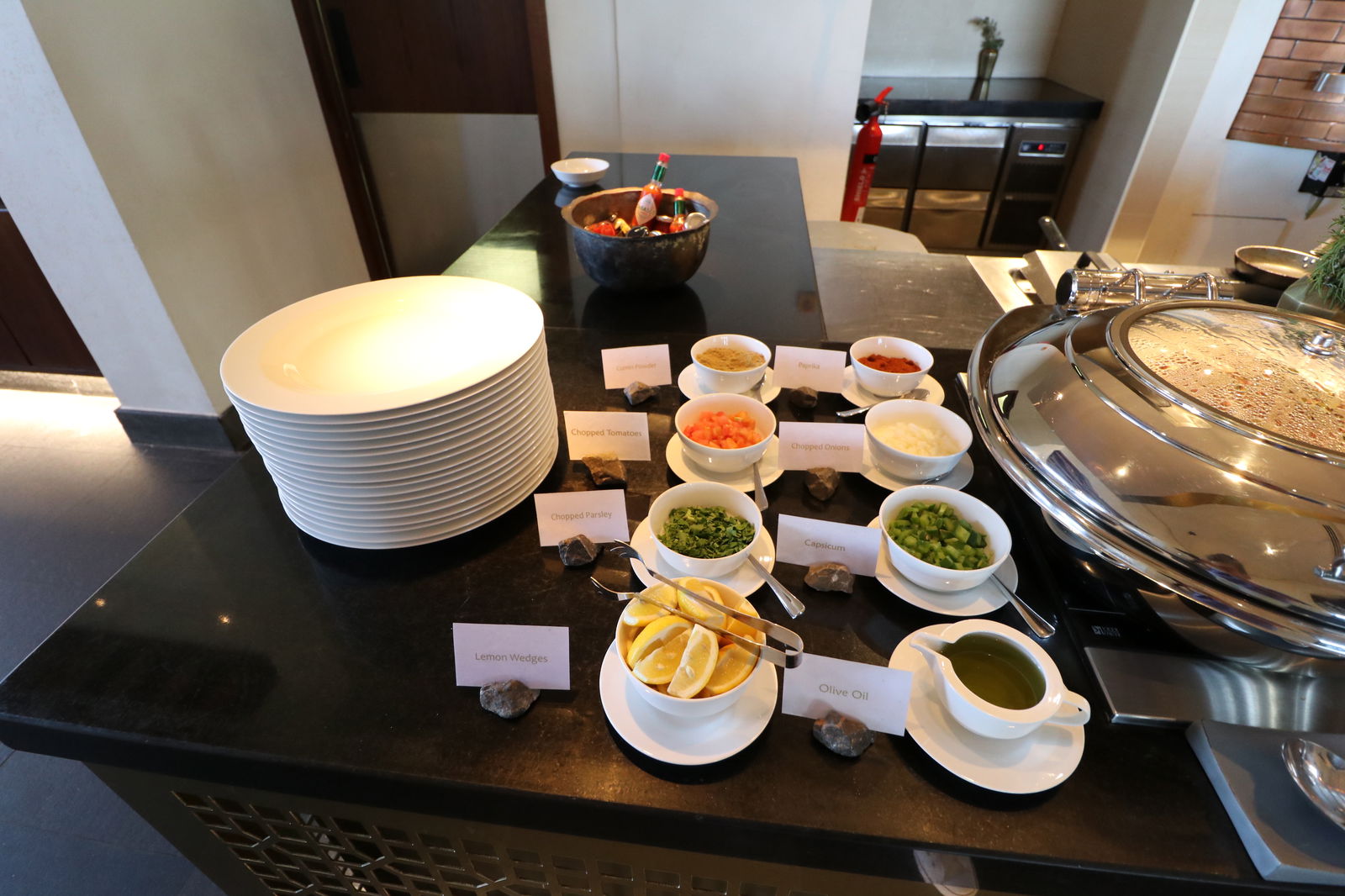 Then there was an enormous salad and Middle Eastern spread…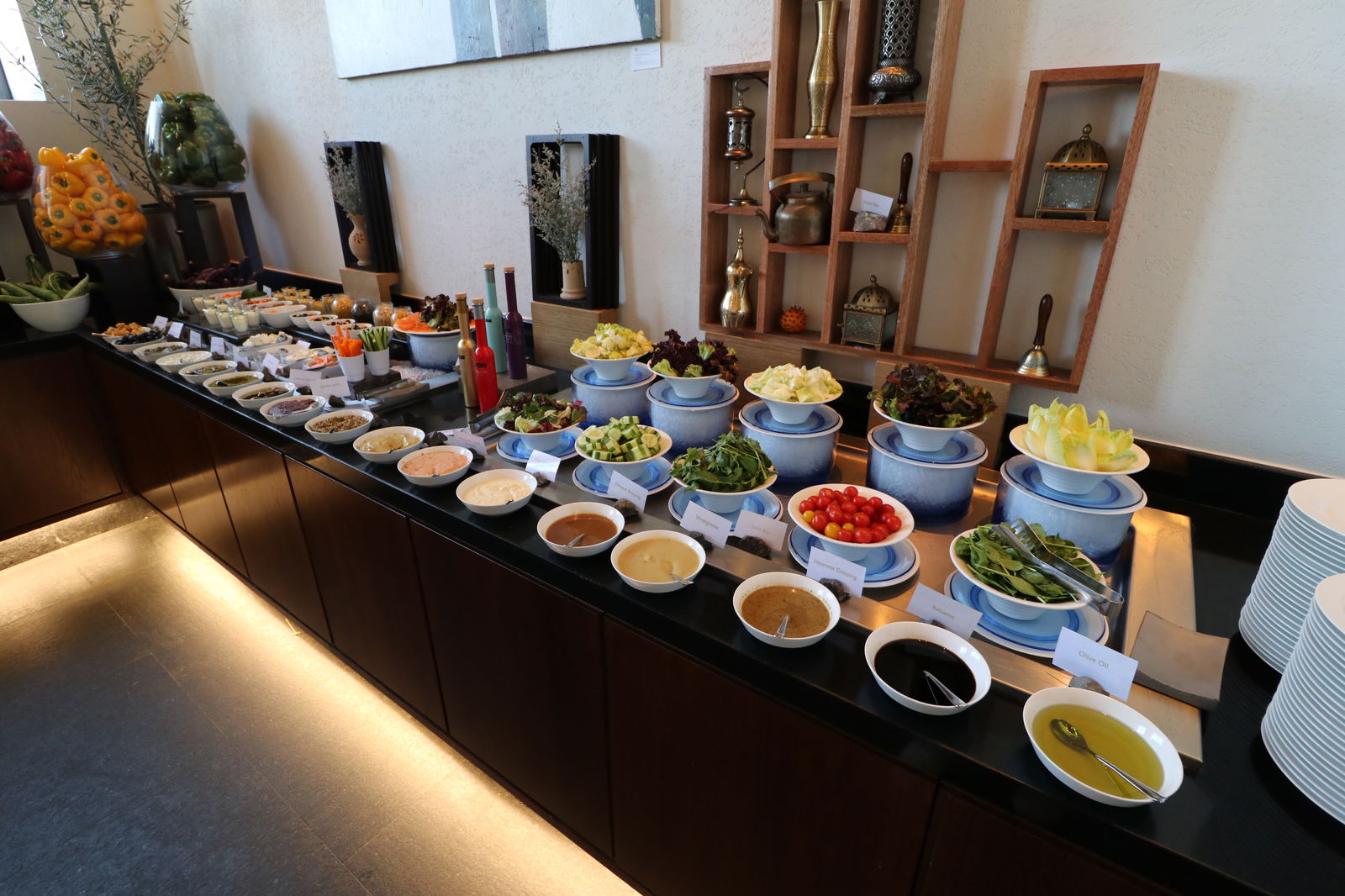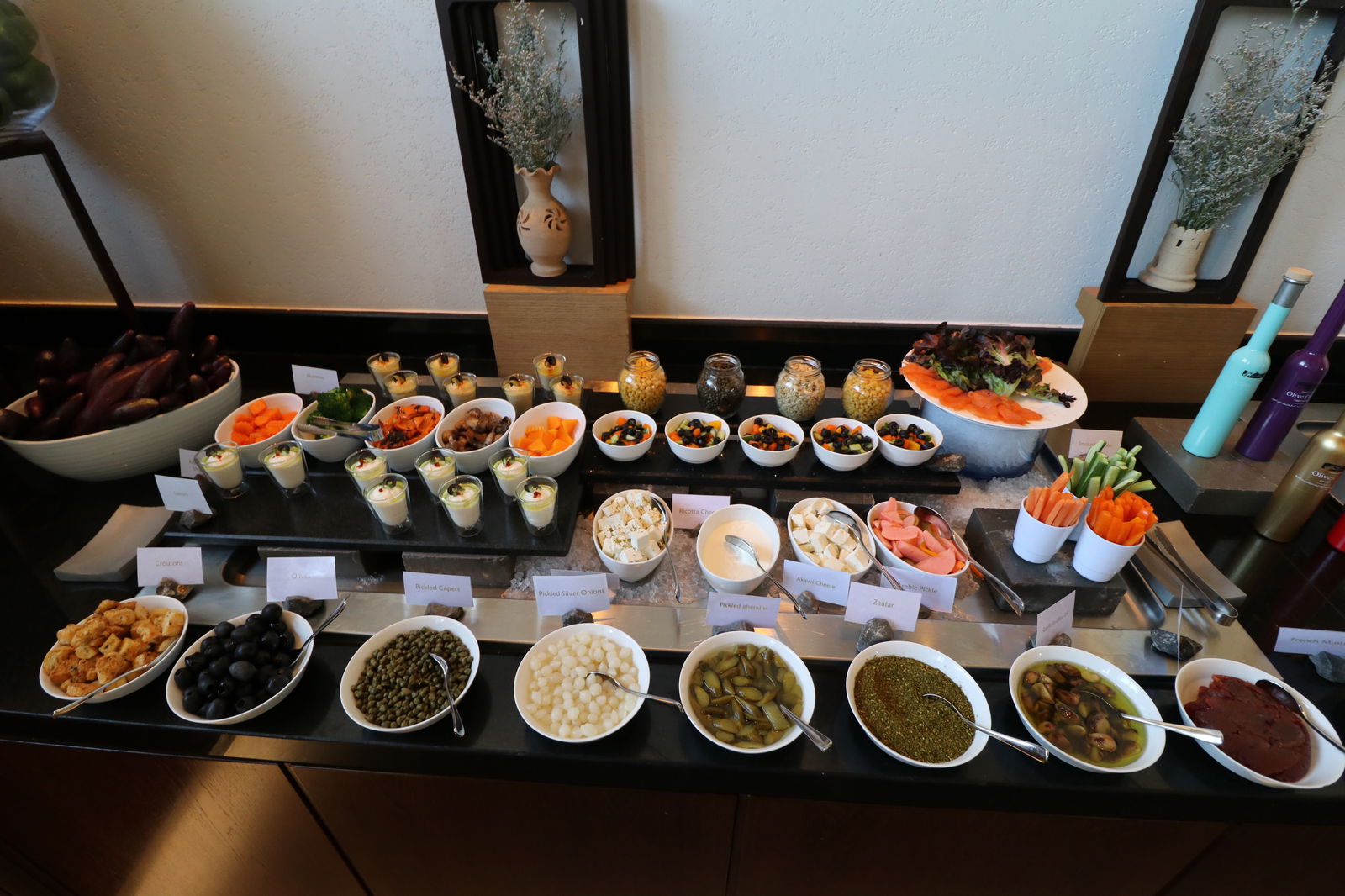 In addition to a fruit and juice spread…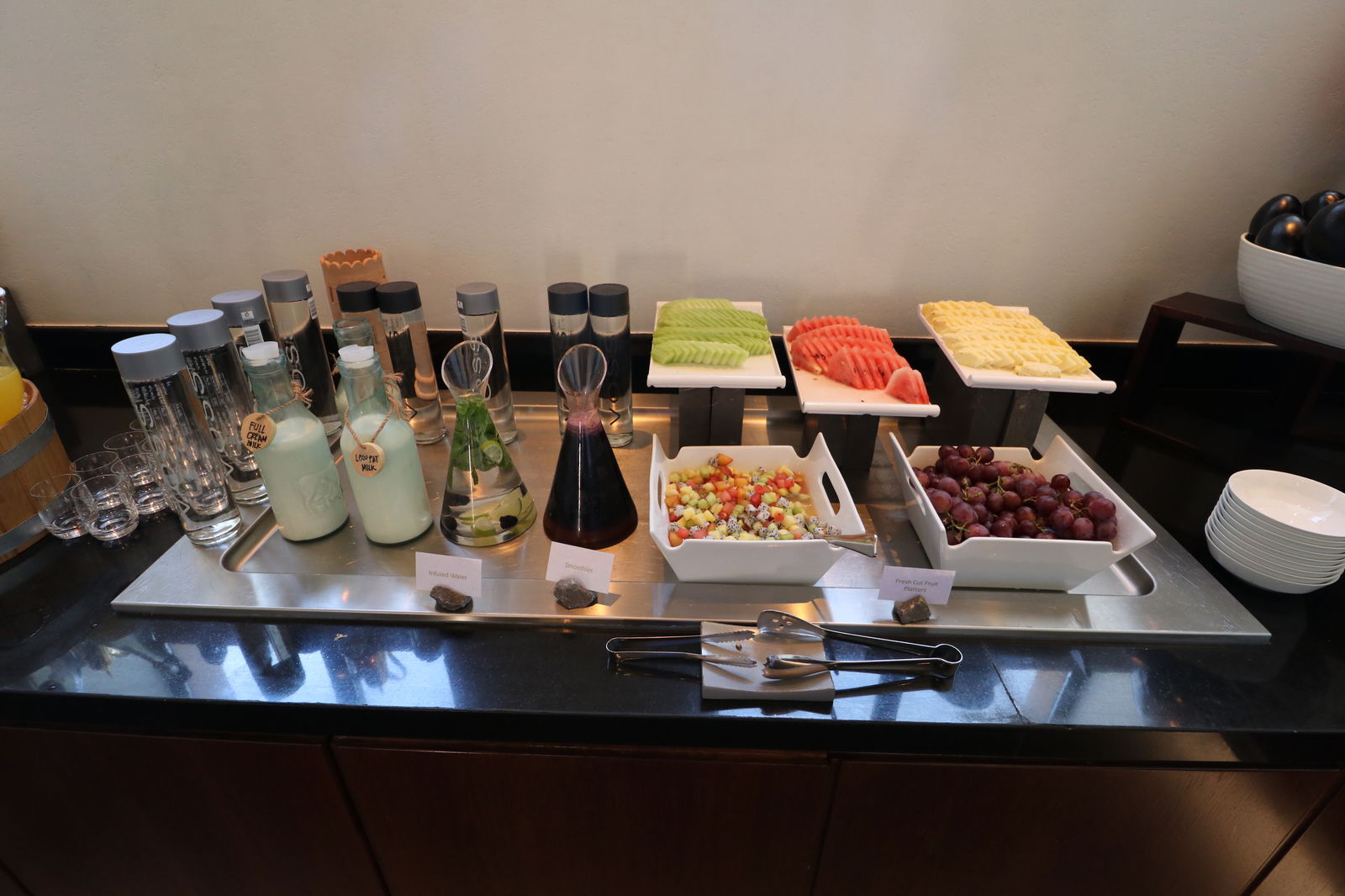 And cereals with various yogurts.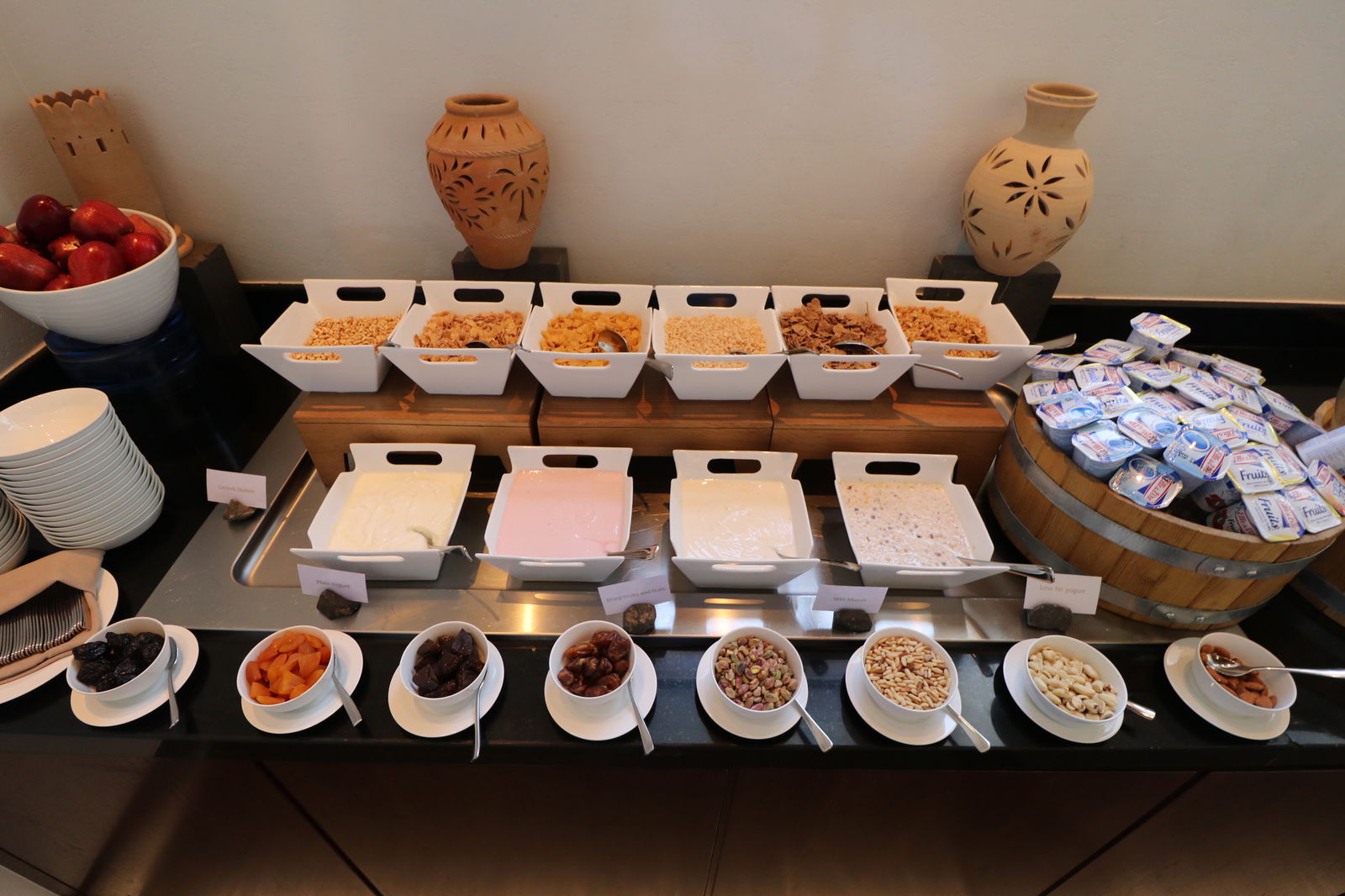 For those with a sweet tooth, there were plenty of pastries to choose from.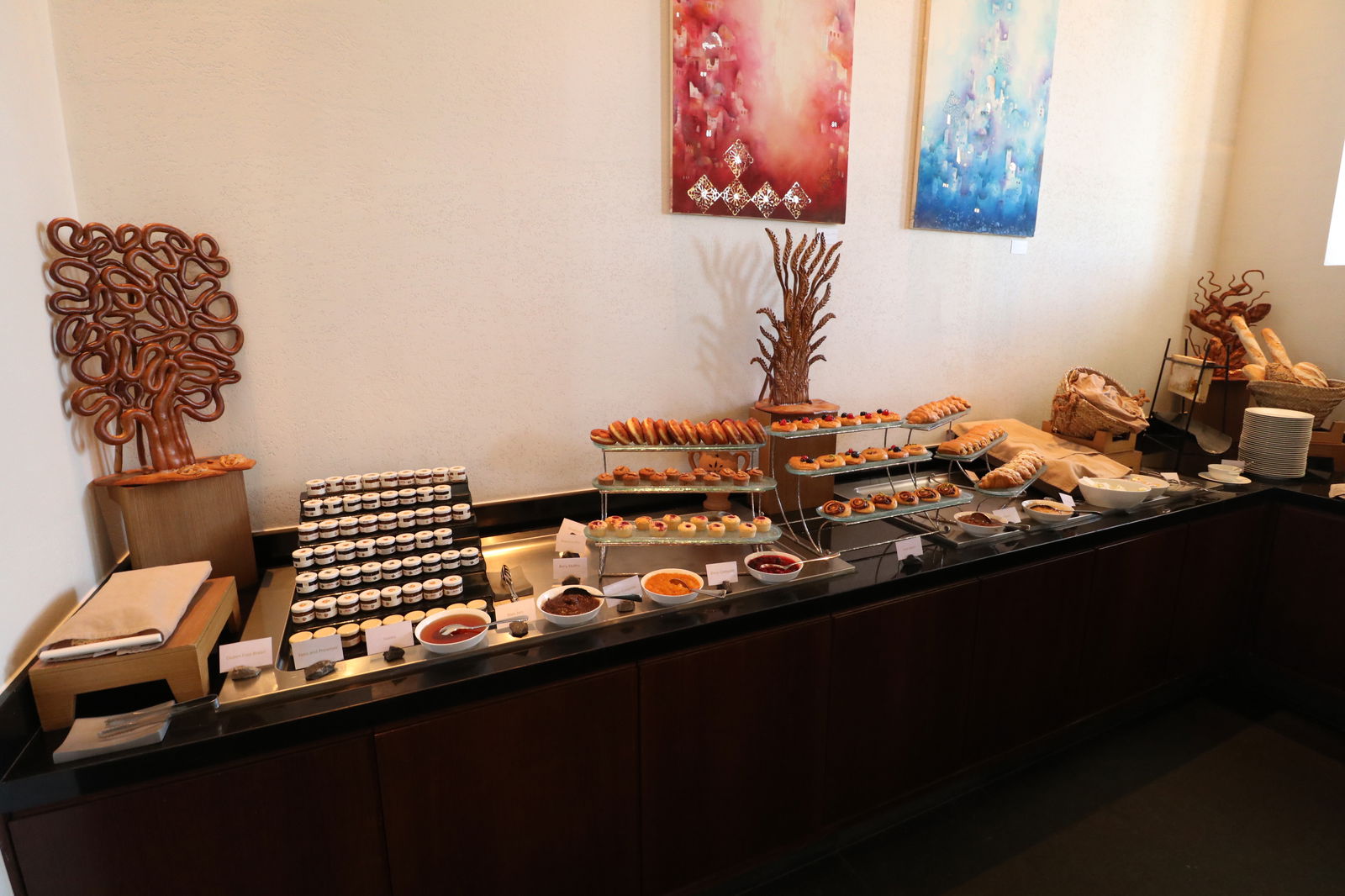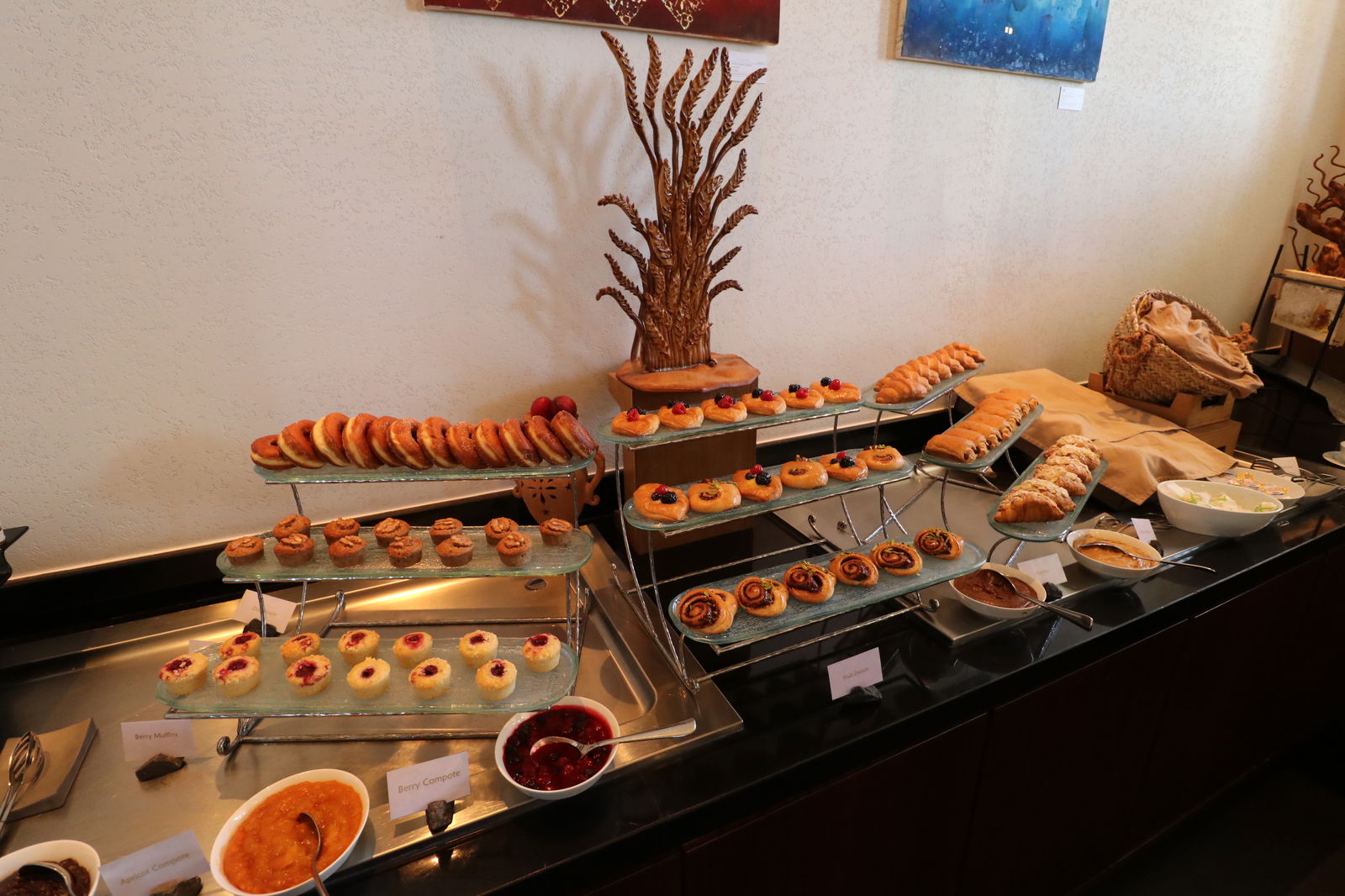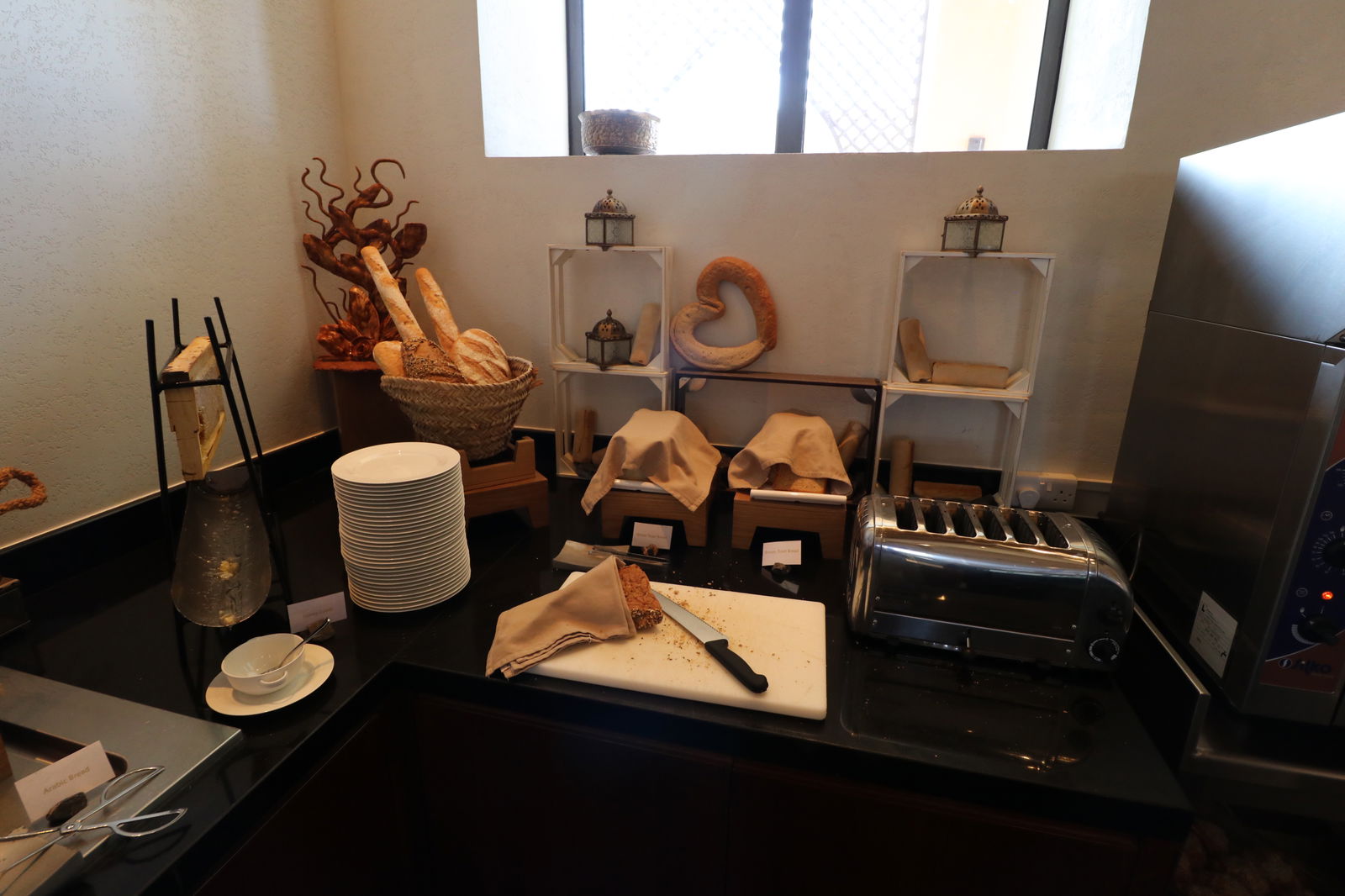 Some different sandwich toppings…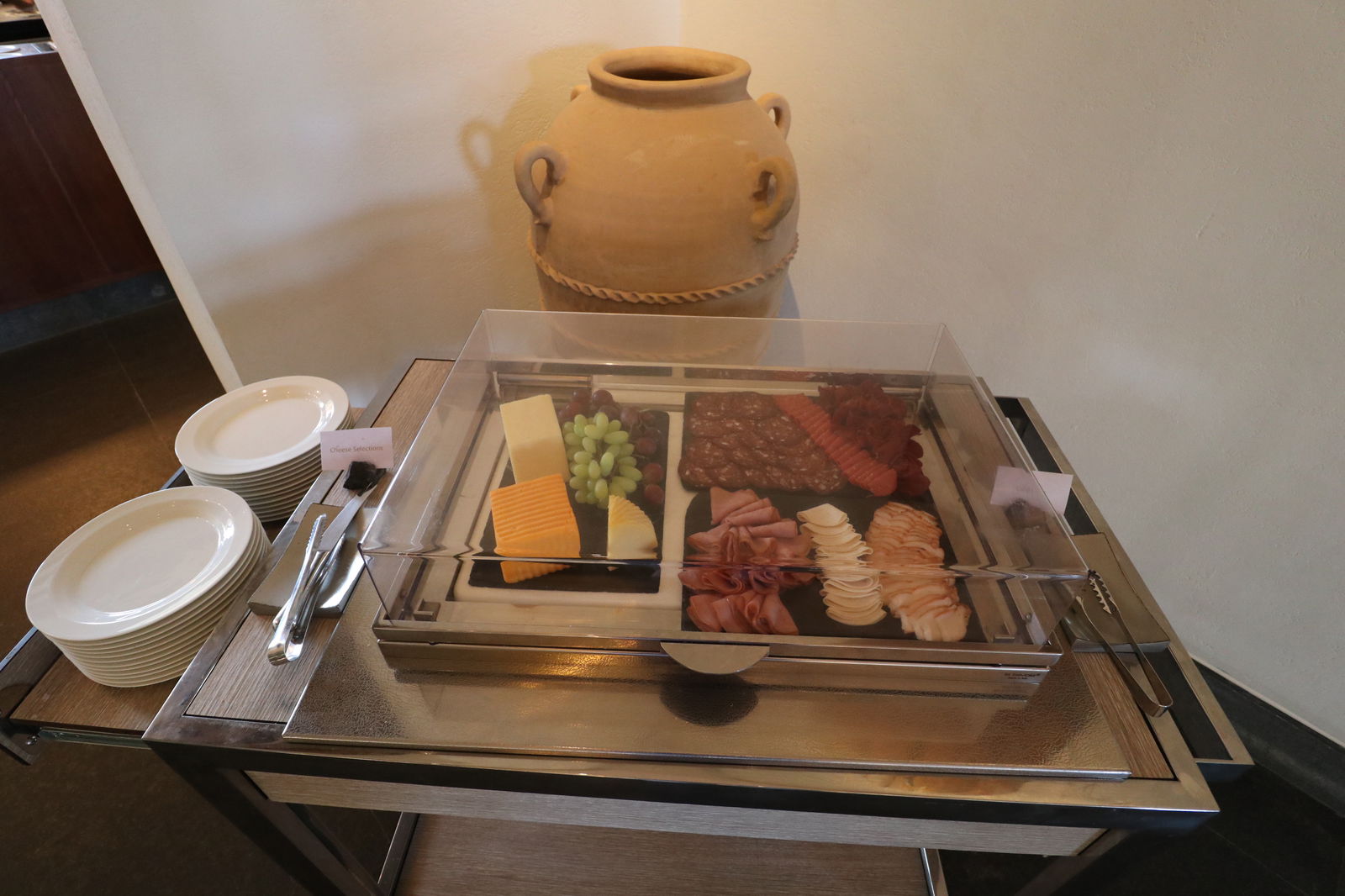 And a juicer!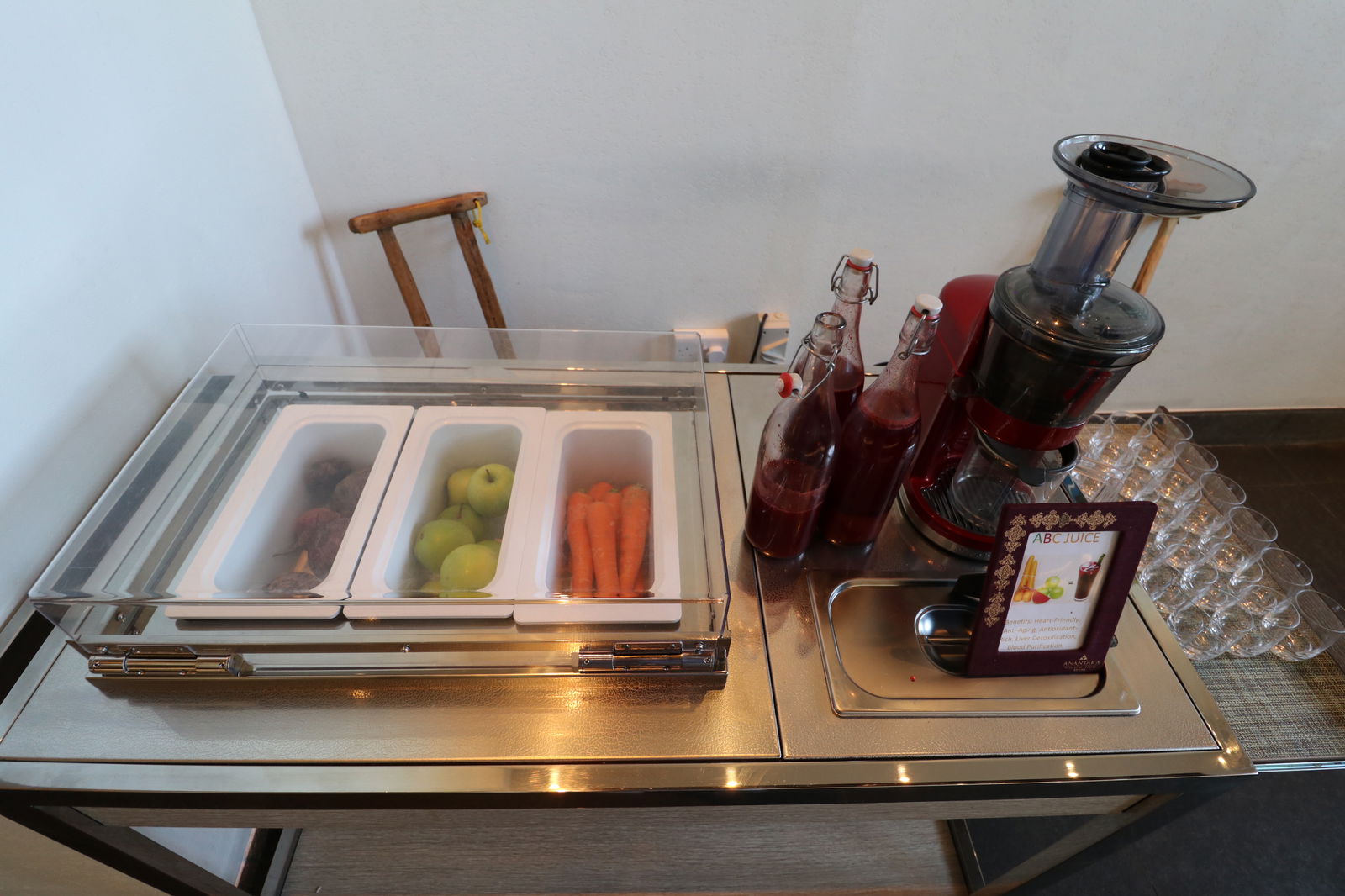 There are a total of six restaurants serving lunch and dinner, though I won't go into dinner in this post.
Bottom Line
The new Anantara Al Jabal Al Akhdar is a one-of-a-kind property. Despite being far from any big cities or easily navigable nature, there are a plethora of activities to choose from both at and outside the hotel. Whether you're going as a family, couple, or alone, you're guaranteed to enjoy your time and I look forward to staying here again one day.
Have you ever been to Jabal Akhdar?