It looks like the Centurion Lounge Seattle may go from being Amex's smallest lounge, to being one of the biggest.
The basics of Amex Centurion Lounges
One of the things that people love about American Express' premium credit cards is that they offer access to Amex Centurion Lounges, which are among the best lounges you'll find at US airports. They've historically featured complimentary cocktails, hot food, and a couple of them even have spas.
Unfortunately Centurion Lounges are closed at the moment, though that's not stopping Amex from still investing in their lounge network for the future. Several new Centurion Lounges are on the horizon, and there are also plans to expand some existing lounges.
Centurion Lounge Seattle expansion plans
The Centurion Lounge Seattle is the smallest lounge in Amex's network of US airport lounges.
When the lounge first opened it was actually branded as the "Centurion Studio," as it was only 3,100 square feet. Since then the lounge has been expanded to 4,500 square feet, but it's still quite small.
Well, there's good news on that front — it looks like this will be changing. Next Tuesday during the Port of Seattle's meeting, one topic on the agenda is the expansion of the Centurion Lounge Seattle.
The plan isn't for space to be added onto the existing lounge, but rather for the Centurion Lounge Seattle to be relocated altogether. If this were to happen, the Centurion Lounge Seattle would increase in size from 4,500 square feet to 13,700 square feet.
Here's the plan:
Amex would lease space on the upper level of the Central Terminal, above the central food court area; this is a new space that was created during the Central Terminal's renovation
Amex would lease the space for 10 years, and would pay $220 per square foot per year for the first five years, so that's about $3 million per year in rent
Amex would invest $16.5 million to build the space
Here are the relevant slides from the presentation: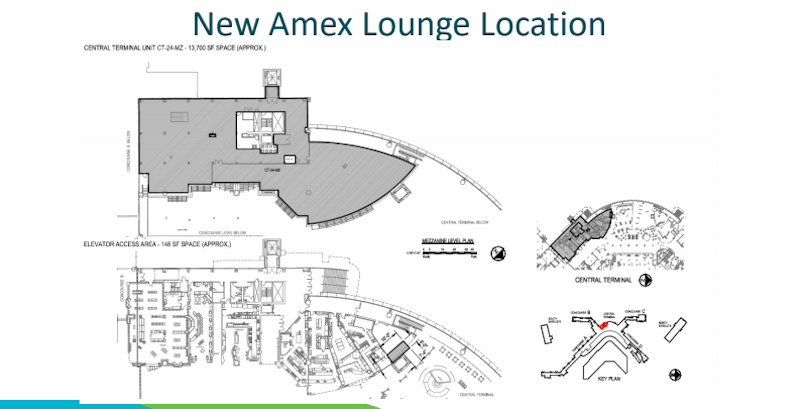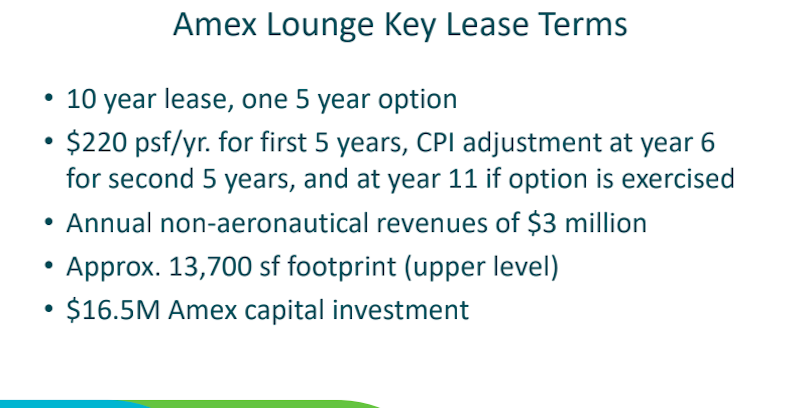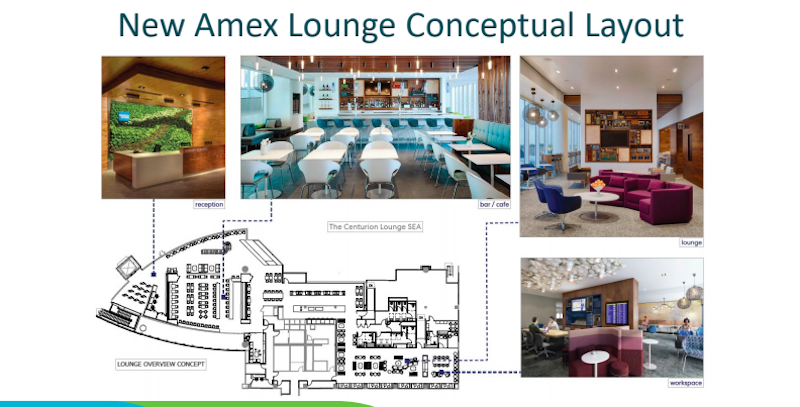 Bottom line
There are plans in place for the Centurion Lounge Seattle to be hugely expanded, from 4,500 square feet to 13,700 square feet. At least that will be addressed during the agenda with the Port of Seattle next week.
SeaTac has seen a massive amount of growth in recent years, and in many ways the lounge capacity hasn't kept up with the increase in demand. Hopefully this plan is approved.
Are you looking forward to the Centurion Lounge Seattle potentially being expanded?
(Tip of the hat to @matthewatyou)