A couple of weeks ago I posted about American's seatmaps finally displaying "Main Cabin Extra," which is their economy section with a few extra inches of legroom. Best of all it's free to elite members, so it takes the sting out of not getting an upgrade just a little bit.
It seems that American's Main Cabin Extra reconfiguration on the 737 comes with an unintended added benefit. Previously American's 737s had 160 seats, and after the reconfiguration there would have been 154 seats. However, the FAA requires there to be one flight attendant per 50 seats, so essentially they'd need an extra flight attendant for those last four seats, regardless of whether or not they're filled. Given that a vast majority of the time those last four seats aren't filled (and if they are filled, probably not by revenue passengers), American has instituted some permanent seat blocking. The two rows behind the exit row nows have the middle seats blocked, as you can see on the seatmap below: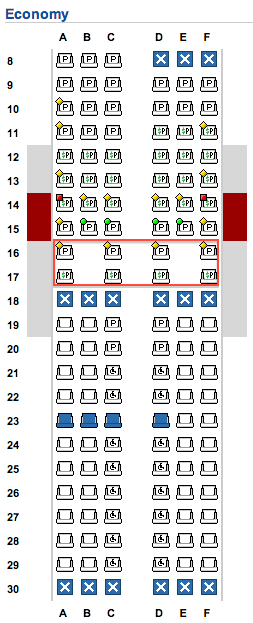 In practice these seats look like intra-Europe business class, with a permanent tray table on the center seat. Reader David sent in the following picture of the blocked middle seat:
Unless you're super-tall, I'd argue that rows 16 and 17 are probably the best seats in coach now. While the legroom isn't improved, having a guaranteed blocked middle seat is extremely valuable to me. That's because I have a very hard time working on my laptop if there's someone in the middle seat, since I always give up the center armrest to the person in the middle seat. While the legroom might not be great back there, at least I'll be able to work uninterrupted on my laptop.
Anyway, just a heads up to those that haven't noticed the new seat blocking.