Continuing with the theme of shAAring my dAArkside meAAl experiences, I figured I'd provide a quick rundown of American's redeye first class catering.
Their first class redeye catering is both their weak point and strong point, depending on which route you're flying.
On everything except transcon flights, American only serves hot nuts and cookies. Now, you shouldn't really be hungry on a 2.5 hour flight from Los Angeles to Dallas leaving at 1AM, though it's still less than the competition serves.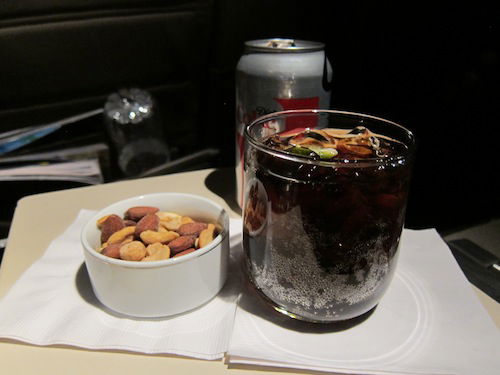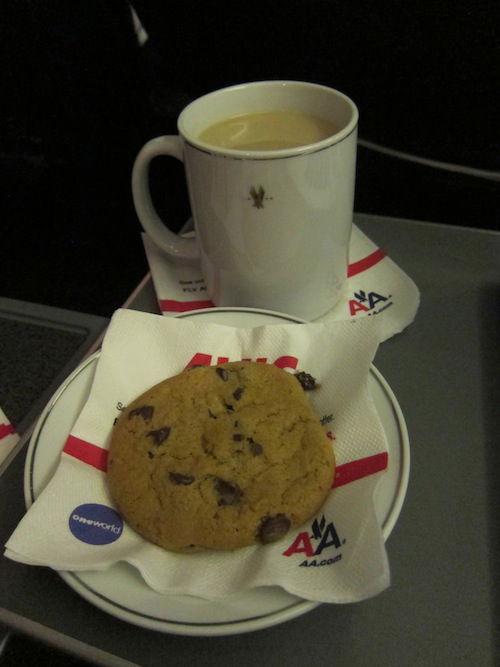 On transcon flights, though, I'd say American has one of the better products.
As with the dinner transcon flight I wrote about last week, American offers the same pillows and blankets they do in international business class on their transcon flights, as well as bottled water for each passenger.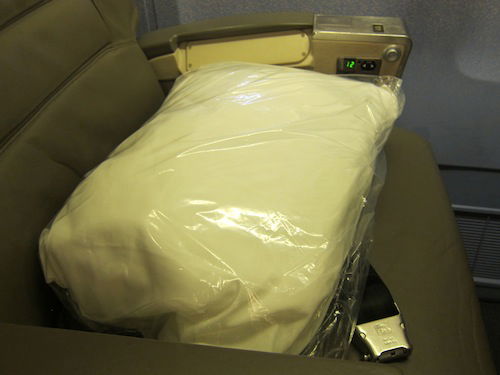 Then they have a "Midnight Raid" menu, consisting of three options, as follows (and yes, as you can see, they have printed menus):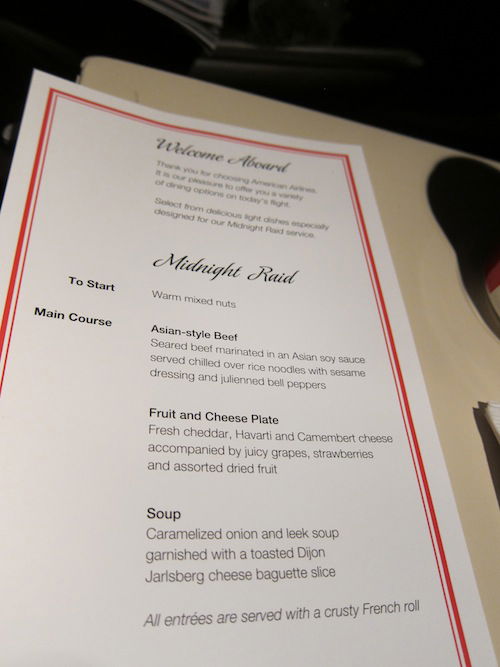 Service always starts with hot nuts.
As far as the main courses go, I've had the Asian-style beef several times now, and it's actually really good.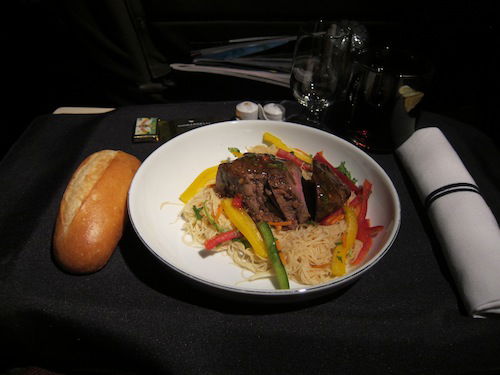 I haven't had the cheese plate yet, though it looks very good since my seatmates seem to always order it.
Then there's the onion soup. I had it a couple of nights ago and enjoyed it, though I'm guessing my seatmates didn't (I kid, I kid). 😉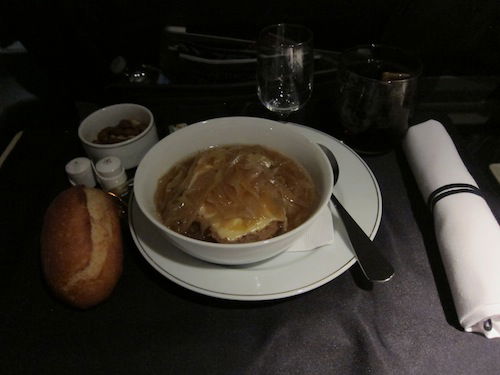 Here's the one thing I don't understand – for a 22 seat first class cabin, American only caters two soup dishes. So if you want the soup, you better be in the first or second row. I've never seen them run out of the other two options, however.
All options are served with french bread, which is frighteningly fresh tasting and crispy.
Overall I've also found service on American to be spectacular. I realize it's ultimately luck of the draw and each airline has their bad apples and good apples, though on my most recent flight I couldn't help but give both of the first class flight attendants "AApplause certificates." I was working for most of the flight, and the flight attendants were literally through the cabin every ten minutes to see if I wanted anything. And it wasn't just that they walked by, but they made a point to ask me several times an hour whether I wanted anything.
When I asked them whether they get anything for the AApplause certificate the flight attendant said they're entered into a contest to win miles, though said a friend of her's won recently and didn't accept the prize due to the tax obligations associated with it. But she said "knowing someone appreciates our service is a reward in itself."
Anyway, just another minor, non-earth shattering observation for anyone wondering how things work on the dAArkside…