Reader and frequent Ask Lucky contributor Ricky W. flew American's premium economy a couple of weeks ago, and offered to share his experience.
---
American Airlines announced their premium economy service back in 2016, and it has slowly rolled out across their widebody fleet since. On a recent trip from Philadelphia to Europe, I was lucky enough to try out the product.
While this is certainly not a comprehensive, detailed review like readers are accustomed to from Lucky, I still wanted to share some thoughts and photos. As I was preparing for my flight, a quick search online for premium economy reviews revealed next to no information on what to expect, so I hope this is helpful.
Without further ado, please enjoy.
American Airlines 716
Philadelphia (PHL) – Munich (MUC)
Wednesday, October 3
Depart: 4:40PM
Arrive: 6:45AM (+1 day)
Duration: 8hr05min
Aircraft: Airbus A330-200
Seat: 6F (Premium Economy)
Background & Booking
While I love my day job for so many reasons, our corporate travel policy is not one of them. Without getting into too much detail, we are required to book economy class tickets with little exception. For flights over 10 hours, we are allowed to purchase extra legroom.
I certainly enjoy treating myself to business class or better on my own, thanks to points and miles, but this was not going to be one of those trips.
Upon learning I was going to Oktoberfest in Munich for work with some customers (see, reason #1 that I do love my job), I still tried to make myself as comfortable as possible. My systemwide upgrade was waitlisted (and ultimately never cleared). In the meantime, I phoned American and inquired about the cost to upgrade to premium economy.
The agent quoted me the extremely reasonable price of $120 to upgrade, so without hesitation, I gave her my card info and locked that down!
The Seat
Premium economy is in its own mini-cabin, in a 2-3-2 configuration, and is advertised as recliner-style seats with 38" of pitch and 18.5" of width.
To me, this sounded a lot like a domestic first class seat that you'd find almost anywhere in the country on any of the US Big 3.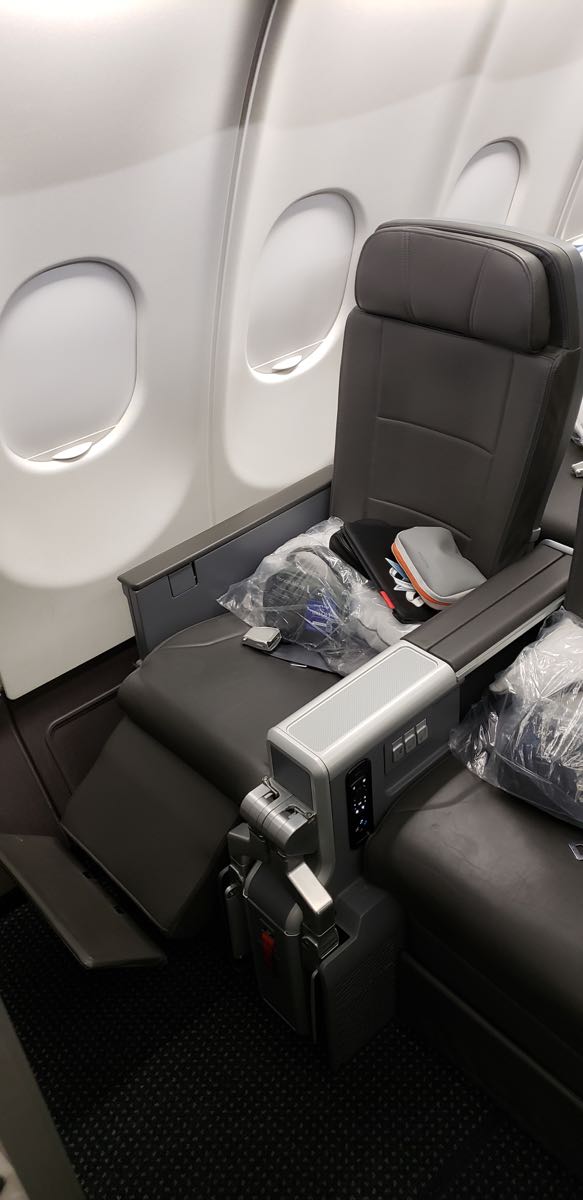 What really sets the hard product apart though, is the addition of a foot rest (or leg rest in the bulkhead).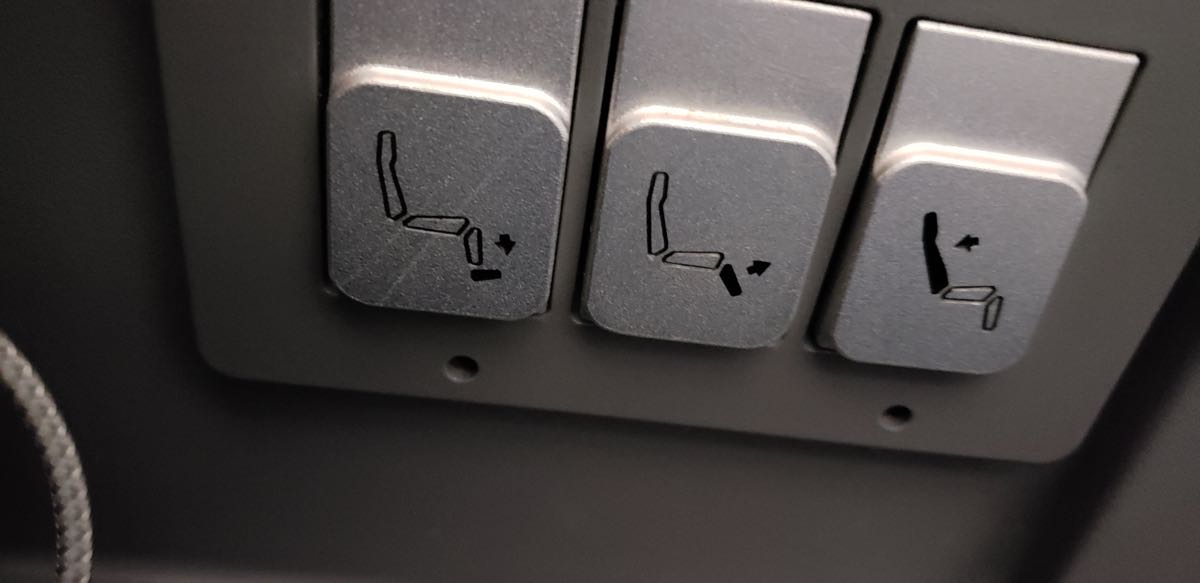 As seems to be the new norm these days in every cabin, each seat does have its own huge TV screen and individual power and USB outlet.
The Meals
American does offer a supposedly elevated meal experience in premium economy, and I was anxious to find out if it deserved the hype.
Here is the menu for the flight: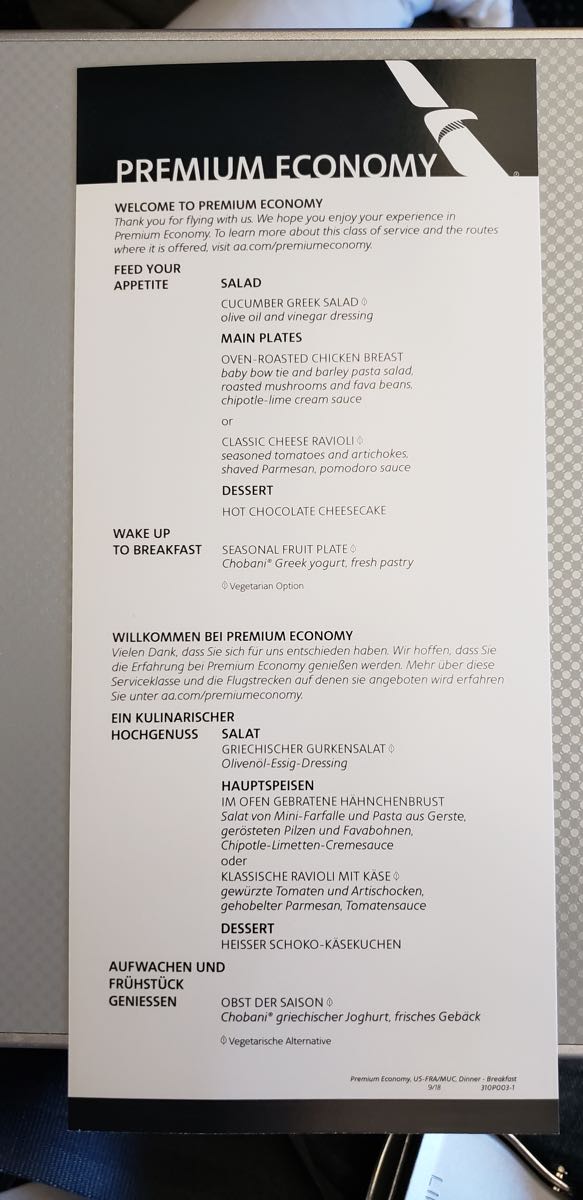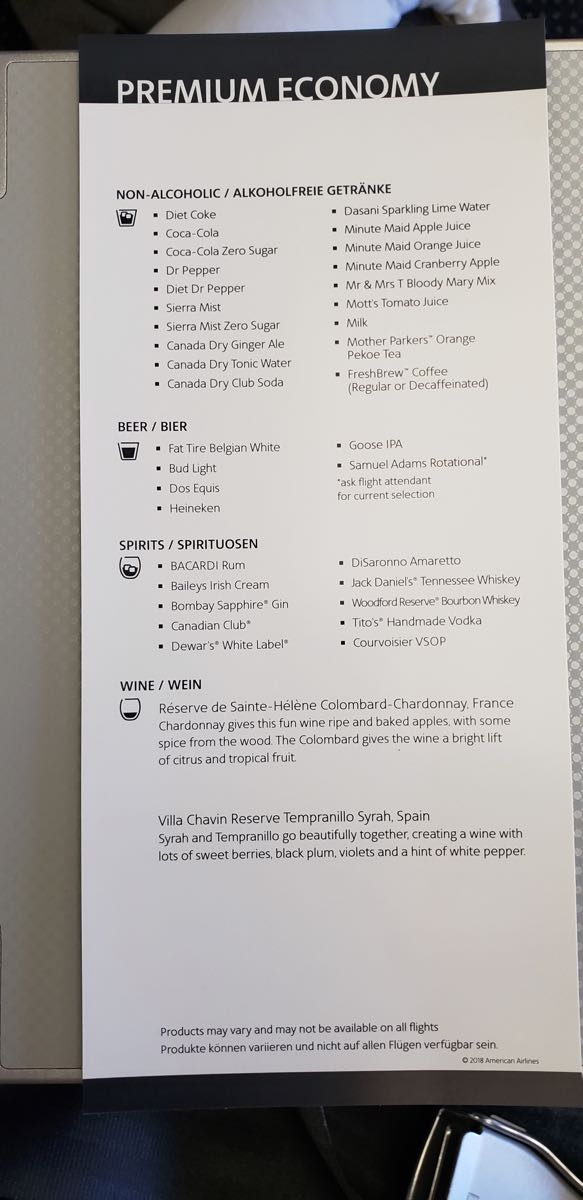 I chose the ravioli dish, which was served all one tray. The crew came around about 45 minutes into the flight, and everything was wrapped up about 45 minutes after that.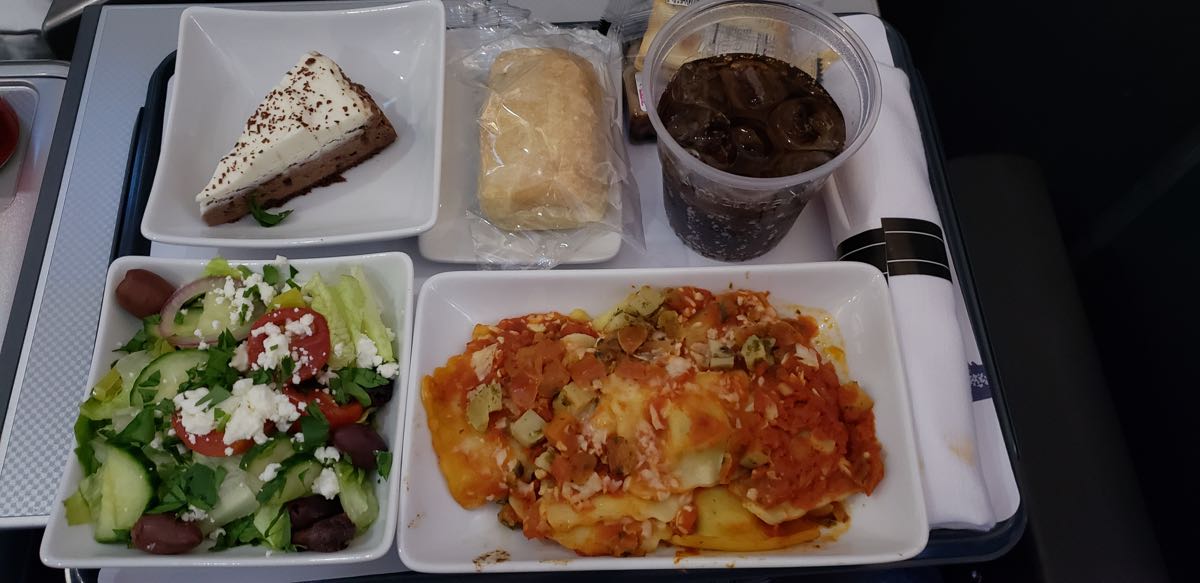 Personally, I wasn't expecting fine dining in premium economy, so I wasn't disappointed by the meal. I'd probably put it on par with one of those higher-end microwavable dinners you can buy at the store these days – hits the spot, but not memorable.
It's also worth noting that American doesn't use real glassware or cutlery in Premium Economy.
During the meal service, I noticed my first frustration with the premium economy product (there aren't many!), and that is the lack of storage space.
The seat provides a small nook to the side to store things like an iPad, passport, cell phone, etc. There's also the standard seatback pouch. But, other than that, your options are relatively limited.
Once the full dinner tray and drinks were on my tray table, I literally had no other room to use until the crew came to clear my meal.
A light breakfast was served a little over an hour before landing, and consisted of a basic fruit plate with yogurt and a pastry.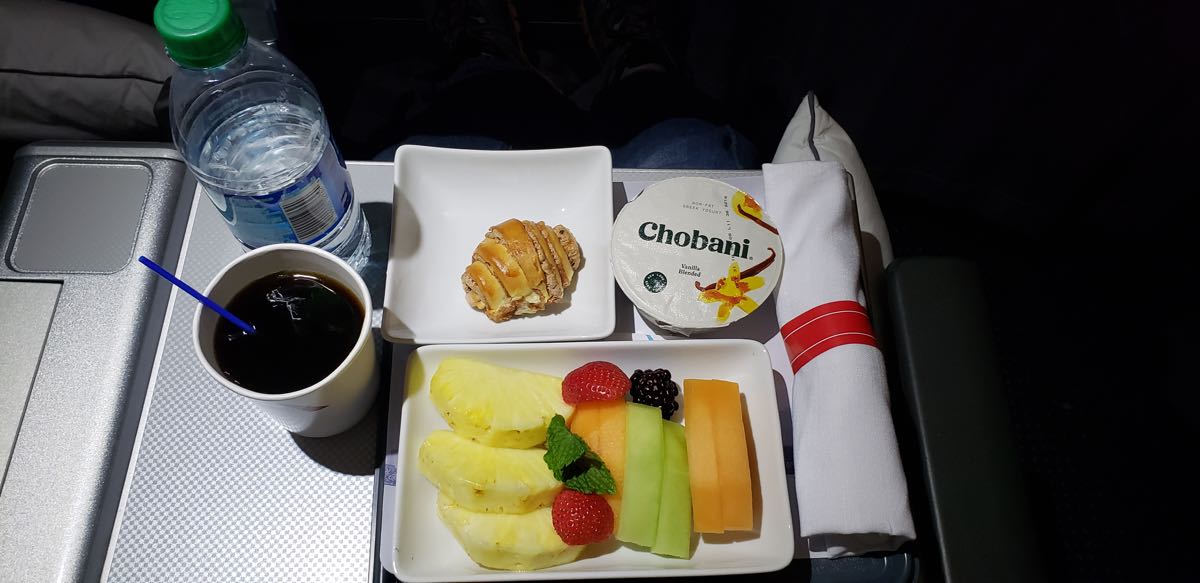 Random Pros & Cons
Amenity kit, pillows and blankets
You get a bigger pillow and heavier blanket than normal, which is great. However, American tends to keep their cabin a bit warmer, so the blanket is almost too heavy.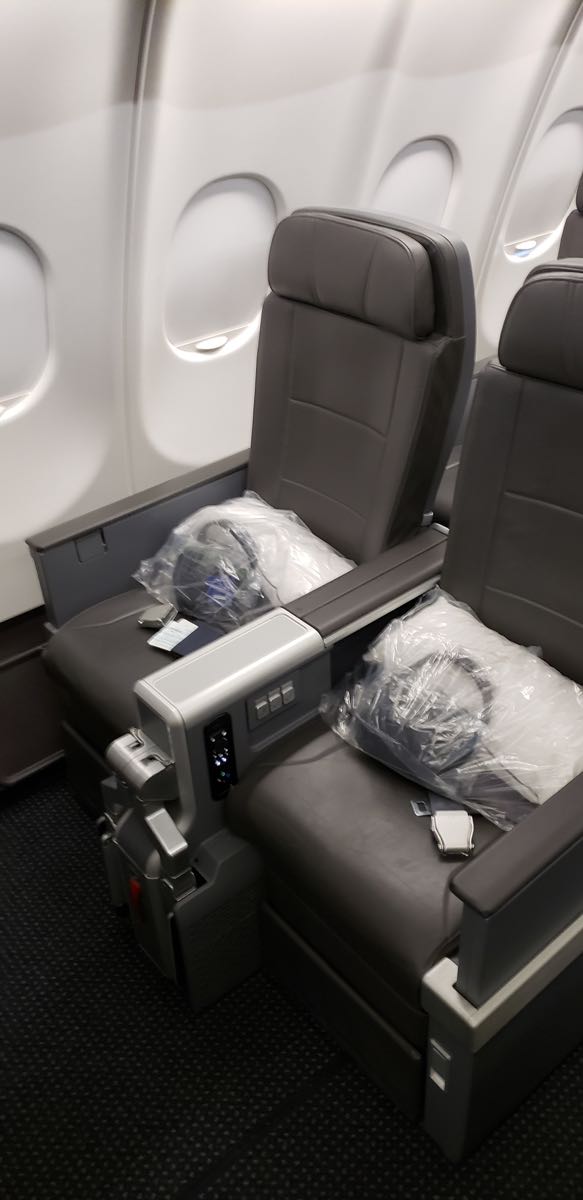 A standard amenity kit is offered, with the usual American Cole Haan branded partnership. The bag itself is a bit flimsy compared to the typical business class kit, but all the amenities are still there.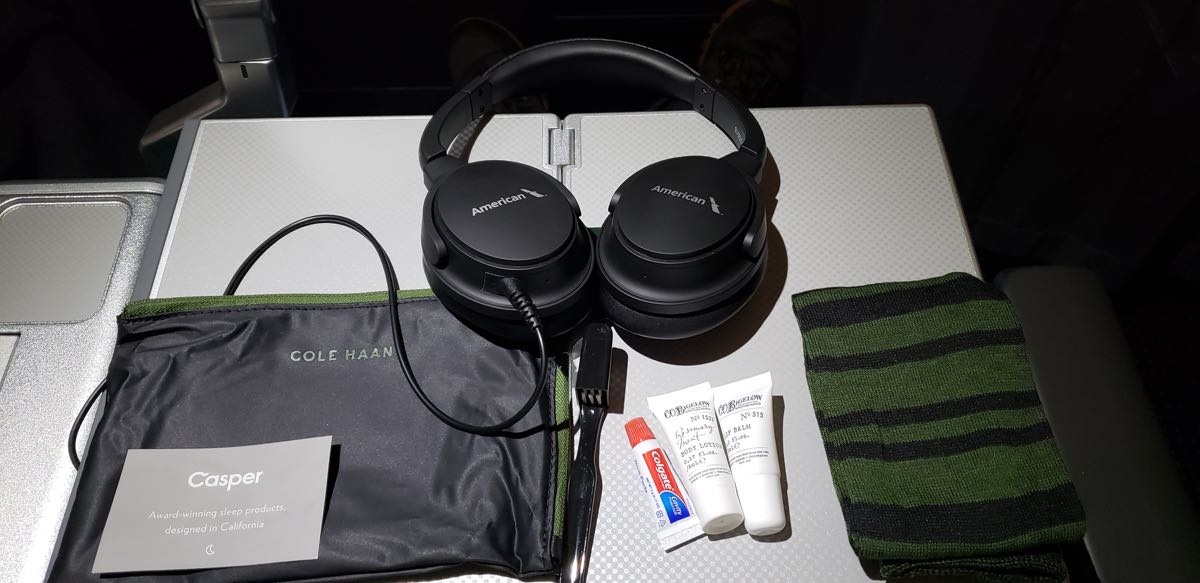 Arm rests that decline
The lone armrest at each seat (e.g., the one against the aisle in an aisle seat and the one against the window in a window seat) actually lower into the seat.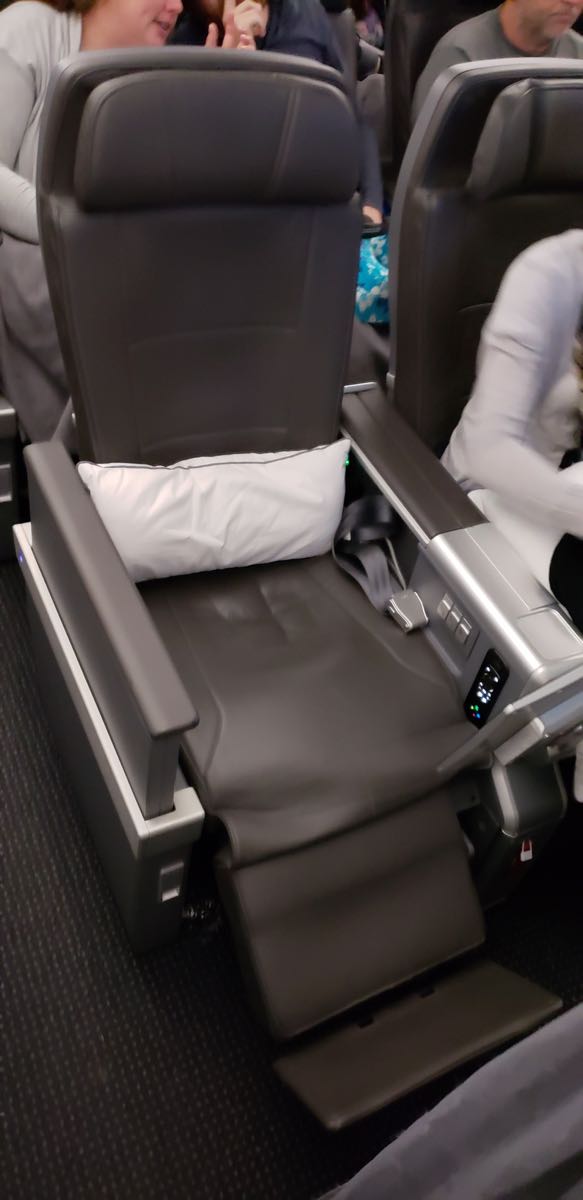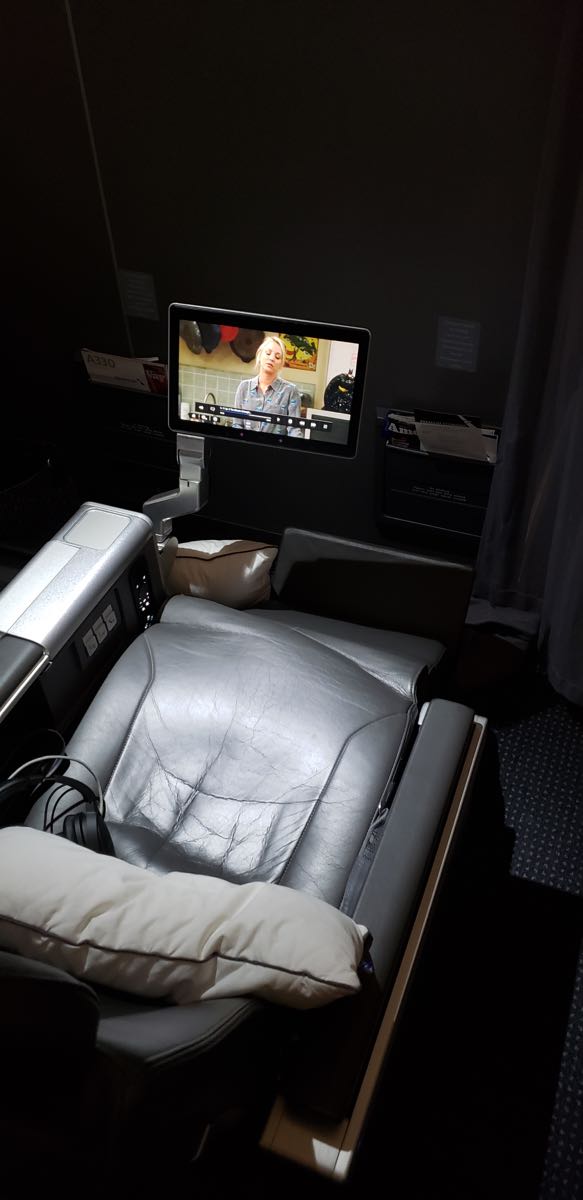 If you are someone who likes the extra support, this may not be a plus, but for me, it adds an extra few inches to the seat width and makes it so much easier to curl up and nap.
Lavatory
Does premium economy get its own bathroom? Honestly, I don't know if anyone on my flight knew (flight attendant or passengers).
There is a lavatory immediately in front of row 6, which means from my seat I could almost touch the door to the lav with my foot. Some flight attendants insisted this was for business class passengers only, some clearly did not care who used it.
Considering the alternative is to walk 15+ rows back into economy, it would make sense that this lavatory several feet in front of the cabin should be available to premium economy.
Upgrade Chances & Priority
American Executive Platinum members do get unlimited, complimentary upgrades into the cabin on the day of departure. A few hours before we boarded, the cabin was only 9 out of 21 seats full. Upon boarding, all seats were taken due to complimentary upgrades.
I was also very curious how American prioritizes upgrades into business class. I am a Platinum elite member, and waitlisted a Systemwide Upgrade to business class (borrowed graciously from my brother). As a Platinum, paid Premium Economy passenger, would my upgrade clear before an Executive Platinum, paid coach passenger? I discussed this for a few minutes with two friendly agents in the Admirals Club and one gate agent before boarding.
The verdict? Status (and dollars) trumps fare class, always. Even an Executive Platinum with less rolling EQD, booking premium economy, would be lower on the upgrade list than an Executive Platinum with more rolling EQDs, booking coach. Interesting.
Ultimately, business went out full before any upgrades cleared, so this was a non-issue on my flight.
Overall thoughts
There are some minor issues that as premium economy becomes more popular, I hope American can work out. But, overall, at a $120 premium over coach, premium economy on a transatlantic flight is an absolute no-brainer. The extra personal space, comfortable recliner seat, upgraded amenities and nicer meals made this flight fly-by.
For any readers out there who, like me, work for a company that does not allow employees to purchase premium cabins, I highly encourage you to consider paying the premium yourself out-of-pocket. Even looking at a very popular route, like say New York to London over Christmas, the premium for premium economy over economy is only $202 each way.
Add that to the increased earning rates for EQMs, and you can bet I'll be doing this again.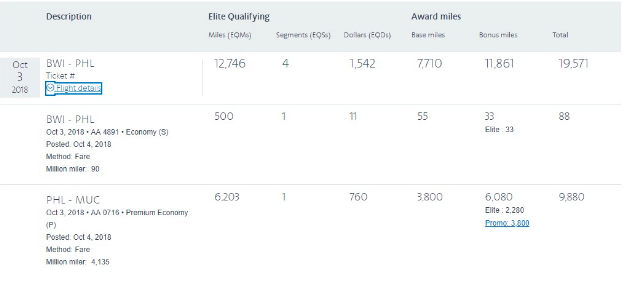 Have you flown American's premium economy? How was your experience?