Online shopping portals can be a great way to pick up additional miles & points for purchases you'd make anyway. Just for following a specific link you can earn bonus points in addition to the ones you'd earn anyway for credit card spend. Whenever I make an online purchase I always check to see which shopping portal has the best bonus.
Apple is a retailer that generally doesn't discount much, and also doesn't usually offer much in the way of portal bonuses. A couple of days ago there was a one day promotion through the United MileagePlus Shopping portal where you could earn 6x miles per dollar spent with Apple.
Well, Frequent Miler notes that today American is running a similar promotion on Apple purchases.
Today only (Thursday, August 17, 2017), American AAdvantage eShopping is offering 7x miles per dollar spent on Apple purchases. This is a significant increase over the usual single mile per dollar offered for Apple purchases.
The terms on this offer are as follows:
Please note these terms & conditions: Rewards are issued by this site, not Apple. Apple AirPods are not eligible. Newly released products may not be eligible. Additional products not eligible are: gift cards, gift wrap, One to One Membership, Bose products, and shipping. Apple sells and ships products to end user customers only; you may not purchase for resale. Eligible only to a customer for up to five (5) units per eligible product, except iPhone, in which case only two (2) units within a thirty-day (30-day) period are eligible. Employee Purchase Plan sites are not eligible. Not eligible on purchases made with coupon or discount codes that are not found on this site. Not eligible on gift cards, gift certificates or any other similar cash equivalents.
On top of that, keep in mind that this can be stacked with the current promotion being offered for all purchases through the AAdvantage eShopping portal. Through tomorrow, August 18, 2017, you can earn up to 2,000 bonus miles for purchases made through the AAdvantage eShopping portal. Specifically, the promotion works as follows:
Spend $150, earn 500 bonus miles
Spend $300, earn 1,000 bonus miles
Spend $500, earn 2,000 bonus miles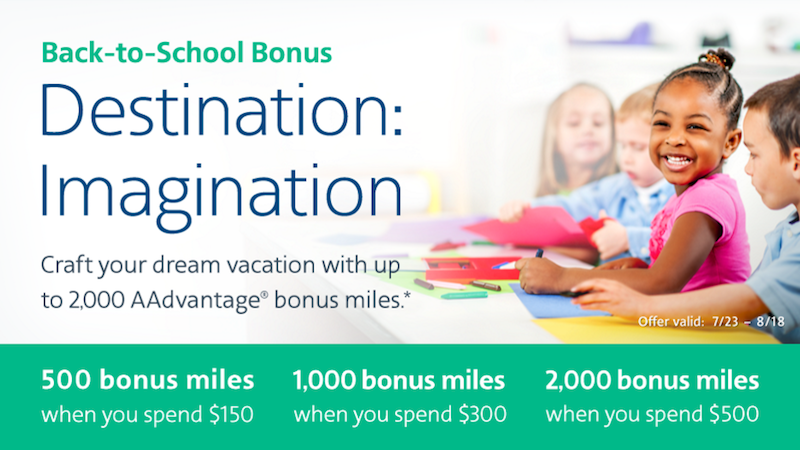 The promotions can be stacked, meaning that a $500 purchase would earn you 5,500 AAdvantage miles, which is 11x miles per dollar spent. That's an excellent return.
Bottom line
It's pretty rare to see bonuses this good for purchases of Apple products, given that it's not a brand that discounts much. If you're in the market for any Apple products, I'd seriously consider buying today under this offer.