I thought I knew most of American's policies, though this is something I had no clue about. Main Cabin Extra is American's extra legroom economy seating, which will soon feature new benefits, including complimentary alcoholic drinks.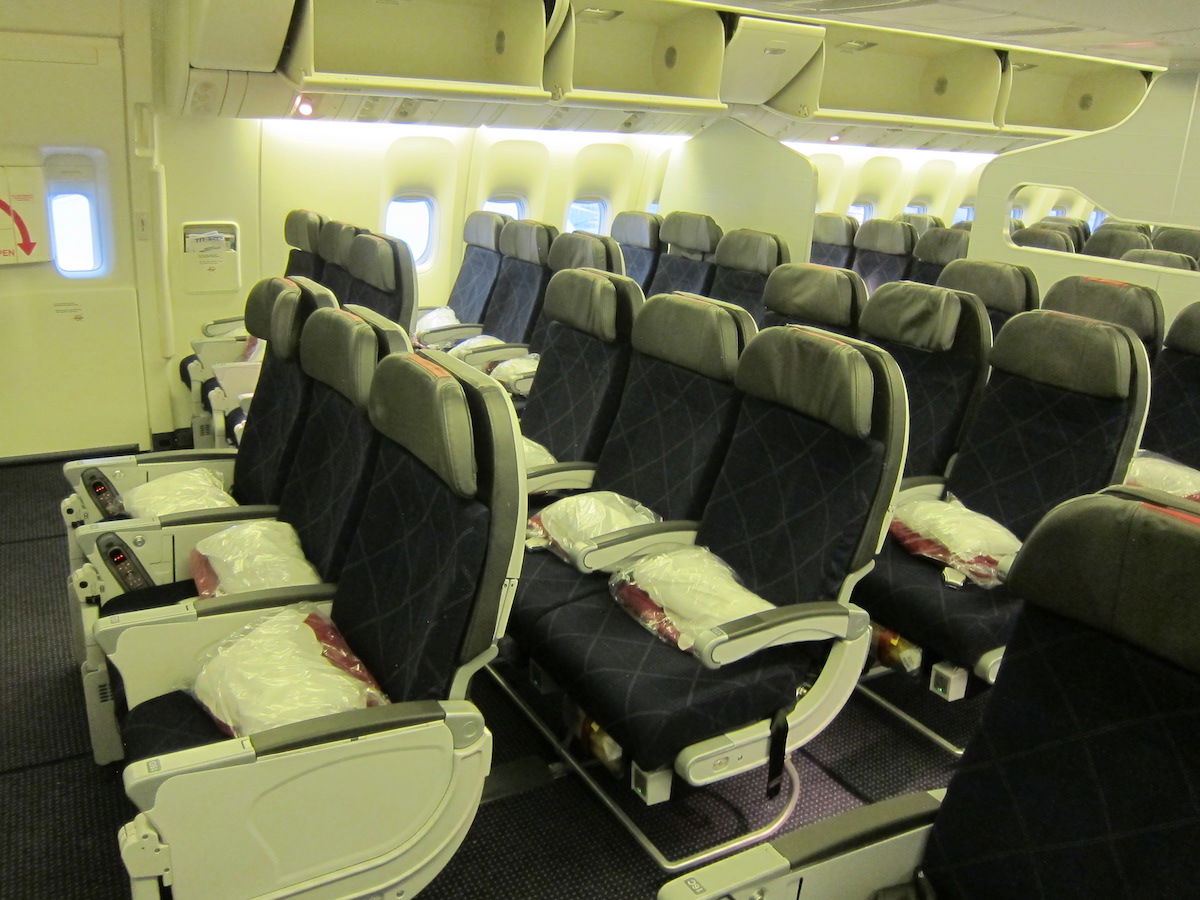 American's 777-300ER Main Cabin Extra
Technically Main Cabin Extra isn't a separate class of service, which is to say that it's still part of economy. However, my assumption has always been that you're not allowed to upgrade yourself from economy to Main Cabin Extra for free. After all, there's an extra fee to sit in those seats, and I figured American considered it to be sufficiently separate (then again, I guess nowadays American charges a fee even to sit in most regular economy seats).
As a point of comparison, I know Delta and United both explicitly prohibit self-upgrading to their extra legroom economy seats.
That's not the case at American, though. American issued a memo to employees regarding their upcoming Main Cabin Extra changes, and in it they say the following:
Can customers move into open MCE seats once boarding is complete?

Yes. Once the door is closed, customers are allowed to move to any available seat within their ticketed cabin (no change to current procedure).
I had no clue this was the current policy, but this means that passengers can take any Main Cabin Extra seat once the door closes. Furthermore, now that American is introducing complimentary alcohol in Main Cabin Extra, passengers can self-upgrade to seats that include free alcohol.
American's intent here is clear — they don't want to create any additional work for employees, and they know the only way to have a different policy would be to put flight attendants in charge of policing the cabin. They don't want to do that, because they're doing everything they can to appease employees nowadays (which on some level I find ridiculous).
I (and I'm assuming 99.999% of other people?) had no clue this was the policy, and for that matter, I can't believe that this is the policy. Now that it's known, maybe we'll see more self-upgraders.
Personally I wouldn't be surprised if some flight attendants don't know this is the official policy, and that they may tell people that they can't upgrade to Main Cabin Extra for free. So while it can't hurt to try, I'd still recommend following crewmember instructions if you're denied, because the last thing you want is for the police to be called due to a "disruptive passenger."
Did you realize American lets passengers upgrade to Main Cabin Extra for free once the door closes? Do you support this policy?