Amazon Prime Video recently added the option to download some of their video catalog using the Amazon Video App on iOS and Android devices. Apparently this has been available to owners of Kindle Fire tablets for awhile. But, it's new to iOS and Android.
This is a great new development for anyone trying to avoid the airlines' unreliable, limited, or nonexistent in-flight entertainment. I recently loaded my iPad with episodes of Amazon's new show "The Man in the High Castle" before my quick trip to Vegas last week.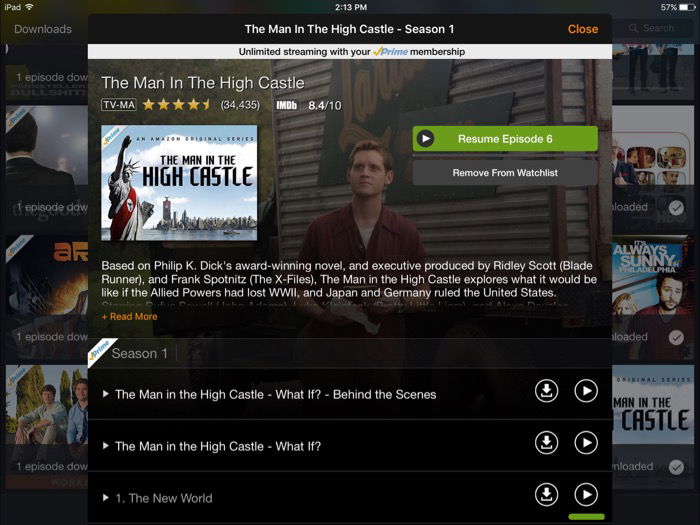 After using the download feature, my overall impression is positive but I think there is some room for improvement on Amazon's part.
Limited to 25 titles at a time
One big limitation for this new download feature is you can only have 25 titles at any given time. It's important to note this limit is per account not per device.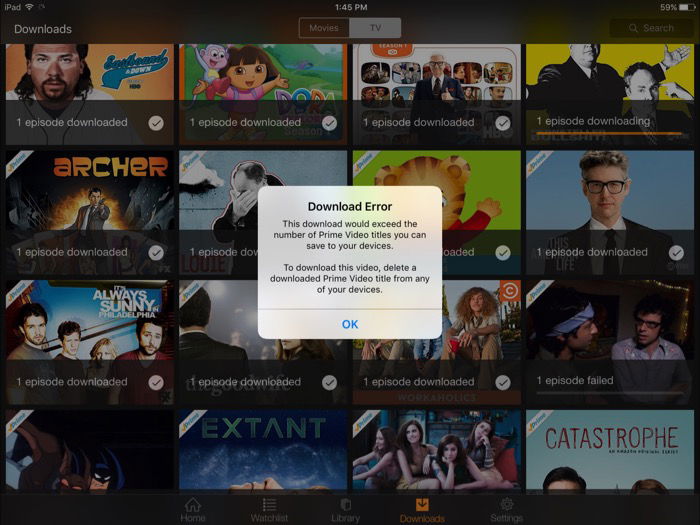 It probably doesn't matter if you're sticking to movies. But, if you plan on watching sitcoms, I could see burning through 25 episodes. So, choose wisely.
It's also worth pointing out that downloads won't stay on your device indefinitely. I've read the length of time the videos stay on your device depends on the specific agreement with the content provider. But, it looks like 30 days is the maximum amount of time.
Not everything is available to download
The other major limitation of the system is only part of Amazon's video catalog is available to download. This also depends on the rights agreements Amazon has with content providers.
All of Amazon's original programming like "Transparent," "The Man in the High Castle," and "Hand of God" are available to download.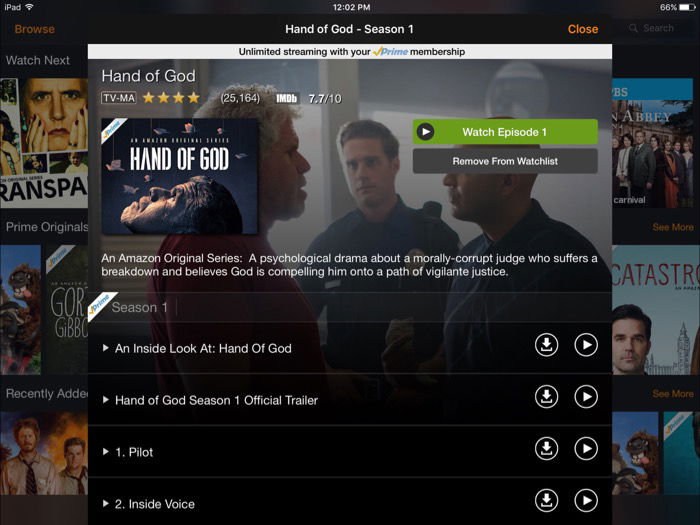 There are also other TV shows available. Judging by the titles available for downloaded, it looks like there are deals in place for HBO, Comedy Central, and Fox.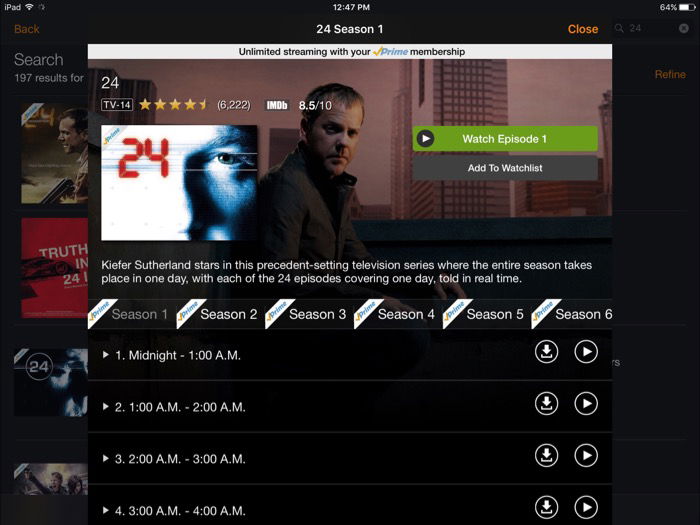 And there are many movies available to download as well.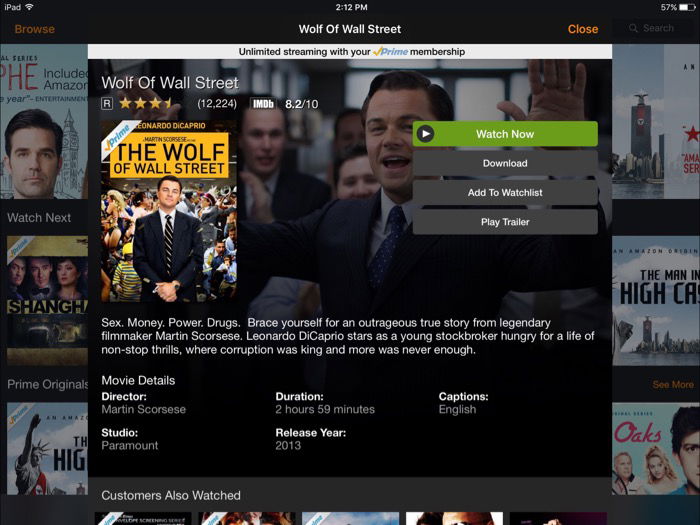 But, not everything that can be streamed through Prime Video is available to download. For example, it looks like my kids will have to wait for a Wi-Fi connection before watching Anastasia.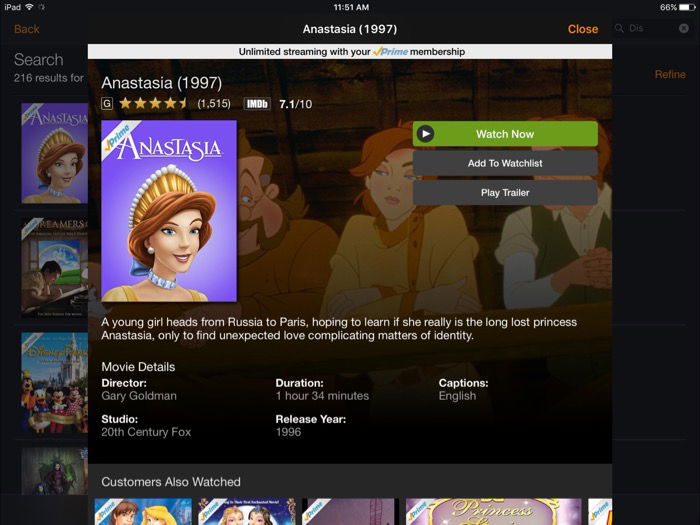 You know it's unavailable because the "Download" button is missing when you go to the more information screen about the movie.
Using the Amazon Prime Video app
The iOS app is fairly user-friendly. The download and delete features are pretty intuitive.
Your content appears on one tab, with separate categories for TV and Movies. So, it's easy to choose what to watch from your downloaded shows.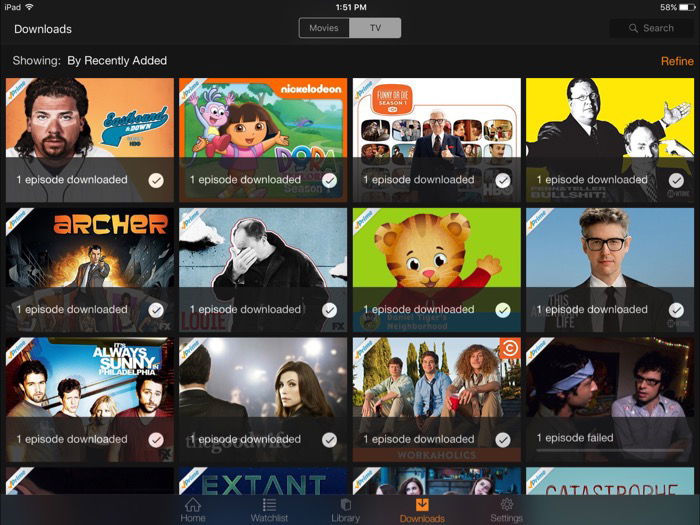 My biggest gripe is they don't allow you to filter or search for only content that is available for download. This turns the search for content into a guess and check game on what movies or shows might or might not be available. It would be very helpful if they had a category of only shows and movies that are available for download.
The picture quality was good
I had the download quality set to Best. Even on the larger screen of the iPad Pro, I was happy with the picture quality. It didn't seem to take up too much memory on my iPad. But if that's a concern you have the option to change to a lower resolution to save some space.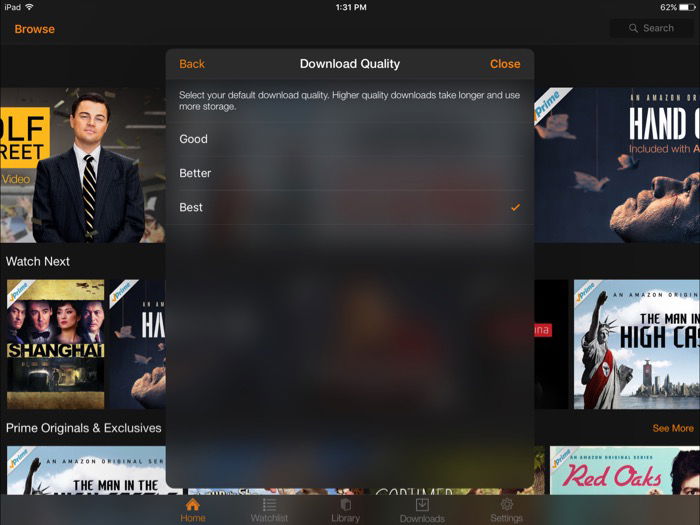 The only other issue I had while using the app is a sideways look from a nosey seatmate when she saw the Nazi characters saluting each other in "Man in the High Castle." I can only imagine how she would have reacted if she was on the subway in New York when Amazon decided to promote the show by plastering Nazi symbols all over the place.
For what it's worth, I'm halfway through the first season and think the show is OK so far. It's no Real Housewives, but I plan on finishing the five episodes I have left.
Bottom line
The new download feature to allow Amazon Prime customers to save content to iOS and Android devices is a good way to make sure you have something available while traveling.
Hopefully Amazon will be in a position to add more content to the titles available for download. And it would be helpful if the app allowed customers to sort the material that is available for download.
But, I'd definitely say this adds more value to my Prime subscription. I'm happy to have the option and plan on using the download feature more in the future. If you don't already have Amazon Prime, they offer a 30-day free trial.
Is anyone else using Prime Video while traveling? What are your thoughts?