I should've taken the clue from the agent checking me in at the American counter in Shanghai last night. After printing out my boarding passes he had a concerned look on his face and called over another agent. I asked if anything was wrong, and he responded with "computer go crazy and print five boarding passes." I quickly responded with "oh no, that's correct, I have four connections." He giggled and commented how he had never printed so many boarding passes before.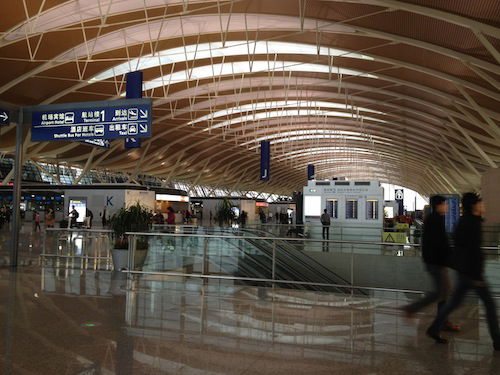 And so started a very, very long day which I'm still in the middle of. I'm headed from Shanghai to Tampa via Los Angeles, San Francisco, New York, and Miami, with long layovers and no hotels along the way. What on earth made me think this was a good idea? Oh, that's right, the miles. But sadly as I sit on this redeye (my second redeye in a row) a few thousand extra miles doesn't seem nearly as pleasant as my comfortable bed at home.
Anyway, just a quick recap of my flights thus far. Much like the outbound, my flight from Shanghai to Los Angeles was E-M-P-T-Y up front. There were at most a dozen people in business class, half of which were mileage runners. The flight was super quick at just under 10 hours, and we arrived nearly two hours early. That's a record for me! Unfortunately the flight attendant working my aisle, Charmayne, seemed to have some "headwinds," cause she took her sweet time.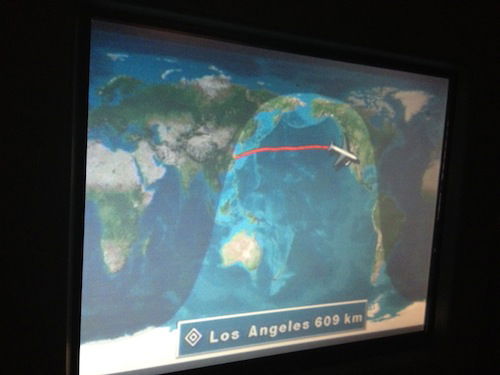 On the plus side, I managed to get about six hours of sleep on the flight, thanks in no small part to the five pillows and blankets I was able to steal from unoccupied seats to make my "bed" a bit more comfortable.
The most puzzling part of the flight? The pre-arrival meal is labeled as "brunch," and they offer you breakfast breads and juice with either a shrimp salad or bacon sandwich. That's right orange juice, a croissant, and shrimp salad. I realize that a bacon sandwich could be considered "brunch," but a shrimp salad…?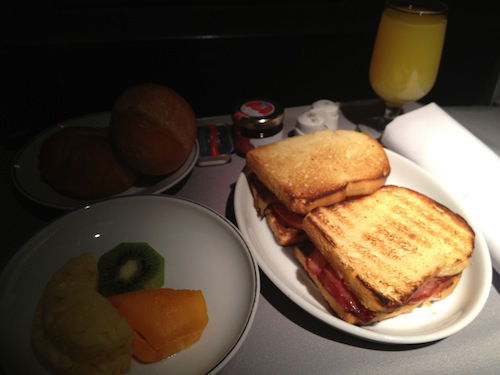 The rest of my travels have been rather uneventful, though I did run into a lot of mileage runners along the way. Now the easy part is behind me and tough part still ahead of me, as I battle to stay awake. The nicest thing about being back in the US? No doubt it's being able to Tweet. I love you Twitter.
Anyway, goodnight world. Goodnight American double elite qualifying miles promotion. You'll be missed!