One of the things that I love about Alaska Mileage Plan is that they have such a unique array of airline partners, and they even allow stopovers on one-way award tickets.
One of Alaska's cool airline partners is Icelandair. The airlines partnered until 2013, then cut ties, and then restored their relationship in 2015. This partnership has allowed Mileage Plan members to earn and redeem miles for travel on Icelandair.
Anyway, for those looking to redeem miles on Icelandair, a devaluation has just been announced. For bookings as of April 15, 2019, Alaska Mileage Plan will require 7,500 more miles for one-way economy redemptions on Icelandair. There are no changes to business class redemptions.

With these changes:
One-way awards between the US and Europe increase from 27,500 miles to 35,000 miles in economy class, and will continue to price at 55,000 miles in business class
One-way awards between the US and Iceland increase from 22,500 miles to 30,000 miles in economy class, and will continue to price at 50,000 miles in business class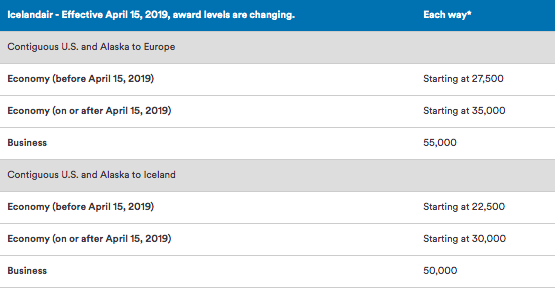 Up to a 33% increase in redemption costs is quite significant. Now here's the thing, though — there are few circumstances under which I find redemptions on Icelandair to be a good deal, especially in economy. Icelandair often has reasonable fares to begin with, and on top of that Alaska adds carrier-imposed surcharges to Icelandair redemptions.
So in addition to the miles, you're looking at $100-150 in taxes and carrier-imposed surcharges per direction in economy.

When you consider how good Icelandair's fares are to begin with, that rarely represents a good deal.
I'd say the one exception where redemptions are a good deal is if you just want to fly one-way, and want to do a stopover in Iceland en route to Europe. Icelandair has a free stopover program on paid tickets, though it only applies if you're flying roundtrip with them.
For me, the strongest part of this relationship continues to be the ability to earn Mileage Plan miles for travel on Icelandair. For example, for this fall I booked ~$1,200 roundtrip business class tickets to Iceland, and for that I'll earn over 25,000 Alaska Mileage Plan miles as an MVP Gold member, and I value those miles at ~$500.
Bottom line
It's interesting to see Icelandair redemptions in economy devalued, given that the trend nowadays seems to be for airlines to devalue premium cabin redemptions. This is bad news for those who want to fly one-way from the US to Europe on Icelandair with a stopover, but otherwise there just weren't many situations in which economy redemptions on Icelandair represent a good deal to begin with.
I'm not drawing any conclusions here, but I do find it interesting that this devaluation comes just a few days after WOW Air's collapse. Maybe it's a sign that Icelandair thinks they can command higher fares, and therefore want more reimbursement for award tickets?