Alaska Airlines had their Investor Day yesterday, and was incredibly transparent in sharing some interesting statistics in their presentation (you can watch their webcast here). I was especially fascinated by what they revealed about their Mileage Plan program, in particular when it comes to award redemptions.
Possibly the most interesting thing they shared is a chart breaking down Alaska's mileage redemptions by airline redeemed on: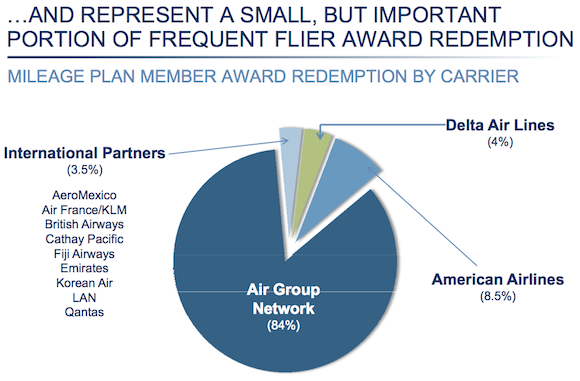 84% of Alaska's award redemptions are for travel on Alaska. Then another 12.5% of redemptions are on American and Delta (and it's interesting to note that even though Delta is Alaska's biggest partner, more than twice as many redemptions are on American, which really just reflects how little saver award space Delta releases).
But the truly shocking part is that only 3.5% of miles are redeemed on all other carriers, including Cathay Pacific and Emirates. Of those 3.5% of redemptions, 40% are for travel in first or business class. That means only ~1.4% of Alaska miles are redeemed for first or business class travel on partner airlines other than American and Delta. Interestingly, in the past 10 years the number of award redemptions on partner airlines has actually decreased — 10 years ago only 74% of redemptions were for travel on Alaska, while 26% of redemptions were for travel on partner airlines.
So while I was somewhat quick to dismiss Alaska's award chart changes which were announced a couple of days ago given that they only applied to redemptions on Alaska and didn't impact saver level coach awards, it probably impacts a lot more members than I would have thought, given that 84% of people are redeeming their miles for travel on Alaska. It'll be interesting to see whether the number of redemptions on partner airlines increases, given that most airline partners are now bookable online, and available for one-way redemptions.
Speaking of Mileage Plan, they also revealed that of the three million Mileage Plan members, roughly a million have their co-branded credit card. That seems like a lot.
Another interesting fact revealed during the presentation is that on average five first class seats are paid for per flight. Most of Alaska's planes have 16 first class seats, so that means roughly a third of Alaska's first class seats are paid for, while the rest are upgraded into. While Alaska thinks their cabin layout contributes to half of their cost disadvantage compared to low cost carriers, they're committed to keeping first class since they think it's something Mileage Plan members value. In order to hopefully sell more first class seats, Alaska will be introducing more first class fare buckets. Presently they only have a single first class fare bucket, which probably makes them the only airline where that's the case. By introducing more fare buckets they'll better be able to segment the first class market.
Alaska's partnership with Delta was also brought up, and whether they're actually friends or enemies, given Delta's expansion in Seattle. As you'd expect they answered that they're constantly reevaluating partnerships. They hinted at the possibility of their partnership with American growing, which could make sense of Delta's growth in Seattle continues.
Anyway, lots of interesting insights, so be sure to check out the presentation.
(Tip of the hat to MileCards)