Unreliable shuttle service is one of my biggest frustrations with airport hotels. Ideally airport hotels will have schedules they publish with when they pick up at both the airport and the hotel. While it's common to have published times for shuttle departures from hotels, at the airport it's generally more of a crapshoot.
My issue with waiting 30 minutes for an airport shuttle isn't just that it takes 30 minutes, but rather that the 30 minutes are completely wasted. You're having to stand on the polluted outside roadway straining your eyes to see what hotel each shuttle is from.
I wouldn't mind waiting 30 minutes if I knew it would be a 30 minute wait — I could sit down in the terminal and get work done on my laptop, grab a coffee, etc. It's just the wait time along with the unpredictability that annoys me.
Reader [email protected] forwarded me something awesome that I've never seen before. The Westin SFO and Aloft SFO share a shuttle, and there's an online link where you can track the status of the shuttle in real time. Apparently this link is being sent out to guests in a pre-stay email, and it's also on the hotels' websites.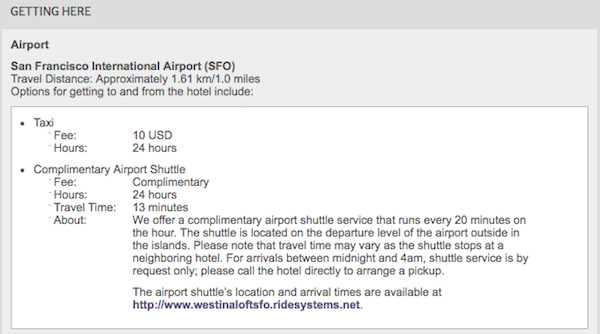 Then you can track exactly where the shuttle is, and also see estimates as to how long it will be until the shuttle reaches the terminals, hotels, etc.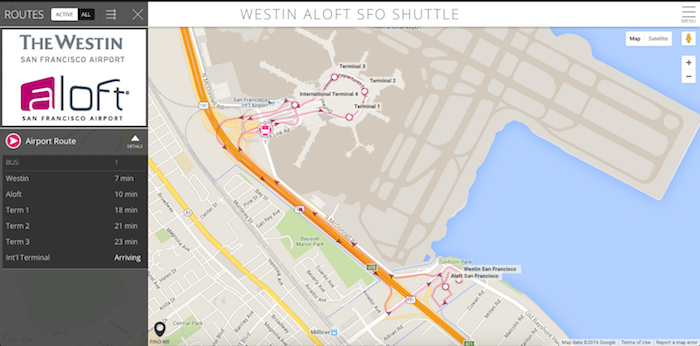 This is brilliant, and surely a tracker can't be that expensive to install. Why can't more airport hotels do this? It would take 90% of the aggravation out of the airport hotel shuttle experience for me.