One of the nice side effects of Twitter (other than finding out what your favorite celebrity had for lunch) has been the customer service many travel brands have provided through their channels. While the quality of the service can be inconsistent, many brands do a great job, all things considered. It's nice to be able to fire off a direct message to an airline or hotel in order to get something done, rather than having to pick up the phone and call (especially when out of the country or on a plane, where you're limited to Wi-Fi).
The one slight annoyance is that you're limited to 140 characters, both via Tweeting and direct messaging. I suppose that's not something we can complain about, given that short messages is sort of the reason that Twitter exists.
That being said, it looks like Twitter will be lifting the 140 character limit on direct messages at some point in July.
Via engadget:
Twitter really wants you to start using Twitter DMs to privately chat with your friends. Of course, when you're chatting with folks, a 140 character limit means you have to span your long messages over multiple posts which sort of kills the flow of a story. But, starting sometime in July, you won't have to worry about that because the company is removing the 140 character limit in DMs.
While it might seem minor, to anyone who uses Twitter regularly to communicate with a travel company, this is fantastic news.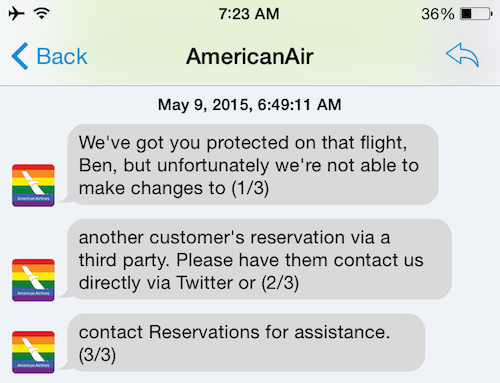 (Tip of the hat to Chris)