In late February Pakistan's airspace closed, which is having huge impacts on airlines globally. This doesn't just impact flights to and from Pakistan, but also flights between other regions, given how central their airspace is.
One airline greatly impacted by this airspace closure is Air India, given that many of their routes to North America and Europe used this airspace. So a few weeks ago I wrote about how Air India has adjusted their schedule on several US routes in light of this.
As I noted at the time:
Some flights from India to the US are routing via Vienna to refuel
Some flights from India to the US are routing via Mumbai rather than Delhi
Some flights are making fuel stops based on the winds on particular days
One of Air India's only flights to not have a schedule change is their Mumbai to Newark flight. The flight has been taking payload restrictions (meaning they haven't been able to take all passengers and/or cargo), but it has continued to operate nonstop.
Well, in light of this situation, Air India has lowered the baggage allowance on the flight between Mumbai and Newark only. Specifically, for tickets issued as of April 1, 2019, Air India reduced the economy baggage allowance on the Mumbai to Newark route from two bags to one. The maximum weight limit per bag continues to be 23kg.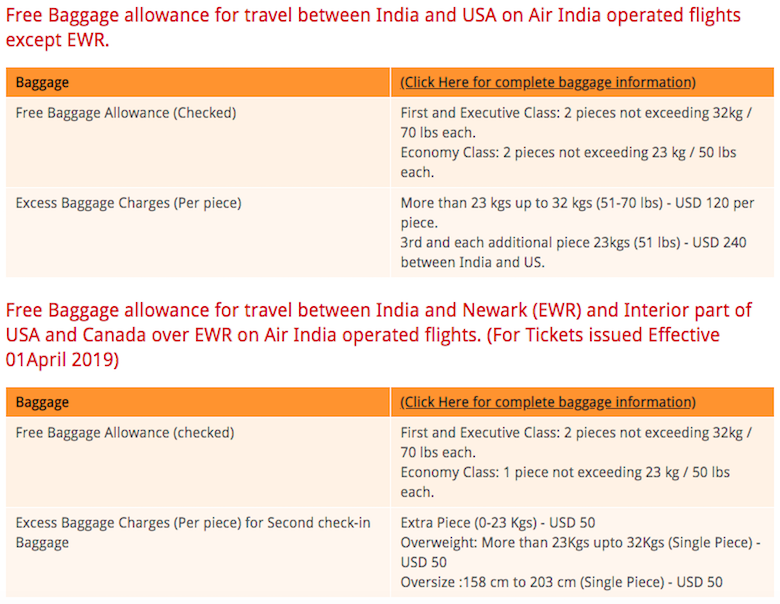 There are two things that I find especially interesting here:
This isn't a hard limit, so you can still pay $50 for an extra or overweight bag; if the flight is indeed weight restricted, shouldn't they not even let people pay for a second bag?
The flight from Mumbai to Washington is 200 miles longer than the flight to Newark, and it's operated by the same plane, yet the restriction doesn't apply to that
Bottom line
It's interesting to see Air India respond to the current situation by reducing the baggage allowance in economy on one route. I believe that their intentions are right given the payload restrictions the route has been subjected to, but I still find it strange that you can pay for extra baggage, and that the flight to Washington Dulles isn't impacted by this.
It's something to be aware of if you're traveling with Air India, though.
(Tip of the hat to Live from a Lounge)