On Tuesday I put up a quick post regarding two Air France flights, AF 65 from Los Angeles to Paris and AF 55 from Washington to Paris, that had diverted in Salt Lake City and Halifax, respectively, due to security threats.
As it turns out, luckily, it appears the threats were mere threats and there were no actual bombs on either of the planes. Nonetheless, in the wake of the Paris terror attacks last week, you can imagine how scary it would be to be a passenger on one of those diverted flights.
Longtime OMAAT reader JR Lander was on AF 65, and has graciously provided his firsthand account below. Thanks, JR, for this riveting account.
---
After commenting in response to Nick's post regarding the Air France flights diverted on Nov. 17th, he asked if I would write a bit about the experience.
My spouse and I were on our way to Vienna via Paris. We had actually been booked on KLM World Business Class, but were moved over to Air France because the entertainment system on the KLM flight was not working. We enjoy Air France business, even if the seats aren't great, so we obliged. We figured we'd rather have the angled seats with entertainment, than a flat seat with no entertainment.
The flight boarded as departed on time… nothing seemed out of the ordinary. The flight attendant had just placed my entree on my tray, and was grabbing my spouse's, when suddenly he stopped. The attendants quickly rushed the carts back to the galley. In the next several minutes, we watched crew members running down the aisles, and quickly taking away any service items. We noticed a rapid descent. While picking up our plates, one of the flight attendants apologized profusely, and said "we have been asked to land." Within a few minutes, the crew made an announcement that we would be making an emergency landing in Salt Lake City. No explanation was given.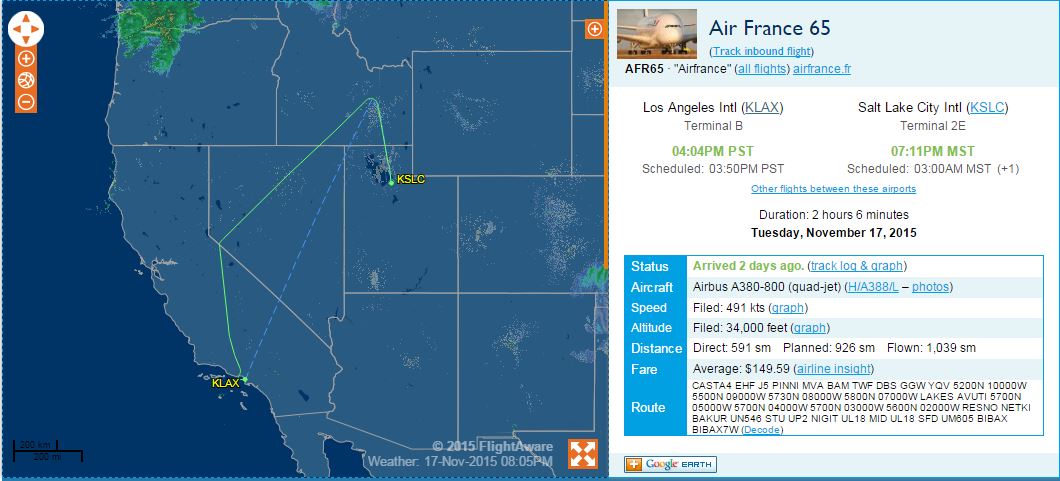 [Editor's note: Passengers on AF 55 from Washington were told their plane was making an emergency landing in Halifax due to "technical reasons."]
I was a student in New York on September 11th, 2001. My memory of that day is still vivid, as the planes flew directly over my school. When we were told it was an emergency, I immediately feared that some massive attack of that nature had happened. My mind was racing. They instructed us to pay attention to the crew, but made no mention about bracing or anything like that. We simply did not know what was going on.
As we landed, I saw a huge collection of fire trucks, police vehicles, and I imagine some EMT crews. I actually felt a sense of relief, as I realized that whatever was going on was with our plane, and not something bigger. My husband turned on his phone, and when it became clear no major news event had happened, we figured it was likely a sensor in the plane, or a bomb threat. At some point, the captain came on, apologized, and said that the plane had been ordered to land for a "security situation." Before too long, stairs were brought to the front and rear doors of the plane, and we were asked to collect all our hand luggage, and deplane.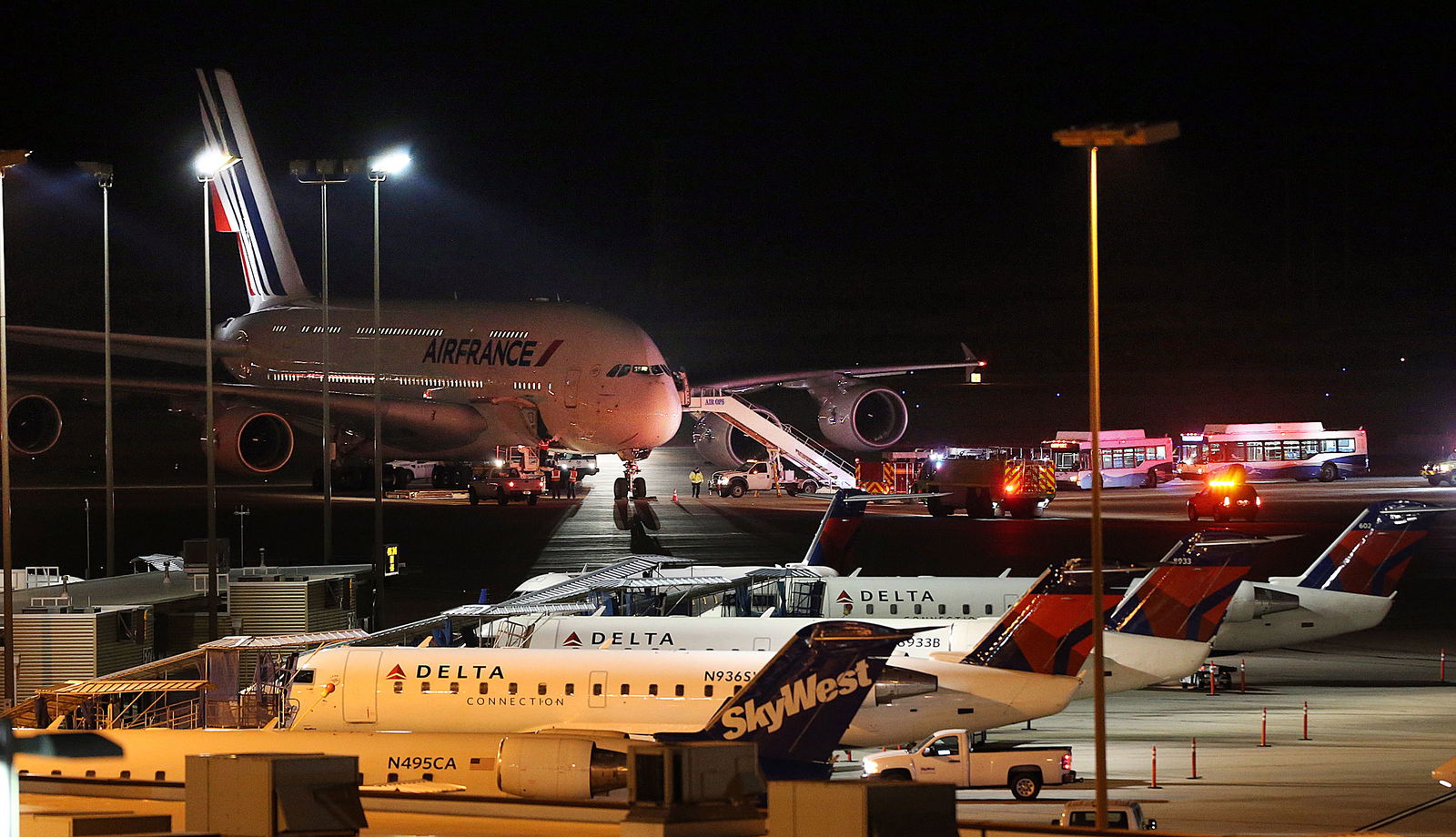 We were driven, in groups of two buses accompanied by police vehicles, to the SLC terminal. Walking into the terminal, we realized that we were in the immigration and luggage claim section. We were told that more information would be coming shortly. At this point, I was no longer really frightened… but still shaken from not knowing what was going on during the landing. Eventually after the 450+ passengers were deplaned (the plane wasn't completely full), announcements began to be made.
An FBI agent announced that a bomb threat had indeed been made, that the plane would be thoroughly searched, and that all passengers would be interviewed. No longer truly afraid, my emotions switched to worry about how and when we would eventually get to Vienna. We were able to get online using SLC Wifi, and messaged our parents to tell them we were fine… and that, yes, we would be continuing onto Vienna. This was also when we learned about the IAD-CDG diversion, and we were glad we didn't get diverted to Halifax! Learning about that other diversion actually didn't have much impact on us, as we were pretty sure these would turn out to be hoaxes.
We also emailed the Hilton Vienna Plaza to tell them of the situation, and assuring them we would be there either the evening of the 18th, or sometime on the 19th. The hotel quickly emailed back, and assuring us that they would keep our room for us.
Later we would find out that Air France was flying in a maintenance crew to look over the plane, which indicated to us that the flight would be continuing. Air France's website showed a 12:01AM departure, with a 5:50PM arrival in Paris. Checking the possible connections to Vienna, we were pretty sure that we would get to Vienna that night.
We then spent the next few hours getting comfortable. We found that reclining on the luggage conveyor belts was surprisingly comfortable… though maybe it was just our exhaustion. The staff of the SLC Airport, and Delta's station there, brought around water, snacks, blankets, and coffee. Eventually they even brought in pizza and McDonald's hamburgers. It wasn't a great situation, but the crew there made it as comfortable as they could. I can't say enough good things about those two groups.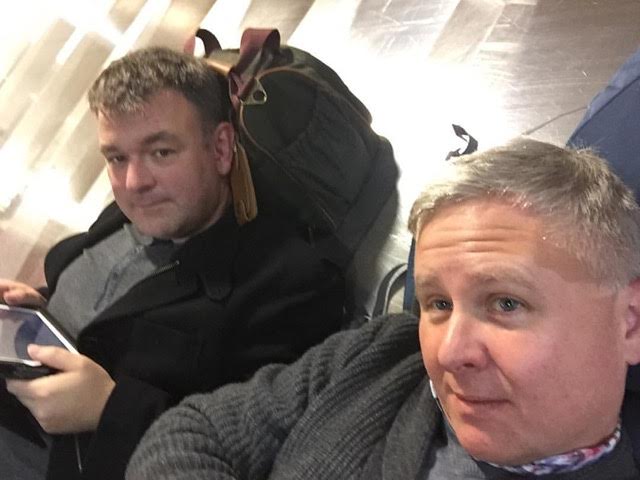 For the most part, the passengers of the flight were calm. In fact, there was some joviality. People began playing cards and other games, and just settling in.
At the entry to the secondary screening section, a line formed for people to be interviewed. The line was never too long, as people would stay seated until the line had died down a bit. The FBI called in all available agents so as to move things along as quickly as possible. When it was our turn, the FBI agent introduced himself and asked if we were traveling alone or together. As we were together, we were taken for questioning together. The agent pulled out his ID, introduced himself, and explained what was going on. He asked a few basic questions, and asked us if we had any questions. We thanked him for his kindness, because he really was concerned that we were OK.
Returning to our luggage conveyor belt recliners, we then waited some more. Before long, and announcement was made that although the plane hadn't been cleared yet, it was being fueled, and that was a positive sign. They also announced that anyone who didn't wish to continue on the flight should speak to a Delta agent, with the caveat that if any passengers did not have a visa allowing them to remain in the US, at least for a few days, that Delta would have to speak to Homeland Security, and that Homeland Security would have jurisdiction.
Many people apparently did decide not to continue, but the vast majority chose to return to the flight. At this point, we were quite optimistic that we would be in Paris sometime on the 18th, and in Vienna either that night or the next morning.
The Air France crew returned, always elegant in their Lacroix uniforms, and went to prepare the plane for a return to flight. I had thought I would be more worried than I was, but (1) I was tired and (2) I figured that plane would be pretty darn safe. In fact, they would soon announce that the FBI had cleared the plane, ensuring that no explosives were onboard, and that the Air France maintenance crew and engineer were also making sure the plane was safe to continue.
The interviews wrapped up, and they began preparing us for boarding. As you can imagine, the Customs/Immigration area of an airport is not the most ideal place to organize boarding. People crowded in front of the doors that we had entered. The Delta crew began announcing that the first to board would be rows 60 and higher, or the upper deck of the plane. Those of us in this area tried to push ourselves forward to where our boarding passes were being checked against a master list of passengers. It was frustrating, but not unexpected. We eventually got in the correct line, boarded onto a bus, and returned to the plane.
Onboard, people were of good cheer, and just happy to be continuing. Eventually everyone was boarded, and we were set out on our way. SLC Airport is not designed to handle A380s, and it took some time to get the plane to the end of the runway. In fact, we had a lead car showing us the way. But we got there, took off, and returned to our route.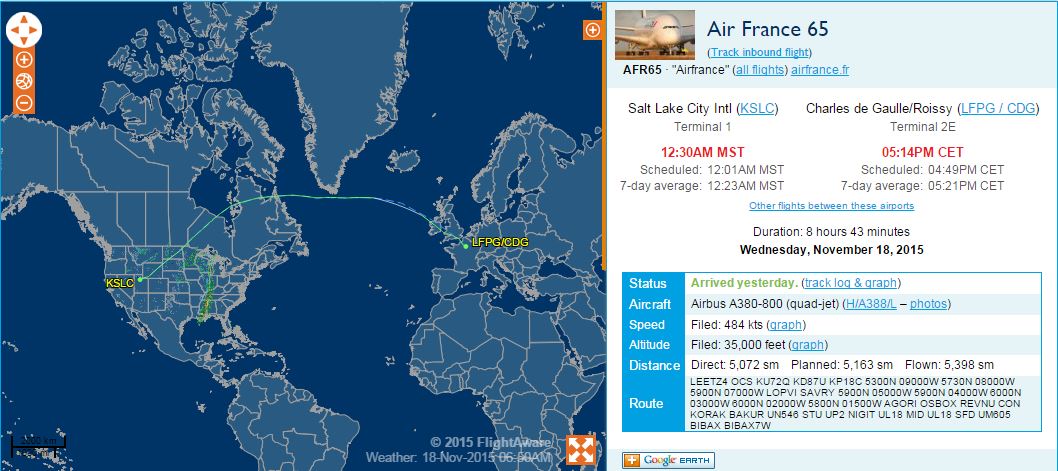 We arrived into Paris about 5-6 hours late, and had been rebooked onto an Austrian flight to Vienna a few hours later. We arrived into Vienna at 10:15PM, a full 7 hours later than we expected. Not surprisingly, our luggage did not make the plane. As I write this, we are hoping our bags made the flight today, and will be at our hotel this evening.
Since OMAAT readers always seem to enjoy a celebrity sighting, Djimon Hounsou was in the row in front of us. On his Facebook page, you can see a photo of him checking in at the Air France counter in LA on Tuesday.
About JR: J.R. Lander is an Episcopal priest, works at St. Francis Episcopal Church in Palos Verdes, California, and lives in Long Beach, California. He is married to Tim Hendrix, a manager with Boeing Commercial Aviation Services. (yes, sometimes Boeing people do end up on Airbus planes). J.R. is a long-time OMAAT reader, and learned the value of frequent traveller points from his father growing up in the 1980's and 90's. J.R. and Tim travel overseas at least once a year.