Last night a US Air Force aircraft had a bird strike on takeoff. Specifically, this was Air Force 2, carrying Vice President Mike Pence. The plane involved in the incident was a Boeing 757-200, referred to in this configuration as the Boeing C-32.
The plane took off from Manchester-Boston Regional Airport in New Hampshire, and just seconds after takeoff the right engine experienced a bird strike.
Here's a video, where you can see the moment the bird strike happened, about six seconds in:
Breaking: video of Air Force 2 bird strike recorded by MHT Aviation channel's Daniel Cerritos. You can see it at 7 seconds in. Air Force 2 returned safely to Manchester-Boston Regional Airport. pic.twitter.com/AiNqIka3uv

— Jean Mackin (@JeanWMUR) September 23, 2020
VASAviation has a video with the ATC audio — it took the pilots a while to report this to ATC, which is understandable (pilots are told to aviate, navigate, and then communicate), and also reflects that this was fairly minor. It's not possible to track Air Force 2, so all we can go off of is the ATC audio. You can listen to it here:
As you can probably tell, this is a fairly minor incident, so it's nothing like the US Airways aircraft that ditched in the Hudson many years ago. The pilots of Air Force 2 didn't declare an emergency but did request to return to the airport, so the plane made a precautionary landing in Manchester without issue.
Upon landing the VP took a look at the engine himself…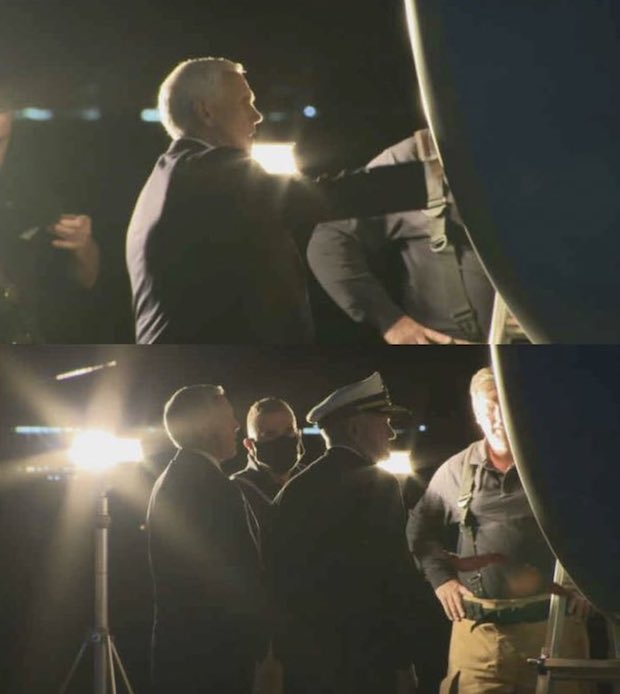 It's my understanding that the aircraft is still in Manchester as of now, so it sounds like there may have been some minor damage.
Worry not, though — VP Pence was able to make it back to DC the same night, though on a significantly less comfortable plane. He instead flew home on a military cargo aircraft, a Boeing C-17, which is typically used to transport vehicles during travel.
Air Force 2 has a little different look tonight. Now in a C17 and happy for it! Thanks to the pilots and crew for getting us safely back on the ground. pic.twitter.com/N81N9MK8Ra

— Dr. Rachel Levine (@HHS_ASH) September 23, 2020
Like I said, bird strikes aren't really newsworthy in and of themselves. However, it's not every day this happens to the VP of the US, and that the alternative transportation is a C-17.
(Featured image courtesy of Sam Meyer)