As I mentioned previously, over the coming days and weeks you'll see the occasional post from a fellow reader who has applied to write for OMAAT on an ongoing basis. It's possible that posts will still be in the publication queue after we've announced our decision, so we'll be publishing these anonymously. We hope you enjoy the different perspectives!
---
Aeroplan miles are often touted as an attractive redemption option for intra-Canada flights, domestic U.S. travel on Star Alliance partner United, and for reasonable cost Star Alliance business class flights to Europe.
Those are all fine uses; just make sure you avoid carriers on which Aeroplan imposes fuel surcharges! But the Aeroplan rewards chart also offers a unique value proposition on a perhaps under-appreciated travel destination, Eastern Canada.
In particular, Aeroplan has reasonable award options for travel to Quebec and — further East — to Atlantic Canada, consisting of the Canadian provinces of Nova Scotia (NS), New Brunswick (NB), Newfoundland and Labrador (NL), and Prince Edward Island (PEI).
Apart from Montreal and perhaps Halifax, this region mostly lacks bustling urban hotspots. Nature-lovers and fans of quieter, more off the beaten path will find plenty to love.
The area's relative remoteness (as well as Canada's relatively monopolistic national airline, Air Canada) can make purchasing cash tickets prohibitively expensive. I'm here to show you how to avoid those nasty cash prices by using a little bit of know-how and a minimal outlay of miles.
Why it works
There are two aspects of Aeroplan's rewards chart and redemption rules that combine to offer particularly favorable travel award options within Eastern Canada (excluding Ontario).
Specifically:
All intra-Canadian travel on Air Canada either within or between Quebec and Atlantic Canada is classified as "Short-haul," and therefore costs only 15,000 miles round-trip
Mileage redemptions for round-trip award travel can include one free stopover (or an open jaw), provided that all flights on the itinerary are flown on Air Canada
If we combine that with the previously examined Aeroplan rewards chart, we see that it would be possible for someone originating anywhere in the U.S. or Canada to visit up to four destinations in Quebec and/or Atlantic Canada, for as long as they want, for a maximum of 40,000 Aeroplan miles, plus taxes and fees.
How? By booking two round-trip itineraries and strategically utilizing the stopover of the first round-trip itinerary as the origin of the second round-trip itinerary.
For example, suppose your home airport is Orlando, and you want to visit Montreal (YUL) and Halifax (YHZ), visit the bay of Fundy, near Saint John, NB (YSJ), and — needless to say, of course — there's your pesky, Lucky-inspired, bucket-list worthy, not entirely explicable, compulsion to explore Fogo Island, near Gander, NL (YQX).
You could book the following: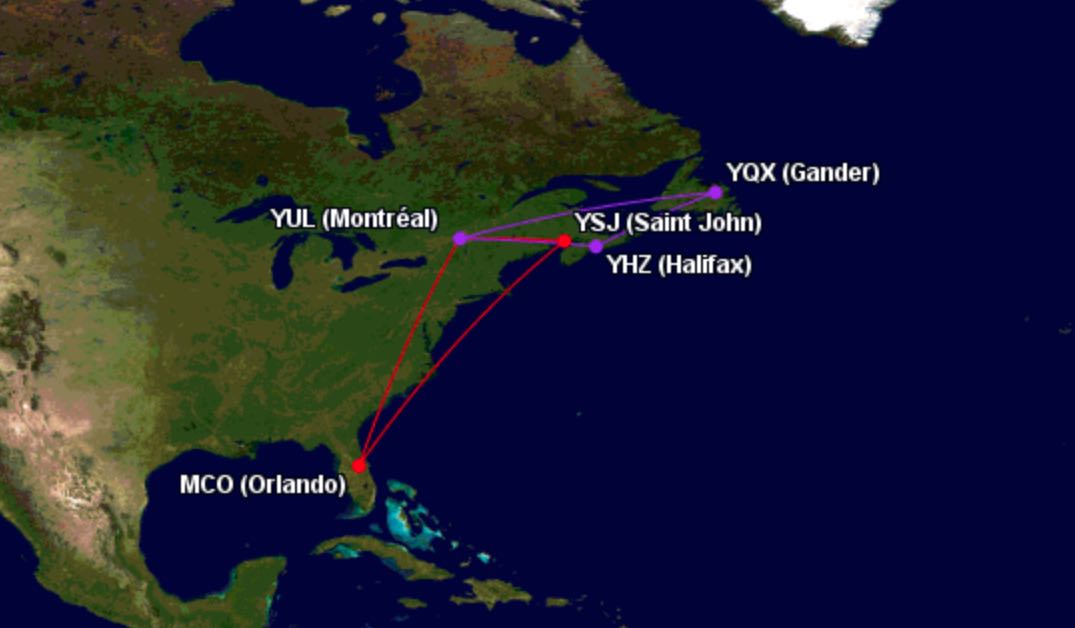 Itinerary #1 ("Long-haul," 25,000 mile cost):
MCO – YUL (Stopover) – YSJ (Destination) – MCO (Home)
Itinerary #2 ("Short-haul," 15,000 mile cost):
YUL – YHZ (Stopover) – YQX (Destination) – YUL
Wait, it gets better
I demonstrated above how someone can book travel from anywhere in North America to four separate destinations in Eastern Canada for just 40,000 Aeroplan miles round-trip. But Aeroplan also considers many itineraries between Eastern U.S. airports and either Quebec or Atlantic Canada as "Short-haul" for mile redemption purposes, again provided all flights are on Air Canada.
Here is their chart showing exactly which combinations qualify:
Note especially that many U.S. airports are subject to "Short-haul" pricing on flights to or from the province of Quebec. Even flights from as far away as Atlanta and Minneapolis qualify!
Don't like connections? If we restrict our list to airports with nonstop Air Canada service to Montreal, there are still plenty of options, with flights originating in ORD, IAD, LGA, BOS, PHL, BDL, PIT, or BWI that cost just 15,000 Aeroplan miles round-trip.
Putting it all together, this means while the above "Itinerary #1" originating in MCO would cost 25,000 miles (and 40,000 miles total, when combined with Itinerary #2), it could be modified slightly if originating from a "Short-haul" qualifying airport to yield an all-in cost of just 30,000 miles. For example: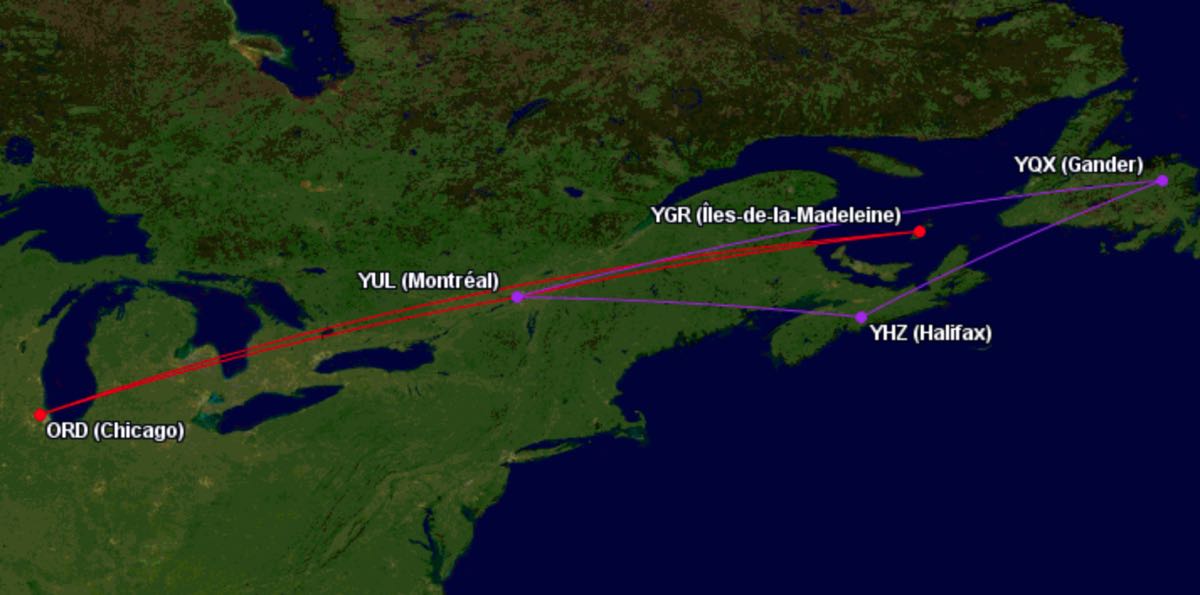 Itinerary #1A ("Short-haul," 15,000 mile cost):
ORD – YUL (Stopover) – YGR (Destination) – ORD (Home)
Itinerary #2 ("Short-haul," 15,000 mile cost):
YUL – YHZ (Stopover) – YQX (Destination) – YUL
Note that I replaced the initial destination, YSJ, with YGR (Magdalen Islands), which is in the province of Quebec in order to get the 15,000 mile cost (for travel from Illinois). Subsequent flights completely within Quebec or Atlantic Canada will still price at 15,000 miles regardless.
Some Potential Stops and Destinations
In Quebec:
YUL – Montreal
YQB – Quebec City
YGR – Magdeline Islands
YGP – Gaspe
In Atlantic Canada:
YHZ – Halifax, NS
YQY – Sidney, NS
YSJ – Saint John, NB
YQM – Moncton, NB
YYG – Charlottetown, PEI
YYT – Saint John's, NL
YQX – Gander, NL
Hints And Caveats
To find direct flight award availability, I recommend searching United for individual flight segments using the "show only nonstop flight availability" feature. Then use Aeroplan's multi-city trip planner to build your itinerary, confirm pricing details, and ultimately book your travel.
Keep in mind that, while the intra-Canada flights in the sample itineraries in this post are all available direct, some of the routings between airports in Eastern Canada do require connections and/or stops. Award availability may also be much better utilizing a connection. Please check Air Canada's flight map for possible routings when planning your travel.
Air Canada does have carrier surcharges on these flights, and Canadian airport taxes and fees are also relatively high, so these flights are going to require a modest cash outlay. Cash prices for the same tickets, however, are much, much higher.
For the ORD-originating itinerary outlined in this post, the cash component of an award booking totaled $420 CAD all-in ($320 USD) for a late-summer trip booked almost six months in advance. By comparison, the cash price for the same flights totaled $1,946 CAD ($1485 USD).
This represents a cash redemption value of nearly 3.9 cents (US) per Aeroplan mile, an outstanding value for an economy booking.
How To Get Aeroplan Miles
Aeroplan is a transfer partner of both Amex Membership Rewards and of Starwood Preferred Guest, so you can transfer points from either of those programs.
It is worth noting, however, that now through April 16, Aeroplan is offering a 25% points bonus on point transfers from hotel loyalty partners, including Starwood. Thus, while Amex Membership Rewards points currently transfer (as they do typically) 1:1 to Aeroplan, Starpoint transfers will earn you an extra bonus (on top of the standard 5,000 mile bonus for transferring 20,000 points).
During this promotional offer, 20,000 Starpoints will get you 31,250 Aeroplan miles, enough for one four stop Eastern Canadian adventure from many major cities!
Have you been to Eastern Canada? Any favorite destinations?