Air Canada Aeroplan is back with yet another awesome promotion.
Get 50% of miles back on some awards
We've just seen the launch of what Air Canada Aeroplan calls the program's "best redemption offer ever." I'm not sure that will be the case for everyone, but it's a pretty noteworthy promotion nonetheless.
With this new promotion, Aeroplan members who book a flight reward will get 50% of miles back:
Tickets need to be booked between June 17 and July 1, 2020, to be eligible
This promotion is valid for travel between July 1 and October 15, 2020
Members can receive 50% of miles back when redeeming for routes within Canada, and for routes between Canada and the US
Only travel on Air Canada is eligible for this promotion
50% of Aeroplan miles will be credited back to your account within three weeks of your eligible flight
This is valid for one-way or roundtrip fixed mileage and market fare flight rewards; not applicable to Star Alliance Upgrade Awards, AC Bid Upgrades, or when members use miles to pay for taxes, fees, and surcharges associated with rewards
Aeroplan ordinarily charges the following number of miles for one-way fixed mileage awards within Canada, and between Canada and the United States:
Short haul economy — 7,500 miles
Long haul economy — 12,500 miles
Short haul business — 15,000 miles
Long haul business — 25,000 miles
To give a sense of pricing, a one-way business class award from Montreal to Toronto costs 15,000 miles, so you could expect to get 7,500 miles back, meaning you'd pay only 7,500 miles in the end.
Meanwhile a one-way business class award from Toronto to Vancouver costs 25,000 miles, so you could expect to get 12,500 miles back, meaning you'd pay only 12,500 miles in the end.
The only real catch here is that Aeroplan does have carrier imposed surcharges when traveling on Air Canada metal, so the fees are higher than you might find on a domestic award flight within the US, for example.
I should also mention that you can always speculatively take advantage of this offer. Aeroplan has a flexible policy for rewards through August 31, 2020. Members can cancel free of charge and receive all of their Aeroplan miles back in their account, plus a full refund of any associated taxes, fees and surcharges, on the unused value of tickets.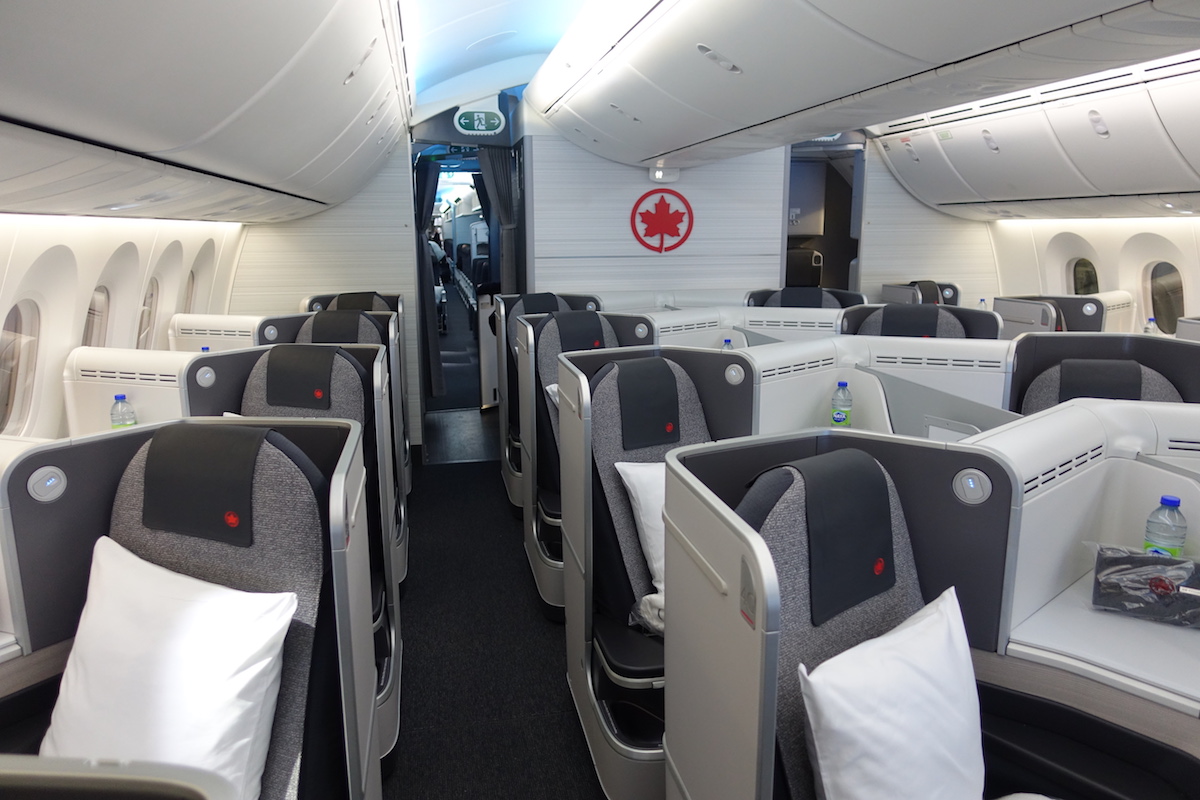 Pay just 12,500 miles for business class on a transcon flight
Air Canada Aeroplan has impressed me lately
I've been so impressed by the Air Canada Aeroplan program during the pandemic, thanks to all the ways that the program has engaged members.
Among these initiatives:
Aeroplan shares some interesting data as to just how popular these promotions have been:
Over 5.5 billion Aeroplan miles have been earned, purchased, or converted
Over 5,000 members have obtained Altitude Prestige 25K status, or have upgraded their status without flying
Over 27 million Altitude Qualifying Miles (AQMs) have been earned without leaving the ground
Bottom line
Aeroplan has a great new promotion for flight redemptions, where members can receive back 50% of the miles they redeem for Air Canada flight awards within Canada, or between Canada and the US.
This is a great deal, though understandably won't be of use to everyone. Still, when you consider that a vast majority of people redeem miles for short haul travel, I imagine this will come in handy for many.
Do you plan on taking advantage of Aeroplan's 50% off award flight promo?