Australia is a tricky destination, particularly when using miles, and even more so if you're looking for flights in a premium cabin. Comparatively few carriers operate routes between North America and Australia, and award inventory is incredibly limited.
However, Qantas recently announced service between Sydney and San Francisco. As is often the case with new routes, award space is more plentiful than normal. I see two seats on many days through the end of the schedule — about 50% of a given month, which is essentially unheard of.
But the enhanced availability comes with a catch (and is probably the reason there are any award seats left at this point). This space isn't visible online… at least on most websites.
Finding Qantas award seats
Typically, I like to search for Qantas space using aa.com. They have a great calendar view, and as Qantas premium cabin space is generally a needle in a haystack, being able to search a month at a time is delightful.
In this case, however, Business class awards aren't even displaying.
The same goes for the British Airways tool:
Fortunately, it is possible to search this space online without using a "Pro" tool. You'll need to create a Qantas Frequent Flyer account, but unless you live in Australia there's no charge to do so.
Once you've logged in to your account, enter the flight details, making sure to check "Search Classic Flight Rewards."
The Qantas results display is super quirky, but you're basically looking for flights that show a person sitting in a seat. If the seat is clickable, there's award space:
And other carriers should have no issues securing "Classic" flights over the phone. I was easily able to hold this flight through American, for example:
You have a few options when redeeming miles on this route, depending on which currency you have.
Alaska Mileage Plan charges just 55,000 miles one-way
American AAdvantage charges 62,500 miles one-way
British Airways Avios charges 100,000 miles one-way
Cathay Pacific Asia Miles charges 70,000 miles one-way
Although they require a few more miles than Alaska, I would probably redeem AAdvantage miles for this. Alaska will allow you to route via Asia on Cathay Pacific for no additional miles, and has several other great redemption options. This is a rather rare opportunity to use American miles for non-stop flights to Australia.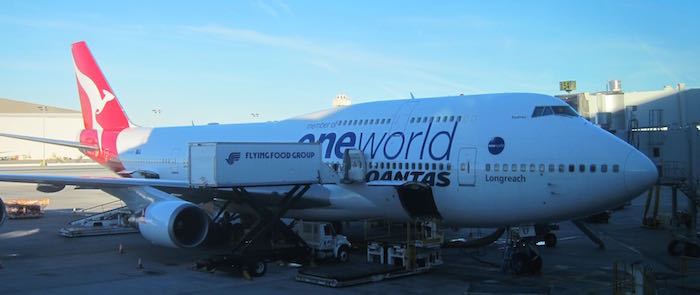 Bottom line
If you're looking at redeeming any miles to Australia other than Delta SkyMiles, and don't want to route via Asia, this is the way to go. I don't expect this to last long. At least hold the space.
Ironically, I spent a large portion of dinner last night grumbling to Ben and Travis about the lack of reasonable AAdvantage redemption opportunities to Australia. Any other routes I should be complaining about? 😉
(Thanks to reader SG for the tip!)