With just under two months left in the year, it's a good time to start looking at your elite qualifying activity and finalize your status goals for the year. Are you at 40 elite qualifying nights with Hyatt or Starwood? It might be a good time to decide whether you want to go for Diamond or Platinum status, respectively.
Are you at 80,000 elite qualifying miles for the year with American, United, or US Airways? It might be worth thinking about whether you'll achieve top tier status with your current travel plans or not. If you won't, it might be worth considering whether or not a couple of mileage runs would make sense for you.
While it's not something we usually see from hotels, it's pretty normal for airlines to offer an opportunity to "buy up" to status at the end of the year. It's rarely cheap and almost always comes with a lot of fine print, but if you're desperate enough it is worth considering.
For example, last year American AAdvantage offered an Elite Boost offer, whereby if you were within 5,000-10,000 miles of earning a status tier, you could "buy up" to that tier. Rates were high. For example, if you had 95,000 elite qualifying miles and wanted to "buy up" to Executive Platinum status, it would cost you $1,199.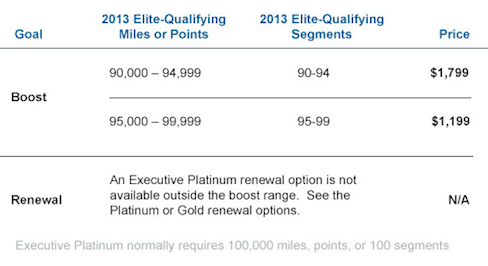 I'd never voluntarily pay that, but at the same time if I happened to end the year with that many EQMs, mileage running wasn't an option, and I had a decent amount of travel planned the following year, I think that's well worth it for eight systemwide upgrades, unlimited complimentary domestic upgrades, etc.
Last year the Elite Boost offer was rolled out on November 8. While we haven't heard anything official this year yet, JonNYC notes that in the past couple of days aa.com/elite has been updated from:
Thanks for stopping by

This promotion has ended.
To:
Coming Soon.

So I think it's safe to assume that this promotion will be returning this year, probably this week. I'd expect prices to be at least as high as they were last year, if not higher. I'd also expect that AAdvantage won't be doing any "rouding up" of status, given the published ways to buy up to status under this program.
Make sure you plan your travel and get those mileage runs booked before the end of the year, so you don't end up paying 20+ cents per elite qualifying mile!