Last night I was booked on UA931, the 6:59PM flight from San Francisco to Los Angeles. Unfortunately the flight was substantially delayed, so I decided to do some investigating. I tracked where the plane was coming from, and as it turns out it was UA926 coming from Los Angeles, and it was delayed due to a mechanical. What makes this interesting is that UA926 is the same flight number that continues to Frankfurt. The airlines love to market "direct" flights which really have stopovers, in this case "fly direct from Los Angeles to Frankfurt." I'd bet several people aboard the Los Angeles to San Francisco flight were connecting to Frankfurt, and many probably had no clue that there was a plane change until check-in.
Take a look at this picture: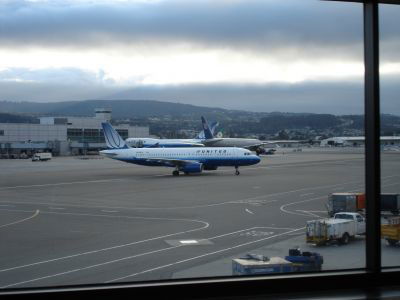 See that 777 in the background? Looks like any other 777, right? Nah, that's the 777 going to Frankfurt, while the same flight from Los Angeles hasn't even arrived. Heck, they missed each other by over an hour.
All US legacies do this. It's a deceiving practice and it needs to STOP.