You don't need to be a five star Ritz Carlton or Four Seasons to master the art of customer service. The Holiday Inn Ontario is a perfect example of a hotel that "gets it." I've stayed here many times, and the rates are always fantastic, anywhere between $54 and $69.
I typically arrive late at night, and unfortunately their shuttle doesn't run all that late. The first classy thing they do is pay for your cab if you arrive or leave at a time that the shuttle isn't running. I always deal with the same night auditor, and he just couldn't be friendlier. Most recently when I checked in at 2AM he said "Oh, I thought you weren't going to show, but since you're a Platinum I wouldn't have charged you if you hadn't." Good to know since I was on a non-refundable rate. Now that's a pro-customer approach!
Furthermore I usually get upgraded to junior suites, which are huge. Actually, I find them to be uncomfortably large. I like walls, and this is just one huge room that's somewhat sparesely furnished. The pictures below don't quite do the room justice, because it's quite a hike between the bed and bathroom/door. The room is as modern and well equipped as you would expect at any four star hotel.
Furthermore, all Platinum members get a welcome letter, water, and fruit.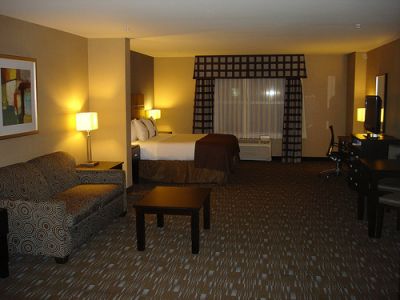 Junior Suite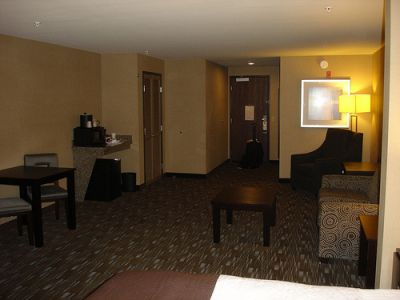 Junior Suite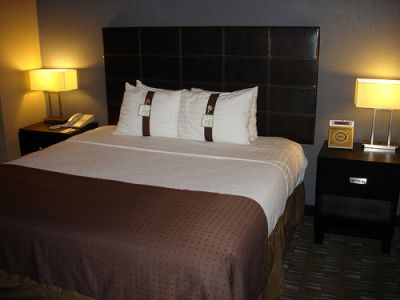 Bed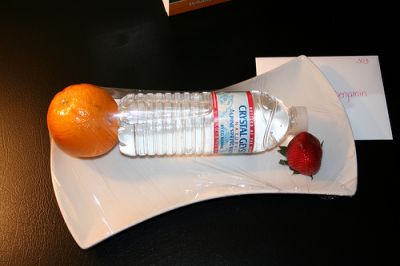 Welcome gift
Everyone at this hotel just has such a positive, "it's my pleasure to serve you" mentality that it's always great to stay here. It's the little things that make a huge difference, and that's where this hotel shines. I highly recommend this property.