…there's no punchline, I would just love to know more about it.
Miami is amazing for plane spotting
One of my favorite things about Miami (and in particular where I live) is the amazing plane spotting opportunities. The city is really close to the airport, and from many parts of town you're right under the approach path for the airport.
I'm not exaggerating when I say that I have the Flightradar24 app open morning, day, and night. There's nothing like seeing the procession of Atlas Air Cargo 747s in the morning, coming from Anchorage, Bogota, and Santiago, or the afternoon Air France and Lufthansa A380s.
Believe it or not, those aren't the planes that fascinate me most, though…
The 64 year old Convair CV-5800 from Honduras
At least a couple of times per week I notice a Convair CV-5800 operated by IFL Group approaching Miami from San Pedro Sula, Honduras. There are two things that make this interesting:
You don't see a whole lot of Convair planes flying nowadays
I don't know how to describe it, but the plane approaches Miami with a ridiculous trail of smoke behind it… at first I wonder if the plane is okay, but then I'm reminded of which plane it is
Anyway, after seeing the approach yesterday, I did some digging. The IFL Cargo Convair CV-5800 had the registration code N371FL. After Googling the registration, I found out the plane was actually built in 1956. OMFG.
The most common route for the plane seems to be Miami to Guatemala City to San Pedro Sula to Miami, though there are some other "triangle" flights as well, like Miami to Merida to Cancun to Miami.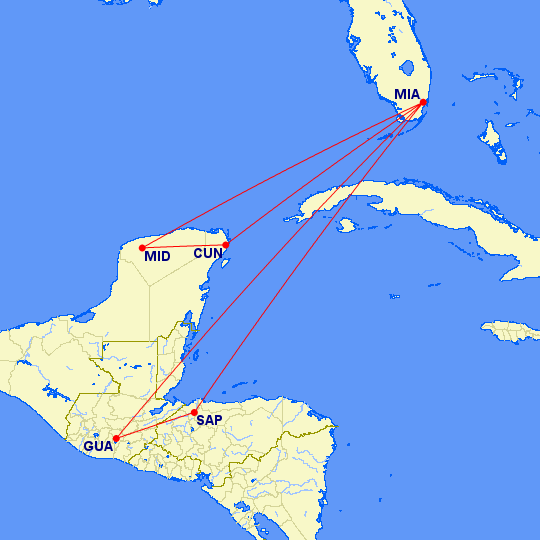 I have so many questions…
I find this utterly fascinating, and I have so many questions. Collectively you guys have answers to just about everything aviation related, so I'm curious if anyone has answers to any of these:
How many Convair CV-5800s are even flying nowadays? It's surprisingly hard to find a straight answer, since there may be some out there not being flown in an especially "legitimate" manner…
Does any cargo airline operate a plane build prior to 1956?
How much have the cockpits of these ancient planes been updated? On the one hand I'd have to assume significantly, but at the same time how much is it worth investing in planes this old?
Are the pilots for these planes all based in the US?
With pilots being in high demand, who exactly ends up flying 64 year old turboprops between Miami and Honduras? Is this a stepping stone for the regionals and one step up from being a flight instructor, do they retain pilots because they can be home the same day sometimes, or…?
Given the amount these planes fly specifically from Honduras to the US, is the plane just carrying whatever needs to be transported that day, or do we assume they have a specific contract to transport lobsters, bananas, coffee, or something else?
While I still have a lot of questions, I think I may have at least partly answered the pilot question myself.
Based on AirlinePilotCentral, it appears they have pilots based in Miami, and that captains make $81,500 and first officers make $42,000. That pay is apparently for working two weeks on and two weeks off, so that's pretty darn good…
Most importantly — am I the only one who finds this flipping interesting?
(Featured image courtesy of Cory W. Watts)