I couldn't help but chuckle a bit at the CNBC headline I saw today — "Ultimate travel nightmare: 34 hours on a plane." That did sound horrible, till I read the first sentence:
A Cathay Pacific flight from New York City's John F. Kennedy International Airport to Hong Kong wound up being a 34-hour journey—including a 15-hour unscheduled layover in Zhuhai, China—where the 256 passengers never left the plane.
And then I thought to myself… hmmm, 34 hours on Cathay Pacific. Is that really the ultimate travel nightmare? 😉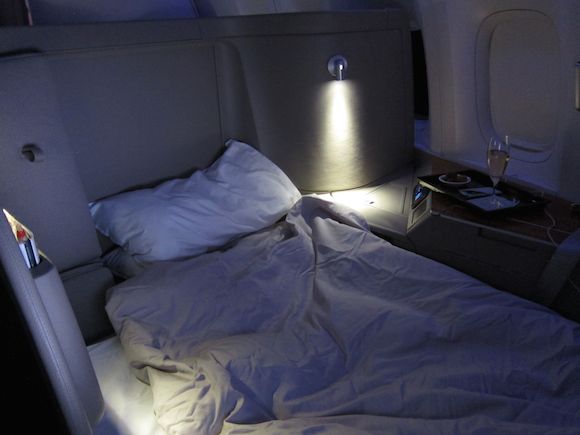 Okay, I'm being a bit tongue-in-cheek here, as obviously not everyone is flying in first class. The story itself is actually really interesting and crazy.
So first the flight was supposed to land in Hong Kong but diverted to Zhuhai:
When Cathay Pacific Flight CX831 left JFK on the afternoon of March 29, it was expected to be a routine 16-hour flight to Hong Kong. It was an uneventful trip until the plane made its approach into Hong Kong, which was in the midst of a nasty storm that included lightning, high winds and hail storms.

"It was rough," one passenger said. "We had to abort our landing [and] pull up while constantly being buffeted by strong winds."

The conditions were so bad, CX831 was diverted to land in Zhuhai, a Chinese city not far from Hong Kong.
Then Chinese immigration wouldn't let passengers off the plane:
But once the aircraft landed in Zhuhai, the passengers and crew were forced to stay on board the Boeing 777. Cathay Pacific said the restriction was put in place by Chinese government leaders in charge of immigration and customs at the airport, who would not allow passengers to disembark.

In a letter to passengers, Cathay Pacific said, "The fact that we do not usually operate at Zhuhai airport, combined with the local immigration requirement that all passengers remain on-board, made this a particularly difficult diversion to handle."
Then the crew timed out:
Meanwhile, the Cathay Pacific pilots and crew were now "timed out," and required by law to rest. So the folks on Flight CX831 were forced to wait on their plane for a replacement crew to come to Zhuhai from Hong Kong.
Then they had to find a replacement crew, though the "Chinese authorities" wouldn't let them fly there, so instead they had to swim (or something like that):
While passengers on CX831 waited hour after hour, a crew from Cathay Pacific worked its way over to Zhuhai. But even that journey wasn't a quick one. The Chinese authorities wouldn't allow the replacement crew to fly into Zhuhai, so they had to take a transport ferry across the Pearl River from Hong Kong to Macau, and then drive an hour to the city.
In order to truly determine how much of a nightmare this was, we'd need more information, like at which point in the journey they ran out of Krug. 😉
(Tip of the hat to @assareh)