There are a couple of promotions out there right now for earning free Lufthansa Miles & More miles. I can't personally guarantee either will work, but since it only takes a couple of minutes to register, it's well worth it.
500 free Lufthansa miles from T-Mobile
Through August 31, 2014, T-Mobile is offering 500 Miles & More miles if you register for their online media center. Once you register you'll receive an email with a link for adding your Miles & More number.
Here are the terms (using Google Translate):
After Media Center registration you will receive a confirmation email in which you simply click on the link to confirm your e-mail address and then "Next to the Media Center" to access the form Miles & More. Here you enter your service card number and receive your 500 miles. Here, you will automatically be in our raffle with a chance to further 100,000 Miles & More award miles in part.
1,000 free Lufthansa miles from Best Western
Best Western seems to be offering 1,000 Miles & More miles to those that have been part of the Best Western Rewards program for 10 years. There's a chance they might verify accounts to see if they've actually been active for 10 years, though I wouldn't count on it. So I think it's worth the 30 seconds it takes to give this a shot.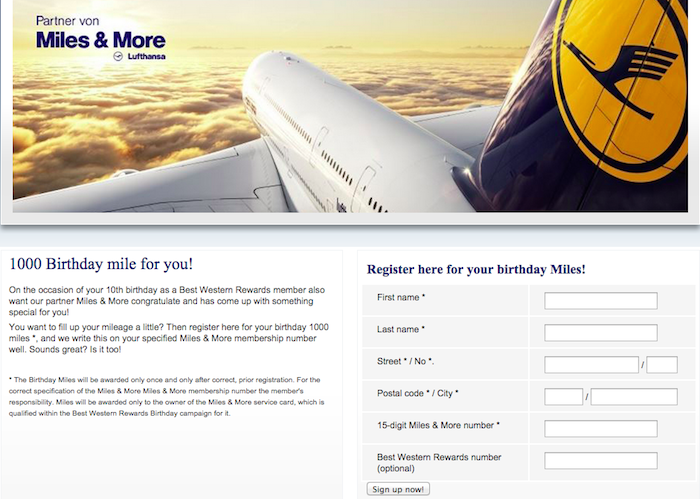 Here are the terms (using Google Translate):
The Birthday Miles will be awarded only once and only after correct, prior registration. For the correct specification of the Miles & More Miles & More membership number the member's responsibility. Miles will be awarded only to the owner of the Miles & More service card, which is qualified within the Best Western Rewards Birthday campaign for it.
Bottom line
Both of these websites are in German, so you can always use Google Translate in Chrome to translate to English, which should make it pretty straightforward. Lufthansa miles are quite valuable and can sometimes be tough to "top off," so this is a nice way to accomplish that.
I can't guarantee both offers will work for everyone, but it does seem worth the three minutes it takes to try…